Ultimate Spork Post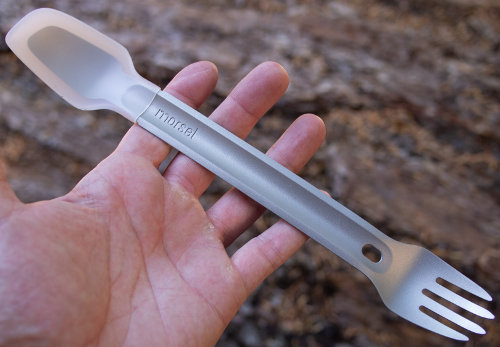 There's a new spork coming to the market! I can hear your cries of excitement and anticipation already. Or, you're thinking 'Didn't sporks fade away like fanny packs and flip phones?'
The folks at Morsel have spent a ton of time designing a new item called the Morsel Metal Spork which may be the ultimate eating utensil.
Here's my predicament when out on a thru-hike...
I've tried many different styles of preparing food, including cooking in a pot, rehydrating right in the food's bag, cold soaking, and even no-cooking. No matter what, getting the last bit of food out of the container is a chore. It doesn't matter if it is scraping the bottom corner of a Mountain House bag or extracting the last bit of peanut butter from a jar - there's always some left. And, if my spoon isn't long enough, I wind up getting goop on my hand trying to stretch to the far reaches of the food abyss.
I've used disposable long-handled spoons from DQ - they break.
A metal spoon - gives me shivers on my teeth.
A spork - too short and heavy.
A knife - I cut the package open and lick everything out, it works but is messy.
So, I've been settling for a long plastic spoon with a 2nd as a backup for when I break the first.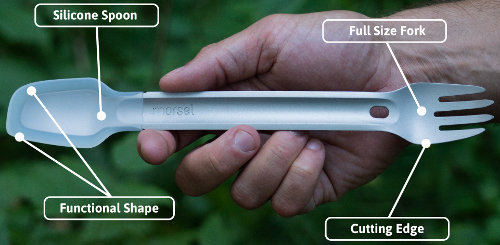 The Morsel Metal is going to make my life great again, at least my meal time portion of my life. Here's why:
Length - 10.5 inches long, and this is big. I'll keep my grimey hands out of the food, and the food off my grimey hands so I don't have to lick my grimey hands.
Weight - 24g (.85oz) means I'm keeping that baseweight low, and you know It's all about the base! Weigh your current utensils and see how they compare.
Materials - Aluminum and Silicone combine to make a great tool. Completely safe, easily cleaned, and tough as nails, this aluminum alloy is stronger, lighter, and less expensive than titanium. The silicone edging is tear-resistent, flexible, and heat-resistent, for use to cook, eat, and clean.
Design - Besides the cool hole that lets you attach a cord or biner, the multi-radial shape of the spoon lets you scrape any shaped bowl, pot, kettle, plate, or package clean as a whistle. That flexible silicon edge really helps, too.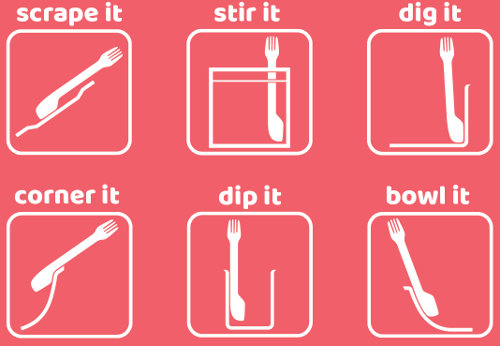 What are you doing still reading??? You should be joining the Kickstarter campaign along with the 1,300 before you and get your Morsel Metal sporks delivered in May, at a significant discount. There's only 3 weeks left in their campaign from today, so get out of here.
Hike On!
Disclosure: I'm supposed to get a Morsel Spork and I might even earn some money for referring backers.
Posted: 12:25 02-25-2020 1498


Find more Hiking Resources at www.HikingDude.com
Follow Me