Hiking Dude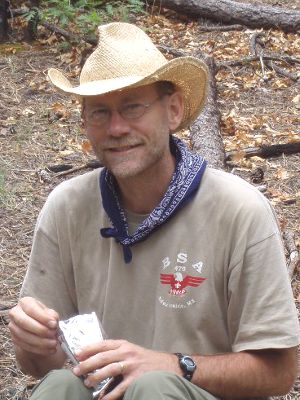 I grew up in the Rocky Mountains hiking pretty much every day, whether it was the mile to school or all over the trails during the summer. We didn't call it 'hiking' then - it was just playing and getting from one adventure to the next.
Hiking is a tremendously healthy experience that exercises your body, mind, and soul - and the best thing is that just about anyone can do it, no matter location or age.
Now, I camp, backpack, and lead others on frontcountry and backcountry outings to share my skills with them. The most enjoyment I get from life is watching youth that have pushed themselves to do more than they thought they could. Not watching them push, but watching them when they encounter the next challenge, or the next - they no longer think they can't do it; instead they figure out how they can do it. Self-confidence and solid skills are two invaluable things us old guys need to pass on to the young ones.
I put together this web site as part of the Outdoors Dudes group of sites to share expertise and encourage others to get out there and move. I hope the advice, tips, and words of experience you find here make your wanderings more fun, safe, and fulfilling.
I celebrated my 50th birthday in 2011, and passed my Scoutmaster duties for a large troop over to another volunteer, and started a new personal adventure of long distance hiking the country's National Scenic Trails. I'm not setting any speed records or doing extreme physical challenges, but I do want to share my evolving story so other normal folks can see it's not too difficult to get out and explore. I say normal because some gear manufacturers and such love to be part of exotic, extreme, epic adventures, but I think they miss the fact that 99.9999% of their market is just normal guys like you and me.
I hope you decide to join me, both virtually through this site as well as physically on the trail when I hike by your community. See my Hike Schedule to get an idea of where I hope to be on the trail.
The stages of preparation, hiking, and reflecting for each hike means this site will have an active blog for the next few years. I sincerely appreciate it when you tell others that you enjoy a post or learn something new. The most fun for me is having you leave a comment on a blog entry, so please don't be shy!
Enjoy my site and I'd love to hear about your hiking adventures. If you have questions or suggestions, or want to know more about me, or just want to say 'Hey!', use the Ask Hiking Dude link at the bottom to drop me an email.
All Who Wander Are Not Lost

---
All Comments:
Feb 13, 2012 - Matt Nelson
Great looking site! All of us at the Arizona Trail Association are excited you're embarking on this grand adventure. Let us know what you need before, during or after your trip. Once you're done, if you want to share your experience with others (especially youth and civic groups) you should sign up for our Speaker's Bureau. We get requests all the time for folks to come and talk about the Arizona Trail. Happy Trails! Matt Executive Director, Arizona Trail Association
---
Feb 13, 2012 - Hiking Dude
Matt, Thank you! I look forward to meeting some ATA folks on the trail or in trail towns. I've already e-met a bunch of nice, helpful people.
---
Feb 27, 2012 - Derek Hansen
Just found your site thanks to some friends. I'm a Scoutmaster too, and am planning a thru of the AZT in the next year. Have you considered hammock camping as part of your trek? Let me know. I just published a book on hammock camping and would be glad to send you a copy to review for your trek. Let me know.
---
Feb 27, 2012 - Hiking Dude
Derek - Hammocks in the desert don't seem like a really good idea to me. I'll also be hiking the Ice Age Trail this year, much of it through the forests of Wisconsin. But, even then, there are many miles without trees so I'd be on the ground. I've heard (and read) a lot of good things about hammocks - comfort, rain protection, bug protection, leave no trace, but haven't gotten past the need for trees.
---
Mar 06, 2012 - sharon
---
Mar 23, 2012 - Joel Semanko
Ed just sent out a great post of Facebook about you and your hike. Congratulations, what a cool site and adventure. If you ever get up in the Cascades up in Washington, let us know. I look forward to following your adventure!
---
Apr 09, 2012 - Jagan
Been thru all your site, for my first Hike to the EBC(big one for a start) but i've been following your site and Am confident of my Trip. Will post my exp as i return this month end. Thank you for the SITE. Jagan.
---
Apr 21, 2012 - Matt Zupan
Paul, I don't know if this is the right area to post this, but Josh had mentioned you were taking 6wks to hike through Arizona, very cool. My brother is a big hiker. He also has biked to work up in Grand Rapids Mn for 35 years around trip 25 miles, dead of winter - heat of summer. Similar nature as yourself. I'll have to direst him to your site, Kelly had mentioned it to me after our last Ultimate game, which we lost 14-16, Josh however, played extremely well. He has grown to be an exceptional player. With his great play, Thursday night, he scored a date to prom. Your 4600 mile hike that you have planned is unreal, this 800 mile hike to me is mind blowing. Anyways, i wanted to email you to show my support, for a great feat and over-all messages to others. All the best, Regards, Matt
---
Aug 03, 2012 - Brian
Great site. Thank you for putting all this great info in one place.
---
May 29, 2013 - Pat
Dude, thanks. Your information is greatly appreciated and your passion is contagious! Pat
---
Jul 08, 2013 - catherine riley
Thanks for the site. My husband and I have taken " hiking" vacations all of our adult life. We are in our early sixties and find we can handle about 8 miles round trip. The 13 mile day hikes are out. Are there any good hikes you would recommend in Yellowstone? We are headed there in Sept. Thanks again Cathy
---
Feb 05, 2014 - chuck
Just discovered your site, it looks great! I've been a hiker since the age of 12(man, that was several decades ago!), usually hike 3 out of 4 weekends. If you're ever in the San Francisco bay area and would like to hike in Marin county-home to Mt. Tamalpias and Point Reyes National Seashore-give me a holler, I have plenty of fantastic loops to share!
---
May 21, 2014 - Tony
I live in Florida, and your right about snakes. Last Trip through Ocala National Forest right on the trailhead of Jupiter Springs 4ft Diamondback. Great trip don't underestimate this trail. Water carrying can be grueling and would recommend 1.5 pct more water than normal due to the humidity year round on long hikes. If you want to go give me shout.
---
May 22, 2014 - Isobel Capelin
Hi Hiking Dude! Love the site, really impressive! Do you have an email address I could contact you on/could you drop me an email? :) Thanks Isobel
---
Jun 02, 2014 - Hiking Dude
@Isobel - Use the "Ask Hiking Dude" link at the bottom of the page to contact me directly.
---
Jun 05, 2014 - Mr. D
Great and very informative site - well done! Everything I read I can only agree with. I live in the Alps and do a lot of hiking, (winter and summer) so I know how important it is to know some basic stuff, although here it's something every kid knows before they can walk pretty much. So to everyone who finds their way to this site and reads the tips and tricks - take them in and use them! Great job Hiking dude
---
Jun 26, 2014 - John Celletti
Matt, I have enjoyed reading your postings and have learned a lot. I am the editor of the Superstition Area Land Trust newsletter www.azsalt.org and would like permission to use you posting on warm weather hiking in our July e-newsletter. I will credit you with the article. Thanks, John
---
Sep 05, 2014 - Acampadordehonor
Sory about my English ... Im retired Doctor member of ex scoutmasters in Puerto Rico ( island in the caribean ). 5th time in the AT segment hikers ...olso been in Philmont Scout Ranch for 3 times. Now looking for flatland hiking in east coast of US ( all of us are over 65 years old ..) ... I'll apresiate your information Arnaldo Reyes ,MD
---
Oct 07, 2014 - Jake Z
Dear Hiker Dude, Hello, my name is Jake and I'd like to thank you for the truly helpful (and plentiful) information I found on this website. I am 16 and looking for some bigger hikes to experience before collage starts up. Currently I have started planning to hike the Ice Age Trail due to its proximity and length. I am looking to challenge myself (with a couple friends) to thru-hike this trail in its entirety this upcoming summer. This would be a very long and challenging encounter, however me and my friends are set on making this a reality. Through my early planning and research I have found your site to be the most helpful and impressive, with extensive Jounaling and detailed tips and suggestions. I would basically just like to say thank you for all the quality information I have obtained. I would also like to ask if maybe there are any extra tips or suggestions you have from one hiking enthusiast to another. Thank you for your time, -Jake
---
Oct 12, 2014 - Hiking Dude
@Jake - I'd be happy to answer specific questions you have through email. But, I tried to put everything of general use into my journal. The eastern half is challenging for camping spots, is more open on roads and fields, and there's little shade. The western half is more wooded, fewer towns right on the trail, and more sections of less maintenance. The entire trail is practically flat and easy hiking, no elevation or PUDs. Be prepared to see very little more than 100 feet away for miles on end. Since it's flat, and the forests are thick, there are long sections with no view except the trees around you. Mentally, that can be challenging. Also, in only a couple areas, especially KettleBowl, there is some confusing signage with IAT, snowmobile, and other trails all crossing and merging.
---
Jun 09, 2015 - Dan Soderlund
Hi Hiking Dude - I stumbled across your blog as I am starting to put together a plan to through-hike the Superior Hiking Trail, probably in 2016 or 2017. You have some great information regarding your experiences - well done! The SHT looks like it is now open to Jay Cooke State Park on the south side - that's going to be my final destination, starting from the northern most point. I look forward to communicating with you as I plan my quest. Safe travels!
---
Jun 16, 2015 - Hiking Dude
@Dan - Best of luck to you in your preparations. I found going North to South made more sense to me.
---
Dec 21, 2015 - cliff UK
Hey there HD,

just getting back into the hiking scene with my partner and stumbled easily to your site. I did a lotof outdoors activity whilst I served with the British Forces (work and play), your advice is solid and the good old fashioned principles may keep people alive, I salute you
---
Feb 14, 2016 - Swagman
Fantastic menu planner! I am using it to plan for my 2017 CT adventure. Still recovering from post chemo and radiation treatments for Squamous cell throat cancer and 2016 looks like a total wash but heck, it's a whole year to prep. Keep up the good work, lot's of folks out there depend upon people like you to encourage them to step out. Enjoy the hike! Swagman
---
Jun 22, 2021 - Canon John3
In all the hiking etiquette rules I have read, I have not seen suggestions regarding runners and hikers with dogs on leash. In my case as a 70 year old with two dogs hiking narrow trails, runners come up from behind without warning and expect me to move off. Pulling two dogs off often into packs of poison ivy can take time which the runners do not seem to have. Their stealth approach often spooks the dogs. Often the runner will not wait for us to complete our move and as he runs by one of my dogs is tempted to nip. My own right of way rule has been.,. hikers first, then hikers with animals, then runners then bikers. When I am mountain biking and encounter hikers, I will pull off the trail and allow them to pass. Same with hikers and dogs. Often they will wave me through, but I always make the first gesture. Each encounter is different. Courtesy should be first priority.
---
Jan 29, 2023 - Allana M
I love this website. I hope you are continuing to adventure daily. You have some great advice for beginner hikers - much appreciated. Hike on dude!
---
Mar 01, 2023 - Hiking Dude
@Allana - Yep, still hiking! Hiked across Costa Rica last month and the info is
Right Here
.
---
---
Ask a Question
---


Find more Hiking Resources at www.HikingDude.com
Follow Me