Hiking Dude Blog
Archives:
2023
2022
2021
2020
2019
2018
2017
2016
2015
2014 -
Nov
Oct
Sep
Aug
Jul
Jun
May
Feb
Jan
2013
2012
2011
01/23/2014
Mile... Mile and a Half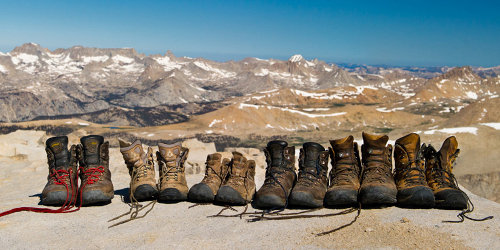 "How much farther?"
"Oh, a mile... mile and half."
If you've ever, ever, ever done any long backpacking trips, you understand that question and response!
At any point on the trail, saying the destination is 8 miles or 5 hours away can be just devastating to morale. A mile... mile and a half isn't so far and we probably don't really know exactly how far it is.
It doesn't really matter anyway. We're out here to get away from deadlines, timelines, calculations, and machinations. So, the title of this entertaining 87 minute film, "Mile... Mile and a Half" perfectly sets the tone for the visually inspiring trek along one of the nation's most beautiful trails - the John Muir Trail.
I've had people mention I should wear a Go camera on my hat while hiking so I could post videos of my hikes on YouTube. My response is "How BORING would that be?" Mile after endless mile of trail with some cool views and quick glimpses of wild animals. To create an interesting movie that documents the challenges, rewards, camaraderie, scenery, and
LIFE
of a trail requires someone more artistic and imaginative than me.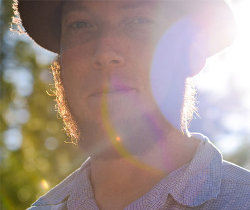 Fortunately, the team at Passion River Films took on the task. Their film does an excellent job at capturing the feelings of life on a long trail and throws in some spectacular views for armchair hikers.
Creating a film like this requires a lot of equipment. Heavy equipment! When you watch this film, you'll be surprised at the weight these people lugged over the mountains! That's one reason why, by far, my favorite character was Durand Trench, the sound guy. The amount of hi-tech stuff he muled across the Sierras is impressive. Best scene, besides all the times he jumped into frigid lakes, was his attempt to capture frogs singing.
I think Durand would be a way fun guy to hike with!
I certainly don't want to tell their entire story, but the general plot is: a group hikes the rigorous John Muir Trail to the highest point in the lower 48, in a year with extremely deep snowpack, meeting fellow backpackers along the way.
It's a simple plot that allows this bunch of artists to draft hiking into art - pretty cool. I enjoyed the quick 87 minutes, and I think you will too.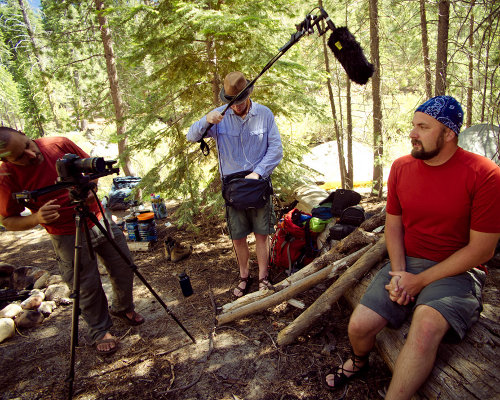 Wanting to get another perspective, since I've not hiked the JMT (yet), I let my Scouting friend that has hiked the trail a couple times watch it. He actually hiked part of the JMT less than 2 weeks before this film crew and wound up bailing out due to deep snow. Luckily, two weeks of July sun melted a lot away.
Anyway, here's what he said:
"Beautifully crafted by a talented group. I enjoyed it a lot because there were numerous spots in the film I had camped, stopped at or had taken photographs. They did a really nice job of catching the scenic qualities of the trail and the diverse types who inhabit the Sierras."
I, personally, would have liked a bit more information about the trail, the folks that built it, the history, the environment, and such. A minor wish.
There was one other bit at the end of the film that I appreciated - a quick acknowledgement that the group failed to adhere to
Leave No Trace
principles at all times. I admit I kept my eyes open for blatant "bad hiker" behavior in the film, but saw no major problems. By adding that blip, the film might turn some viewer onto LNT and ethical choices in the backcountry.
Buy the film, or get more information, at
The Muir Project
.
---
StrongVolt Solar Charger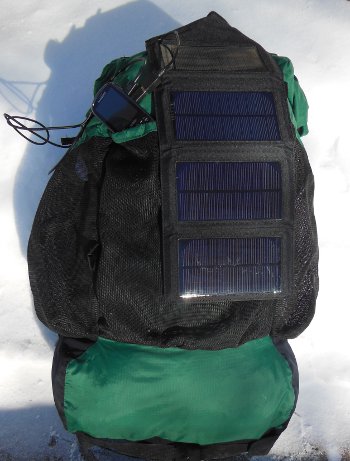 I love the sun! Just love it! One of the best things about moving from Oregon to Minnesota is that there is sunshine during the winter months here. Sure, it's too cold to be out enjoying it sometimes, but it's still bright and cheery.
Besides the attitude uplift that the sun provides, it also provides free power. I love FREE, too! I've installed solar panels on my home and love my negative electric bill each month - even winter. Being able to harness and utilize that energy pouring from the sky makes sense.
So, why not do the same thing while out in the wild? Portable solar chargers are available to charge all your e-gadgets, including phones, cameras, GPSs, iPads/Pods/Nanos/..., and most anything else you have. I've used three different products over my long hikes, the most recent being the StrongVolt 7W
solar charger
on my Ice Age Trail hike.
This photo is the StrongVolt charger on my backpack after a recent winter practice hike, and I'd like to tell you a bit more about this charger.
StrongVolt's Solar:7 converts sunlight directly into electricity via four monocrystalline solar panels that fold into a tough, compact package. Electric output is through a USB cable at up to 5.5V which should suffice for your phone, tablet, or GPS.
It's simple to use - just unfold, connect device, and lay it in the sun with the panels facing the sun as directly as possible. There are two reinforced grommets on the case which makes it perfect for hanging from a backpack. That's how I used it so I could charge while hiking and waste no time. I also poked holes in the lower two corners and anchored them to my pack so it did not flop around.
This charger worked well on my long Ice Age Trail hike for my Samsung Gravity phone, keeping it supplied with free power. Since I mostly used my phone in the evening to blog, I didn't need it during the day and could leave it plugged in as I hiked and it charged. I also used it to charge my Nikon CoolPix S9300 camera.
Like any other solar charger, hiking through forest canopy doesn't work very well. Since you'll probably stop for a lunch break around mid-day, when the sun is highest, that's a great time to lay out your charger in a sunny spot and soak up the energy.
StrongVolt also offers 3w, 5w, and 10w portable chargers. The 10w version is just an ounce heavier, and only $15 more than this 7w version.
There are three things to consider when comparing this charger to others I've used.
It contains no battery storage. You charge a device when sunlight is available. Checking into this with StrongVolt, they do have a 4 oz. battery pack product. That solves this problem - just hook the battery to the charger during the day, then charge your device whenever you want. If you're out on a 3 day or less trip, you might just take the charged battery pack instead.
It's relatively heavy. At a bit over 11 oz., this is 3 oz. heavier than my other charger (which includes a battery pack and has flexible panels). Including the extra battery pack makes it about twice as heavy as my other one. This is really only a long-distance hiker concern. A half-pound won't bother most people out enjoying a backpacking trip.
The solar panels are crystalline, rather than flexible which makes them more fragile. Fortunately, the rugged case provides protection at the expense of weight.
Overall, this charger is a nice product. It's well made, inexpensive, and makes use of that solar energy being wasted each day. There's no reason you can't set it in a window at home when you're not out hiking and use it instead of paying for electricity created by polluting power plants.
If you don't have a portable solar charger yet, put it on your birthday list. StrongVolt sells this 7W version for $59.99 and they include free shipping and 100% money back guarantee. That's a good price point compared to other chargers.
Disclosure: Strongvolt provided me with a no-cost sample charger to test and share my impressions.
---
Older Posts
Newer Posts
Site Disclosure Statement
---
All Comments:
Feb 13, 2020 - Jason Berklund
Hey hiking dude I have several questions planning my first north to south trip from 270 all the way down. I kind a know what to wear what to eat all that important jive. I am in relatively good shape definitely Not concerned about where in tear. 45 years old going with a 21-year-old nephew. My question is I have friends in Duluth that I don't want to burden with driving me what's the best way to get up to otter Lake Road that's not gonna cost a crap ton. We were thinking 15 miles a day. We were also thinking hammocks. Let me know what you think please. I have read so much and look at so much and heard so many opinions but You seem to be very realistic on your comments. Thank you
---
Feb 13, 2020 - Hiking Dude
@Jason - Hammocks work fine - most campsites have lots of trees. 15MPD is realistic, and you'll probably do more than that many days.
Getting to the northern terminus is expensive (in my mind). If you can schedule correctly,
Arrowhead Transit
is cheapest to Grand Marais, but then
Harriet Quarles
is the only shuttle I know of. You might find a good ol' boy in Grand Marais willing to drive you the 35 miles to the end for a few $$$.
It's a 3 hour drive from Duluth - that's 6 hours and 300 miles round-trip. Maybe your friend would like to drive up the north shore for a day.
---
---
Ask a Question
---


Find more Hiking Resources at www.HikingDude.com
Follow Me