Hiking Dude Blog
Archives:
2023
2022
2021
2020
2019
2018
2017 -
Dec
Oct
Sep
Aug
Jul
Jun
May
Apr
Mar
Jan
2016
2015
2014
2013
2012
2011
08/31/2017
Done Hiking Today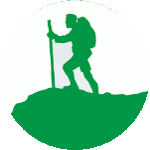 I finished hiking for today. You can check out my
current location
on the map and I'll post about my day when I am in coverage.
---
Day 40: Old Growth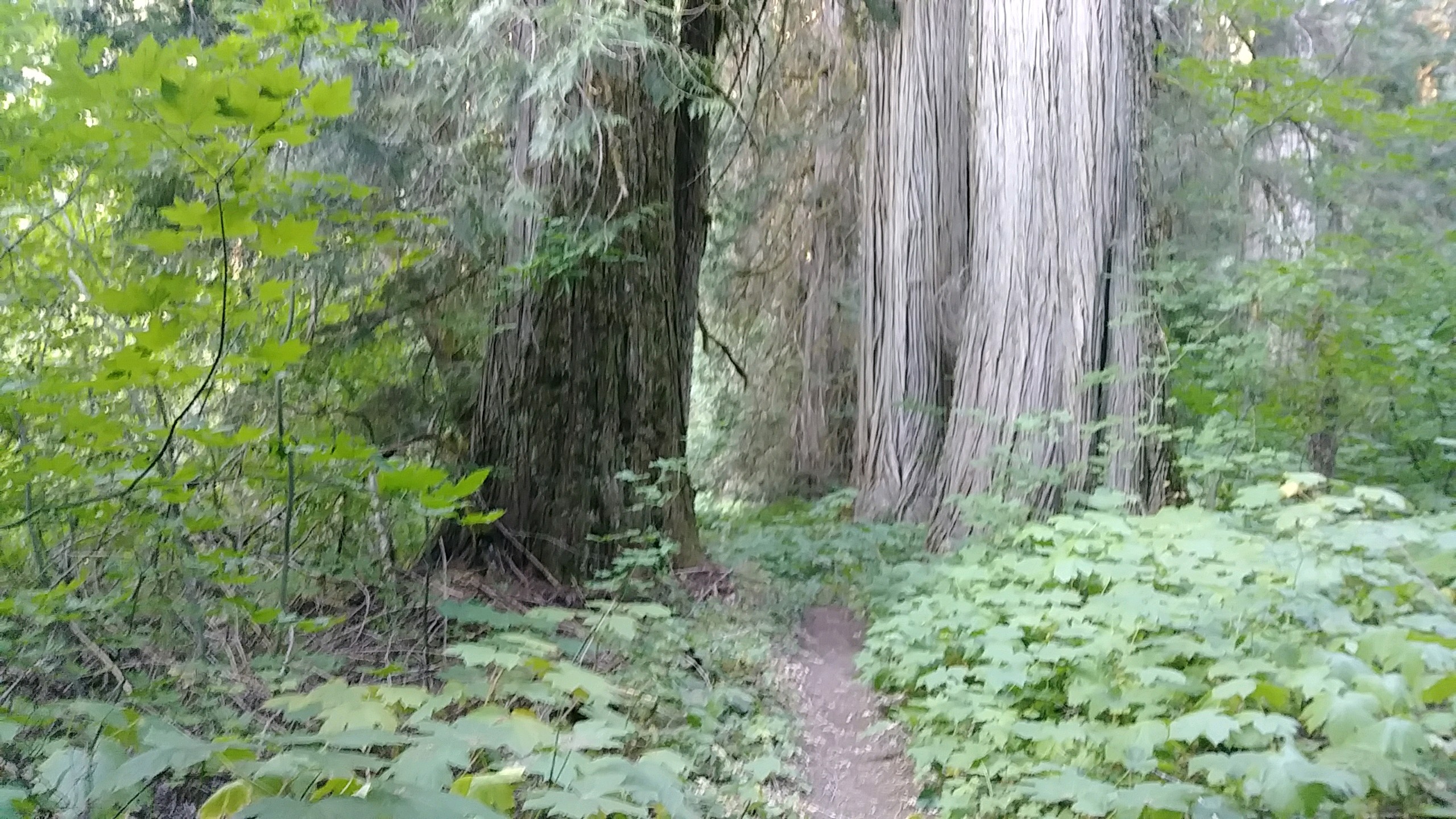 I walked 43340 steps on the trail today.
I traveled about 18 miles today.
8/29/17 We hiked from the lake up the Big Beaver Creek valley, over Beaver Pass, and down into Little Beaver Creek valley.  Then, we walked up this valley to our campsite.  All of this was in shaded, damp old growth cedar and pine forest.  Some of the trees were massive and much of our walk felt like dinosaurs should be roaming around. All we saw were some toads and tons of flies and mosquitoes.  We wore our bug pants all day.  We did cross paths with two big groups of backpackers but they didn't stop to talk.  And, we woke a couple in their tent at 2:30 when we walked past.  They thought we were a bear. Since we were in forest all day, there were no mountain views to be had but the smoke in the air would have prevented them anyway. Today was pretty rough for my body.  My left shin started aching and just got worse through the day. I wrapped it while hiking in the afternoon, put it in the icy creek tonight, have it elevated, and took some pain relief.  It is quite swollen in one spot so I'm a bit worried.  Nothing to do but forge ahead at this point.  Also, at the campsite, a sharp stick poked the inside of my left foot above the heel and blood started pouring out - more than I'd expect from a little stick. This was on the way to the creek to soak our legs so that helped stop the bleeding.  When I looked closer, the prick was right into a blood vessel there which is probably why it bled so much. Well, at least we have way too much food!  Two big passes to cross tomorrow so that's lots of up and down.
---
Day 39: Ross Lake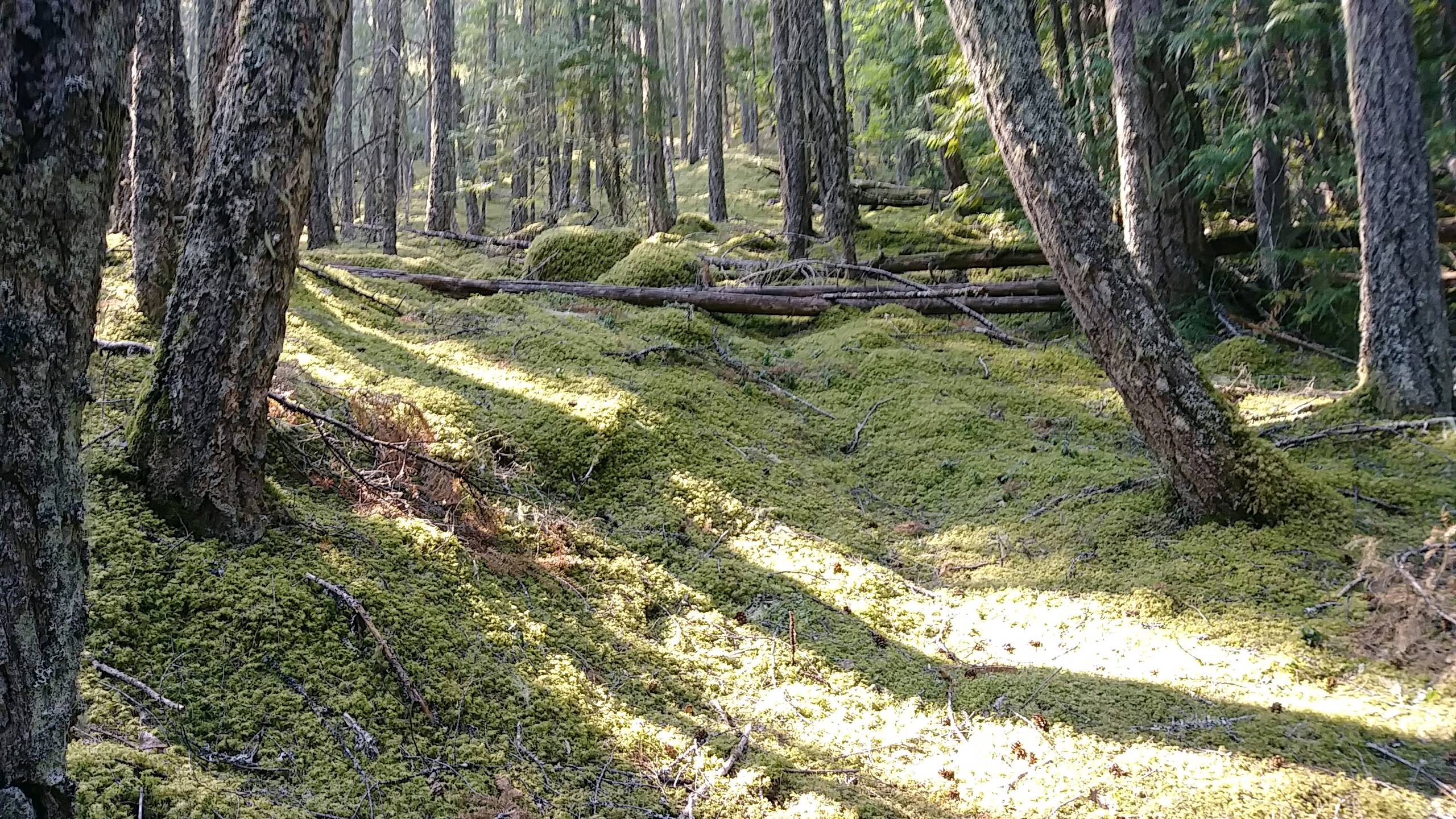 I walked 47034 steps on the trail today.
I traveled about 22 miles today.
8/28/17 Long hike around the lake to reach our campsite on the other side which was just about 1 mile away by a straight line. Some beautiful rivers, falls, and bays all along the way.  The forest at this low elevation is so much different than up high.  Big cedars, lots of moss, ferns, and decaying logs make it like what we expect as we approach the coast. Ross Lake Resort had food packages for us so we can hike the next 5 days through the forest and mountains.  The resort is very cool.  It is a collection of cabins floating on the lake.  It was originally the housing for the workers that built the dam that created the lake. Since it was over 95 degrees, we rested there for 3 hours and charged electronics.  They even let us use their WiFi.  We chatted with a very nice lady that had two huge Swiss dogs. In the evening, we completed our hike to the Pumpkin Mountain campsite where we have the place to ourselves.  The big toes on both feet are getting abused a bit from these shoes but nothing serious yet.  My left knee has taken some hits and twists the last few days but still works fine while hiking.
---
Day 38: HOT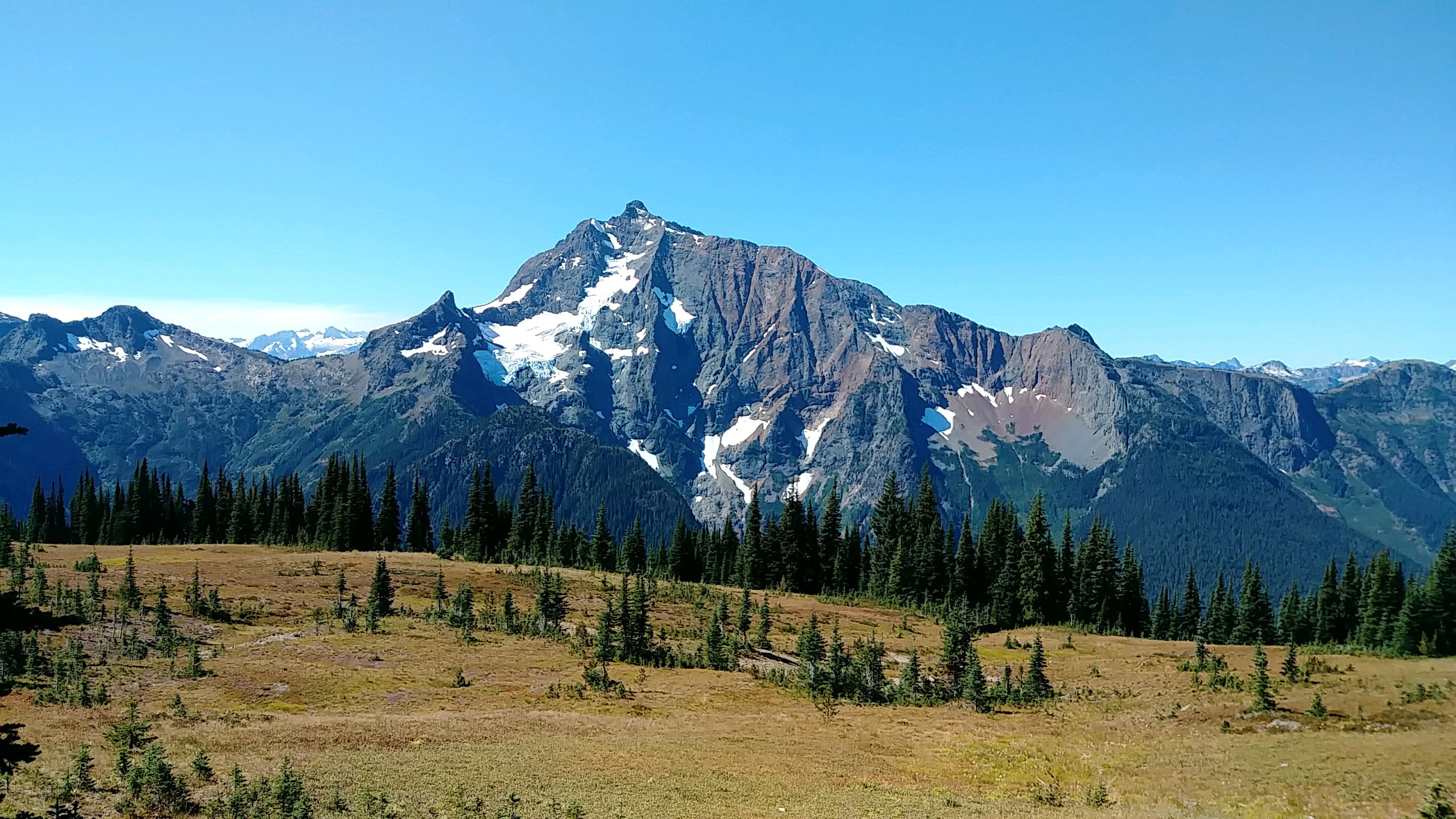 I walked 52120 steps on the trail today.
I traveled about 21 miles today.
8/27/17 All morning was hiking up to Devil's Dome crossing over two passes on the way.  Great views of Jack Mountain with glaciers and a pinnacle peak made the climb enjoyable.  The top of the dome was a wonderful rest point.  This will be the last time we're over 5000 feet until we reach the Olympic peninsula. Being off the manicured PCT and back on the PNT was a rude awakening for me, but it's our hike. We plunged 5000 feet down from Devil's Dome to Ross Lake in less than 6 miles, changing from alpine to pine forest to humid, hot dense woods.  We walked a trail along the lake to our camp spot. The trail was very cool in spots when it got closer to the lake. We had a cliff rising beside us, the lake right below us, and the sun beating down on all of it.  It was beautiful but hot. When we got to the campsite we hoped to use, it was full with 8 kayakers but one moved her tent to make room for us.  We went swimming off a dock for our first bath in a week.  After that, we chatted with our new friends.  They had a ton of food and invited us to eat with them.  So, we're now completely full and trying to fall asleep on top of our quilts since it is still stifling hot.  Such a huge change from the last few nights when we had to wear all our clothes to stay warm.
---
Day 37: PNT & PCT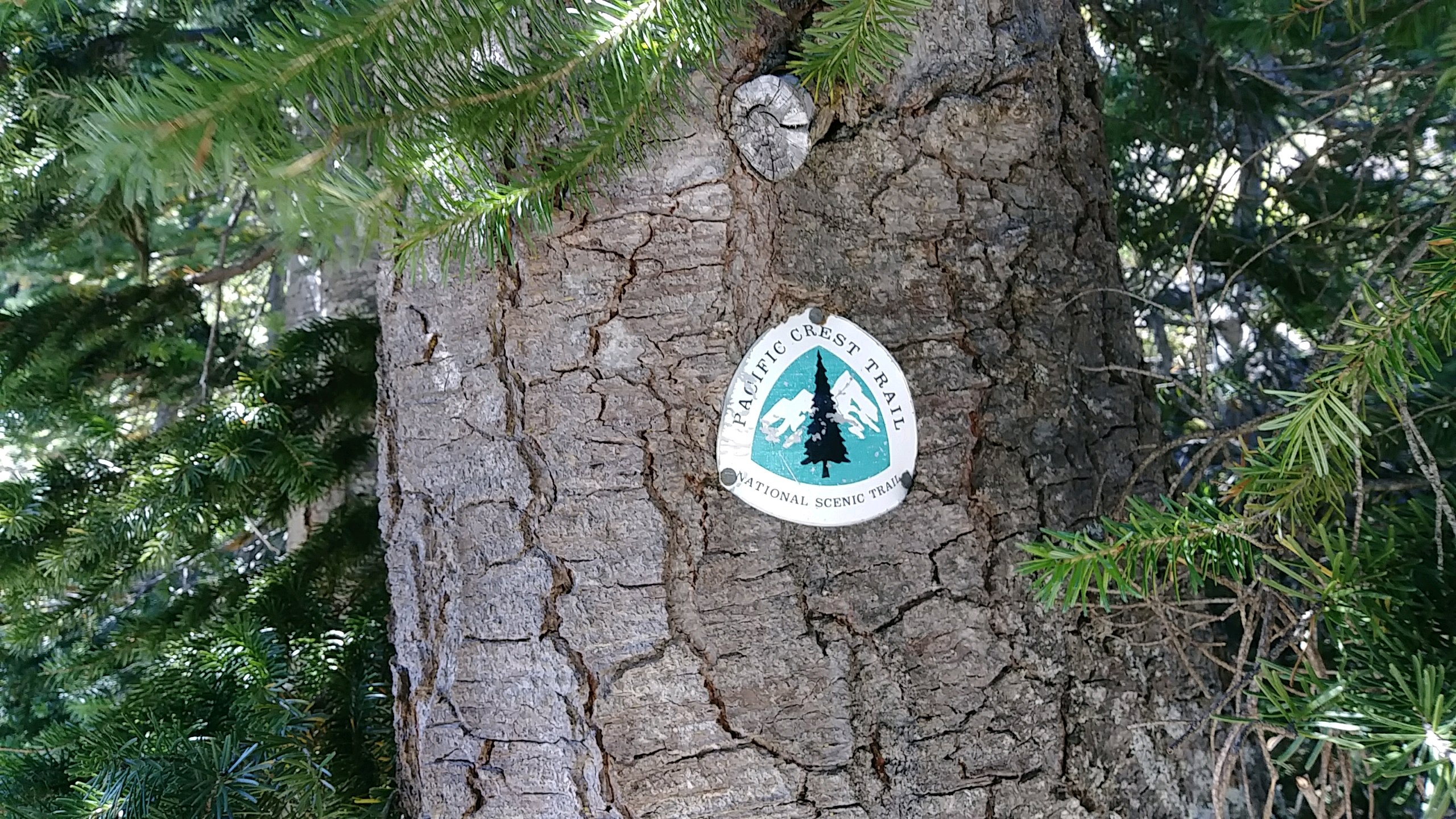 I walked 47670 steps on the trail today.
I traveled about 20 miles today.
8/26/17 Brrrr - Another cold night for sleeping and morning for hiking.  Three layers of clothes and socks on my hands kept me warm enough. Through the woods, up, up, up and over Frosty pass to our intersection with the Pacific Crest Trail.  Immediately, three hikers went by.  Less than five minutes later, we passed a couple more.  All in all, we ran into over 30 people on the 14 miles of shared trail - more than we will see on the entire rest of the PNT. The PCT tread was amazing - smooth, level, wide, and well maintained.  I got spoiled! At the end of the day, three young hikers came by our camp and we had s nice chat. Nick and Matt will be hiking the Washington section of the pct after doing a shorter hike with Naomi.
---
08/30/2017
Done Hiking Today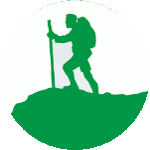 I finished hiking for today. You can check out my
current location
on the map and I'll post about my day when I am in coverage.
---
Older Posts
Newer Posts
Site Disclosure Statement
---
All Comments:
Feb 13, 2020 - Jason Berklund
Hey hiking dude I have several questions planning my first north to south trip from 270 all the way down. I kind a know what to wear what to eat all that important jive. I am in relatively good shape definitely Not concerned about where in tear. 45 years old going with a 21-year-old nephew. My question is I have friends in Duluth that I don't want to burden with driving me what's the best way to get up to otter Lake Road that's not gonna cost a crap ton. We were thinking 15 miles a day. We were also thinking hammocks. Let me know what you think please. I have read so much and look at so much and heard so many opinions but You seem to be very realistic on your comments. Thank you
---
Feb 13, 2020 - Hiking Dude
@Jason - Hammocks work fine - most campsites have lots of trees. 15MPD is realistic, and you'll probably do more than that many days.
Getting to the northern terminus is expensive (in my mind). If you can schedule correctly,
Arrowhead Transit
is cheapest to Grand Marais, but then
Harriet Quarles
is the only shuttle I know of. You might find a good ol' boy in Grand Marais willing to drive you the 35 miles to the end for a few $$$.
It's a 3 hour drive from Duluth - that's 6 hours and 300 miles round-trip. Maybe your friend would like to drive up the north shore for a day.
---
---
Ask a Question
---


Find more Hiking Resources at www.HikingDude.com
Follow Me