Not Ultralight, Just Lazy Post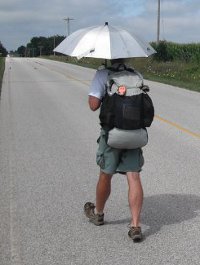 When I first started hiking long distances a couple years ago, friends would invariably ask, "Oh, are you into that ultralight stuff?" Being a newbie and still having the view that ultralight trekkers were godlike and in a league of their own, I'd reply that I was trying to carry just what I needed.
I'm still trying to carry just what I need. I think I'm down to pretty much the minimum of what I need to remain safe, comfortable, and successful. I've also replaced things that I do need with lighter versions of the same thing to make my load lighter, but still safe, comfortable, and successful.
I haven't lightened my load so I can call myself 'UltraLight'. I haven't done it so I can lift my pack with one finger, set speed records, or impress my friends. Really, the only reason is because I'm lazy. Totally, consistently lazy.
I can see no reason to carry a 10 ounce flashlight when a 0.6 ounce microlight does what I need. No 8 ounce nalgene bottle when a 1 ounce disposable works fine. No 14 ounce pump filter when a 2 ounce Sawyer mini flows with crystal clear water. I'm far too lazy to carry any extra weight, and that makes my pack pretty darn light.
But, being lazy, I can't put in the effort to saw the handle off a toothbrush, dehydrate my toothpaste, cut the tags from clothes, or hunt around for natural toilet paper. So, when it seems to me that carrying the extra weight is easier than the effort to get rid of it, I do carry weight that others might drop.
I'm also pretty cheap so I carry some things that are heavier than other options. A dozen 1-ounce plastic tent stakes that cost $10 are close enough to 0.6 ounce titanium stakes costing $36. My 10-ounce $15 hiking poles are close enough to 6-ounce $80 poles for me. My 2-pound $80 quilt is just as warm as a 1.75-pound $190 down bag.
So, I guess that's me - not
U
ltra
L
ight, just
L
azy
A
nd
C
heap. Maybe
LAC
will become more popular than
UL
once the word gets out! Spread the word!
Do you have any LAC items or tips? Let us know.
Posted: 15:48 02-03-2015 1143


Find more Hiking Resources at www.HikingDude.com
Follow Me