Home Again Post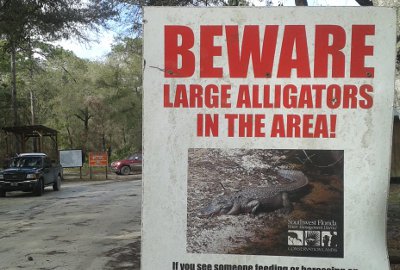 I can relax and not worry about this sign for quite awhile now. :-) I enjoyed a day off the trail in Ocala playing with new friends and doing a couple presentations to scout troops. Then, a quick flight on Friday got me home to Minnesota for a day of recuperating yesterday.
Now comes the fun chore of piecing together tracker pings, pictures, and blog posts into my journal. I hope to have that finished midweek so I can tell you my story.
Looking back at the pictures, I was blessed to explore some wonderful environments, meet some special people, and observe wildlife I'll most likely not encounter again.
Thank you, Florida!
Posted: 8:39 01-31-2016 1257
---
Comments:
Jan 31, 2016 - Jonathan
Enjoyed tagging along on your adventure.
---
Jan 31, 2016 - Sue
Troop 331 truly enjoyed our visit with you. Hope to one day "pick you up off a trail" again. Glad you made it home safe.
---
Feb 03, 2016 - Paul Geatches
Paul is was great to meet you in person. I'm glad you are safely at home. I'll stay down here in the deep south and babysit the Alligators!
---
---
Ask a Question
---


Find more Hiking Resources at www.HikingDude.com
Follow Me