He-Man All-In-One Pack Tool Post

New for the 2016 hiking season, the He-Man is a multi-purpose device all long distance hikers can't afford to be without. This helium-filled self-inflating bubble provides dozens of benefits at a tiny price. ("He-Man" stands for "Helium-Managed")
Here's just a few:
Lighten Your Load - the tiny helium canisters provide a 35 pound lift. This means that any 35-pound pack will be weightless and those heavier than 35 pounds will feel extremely light. You can cover many more miles each day than you ever thought possible. *
Hunter Protection - bright colors keep you safe from hunter accidents. You don't need to carry additional hats or vests when hiking during hunting season.
River Crossing - the natural flotation of the He-Man provides exceptional water buoyancy to make crossing any waterway a breeze. If you don't mind expending a small amount of helium, you can even be propelled across the water by opening the relief valve a tiny amount which creates a powerful jet force.
Animal Protection - The He-Man makes hikers appear to be approximately 47% larger than life. This is a great deterrent to grizzlies, mountain lions, and other carnivores that prey on humans.
Campfire Entertainment - A quick puff from the helium exhaust port is just like taking a hit from a helium balloon. Your stories will be funnier and you will be the life of any trail party.
Better Sleep - No need to carry that heavy pillow so you can sleep at night. The He-Man is the most comfortable head rest you'll ever find.
Pack Cover - The He-Man keeps pack contents dry from the worst rain and snow Mother Nature can throw at you.
Rescue - Highly visible colors and reflective tape highlights make the He-Man a perfect target for search and rescue teams to find.
The He-Man comes in two versions - the "Overhead" shown above which is brighter and adds perceived height for use in bear country, and the "BiSide" shown here.

The "BiSide" can be separated and only one of the inflatable pods used for packs under 17 pounds. It is more flexible, and can even be shared between two hikers.
One question that comes up occasionally is the strength of the He-Man, especially against sharp sticks. We've tested it extensively and the pods are puncture resistant to sticks, cactus, nails, sharp rocks, and deer antlers. Grizzly claws will rip the fabric, so our warranty does not cover bear attacks.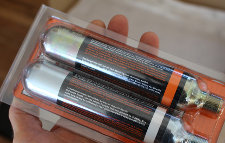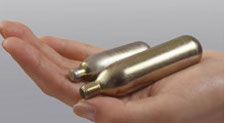 The helium canisters are refillable or replaceable - whichever your prefer, much like printer ink cartridges. We now have 3 cartridge sizes to choose from. They contain enough helium to inflate the He-Man 10 times, 5 times, and 3 times. One inflation should last for one week unless you manually deflate the He-Man. There's really no reason to do this unless you have to fit through a tight spot, such as into a shuttle ride, airplane, cave, or door.
Thanks for taking a look at the new
He-Man All-In-One
. Please contact us for ordering details.
* If you carry a pack that weighs less than 35 pounds, you should order the optional He-Man Anchors. These are 99% pure Pb ingots, sold in .5 pound increments. Your order will include a waist belt into which you can insert as many ingots as needed.
Posted: 9:08 04-01-2016 1273
---
All Comments:
Apr 02, 2016 - jba1001
I'm guessing this is your solute to April Fool's Day :-)
---
Sep 10, 2023 - iz
I'm just wondering if I can find those helium cartridges?
Thanks
---
---
Ask a Question
---


Find more Hiking Resources at www.HikingDude.com
Follow Me