Hot Ash Review Post
So, what's your favorite kind of cooking fuel out in the wilds - wood, alcohol, canister, white gas, fuel tabs, or something else? They all have pros and cons, including efficiency, cleanliness, smoke, carry weight, speed, cost, and impact. I've used them all and am always interested in new options that come along.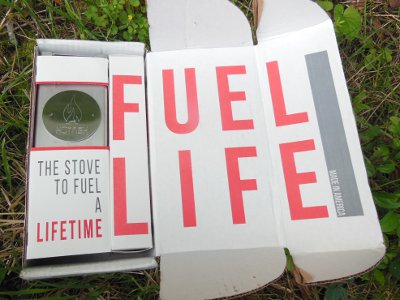 The
Hot Ash stove
came out last year and it's a new entry in the general wood-burning "rocket stove" category. While an open fire tends to be inefficient, slow, and smokey, a rocket stove harnesses the fuel's potential and converts more of it into usable heat. Small twigs are the fuel and a well-designed combustion area creates big heat. Feel free to google "rocket stove design" to find out how they are being used in kitchens, as home heaters, and for outdoor cooking.
The folks at Hot Ash asked me to give their stove a try and let you all know what I thought of it. They provided me with a stove to test. So, the other day, I took a bag on my morning hike and picked up a bunch of twigs and sticks from the trail to burn. Then, I took the stove and sticks to a secluded area of the local park and got busy. Here's what I found out...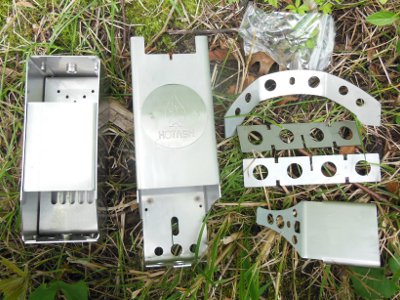 The Hot Ash is a sturdy, thick metal, hot burning, wood fueled camping stove. The design allows it to be disassembled and packed into a 3x3x9 inch box shape (that's about the size of a 16oz. jar of Planter's dry roasted peanuts). That's a pretty small and portable size. It comes in cool packaging with simple instructions and a cloth bag to carry the stove in to keep your other gear clean. The stove is completely stainless steel - and it's thick steel, too. It will withstand pretty much any abuse you want to throw at it, or throw it at. I even pounded it on some rocks a few times and the metal just scratched a bit, no dents.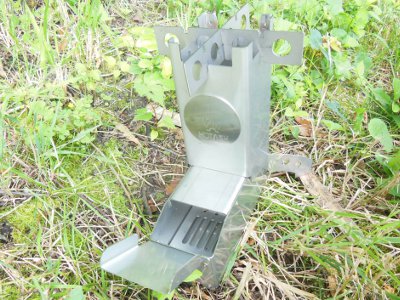 I set up the stove by placing the pieces together and using two thumbscrews to hold on stabilizing feet and fuel chamber. It's very stable and low enough to the ground that there's not much danger of burns from spilled hot liquids. I think one design improvement could be to replace the thumbscrews with a sliding lock, something like a keyhole, so there are no small, loose screws. Other than that, assembly is easy and fast.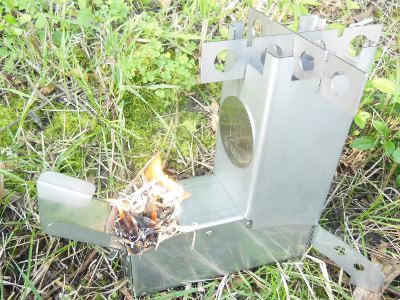 I shaved a few sticks for tinder and shoved the small bits of wood into the horizontal fuel chamber. The fuel chamber is above an elevated air chamber that pulls air in for efficient combustion, the key to a rocket stove design. My dry tinder lit easily and the twigs were burning in less than a minute.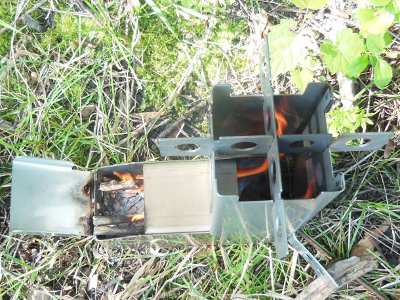 One of the key benefits of a rocket stove is that it burns hot and with very little smoke. It took about 6 minutes from lighting to smokeless, hot fire. Once the air draw was going strong and the heat was roaring up the chimney, the stove burned hot and clean. With the fuel chamber full of small sticks, I let the stove burn to see how long it would last. With no additional fuel, it burned for about 10 minutes and took another 15 minutes to burn to ash and become cool enough to touch the support legs to move the stove.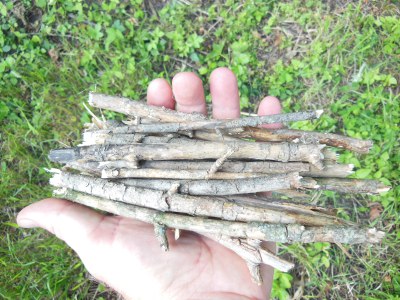 Ten minutes is plenty of time to boil a pint of water. Using just a small handful of twigs, a quick meal can be prepared. For longer heat, it's easy to feed more fuel into the chamber as it burns down.
I had fun playing with the Hot Ash, and I expect it will be a useful stove for many campers. Like any piece of equipment, it must be compared to alternative items that perform the same task, and individuals need to determine how they plan to use it.
Pros
Fuel is free - it just burns wood, actually just twigs.
Clean burning - once burning, it produces little smoke.
Sturdy - it won't dent, deform, or break when dropped.
Made in USA
Compact - doesn't take much space when packed up.
Fun - feeding small sticks into the fuel chamber is not a bad way to relax for a few minutes. The feel of real fire is something special, rather than the blue flame of gas.
Cons
It weighs 3.1 pounds. You can save 1/2 pound by leaving the support legs and cross-pieces at home. This is heavy to take backpacking since an alcohol stove, canister stove, or even white gas stove with over a week's fuel is lighter. (I feel the stove is actually much stronger than needed - a lighter gauge steel on the chimney and chamber would work well and cut the weight.)
It is not fast. Gathering fuel, building the fire, and then cooking, take much longer than other stoves, but faster than an open fire.
Success is reliant on the environment. If there is no fuel, or it is wet, then you have no heat. If there are open fire bans in place, you can't use it.
Cost - the purchase price is more expensive than many other cooking options.
Who Would Use It?
Car Campers - setting up camp for a couple days. No fuel to carry, small space, and real flames make it a good solution when weight is no concern.
Preppers - in case of emergency, it will be ready when a catastrophe hits. Just use scrap wood or debris for fuel.
Dinosaur Lovers - someone trying to conserve fossil fuels and consume renewable carbon fuel will prefer this over a gas stove.
Hike On
Posted: 18:25 08-04-2016 1291


Find more Hiking Resources at www.HikingDude.com
Follow Me