Minnesota Shore 2 Summit Loop Post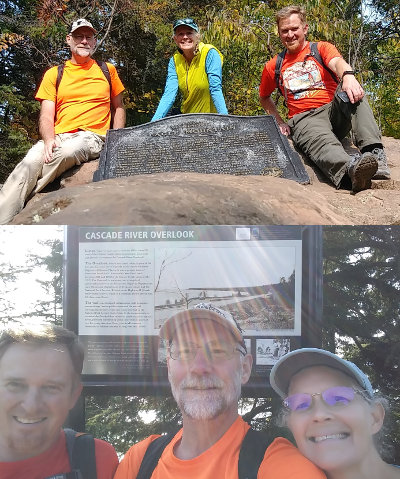 (Click any photo to see original size)
On this adventure, I took my wife and my brother-in-law on a 36-mile loop hike to touch both the highest and lowest points in Minnesota. This is a hike I've been wanting to do for a few years, just to see what it is like since I've not heard of anyone else doing it.
You can see a track of our walk
HERE
---
We drove to Duluth Saturday evening and stayed overnight with the BiL, otherwise the day would be half over before we started hiking if we drove all the way from the Twin Cities.
On Sunday morning, we left at 7am and drove up the North Shore past Cascade River state park, onto County Road 7, and then wiggled our way up to the intersection of forest road 157 and 158, also known as Cascade River Road and Bally Creek Road. This is about the halfway point of our planned hiking adventure.
Just a hundred feet or so north, the CL Ramstad snowmobile trail intersects FS158 and that is where we parked.
Just as we were leaving our car to head north up the dirt road at 9:36am, we heard a shotgun blast very close. We quickly changed into our orange and yellow shirts. Less than a hundred yards up the road, we walked past a pick-up truck with three hunters and a dog. As I'd find out throughout the day, driving a pick-up along forest roads is a preferred method for some 'hunters' around here. But, it probably has some success since we saw four or five grouse along the road.
The first 6 mile leg of our route was simple - follow FS158 to the northern end. The road Ts and at the intersection is the trailhead for Eagle Mountain. The road walk was easy, and it was nice for a morning walk through the forest, but there's not much to take pictures of.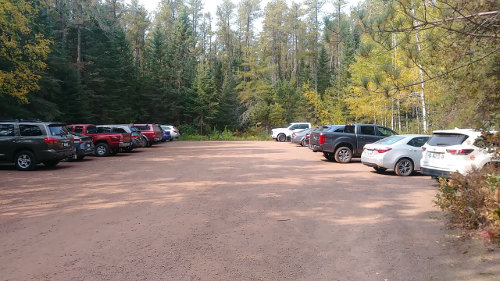 We weren't the only ones that thought a Sunday hike to the highest point in Minnesota was a good idea. Over 20 cars in the parking lot, and 52 people on trail, but it didn't feel too crowded.
I self-registered and got our permit at the trailhead kiosk. The locked box where I deposited the permit was so full, I had to crush it into the slot on top and hope it stayed. The permit is mandatory but free since we're doing a day hike in the Boundary Waters Canoe Area Wilderness.
There's one nice picnic table at the trailhead so we stopped for a snack and used the pit toilet. If you visit here, be sure to bring your own toilet paper - there were 6 empty rolls and 2 usable when we started our hike - they were all empty by the time we finished.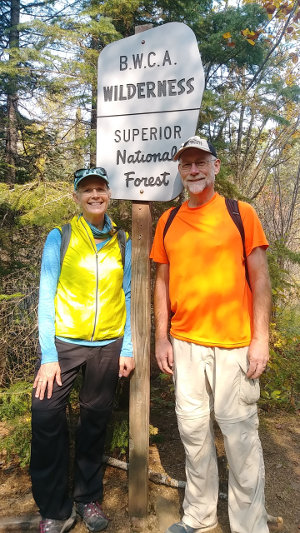 The trail starts at about 1750 feet elevation. About .9 miles in, you enter the BWCA at Whale Creek - the sign is kind of obvious.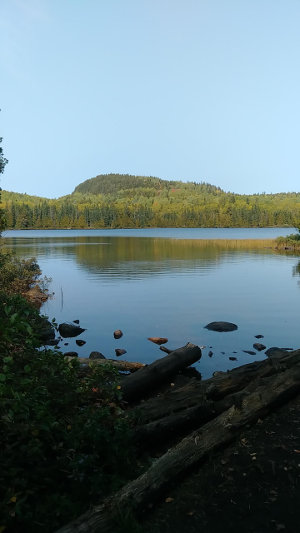 At 2.1 miles, a wonderful view of Whale Lake opens to the north with a hill (excuse me, mountain) across the lake that is just 100 feet shorter than Eagle Mountain.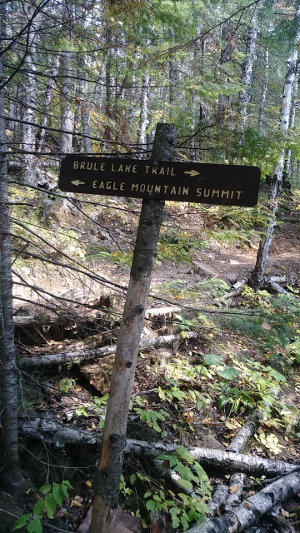 At 2.4 miles, the Brule Lake trail splits off the Eagle Mountain trail to continue west for another 5 miles or so. It stays flat, but here is where we start our climb up Eagle Mountain, rising from 1900 feet up to 2301 feet in a little over 3/4 mile. That's only 400 feet with a few steep spots, but mostly a nice, consistent ascent.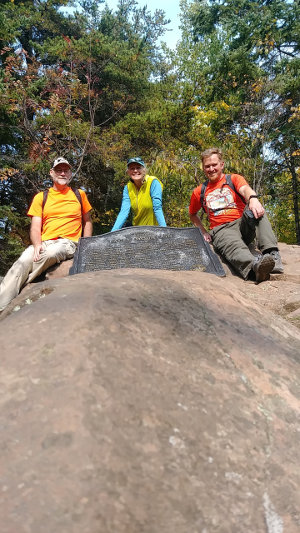 OK, so what's at the top?
Well, I was very surprised to see such a memorial here! There is a geodetic marker embedded in the summit rock as I expected, but there is also a very large metal plaque installed by the MN Historic Society -
Read It
. There is also a large old first aid case acting as a geocache, full of Clif bars, bandaids, and a couple trail registries. I did not sign in, but did leave a couple
stickers
for anyone to take.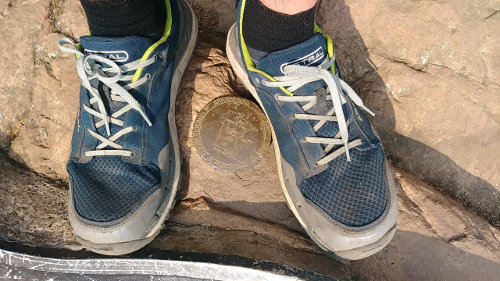 The most interesting thing about the summit was the geodetic marker. It was cemented in place in 2002 and gives an elevation as 2298.15 according to the stamped brass marker. That's 3 feet short of the 2301 feet advertised height - what's the deal??? (actually, the marker is so defaced that I had to find an
older image
to read.)
I looked at the past few days in the trail registry and it looked to be an average of about 20 new sign-ins each day. This is a POPULAR trail!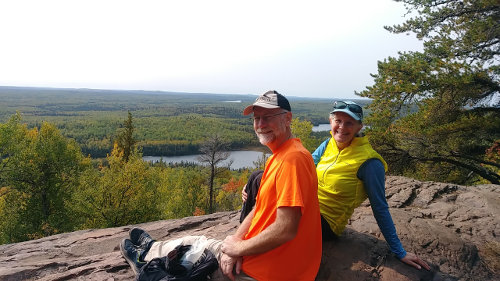 One thing missing at the summit is a view. It is covered in forest, but a wonderful view is just a few feet down from the summit where a rock plateau makes for a wonderful rest spot to scan the forest below all the way to the vanishing horizon with 4 or 5 lakes in the woods below.
We visited a week or so too early for great fall colors at this spot, but the sea of green below us will be brilliant yellows around the end of September.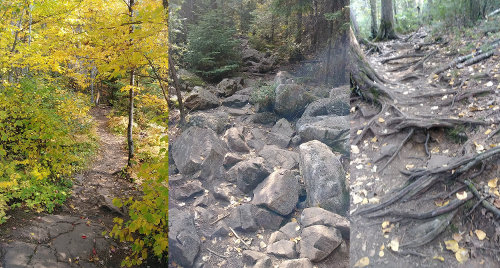 After a short rest, we headed back down the trail at 1:15pm to make room for others at the top. The trail itself was a mix of easy flat tread, roots, and rocks. So much traffic tends to wear trail tread down, increasing erosion and making it a rougher hike. I'd recommend using hiking poles if you're used to them.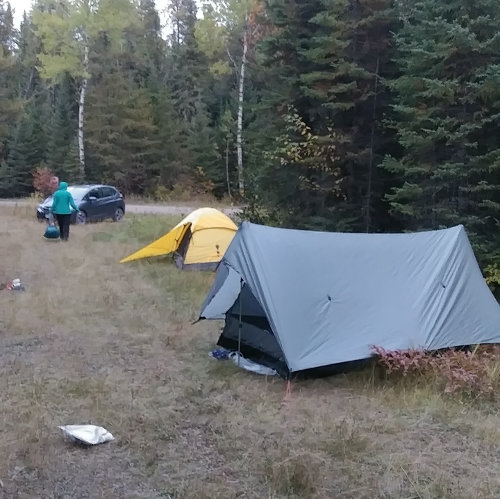 We had a nice lunch at the trailhead picnic table, very surprised that it was not being used. That was followed by a brisk 6 mile hike back to our car. Since we were back by 4:30, we decided to 'glamp' and drove into Grand Marais for dinner at Voyageurs Brewery instead of cooking our own.
Just before sunset, we returned and set up camp for the night. We just pitched our tents on the snowmobile trail since we were on the Superior forest. It was a warm, dry, breezy evening with no bugs and the stars were brilliant.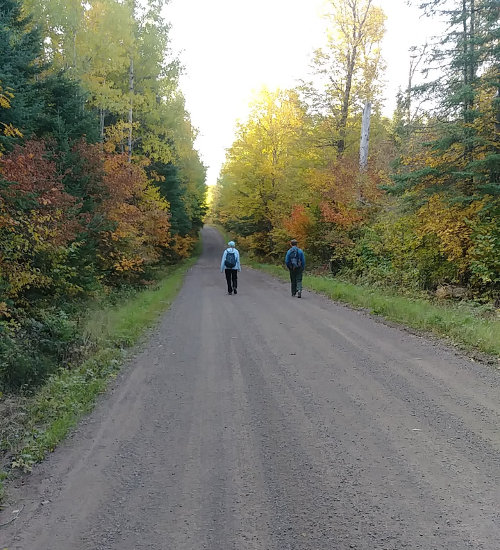 Our second day started with another brisk 6-mile hike along dirt forest roads. Since today was Monday, there were only a couple log trucks and no hunters out. Most of this section was across the higher Minnesota forest, with a few rises and falls over hills as we slowly dropped only a hundred feet towards Lake Superior at the very end.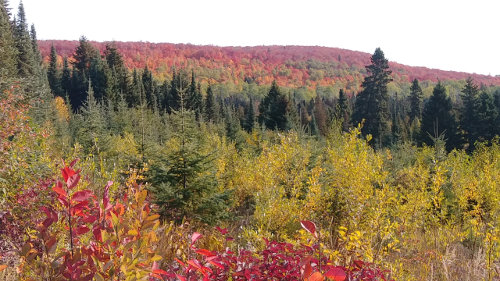 The hills closer to Lake Superior had more color, so we were treated to many red, orange, and yellow trees along the way.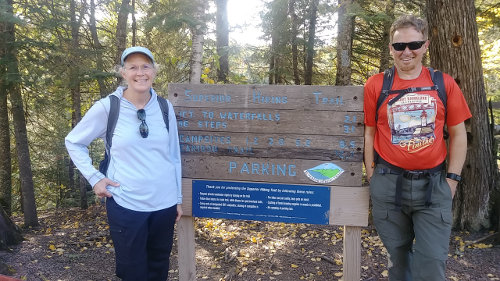 Since we started hiking around 7:30am, we reached the Superior Hiking Trail at about 9:30 and headed down the last 3.3 miles to the lake. Well, it was actually down, and then up, and then down, and then up, ... as we hiked into and out of every side gully that drains into the Cascade River. Here's what I mean...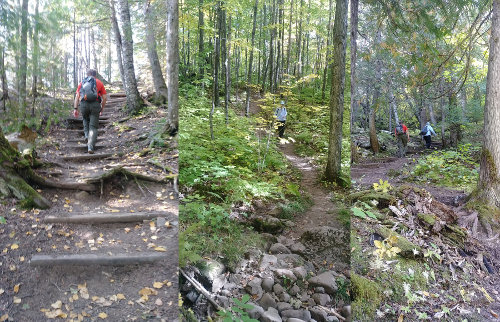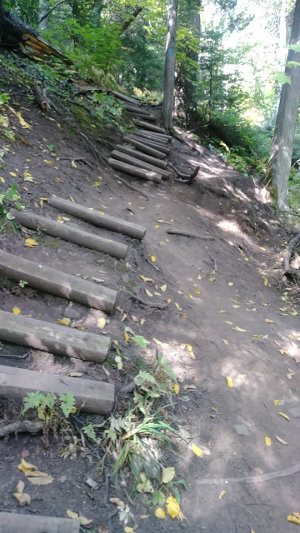 Since the SHT runs up both sides of the Cascade River, this 7 mile loop is very popular. It is a great example of the SHT being loved to death by thousands of hikers like us visiting it each year. With so many footsteps, the trail tread, erosion structures, and steps eventually wear out, as you can see here. This part of the SHT is in great need of some maintenance. Once the developed trail erodes, people tend to create their own paths and everything breaks down even faster.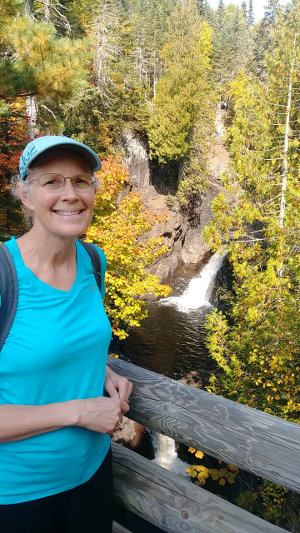 The lowest half mile or so gets the most traffic since it has beautiful waterfalls, constructed bridges, and a nice parking area directly on Highway 61. We encountered about 40 people, and there were people waiting to get a photo at this spot - probably the most photographed spot on the Cascade River. :-)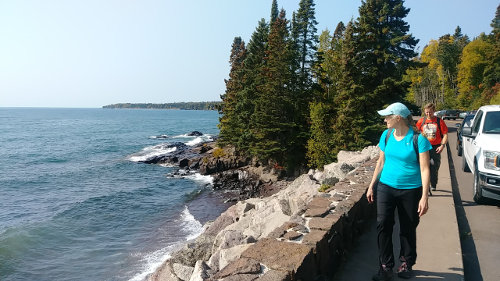 We played Frogger to get across Highway 61 to reach Minnesota's lowest point at 602 feet on the shore of Lake Superior at 11:45am. So, we made it from the high point to the low point in about 22.5 hours. We enjoyed lunch, lake, sun, and breeze for a half hour and then started our climb back up to our car.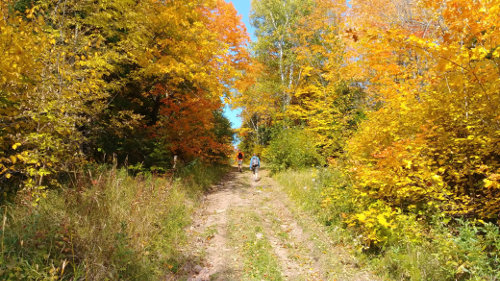 Instead of hiking up the SHT, I decided to take an alternate route using the cross country ski trails in the park. What a great idea! Insted of PUD after PUD, the ski trails made a constant, gradual ascent. Going this way, we were treated to an easy walk through quiet forest with many grouse, fall colors, and no tourists.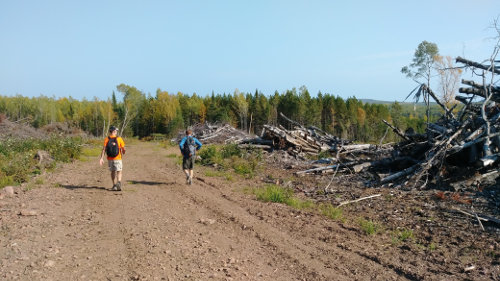 Our ski trail connected to an old forest road which brought us back to the dirt road we had walked down, but this new route cut off about a mile of road. To get more off-road miles, we followed two sections of the CL Ramstad snowmobile trail back. We hadn't taken them at first because I was concerned they might be swampy and overgrown. As it turns out, the trail was a wonderful walk even though it cut through a logging operation for a half mile.
We reached our car at around 3:45pm for a total Shore to Summit loop time of 30 hours.
Hike On!
Posted: 9:10 09-24-2020 1523


Find more Hiking Resources at www.HikingDude.com
Follow Me