Why Hike the AT? Post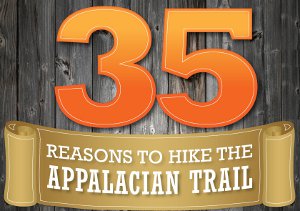 Click the image to view a fun map image of the Appalachian Trail with 35 reasons to hike the trail.
And, here's a few more oddities, tidbits, and fun about the Appalachian Trail:
Over 250 shelters cover the trail with spots to spend the night - one about every 10 miles.
A thru-hike costs $3,500 to $5,500 - depending on how much time is spent in towns.
A bit over 700 people reported hiking the entire AT in 2011.
Over 12,000 people have reported hiking the entire AT.
Max Patch Bald is considered by many to have the best views of any spot on the trail.
Trail Magic is common and a wonderful boost to hikers.
Roan High Knob is the highest shelter on the trail at 6,285 feet.
Clingman's Dome is the highest point on the trail at almost 6,700 feet.
Bear Mountain Bridge is the low point of the trail at 124 feet.
Around 160,000 white blazes mark the trail.
Spy Rock is a Confederate army lookout.
Pennsylvania is called Rocksylvania due to the roughness of the AT through that state.
Most thru-hikers pick up trail names at some point. It's easier to remember Hiking Dude than Bob.
100 Mile Wilderness in Maine is the most remote section of the AT.
The Appalachian Trail is 1/3 of the Triple Crown which includes the Pacific Crest Trail and Continental Divide Trail.
Can you think of any other reason to hike 2,200 miles?
Hike On
If that image can't be found see
alternate image
.
Posted: 7:33 02-19-2013 950
---
All Comments:
May 14, 2013 - Brad
Great website! Do you or any of your readers have a cost estimate for section hikers? Curious to know what others have experienced on each section. Thank you, Brad
---
---
Ask a Question
---


Find more Hiking Resources at www.HikingDude.com
Follow Me