Adidas AX2 Hiking Shoe Review
Adidas Outdoor AX2 Hiking Shoes - Men's
My review of the hiking shoes is a result of working with SoleLabz.com.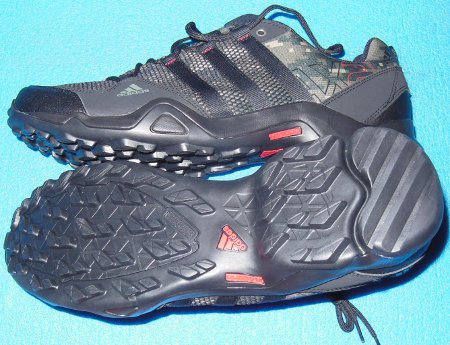 About Adidas Group
Believe it or not, Adidas group started out in a washroom all the way back in 1924. Talking about humble beginnings...
That same year the "Gebruder Dassler Shuhfabrik" opened its doors and embarked on a journey of providing athletes with best sports equipment. The first rewards and milestones came in 1928 and 1936 when Lina Radke and Jesse Owens won their gold medals respectively, wearing Adidas equipment.
Adi Dassler (49 at the time) started over in 1949 with his "Adi Dassler Adidas Sportschuhfabrik", which gave birth to the famed Adidas shoe featuring three stripes. It was a breakthrough for Adidas, and it launched them to stardom.
In 1954, the German national football team won the world cup wearing Adidas football shoes, which made the company and its founder pretty much a household name on sports pitches worldwide.
Adidas expanded its offer to tracksuits after Franz Beckenbauer wore it for the first time, opening opportunities for a whole new line of business besides sports shoes.
Today, their division of Adidas Outdoors has branched out into the market of anything outdoors, from some of the best hiking sandals to high-end snow boots.
Successes just keep on piling up from there on. That brings us to the new business plan Adidas presented in 2015, which can be perceived from the phrase "creating the new".
Adidas AX2 hiking shoes basic info
This is a short layout of fundamental information Adidas offered us as an introduction to this model. Here is what they brag about...
The uppers are made of synthetic materials to provide good flexibility and light weight. They are also intersected with mesh patches, offering enough breathability to counter perspiration and odor build-up. On the other hand, synthetics like polyester have a quicker expiration date than leather, for example.
Adidas says that the insoles are molded so they'll provide anatomical support to your feet and give them optimal comfort once on the trail. One of the most important things about the AX2 is that they'll follow the natural curves of your feet for a more natural feeling.
The midsoles are EVA, which ensures light weight and long-term cushioning. EVA midsoles also provide structural support to the shoes and give far more flexibility than the alternative (polyurethane).
They've opted for textile lining, which further increases the overall comfort. These hiking shoes are low-cut (meaning ankle-high), so they'll keep your ankles safely padded.
That's what Adidas is saying, and its only natural they'll advertise the shoes as "the best in class". But let us move on to the one audit that really matters, one that starts when the delivery guy rings your bell.
My views on the Adidas AX2
The AX2s I received are black with camo pattern under a mesh cover. They are size 13, weighing 30.4 ounces.
The shoes are put together well, with no noticeable weak spots where the tread and upper join together. No missed stitching or sloppy glueing. They feel like a very solid, well-made product.
Many trail shoes come in bright, visible colors. These are black over camo pattern material so they are very subdued. I like that. The brand name on the sole and a few spots on the tongue use red color as a highlight, which isn't a big deal but does stand out.
The tread is deep and knobby which should give good traction on dirt, sand, or mud. I noticed the tread material is very hard, so much that a finger rubbed across it squeaks. That may help the shoe last longer, but I found it also means they slip on ice more than a softer tread that has a bit more grip.
Every shoe design has a slightly different shape and fit than any other. What fits one person perfectly may feel uncomfortable on another. My feet just don't fit this shoe very well. My foot pad at my big toe sits right on a hard spot in the sole and I can feel it rub. My heel refuses to stay put, constantly sliding up and down with each step. I've fiddled with the lacing, trying to adjust a good, tight fit with no luck. If my foot and shoe don't work out a better deal, I won't be able to wear this shoe long distances since I'll certainly wear out sock heels and probably get blisters.
The pad inserts are not glued in so they can be easily removed and replaced with whatever is desired.
The laces are smooth and tend to slip a lot. It would have been nice to use a material that did not slip so much, but a double-knot solves this nuisance.
It seems that the mesh is more of a decoration laid over the camo shoe material. On other mesh shoes I have, the mesh is the main material, making the shoe a bit lighter and breathable.
I will add more information, after I've worn these shoes enough to know how well they work, and hold up, out on the trails.
---
All Comments:
Jul 16, 2023 - Ken
I just purchased the Adidas Ax2 last week.Overall very light weight, breathable shoe.The tread is aggressive enough for all trails I hit.And does have a close fit around the foot.They are a lower cut from my last hiking shoe which I have noticed quickly that my heel constantly slides out of the shoe.Maybe after a few hikes that might change.An adjustable heel strap would have been nice.
---
---
Ask a Question
---


Find more Hiking Resources at www.HikingDude.com
Follow Me