Superior Hiking Trail 2022 Journal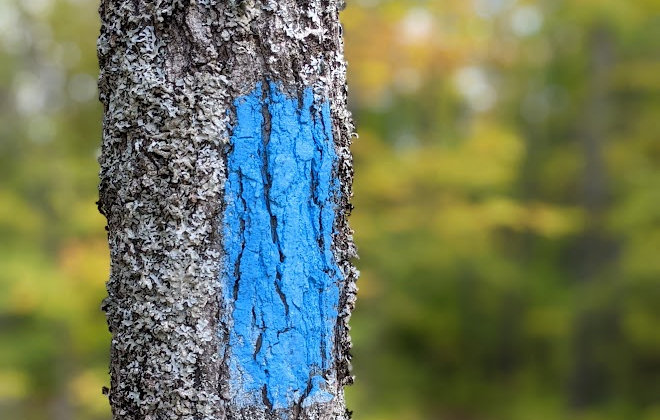 Back to Border Route Trail Info page.
For three years, my wife and I have been planning a Border Route Trail thru-hike. A pandemic, a cold, a bum knee, and a storm delayed our hike until this year. We finally did it!
We took 5 and a half days to cover the 65 miles and then another 4 days to hike 50+ miles down the Superior Hiking Trail to Grand Marais, MN.
This page describes the Superior Hiking Trail portion. You can read the BRT portion if you'd like.
To see a track of our route, you can visit my Trail Map page. If you have any questions, just ask - every trek is different, but our experience will hopefully help you prepare for your journey.
---
Days0-5
Day6
Day7
Day8
Day9
Day10
---
Mon - 09/26/2022
Day 6: Transitions
From: North Terminus To: Caribou Pond
Distance: 5 miles
Trail Time: 4:30 (7:45am to 12:15pm)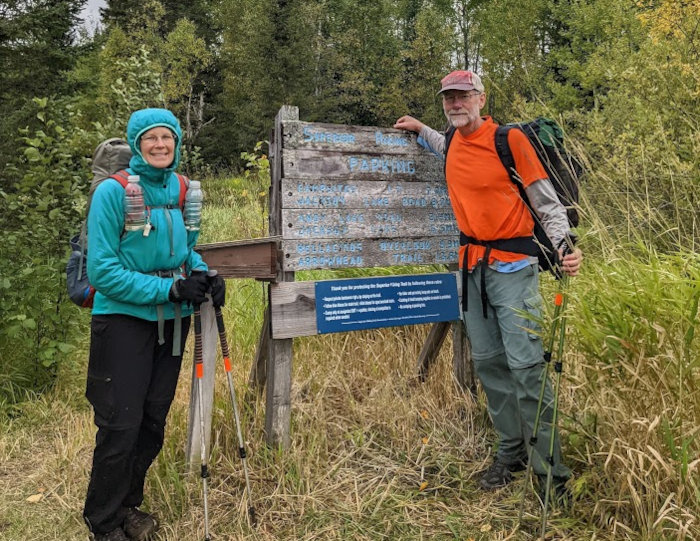 The transition from BRT to SHT was pretty dramatic. The tread is much more worn, few plants hanging out into the trail, and blazes on many trees.
We started walking east on Otter Lake road around 12:30 with the idea of stopping at Jackson Creek campsite. Pretty much every road crossing, and there are plenty, on the SHT has a detailed listing of upcoming milestones with distances.
Be sure to look on the back of the sign, depending on the direction you're headed. The distances give a general idea of what's ahead and the order you should be reaching sites.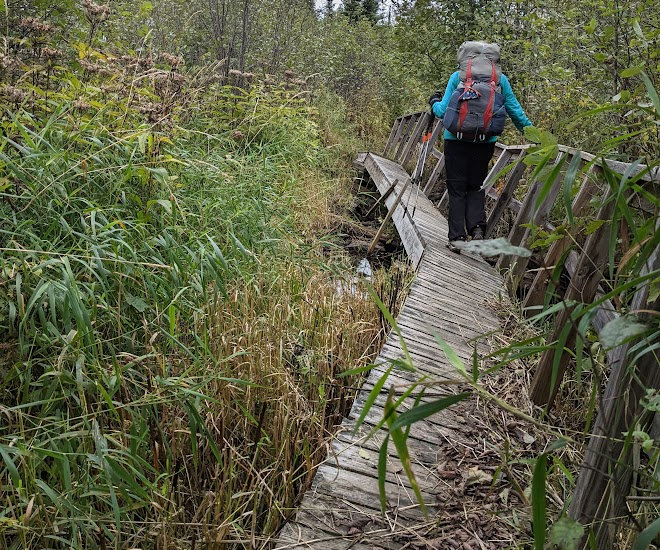 While the BRT had a couple bridges, it seems nearly every boggy spot, and even some dry areas, have bridges or boardwalks over them on the SHT. There are more now than a few years ago. I find myself wondering if we'll one day be able to walk from Duluth to Canada without ever touching the actual ground.
This one was a bit sketchy, but it held up for us just like it has for hundreds of other hikers this year.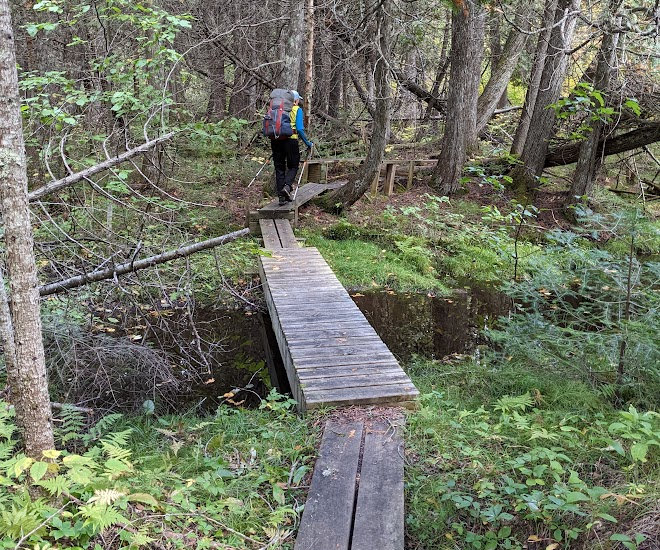 Yet more boardwalk and bridge structures. Oh, there are plenty of muddy, rough spots on the trail, but there has been a lot of effort to concentrate the feet and protect the land here. It seems to work since there is no trail widening when there's a boardwalk, but it does feel weird to stroll along with no effort for hundreds of feet.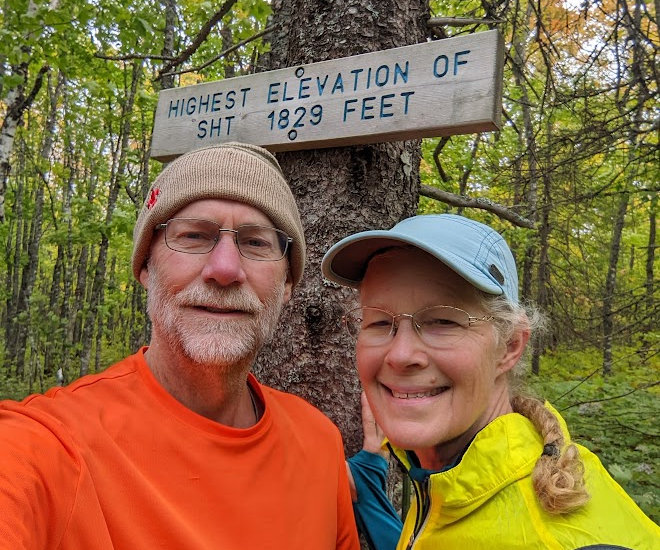 The first day southbound, hikers reach the high point for the trail, so it should be easy from here on - maybe not. We found there to be plenty of undulating ups and downs, but only a few that were steep, and all of them were short. This spot is easy to miss if you aren't keeping an eye out.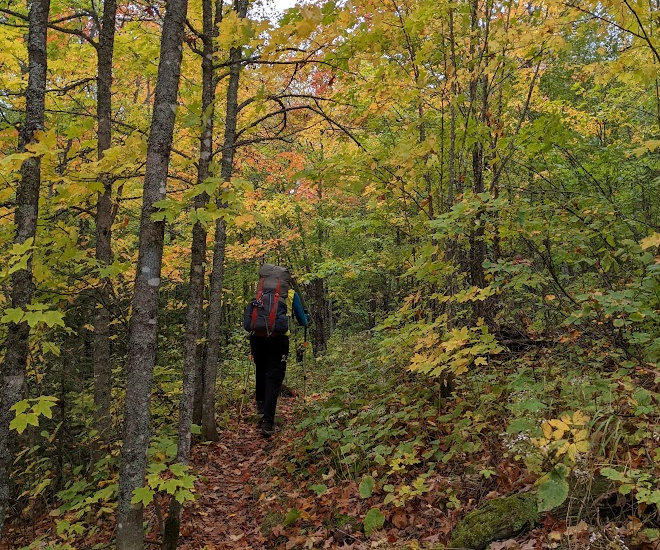 Another obvious change today was the color of the forest. Farther north on the BRT, there were few maples, so the freshly changing colors were pale yellow for the most part. Today, we were treated to more oranges and reds, though they still seemed early in the process.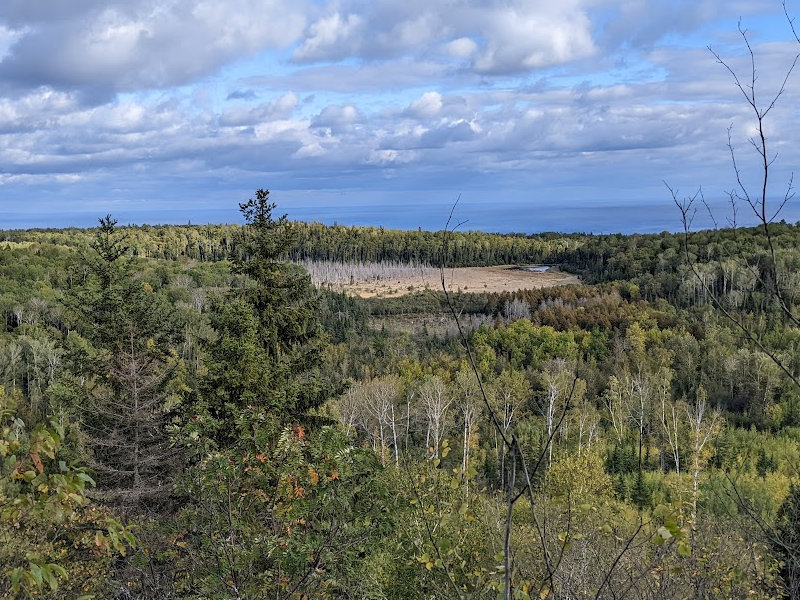 We also got our first vista to the south, gazing out over Lake Superior. We've reached the very tip of the arrow and are now heading down the other side of the arrowhead.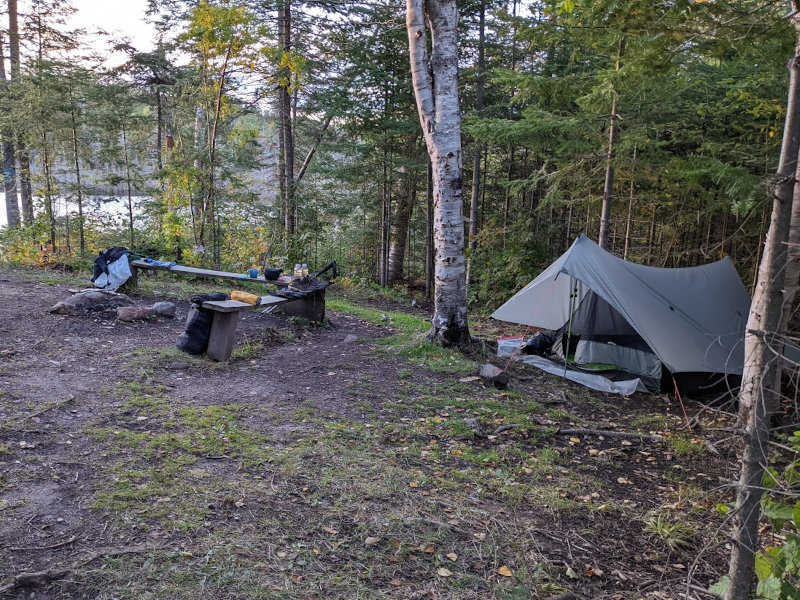 Since the tread is so packed, open of brush and blowdowns, and obvious to follow with the bright blue blazes, we made great, easy miles. Jackson Creek came too soon, so we continued on to Caribou Pond. This turned out to be a bad move.
There is a 12 mile section around Judge Magney state park with no SHT campsites. So, from Caribou Pond, you either do a 10 mile day to Hazel or a 21 mile day to Little Brule River sites. If we had stopped at Jackson Creek, it would be 14 miles to Hazel and we would have had a much nicer site for the first night on the SHT. Caribou Pond is a terrible site - avoid it! No level space, dead trees, and cramped. The funny thing is that I blogged the same complaint on my thru-hike journal 10 years ago - so it's my own fault.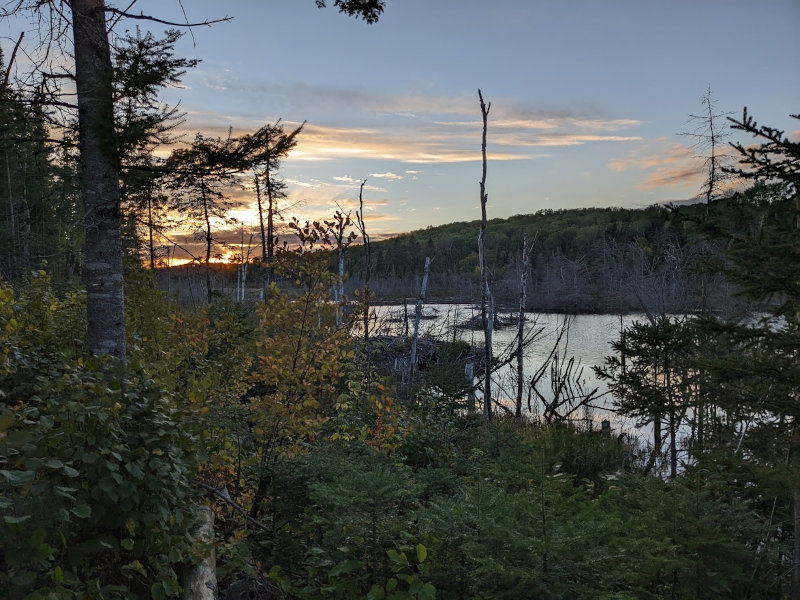 The high wind funneling through the campsite between two hills, bringing our coldest temps so far, didn't help either. But, we had a nice sunset and slept just fine. We've gotten pretty good at spending half the day in our tent - it's now dark from about 7:15pm to 7:15am.
---
Tue - 09/27/2022
Day 7: Hikers Galore
From: Caribou Pond To: Hazel
Distance: 10 miles
Trail Time: 6:30 (8:30am to 2:00pm)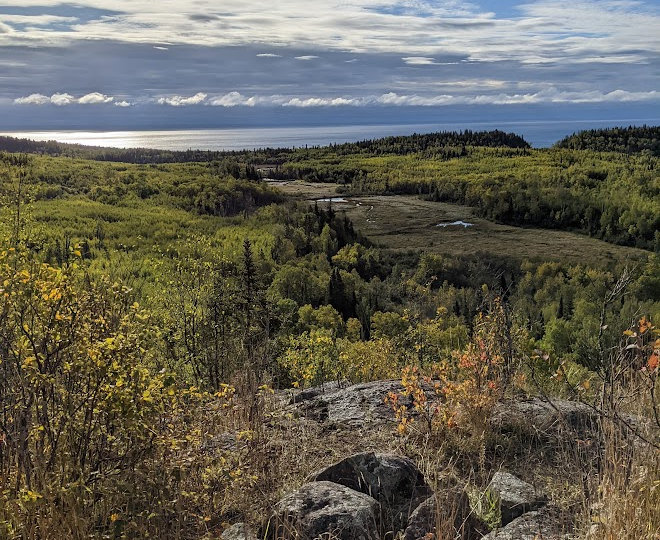 With just a few lingering clouds in a bright, blue sky, we left camp around 8:30 to see how far we could get today. After a discussion while taking our breakfast break near Hellacious Overlook a mile down the trail, we decided to just shoot for a 10-mile day to Hazel campsite. We have an extra day, the trail is nice, the forecast is practically perfect, and we'd like to give the trees all the chance we can to color up.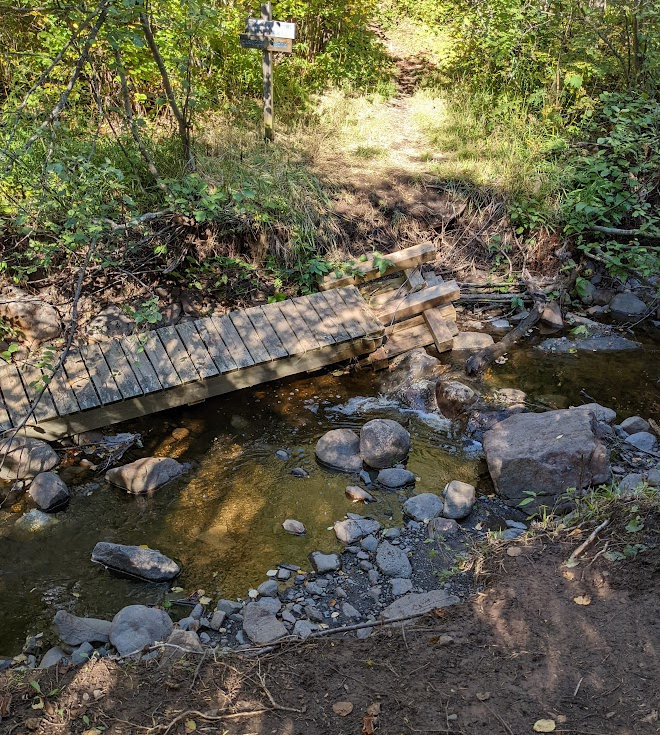 Three miles from Caribou Pond, the trail meets up with Carlson Creek. As you can see, the trail obviously crosses the creek here and the bridge has been washed out. So, we hopped, skipped, climbed, and grunted over the rocks to the far side and climbed steps up about 100 feet to a tralihead on Arrowhead Trail road.
There were a couple vehicles parked here and a large sign that said "Main Trail 500 feet" and a big arrow pointing south down the road. I dutifully followed the arrow down the road. From past experience, I know it's easy to miss a trail peeling off a roadwalk, so I kept my eyes open. After well over 500 feet, there was no sign of a trail, so I referred to the Hiiker app on my phone.
Well, it turns out that we did NOT need to cross the creek because the main trail continued following up the same east side we had started on. The sign by the road was intended for new hikers just starting to hike the SHT at this trailhead and was stating they needed to go down the 100 feet of elevation to the creek. Grrrr! Newb mistake on my part!
Back at the creek, we found the much less obvious trail leading north on the east side of the creek and continued on our way. This was after I lost my debate about the merits of just hiking up the road until it intersected with the trail about a mile away, thus saving a backtrack downhill and up again.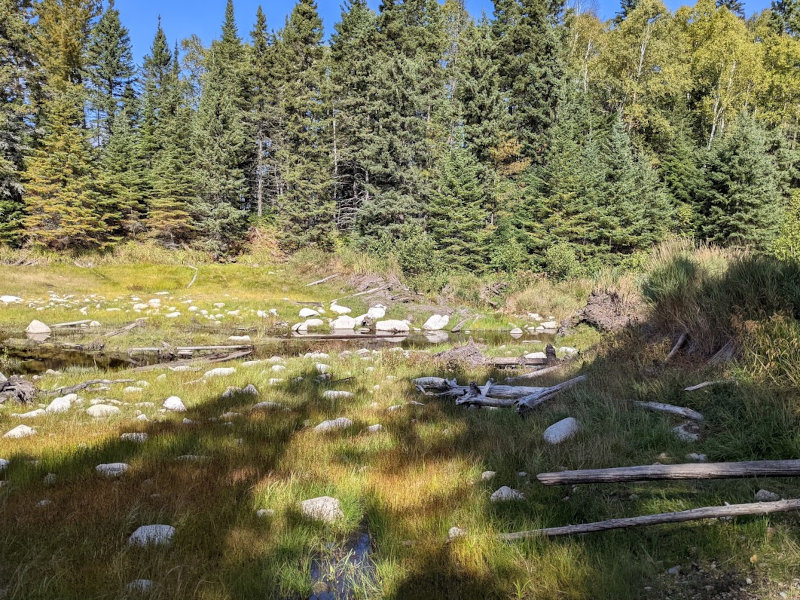 Three miles farther on the trail, you reach the Carlson Pond campsite. The campsite is on a slight hill and very nice, but the expansive beaver pond which was the water source is no more. For some reason, the dam gave way and has not been repaired. This is a very interesting example of how these beaver change an area.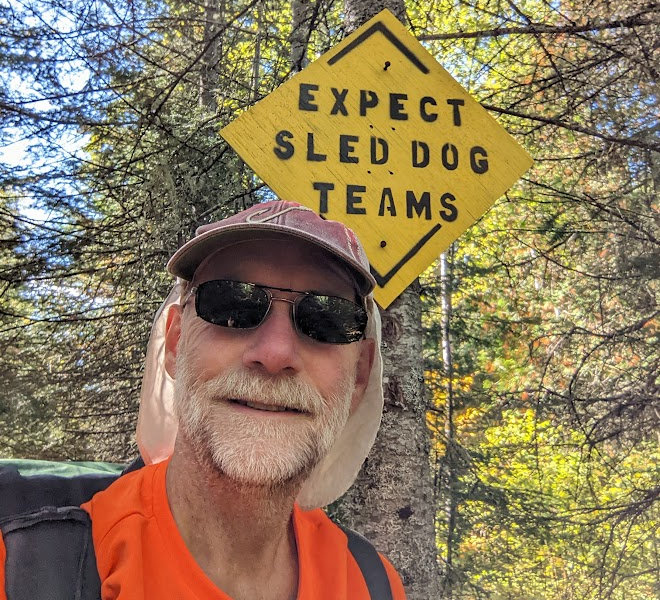 I expect this is one of the most photographed spots on the SHT. :-) It's just a trail crossing out in the woods, but causes many smiles.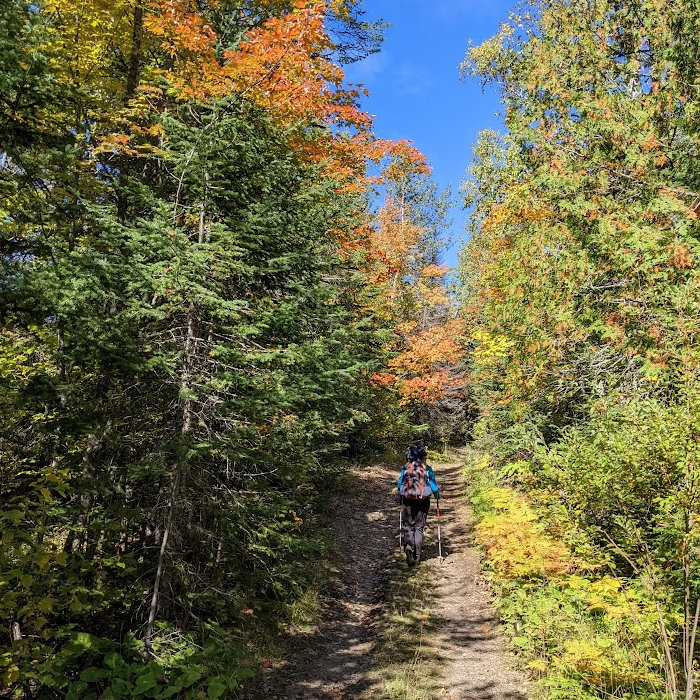 The Tom Lake portion of the trail is still flooded. In the past, I have walked the grass beside the old roadway to stay dry, but this year it is much deeper and the trail has been permanently rerouted around the bog to the north of the roadway. After this short, soggy part, the roadway makes for a very easy stroll through the woods, and we enjoyed their colors along with a few grouse.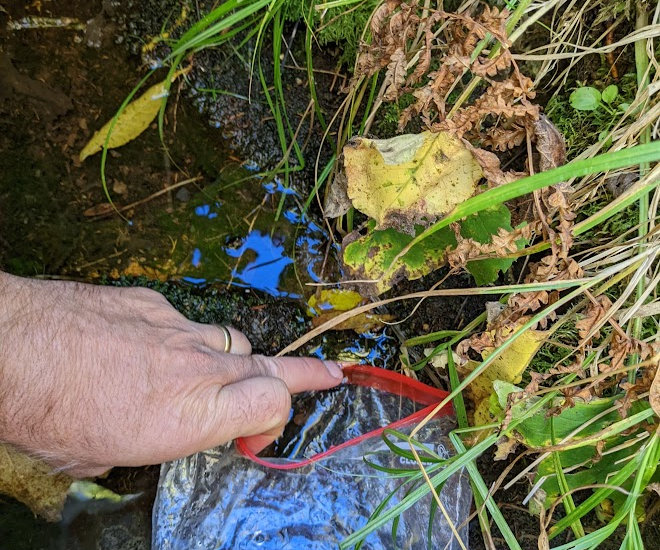 A final walk through the Hovland nature management area was a pleasant end to our hike as we quickly came upon the Hazel campsite. Being so early in the afternoon, we were first to pick a tent spot. There was not much to choose from.
With our tent up, I grabbed two water bags and headed back to the Flute Reed River that we had crossed .4 miles earlier. This is actually the headwaters of the river which is much larger closer to Lake Superior. Here, I could only find a tiny trickle spilling out of the culvert under the roadway through some moss.
By pressing the lip of a zip-loc baggie into the moss, I could coax the water into it. Only about 15 minutes later, I had our bags full and headed back to camp.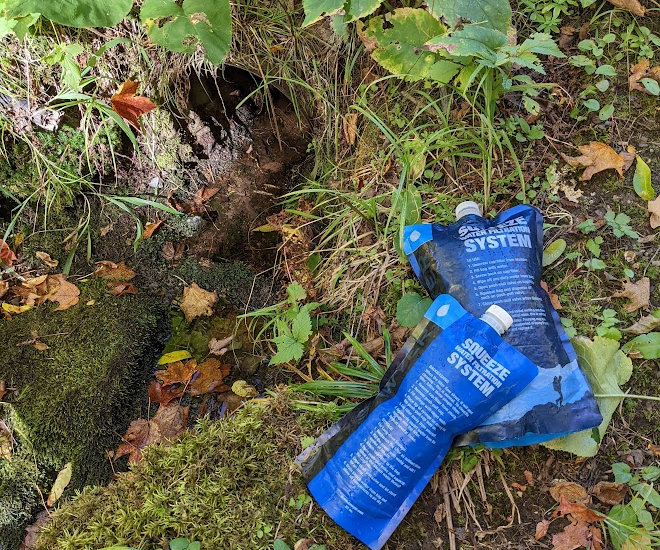 It was tedious, but a bonus was that this water was clear, not tea brown. And, I had some quiet, peaceful time sitting alone in the woods.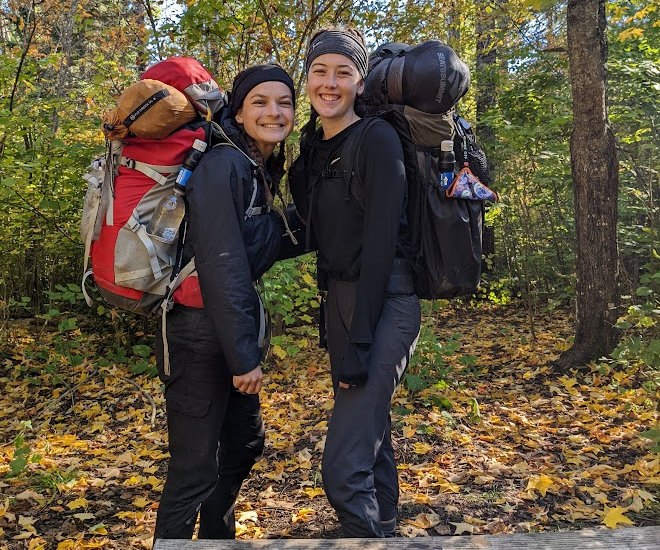 Later in the afternoon, these two thru-hikers came by for a rest. They are Ramsey and Bambi - that's their trail names. They had started at the other end 22 days ago and would be finishing in 2 days.
It was great to chat with a couple of new hikers doing their first big hike together, and seeming to enjoy it all. By this time, they had their daily routines down pat and their efficiency of stopping, resting, and going again was fun to see.
Notice how I asked them to pose with their Sawyer Squeeze filters in strategic product placement view? :-) Their Smart Water bottles were crushed and crinkled, proving they have really put on the days and miles.
After Ramsey and Bambi continued on, Dave and Patti with their dog Scout showed up. Turns out Dave is an artist and has an exhibit in Grand Marais. And, Patti is finishing up her last few miles of section hiking the SHT. With little room here, they set their tent up right in the trail - and it turned out right under the bear cable.
Bear cables are being installed at sites to help people secure their food rather than trying to find appropriate trees. We just tied our Ursack to a tree down the trail a way instead of hanging it over their tent. :-)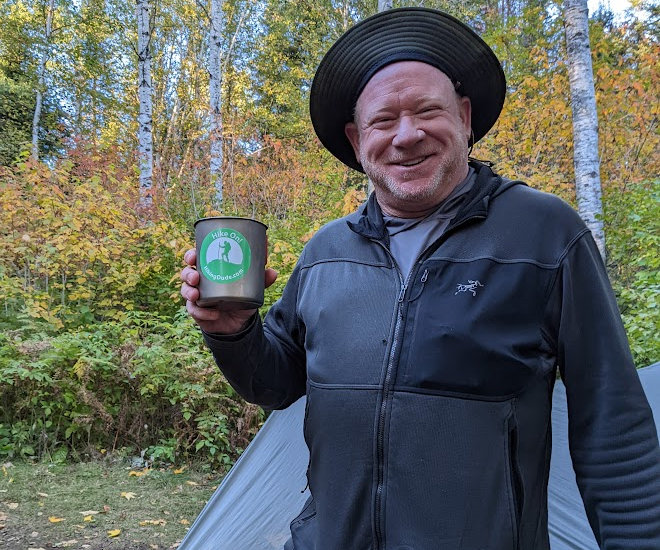 A bit later, this friendly hiker came in from the south. Turns out he's Rob Coughlin who hosts "A Hot Minute" - an Instagram interview show for Granite Gear, and he's a co-owner of the company. Anyway, he hiked in 2 miles from the next trailhead and he'll be going out the same way in the morning. Why such a short overnight hike?
Well, he just dropped off a thru-hiker named Liz Thomas at the northern terminus this morning and she's supposed to camp with him here tonight. Eventually, as it was getting dark, she finally made it to camp. We had a nice time visiting around the only campfire of this trip, talking about hiking, art, Granite Gear, and how cold it's supposed to get tonight.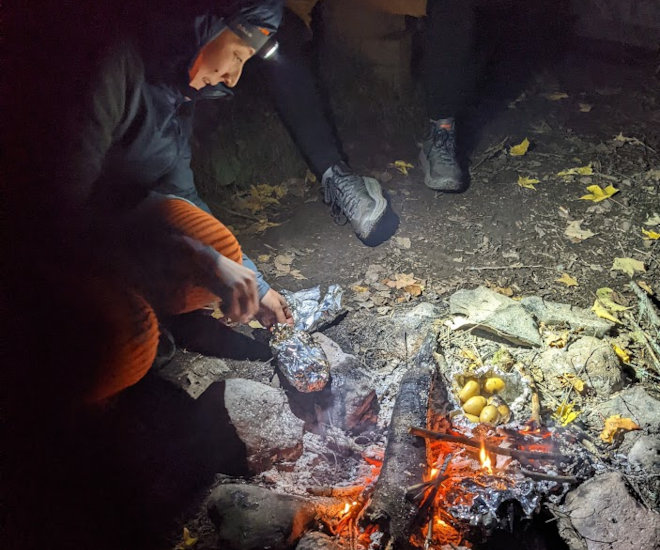 Having a support person for a hike is a nice luxury, if only for a short part of it. On my Arizona Trail thru-hike, PapaBear supported me for a couple days at the end with waiting food and company - very nice!
Rob packed in real potatoes and steak for Liz's dinner, so they cooked it in the dark. This was also the latest we stayed up this entire trip, but it was worth it for a taste of a potato - Mmmmmmmm!
---
Wed - 09/28/2022
Day 8: Downhill All the Way
From: Hazel To: Lake Walk
Distance: 13.5 miles
Trail Time: 7:30 (8:00am to 3:30pm)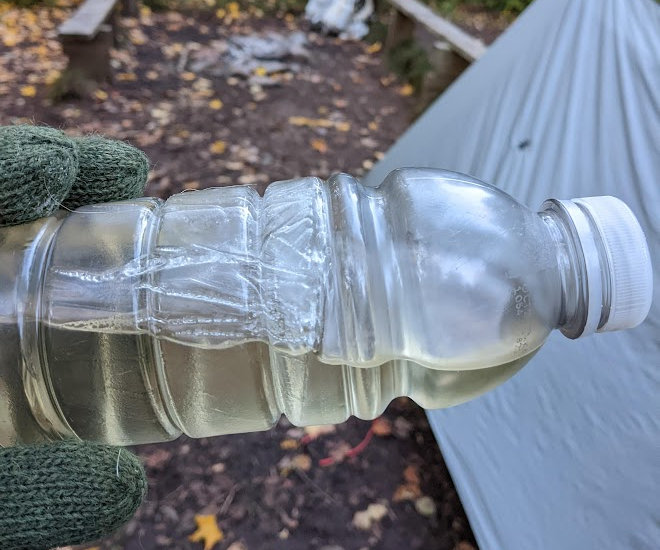 Brrr! After clear, sunny, chilly days, and grey, dreary, rainy days, we finally got our freezing day! Woke up to ice in our water bottles this morning.
The biggest concern hikers should have about water filters is to keep them from freezing. Water trapped in the filter portion can tear, rip, crack, or puncture the material whether it is ceramic, plastic, or paper based. So, we've been sleeping with our Sawyer Squeeze in a baggie between us every night.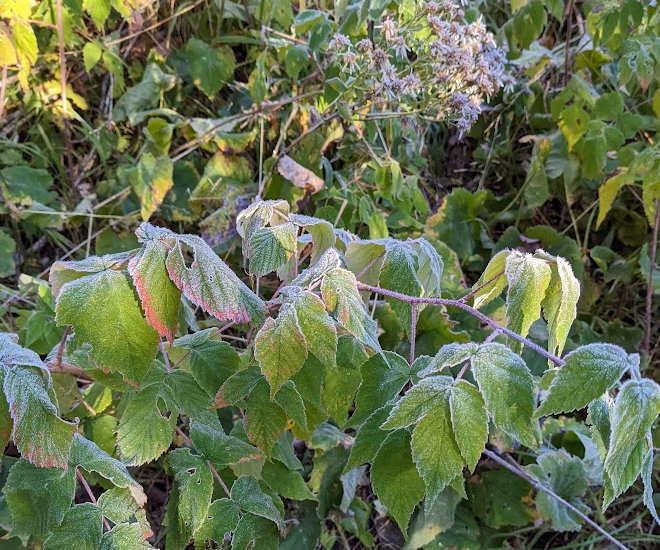 By the time we got packed up, everyone else was on the trail. It feels weird to not be the first one out in the morning, but this hike isn't really a mile crusher and the quilts I made are too cozy to leave too early.
It was a glorious day to be hiking through the woods! The thick frost on the plants gradually disappeared as the shadows gave way to bright sunshine. The trail was easy and mostly downhill, so our first 2 miles went quickly to the one long roadwalk of this trail section.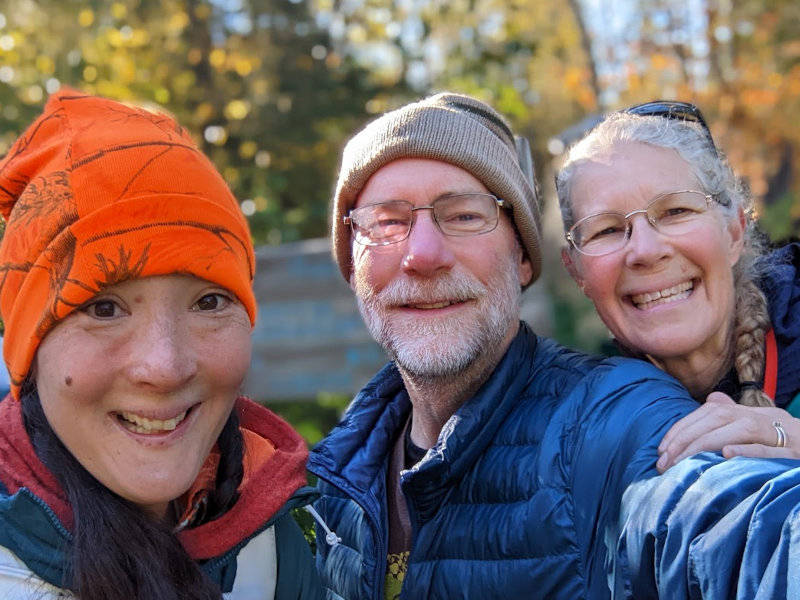 When we popped out of the forest onto the dirt Country Road 70, far to the south we could see a hiker in bright orange heading away from us. Liz had hiked out earlier with Rob and was now on her own. Over the next mile of gravel road, we gradually gained on her and then got to walk and chat together as we neared Judge Magney state park.
I should tell you a bit more about Liz. Off the trail, she's a bit more than just another hiker. If you do much online long distance hiking research, you've most likely heard of Liz "Snorkel" Thomas. She's hiked a bunch (like the Triple Crown of AT, PCT, & CDT), held the Fastest Known Time for the Appalachian Trail, written some books, and runs Treeline Review (also see eathomas.com). It was a real pleasure to meet her on trail, and I was glad she got that brand new hunter orange hat to stay safe out here. :-)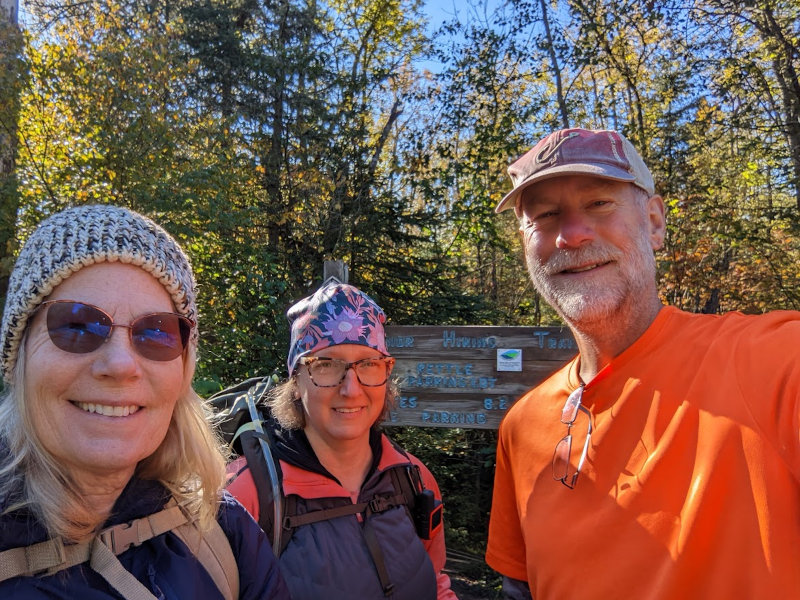 Since we had our warm layers on and had not eaten breakfast at camp when it was cold, we parted ways with Liz at the end of the roadwalk before entering Magney state park. As she hiked on to complete her entire SHT thru-hike over the next 2 weeks, we got rid of long underwear and other layers while we had our cold breakfast.
As we were eating out protein bars, a vehicle pulled up and these two nice ladies with a dog got out. They are dayhiking sections of the SHT with a car at each end. It's interesting to see all the different ways people approach the trail, from an all-at-once thru, to a few Long-Ass Section Hikes (LASH), to day hikes every weekend.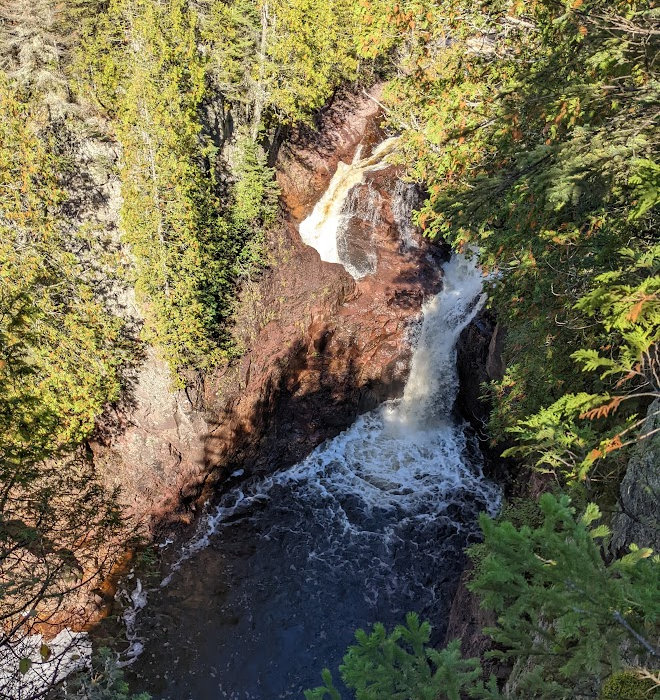 Part of this morning's hike is about 6 miles almost due south, much of it following the Brule River. Like most North Shore rivers, the Brule found a soft spot in the mountains and carved a narrow gorge through which water from the higher plateau to the north drains. As it gets closer to Lake Superior, it gets narrow and steep. The Brule has a special spot named the Devil's Kettle where half the river disappears into a hole. Really! It also has 194 (give or take) steps to climb after looking at it, and those steps are part of the SHT! So, it isn't really all down hill after the SHT high point, I guess.
The state park is a great place to "borrow" a toilet break in the campground part if you don't mind ignoring the "Registered Campers Only" signs. There is also a nice parking area with potable water, two toilets, picnic tables to rest at, and, most importantly, a garbage can to drop off trash you've picked up on the trail.
When we got there, Snorkel was having lunch and drying her gear. Got to chat a bit more before she packed up and left. That was the last we saw of her, so I hope the rest of her thru-hike was fun!
The forest trail exiting Magney to the west is easy and peaceful, following a private property boundary where the owners allowed the SHT to pass. We reached the three Little Brule River campsites around 2pm so, concerned I'd be bored sitting here all afternoon, we continued on. Crossing highway 61 which was the first paved road in 8 days, we reached the famous Lake Walk section.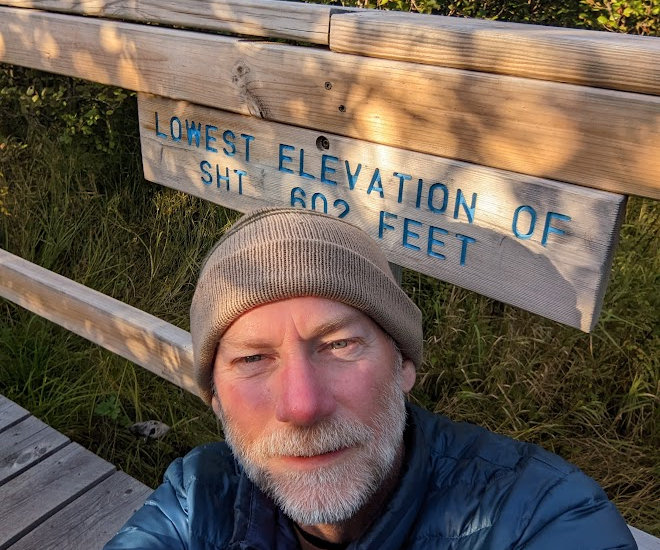 While most people take a photo as they pass the Highest Point on the SHT, I expect the vast majority miss the Lowest Point sign. I only happened to notice it after we had walked past. The shore of Lake Superior is the low point at about 600 feet. So, the entire SHT only ranges from ~600 to ~1900 feet.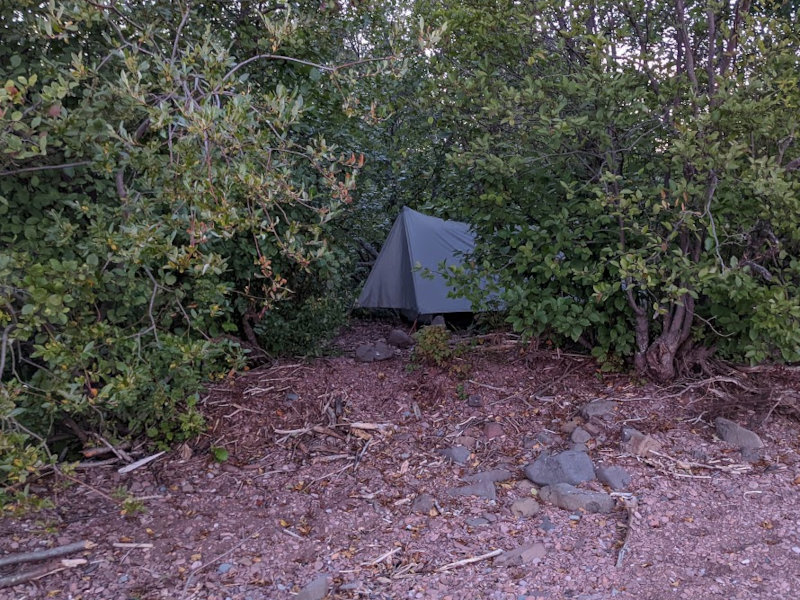 I had seen people camping on the Lake Walk on my previous SHT thru-hike and had hoped to try it. There are signs for sea kayakers touring the lake, so they can camp there. We tucked our shelter into some small trees on the back of the beach and it was VERY comfortable on the small, flat rocks. I think we did a good job of hiding away.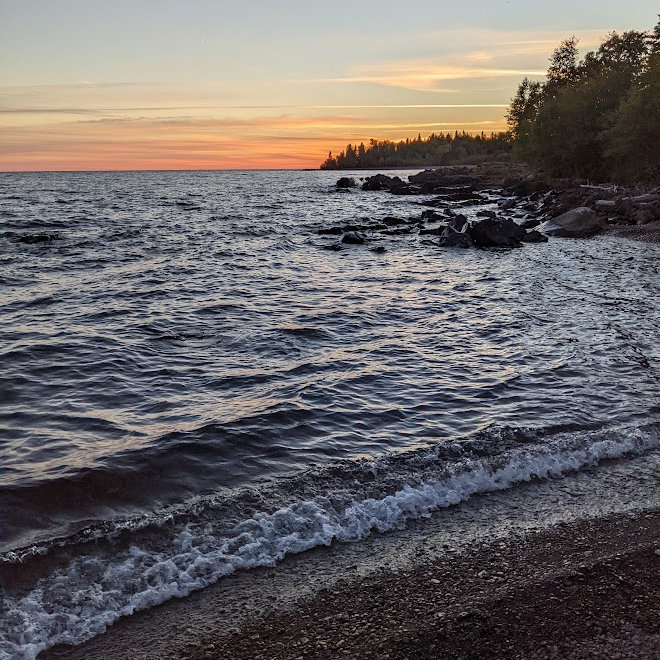 After a couple hours of relaxing in the late afternoon sun and skipping some rocks, we made dinner and crawled into the tent for the night. A nice sunset, and the wave noises drowned out most of the traffic noise from highway 61 just a few hundred feet away.
---
Thu - 09/29/2022
Day 9: Penultimate Day
From: Lake Walk To: West Devil's Track
Distance: 14.25 miles
Trail Time: 7:45 (8:00am to 3:45pm)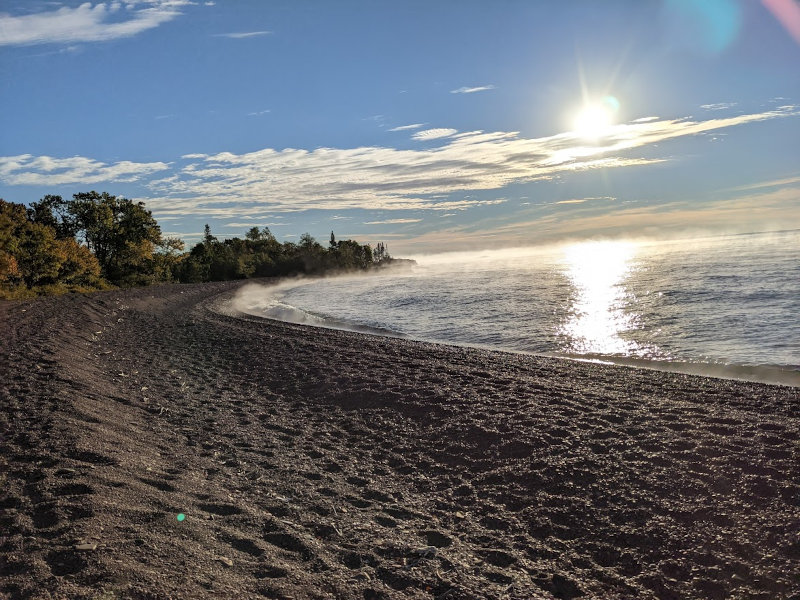 As yesterday ended, today started with bright sunlight over the lake, just from the opposite direction. The steam wisping off the lake testified to the crisp chill in the air as fall continues to creep ahead. Yet another glorious day for hiking, helping us forget the two days of rain soooo long ago on the Border Route Trail.
The Lake Walk is made of nice, flat stones which are great for skipping, but not so much for walking. After a quarter mile or so, we dodged inland to what is left of the old paved road and walked it paralleling the beach, and then on the shoulder of highway 61 until we reached the point where the SHT started up into the woods again. This saved some wear and tear on a knee or two.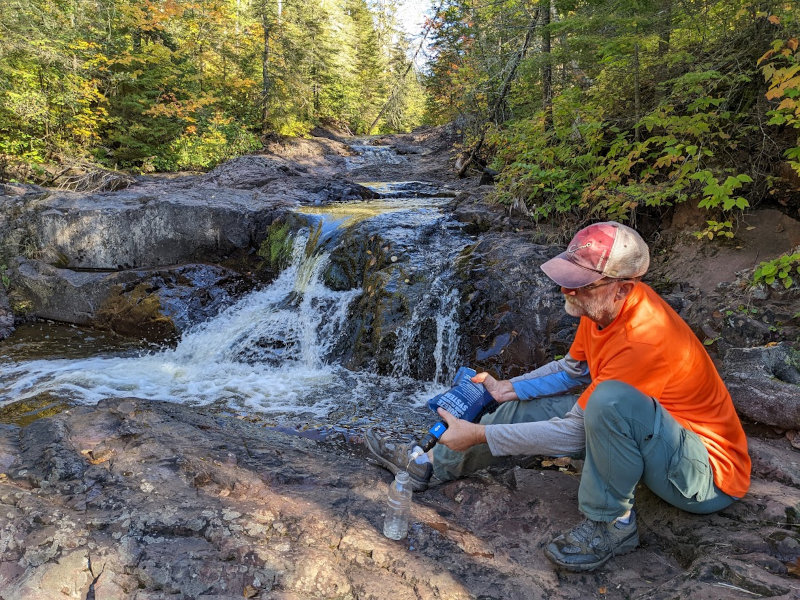 After climbing up 300 feet on Kelly's Hill, the trail traverses the hillside for 3 miles, crossing many dry creekbeds and Kadunce River, staying above 800 feet. Kadunce is a good spot to get water since it is the only designated river until Devil's Track. All these north shore rivers and creeks have very small drainages. The creeks often go dry after the snow melts and between rain events. When looking at a map, I think of creeks as dry and rivers as wet to plan my water collecting.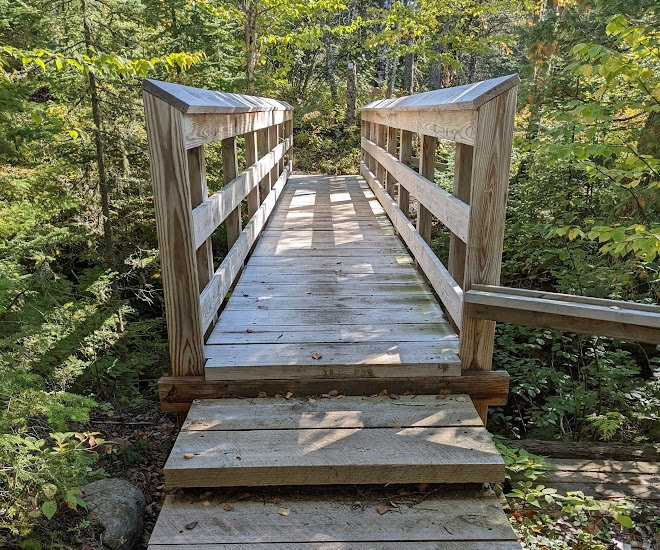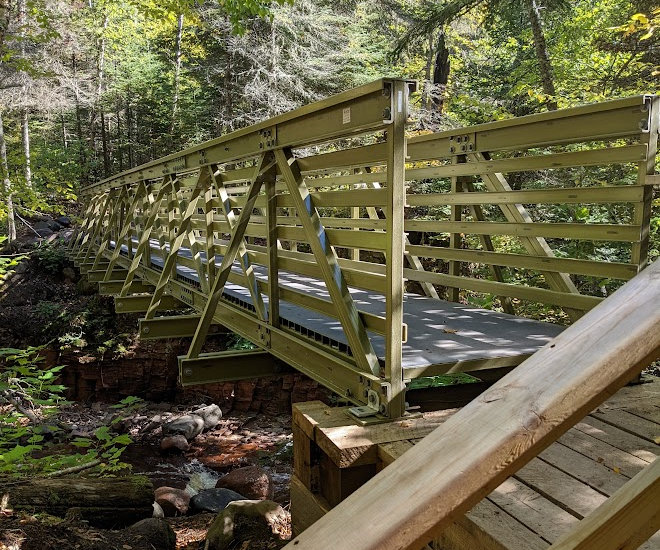 Since some of these creeks rage when there is rain, many have SHT-built bridges. I notice on this hike that there are quite a few very nice, very new bridges. They are typically wood, but this one was metal.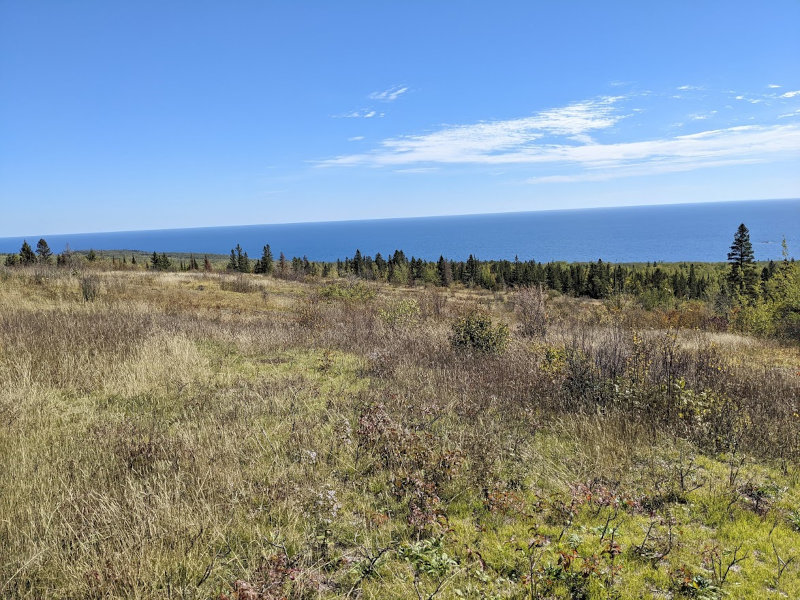 Most of the day was spent traipsing through the forest, dipping into creek gorges and back out, with occasional views from the hillside out over the lake. There is one wide open meadow on the hillside just west of Durfee Creek and 2 miles east of the Woods Creek trailhead. From the resting rocks at the top of this meadow, you can see 5-Mile Rock sitting in the lake far below. We were blessed with a sunny, breezy, short rest here.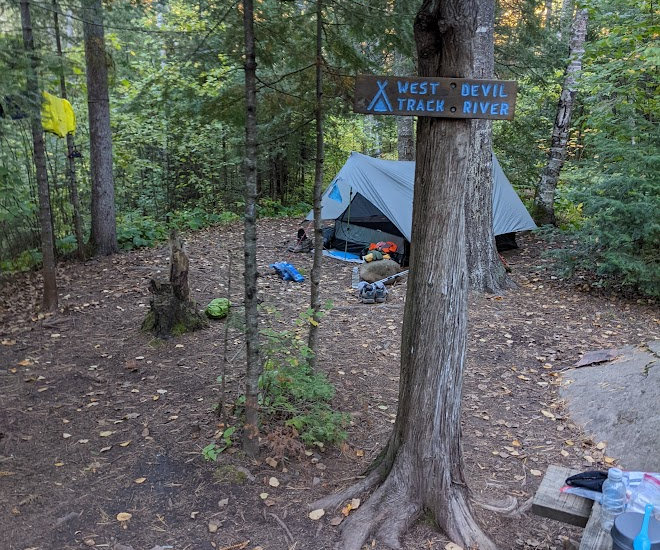 Running low on water, we refilled from Woods Creek near the trailhead and then headed that last 2.5 miles up the Devil's Track river to our campsite. We could have easily hiked out this afternoon, but we have food left over and would probably have a tough time finding a place to stay tonight.
The Woods Creek parking lot was crowded. We saw 6 people hiking, and even had 3 people at the campsite tonight. We had a nice chat with Andy before calling it a night. The farther south you go on this trail, the busier it gets.
---
Fri - 09/30/2022
Day 10: Tourists
From: West Devil's Track To: Pincushion Trailhead
Distance: 3 miles
Trail Time: 1:30 (7:15am to 8:45am)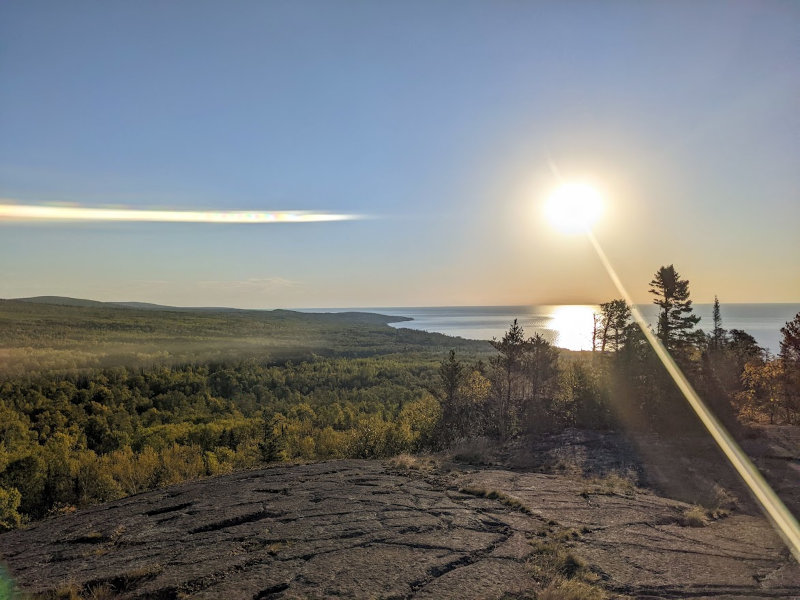 There is a very invigorating climb of steps up and out of the Devil's Track gorge! It's a great way to warm up for the day. So invigorating that I got no photos of it. But, once that climb is made the trail is a breeze for the next 2 miles to the trailhead. Just a half mile after the steps, you'll find a spur to the Pincushion Mountain overlook. This overlook used to be quite a hike off the route, but now you can just drop your packs by the trail and scitter up a very cool rock face to see wonderful views to the north and east. We spent almost a half hour on this last vista of our hike.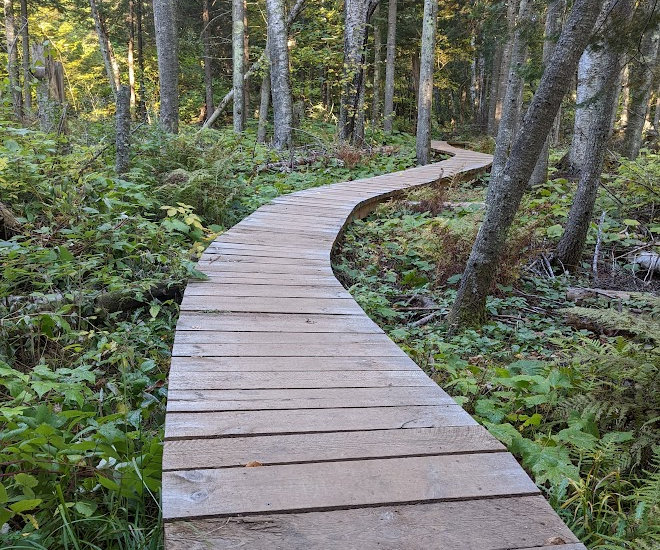 Someone had waaay too much time and wood planks on their hands. The trail here is almost all brand new boardwalk. We would wind through the woods on one, step off, and then right back on another! This went on and on. There is a maze of mountain bike trails and ski trails through this area, so keep your eyes open for blue blazes, signs, and boardwalks to show you the SHT way.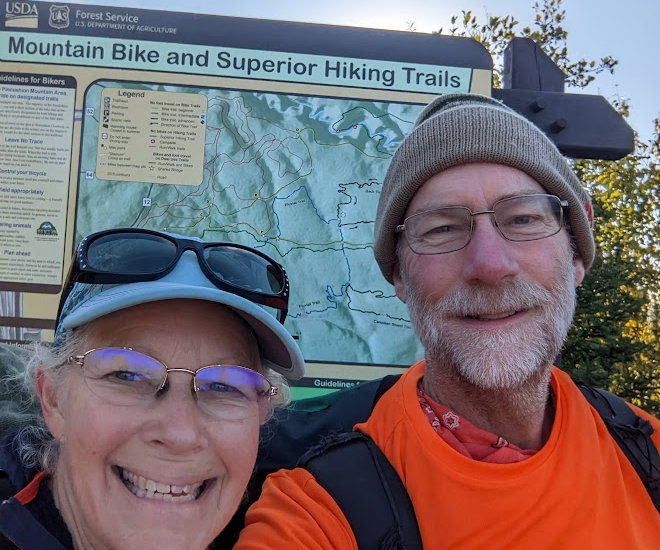 With such nice, new trail, we popped out into the parking lot quickly. And, that was that. Our ArrowTip Adventure was over.
We dumped into our car and drove down to the Grand Marais Municipal Campground. For just $3/each, we took wonderful, hot showers!
Then, we went to the Sivertson Art Gallery to check out Dave Gilsvik's pieces.
Kelly had to have one of the World's Best Doughnuts and then we had a quick stop at the grocery store to find some trail magic treats.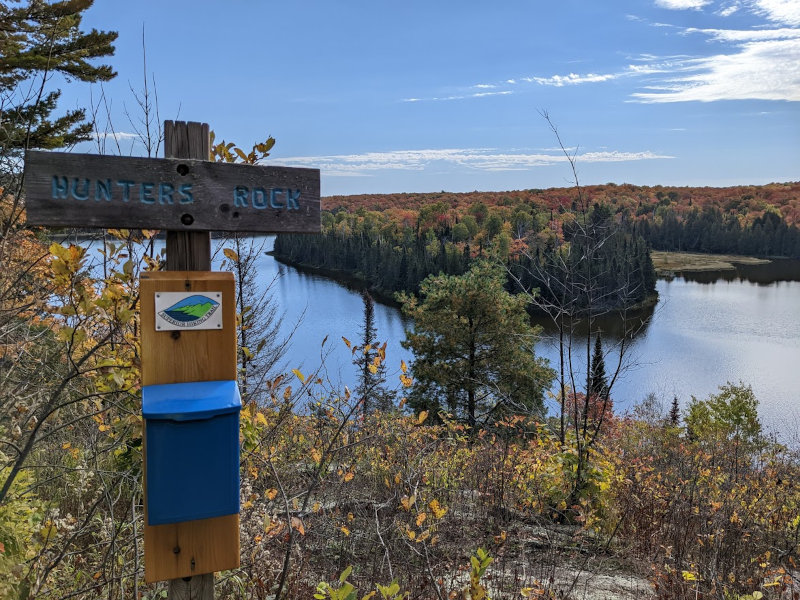 The trail magic treats were because we have some friends doing a northbound thru-hike and they are nearing Grand Marais. If we timed it right, we hoped to run into them on the trail today. We drove to the Lake Agnes trailhead, loaded up a day pack and started hiking south on the trail with hopes of running into them.
At this vista above Lake Agnes, we looked at the trail registry. Unfortunately, they had already signed it on their way north, so we just missed them by maybe an hour. So sad!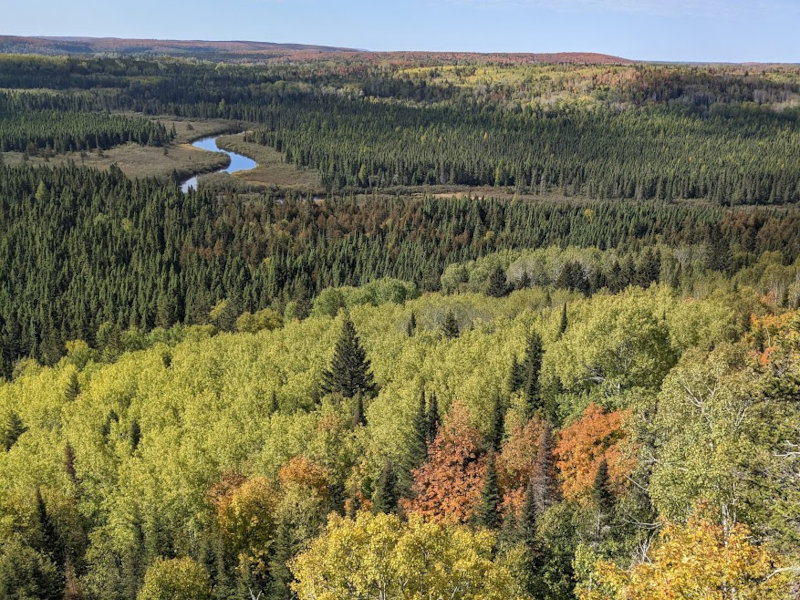 We kept hiking west a bit farther to the beautiful Poplar River Valley overlook and had a very long rest break. This is one of my favorite spots on the Superior Hiking Trail.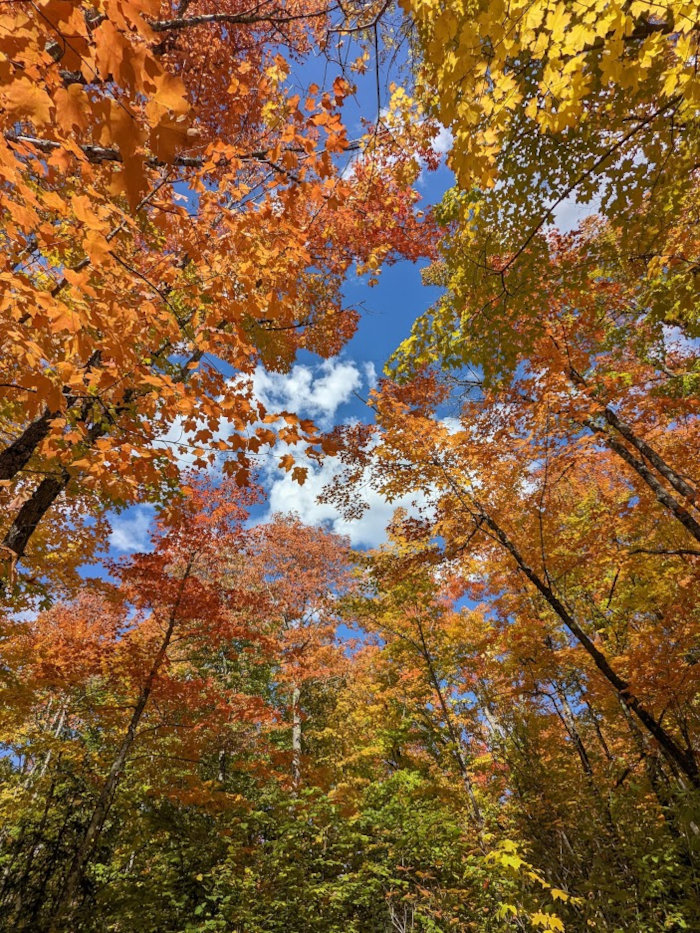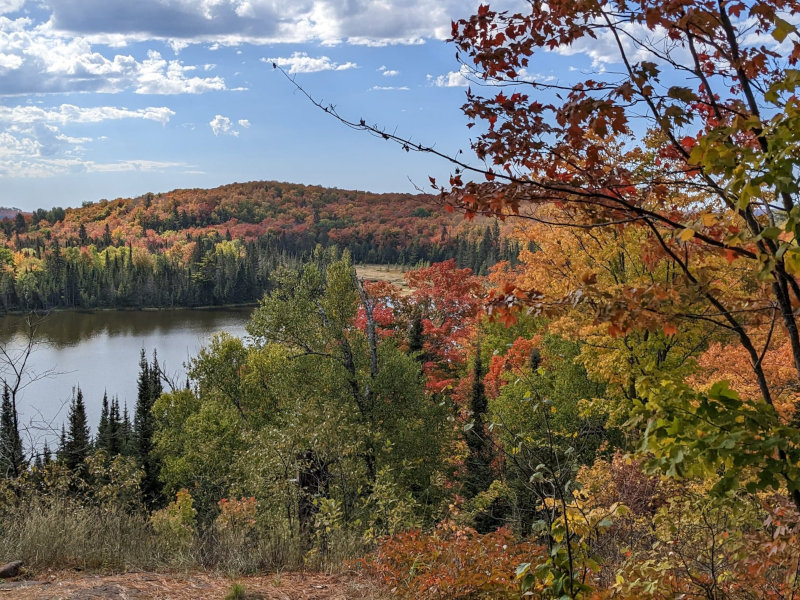 On this day, the entire area around Lake Agnes was lit up with fall colors. After ~120 miles and 10 days, we finally found the wild colors we were looking for while out on a short day hike - I guess there's a lesson in there someplace. :-)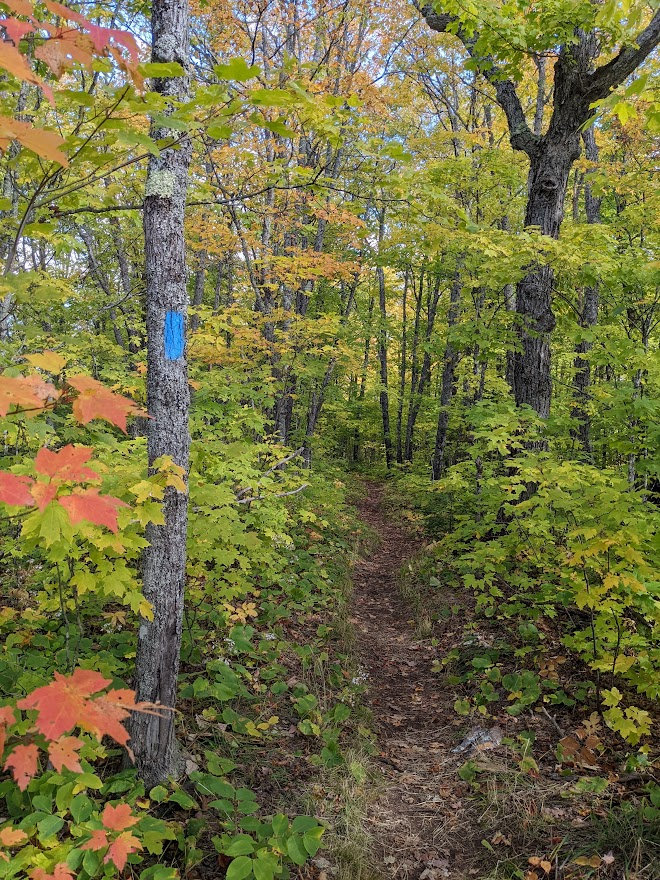 After hiking back out, we drove to Duluth to spend the night. More showers and a fun dinner at Canal Park Brewing Company were followed by a stop at Vikre Distillery - first time I've been in a gin joint. Literally, they distill and sell gin.
Keep following those blue blazes, and holler if you have questions about the trail.
Hike On!
---
Back to Border Route Trail Info or Superior Hiking Trail Info.


Find more Hiking Resources at www.HikingDude.com
Follow Me