Superior Hiking Trail Thru-Hike Journal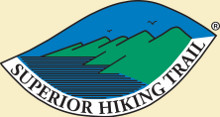 I hiked the Superior Hiking Trail from September 15 to September 28, 2012 traveling from the Canadian border at Otter Lake road above Hovland, MN to the Normanna Road trailhead just northeast of Duluth, MN. This trek took 12 days of hiking and 1 rest day halfway through.
These pages are a composite journal of my adventure. Starting with my daily blog entries, I've added more pictures, details, and things I learned on the trail.
I hope you gain some insights from my experience when planning your own hike. Please holler if you have questions or want more information about something you read here.
---
On my long hikes, I'm promoting the Boy Scouts'
ScoutStrong Program
for active lifestyles and encouraging more scouting families to participate. I also demonstrate how making some of your own gear can be efficient, inexpensive, safe, and comfortable.
---
I continually do quite a bit of research on equipment. I own plenty of gear from years of backpacking and scouting, but realizing I'd be carrying everything for many miles for weeks at a time made me eager to replace heavy items with lighter weight versions as long as it was not grossly expensive. Here are the items I made myself and used on this trip...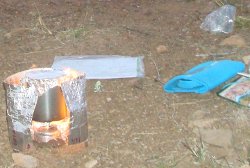 Arm Warmers - cut a slit in the toes and hole in the heel of kneelength socks. This gave me warmth on my hands and forearms every chilly morning, and there were plenty where it was right around freezing.
Pot Cozy - blue foam shell for rehydrating meals which works wonderfully. I boil 1.5 cups of water in my small pot, pour it into the Knorr Sides pouch, fold it closed, and place the pouch in the cozy. Fifteen minutes later, the noodles or rice are soft and still too hot to eat. Weighs practically nothing and I also use it as a small cushion at breaks during the day - not that I take many of those.
Stove Windshield - I used metallic heating duct tape instead of aluminum foil for a windshield. It's sturdy and does a great job of minimizing heat loss from the wind when cooking. It works well for alcohol stove or canister stove.
Backpack - 16 ounce frameless pack that is still very comfortable and solid after 1000+ miles. I do need to wash it since it's smelling funky. Read more about it on AZT Journal.
Quilt - very warm, very simple 2.5lb sleeping quilt that continues to keep me toasty. Read more at this page.
Shelter - it is very light, keeps extra warmth in at night, and keeps the creepy monsters away, but not a good choice for rain. I need to treat or replace this item before my next long hike. Read more at this page.
---
Daily Journal
From here on, you can read the daily account of my hike from Canada to Duluth.
You can click any picture to view a larger version of it, if you want.
---
09/14/2012
Gotta Hike Now
I've got everything packed.
I've left an itinerary at home with all my expected camp spots and mileage, which will be outdated after the first day.
I've got extra batteries for my Spot Messenger.
The weather forecast looks ok. The leafs are supposed to be turning color. Should be great!

My wife and I drove to Duluth tonight. She drops me at the Canadian border tomorrow to walk south to Duluth.
---
09/15/2012
Day 1 - Grand Marais and Short Hike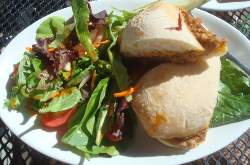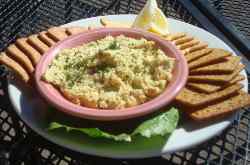 We drove along the north shore from Duluth on Highway 61. We reached Grand Marais about 11:00 and it was a wonderful, sunny fall day. We found a place right on the harbor called The Pie Place and it had a few tables outside. They don't start their lunch service until 11:30 so we took a long time checking out the menu, enjoying the view, and soaking in the sun.
My pulled pork sandwich was great and we shared some smoked fish dip and crackers. By eating a big lunch meal, I wouldn't have to cook a dinner on the trail tonight. The food and service were very good and I'd recommend you try this place if the weather's nice.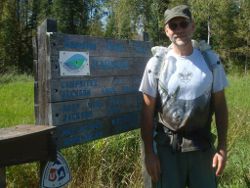 After putting it off as long as I could, we finally set out to finish the drive to Hovland then north on the Arrowhead Trail and Jackson Lake road to the northern terminus on Otter Lake road. It was dirt but in really nice shape so the ride wasn't bad. The trailhead was clean and easy to find. My wife entered my name in the registry as I got my gear ready. What a beautiful, warm, sunny day to begin a two week walk through the woods!
SHTA: At this point I'll put in my first bit of feedback for the Superior Hiking Trail Association just in case someone ever reads this. I think it would be totally cool if the SHT could be punched less than 1 more mile north to the bank of the Pigeon River. Then, a thru-hiker could actually hike from the Canadian border to Duluth instead of 'almost the border'. It would give a feeling of completeness.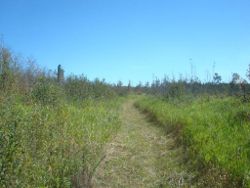 I started hiking about 1:15 so I didn't have many hours to walk this first day. Sunset this time of year is just after 7:00pm and every day I hike there is less day light - gotta get getting!
The trail starts nice and flat, heading south through open grass and brush. It felt right to be heading south towards civilization from the most remote point on the trail - it would feel weird to be hiking away from Duluth towards nowhere, but I've been told that is what most thru-hikers do.
My first (and most serious) challenge came in the first hour of my trek. Since I had drunk lots of water at lunch, and I expected plenty of water along the route, I did not fill my water bottles in Grand Marais. Walking a few miles without the extra 2 or 3 pounds would be a bit easier. So, after about 1/2 hour, I crossed a tiny stream which I imagine was Andy Creek. I stopped to filter a little water because I'd soon be hiking up to the highest point on the trail and the maps made it look like quite a climb.
My Sawyer Squeeze filter is a great piece of gear, but it has a flaw. You fill a supplied bag with dirty water, screw the filter on, and squeeze out clean, clear water. Unfortunately, where the mylar bag is sealed to the hard plastic mouth the seal is sometimes poor. On the Arizona Trail, one bag lasted the entire 40 days before beginning to leak. Today, the new bag I used lasted just one squeeze before water started spraying out around the mouth!
OK, I've got two weeks ahead and my water filter is broken - great! Fortunately, I'm pretty good at improvising. By holding the filter and bag mouth tightly, I could stem the flow of some of the bad water and keep it from getting anywhere close to my clean water. In this way, I could capture about 1/2 liter of good water for every 1 liter I worked. Not cool, but it would work - at least until the split seam gets worse.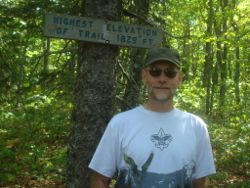 With a full water bottle, I continued on past the first campsite at Andy Creek where I met a father and son doing a short trip. On the way up Rosebush Ridge, I met a young couple eating sausage and tortillas. They were just starting a long south-bound trip too. I hoped they might stay at the same campsite as me, but I never saw them again. They had pretty big packs.
The top of Rosebush Ridge is the SHT highpoint at a whopping 1829 feet - wahoo! It's all downhill from here.
I practiced again with my water filter at Jackson Lake, actually the small stream flowing into the lake. Filter worked ok with my work-around so I'm confident it will last a few days.
This water source is typical of what I found much of the time. The year has been dry and water flow is normally low this time of year anyway. You may not know it, but August is the wettest month in Minnesota and Wisconsin - imagine that. This year, we got less than half the normal rainfall and these short streams don't hold water long.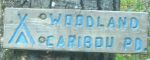 With the afternoon hike, I only got to Woodland Caribou campsite which was about 11 miles. I wore a tiny pedometer the entire trip so I know I took 23,754 steps today. It was good to start with a short day to get the joints loosened up.
I'm the only one at this site so I expect the couple I met stopped 4 miles back at Jackson Lake campsite.
The trail was nice but not much to see most of the day since it's all forest after Andy Creek.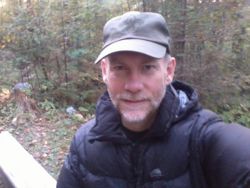 This has been just a perfect first day! Great sunshine and a little breeze. There are a few mosquitos left around, but none have got me yet. Notice my warm, black down jacket? I got this from GoLite and it's wonderful as soon as the sun sets.
I would recommend planning your hike to skip Woodland Caribou campsite. It was the most un-level site I used the entire trek. It was also on the north side of a hill so there was no view or sunlight. One cool thing about the evening was I heard the strangest animal or bird call twice just at sunset. It sounded like a long, raspy, hacking cough but I can't even come close to describing or making it. Whatever it was, it left me alone. :-)
---
09/16/2012
Day 2 - I Meet Larry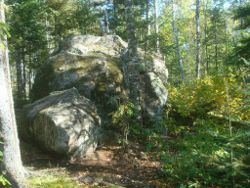 Woke to a cool dawn - perfect day for hiking!
Within 15 minutes of leaving camp, the trail broke around a ridgeline with beautiful views of the lake, woodland ponds, and northwoods forests. I also enjoyed my first encounter with a massive erratic on the trail! That's a huge boulder dropped by a glacier. There's no reference object by this one, but it was over 12 feet high - very cool!
I was in such a hurry to get going that I didn't eat in camp. This will become a trend on this trek, but I generally prefer to eat something and drink water before starting my hike. On the trail, I snacked on my two poptarts while I followed the ridge towards Carlson Creek.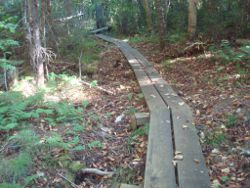 In just the first day the trail has had many personalities. I've passed through open fields, very dense pine forest, canopied hardwood groves, and open ridgelines. The tread itself has been mowed grass, packed rock, twisted roots, and as you can see here, even fancy boardwalk. Over the next 250 miles, I'll be treated to quite a few miles of boardwalk but the longest is near Jackson Lake. Boardwalks are a great help to get by swampy areas in the spring but this time of year nearly all the ground is dry and firm. When frost, rain, or dew has settled, the boards can be treaturously slick - so be careful!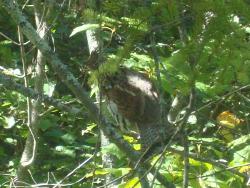 I met my first hunter and his dog on the trail just east of Arrowhead Trail. He said grouse hunting had just opened that morning.
I endeavored the rest of my trek to make no grouse noises, nor flutter about in imitation of any bird. I had seen one grouse earlier along the trail and told him so.
Once I was west of Arrowhead Trail, on the section to Camp 20 Road, I saw no less than 8 grouse! That hunter took the wrong piece of trail.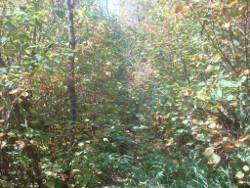 Crossing the Arrowhead Trail, I passed by the Carlson Pond campsites. South Carlson Pond is probably the best campsite on the trail - high, flat, open, with good water source. I promised the couple camping there that I wouldn't take a picture of it so it would remain their secret favorite place. :-)
SHTA: Past the Hazel campsite, I encountered the worst stretch of trail overgrowth - reminded my of some action movie in the jungle. See if you can find the trail in this photo - it's there some place. It was not much more than a mile and I was lucky that the morning moisture had evaporated so it wasn't too bad. Other than this short stretch, I was very impressed with the maintenance of the trail vegetation and the many hours volunteered to keep the trail open.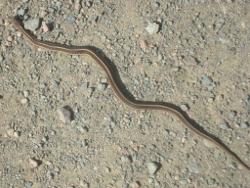 One of the very few roadwalks on the Superior Hiking Trail came at about 12 miles into today's walk. I hit Camp 20 Road and followed it south for 1.5 miles and then dropped off it into Judge Magney state park.
On the road, I saw my first snake of the trip. Cute little fellow out getting some fall sun to warm up a bit. Later in my trek, I would meet his big brother and dozens of relatives slithering through the leafs.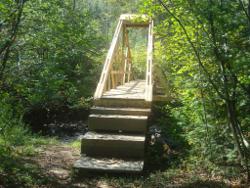 Just before crossing the park boundary, the SHT crosses the Flute Reed River. Not much water in it, actually just a trickle, but an amazingly sturdy bridge is in place. The amount of work required to create this single bridge is compounded dozens of times along this trail as it crosses creek after stream after river, many of which have similar architectural marvels rather than the fallen log I'm used to using.
The torrential rains and horrendous flooding of spring 2012 did extensive damage to structures and tread along the trail. It's wonderful to see that so much work over the summer has restored, and improved, so much of the trail.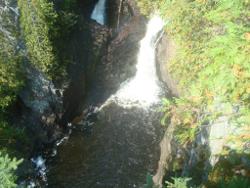 Judge Magney state park boasts the awesome Devil's Kettle waterfall in the Brule River. Nearly as impressive as the falls are the 180 wooden steps that visitors must climb after view the river. I plodded right up them without much effort, thanks to my practice hikes up and down the hills of the local park. But, I passed this poor woman practically collapsing from the climb and at the top found a young girl flat on her back, catching her breath.
The trail follows the east bank of the Brule River due south to the campground. With the noise of the river, three deer drinking there didn't notice me until I was right on them. Then, they exploded into the forest with their snow white tails raised in alarm.
The water looked good to me but since the campground with it's clean water was only a couple miles away, I left the river for the animals.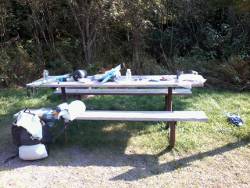 The SHT crosses a large bridge across the Brule in the park. Be sure to take some time to look into the river from this bridge. There's a good chance you will see some large trout swimming around.
Once over the bridge, the parking area with picnic tables, water faucet, and toilet are free to use. I hiked a bit further south to the park ranger building to get some help. There's a pay phone from which you can make collect or calling card calls. Can you believe I've forgotten how to do that? Try as I might, I couldn't get a call connected! Fortunately, seeing my sorry state, the park ranger let me use her phone to call my wife. I asked her to send a replacement dirty water bag for my filter with my friend planning to come up and hike with me for a couple days. With that plan in place, I only had to manage my water supply for three more days.
The next stretch of trail had three campsites about 3 miles from the park so I set my sights on those for camping tonight. That meant I had a short afternoon of hiking. I took over a picnic table and made my big meal of the day. Drank lots of free water - no filtering needed - and use the restroom a couple times. With the sun out and no one around, this was a relaxing way to spend two hours.
After dumping my accumulated trash in the can (so I don't have to carry that extra bit of weight), washing my hands and face, filling both water bottles and my 1L platypus backup, I left the park on a very peaceful, gentle trail through hardwoods that had just barely started to turn color.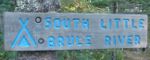 I passed the first two campsites on the Little Brule River - they were vacant and I was hoping to find some other hikers out and about. The third site was just a half mile farther along. When I arrived at the South Little Brule campsite, it was occupied! Larry from Wausau was set up for the evening. He was on his way from the northern end to Tettegouche state park in two weeks, taking some wonderful photos along the way that you should check out at his photography site.
I found a small flat spot and set up, then we talked for awhile. Larry had been fortunate to see a bear and two young'uns along the Brule River very close to where I had spooked the deer.
So, I hiked about 21 miles today, taking 43285 steps, and I saw three deer, tons of squirrel, 8 grouse, and 1 eagle. The eagle landed in a huge white pine by our camp tonight.
---
09/17/2012
Highs and Lows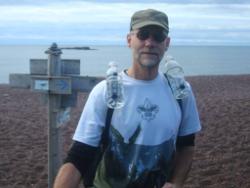 Less than 5 miles from the northern start of the SHT, you reach the high point at 1829 feet. Now, at 33 miles from the start, I hit the lowest point on the trail which is the shore of Lake Superior at 602 feet. No wonder the first two days were so easy - I was going downhill!
Less than 2 miles from our campsite, we burst from forest onto rocky shore. Larry insisted on getting water directly from the Big Lake. I still had plenty of water I had filled at the state park, but when someone offers use of his filter, it's not polite to refuse. So, I drank up and topped off my bottle.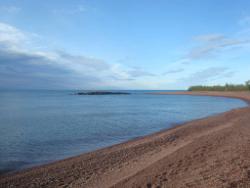 This is the Lake Walk section of the trail. It's 1.5 miles long and flat along the lake. You'd think it would be a nice, easy walk, but Noooooooo. Somehow, the gravel size is just right to give way under every footstep, making this a long, grueling, tiring slog. As you can see, the weather was spectacular, the temperature was perfect, and the company was great - but the pea gravel was challenging. As a bonus, there were also thousands of absolutely perfect skipping stones - I found out I haven't lost my touch yet.
As soon as the Lake Walk ended, we crossed Highway 61 for the second time today and last time the entire trail. I would later cross it a couple times at Temperance River and at Gooseberry Falls, but not as part of the trail.
Before plunging back into the heavy forest, we stop by the edge of the road for a quick snack. A lone bicycle rider slowly came down the road towards us and I waved and said "Howdy". She stopped and we had a nice chat with a lovely lady spending a couple days at a spa retreat down the road. On this chilly morning, along a desolate road, I met another wonderful, friendly person - just for a few minutes, but that time brightened both our days, I believe.
When you're on the trail, I've found it's always the right choice to make an effort to meet others and chat with them. Even if you're in a hurry, never pass up that 5 minutes to make a connection.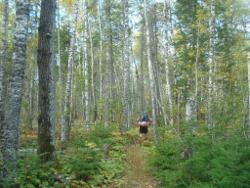 Hiking consumed the rest of the day, gradually gaining elevation from the lake shore past the Kadunce River, Kimball Creek, and Durfee Creek until we reached Wildflower Hill. The trail route passed through many types of forest, from tight pine to maple to birch and aspen. Here, Larry is plugging along uphill.
Last night's rain, and the forecast the bicyclist gave us for 25 degrees tonight, motivated us to continue our hike. In the afternoon, we encountered a group of a dozen or so campers from Fort Wilderness out on a backpacking challenge. They were heading north to their final night of camping and passed on the same forecast for cold temps and possibly rain.
Larry and I now had a choice to consider. Two campsites were on the trail along the Devil Track River at about 1100 feet elevation. The town of Grand Marais was about 5 miles further down the trail, at 700 feet elevation and hotels. Should we camp or push the miles and spend the night in comfort and warmth?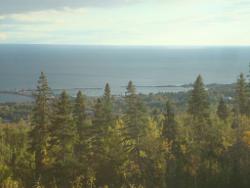 Upon reaching the West Devil Track campsite, we had come about 17 miles on the day. We still had over 2 hours of daylight left and 4 miles to Grand Marais. I'm always ready for pushing another few miles, but I hope I wasn't too obvious about that when I told Larry we'd covered plenty of miles and it was up to him to decide between hard, cold, rocky ground or soft, warm, comfortable hotel beds.
Anyway, here's our first view of Grand Marais from Pincushion Mountain at about 5:30pm. We hiked on past the campsites and committed to reaching town before dark. Dropping down to the famous Gunflint Trail road from Pincushion Mountain, we did a 1.5 mile road walk to the main drag, looking for a place to stay. Hey, it's MOnday in September, no one would be way up here.
The first place that had people was a laundromat, with ma and pa inside. I walked in, said "Howdy", and asked if they could recommend any place for a couple hikers to get a bed, preferably cheap. Their only advice was to turn left when we hit highway 61 and check each motel - there wouldn't be anything cheap, but the Mangy Moose might be a good bet.
I've never seen so many No Vacancy signs in my life! As we walked the main drag, and the sky got darker, each hotel had one hanging out front - even the Mangy Moose. By the time we reached the post office, I was figuring a night on the floor of the laundromat might be a good Plan B if all else failed.
Finally, with my sunglasses off so I could see, we came to the last hotel in sight - the Aspen Lodge. No sign out front! Inside, I asked the nice lady at the desk if she had room for a couple SHT thru-hikers just needing a simple place for the night (hoping for maybe a special rate). Sure, just $119! (Ouch!) But, that includes swimming pool, sauna, and continental breakfast. When I asked if there might be something less expensive, she found a room for $79 - Yes! I was tempted to ask if we'd get a further break if we didn't eat the breakfast or use the swimming pool, but I held my tongue.
So, after walking 23 miles in 43686 steps, I got a hot shower, warm bed, and great rest. There were no places to eat or grocery stores open past 7pm so we just grabbed junk at the local AM/PM gas station for supper. But, Map #4 is finished and I'm starting on #3 - the SHTA maps are numbered for North Bound hikers.
---
09/18/2012
Day 4 - Howdy, Pilgrim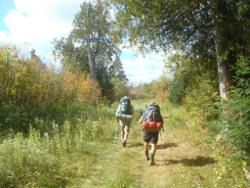 Last night, I got ahold of Bryan who will be hiking with me Thursday-Saturday. He's going to meet me at Casacde River state park on Wednesday night so there's no rush to get too far down the trail. After the long day yesterday, a short day would be nice so I took another shower this morning and we got moving at about 10:30. It was quite cold and windy so I think the hotel vs. camp decision was a good one.
Larry convinced himself he didn't need about 3 pounds of extra gear so he mailed it home from the Grand Marais post office. We then started the boring walk up the Gunflint Trail to the SHT crossing. I was confident we would hitch a ride, though. After about a quarter mile, a nice guy in a Subarau with a dog pulled over. He lifted us up the 1.5 miles to the trail crossing where we noticed another hiker on the road just reaching the trail. Turns out it was Pilgrim, a guy that Larry had met on the shuttle to the trailhead on Friday and had hiked with for awhile. He had holed up in Grand Marais also - actually in the same hotel, adjacent to our room!
After quick introductions, we thanked our ride and headed up the trail - and here's Pilgrim and Larry striding along. Emphasis on Up here since the hill up from Grand Marais is one of the 4 UPs that gain more than 500 feet in elevation on the trail heading southbound. It wasn't really very bad, though.
SHTA: The maps from the SHTA are more than enough to hike the trail. The trail is so well-marked, there were only three spots where I had to check my route before proceeding. But, the elevation charts on the maps are very misleading. It looks like you need ropes and chalk for most of the trail when you look at the steep elevations. If the graphics were reduced in height and stretched in length, and had mileage added, then they would be very useful for estimating what's ahead on the trail.
Pilgrim has hiked the Appalachian Trail so he's the more experienced of us all. He's pretty efficient at setting up and tearing down his camp and doesn't waste much time in general. The three of us 3 miles of nearly flat bog area that looked like prime moose environment - but nothing. Did see some beaver activity but no animals, unless you count two day-hikers dressed in black sitting by the side of the trail imitating black bears.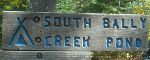 After a day of constant wind and clouds, but nice hiking conditions, we stopped for the night at South Bally Creek Pond campsite. Plenty of room for three tents. It was 6 miles to the next on-trail site and none of us had any reason to push it. With lots of time to waste, we gathered wood and had a small campfire just for fun. Now that I think of it, this is the first evening when I made my hot meal at camp. The teriyaki noodles and salmon were great!
It was just a short, 7 mile day taking 18725 steps and we have a clear sky tonight. That should drop the temperature, but I prefer dry and cold over wet and cold any day.
---
09/19/2012
Day 5 - Rain, Rain, Go Away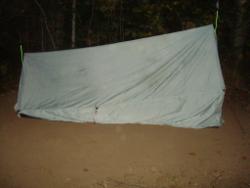 The clear sky at bedtime fooled me. The temperature dropped down to 33 degrees according to my trusty thermometer I hung outside my shelter, and then the rain started at about 2am. It kept up until about 7am, not torrential, but enough for me to notice that water was soaking into my shelter fabric instead of beading off. So much for silnylon - when I get home I need to find out why this happened.
Pilgrim headed out and Larry and I hiked together through non-descript forest for four miles until we reached the Cascade River drainage. There was a fun beaver dam around Sundling Creek, but not many sights to share.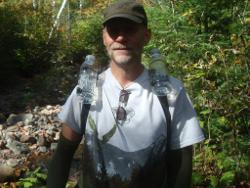 I have been getting good use out of my arm warmers, at least. Here I am modeling them, for what you can see. They keep my forearms, hands, and fingers warm during the cold mornings and I can simply roll them up or down, or take them off as the temperature demands.
We hiked on to Cascade River state park where Larry continued on and I stopped for the day. It was still very early but Bryan would be meeting me here late tonight so I would get a site, shower, have dinner, and wait.
I had to walk 1/2 mile from the trailhead to the ranger station to get a site, then 1/2 mile back to the site. Once I arrived, at least 3 chipmunks practically attacked me and my pack. I was in absolutely no mood for this. Hands full of pea gravel works as good as a shotgun at getting rid of the little buggers. After a battle of 10 minutes or so, they finally gave up and left me in peace. They would occasionally check back but, by then, I had hung all my food in a tree and left my pack wide open so they wouldn't need to chew it in curiousity.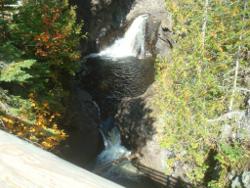 The Cascade River is aptly named. It cascades over bedrock in tumbling falls and rapids and has carved some beautiful scenery. The SHT follows the river and you can choose to hike down either the east or west back - they both connect at top and bottom. Many views and some steep trail sections can slow you down on this section, so don't hurry along too much. Since I only had a short day, I was in no rush and enjoyed the trail.
Once I had camp set up, I took a shower in the restrooms just across the road and filled up on free water. Well, I guess it wasn't free since staying at a state park costs $20, even if you're just a hiker passing through. At least I didn't have to filter the water and my replacement filter bag was showing up tonight. Looks like I made it through my filter problems.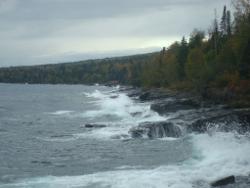 The rain made another appearance. I huddled under a cedar tree for 45 minutes while it did its thing. I was toasty warm in my down coat and cheap plastic rain poncho.
With a halt to the rain, I figured I'd make dinner but the rain came right back so I huddled another 45 minutes - not as much fun this time. Finally, the rain stopped and I got to eat - another wonderful hot meal, scampi noodles and garlic/herb tuna tonight.
As it was approaching sunset, I took a walk down to the lake shore to look around. A few days ago, on the Lake Walk, the lake was smooth and calm. With the 'storm' passing through, it was acting more like an ocean, crashing and bucking against the rocks. Hopefully, the weather has spent itself and it will be a calm night.
I waited up for Bryan as long as I could, but when it gets dark before 8:00 it's hard to stay up past 9:00. I retreated to my shelter and reviewed maps and made plans and finally dozed off at around 10:30. Headlights woke me at 1:15am when Bryan finally arrived. Delays back home had made him very late but I'm glad he made it safely. We'll see how tomorrow goes.
Oh, I hiked 12 miles and 26040 steps today, not counting the extra walking around the campground in the evening.
---
09/20/2012
Day 6 - Hiking With Bryan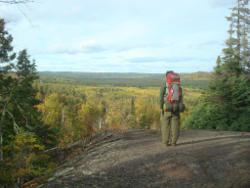 I was very impressed when Bryan woke up at 7am, ready and raring to go! I guess that's youth for ya. By 8am, we had his car parked at the trailhead parking lot and were on our way through a very cold wind and dark, threatening sky.
Right off the bat, we had to climb out of the state park up to Lookout Mountain. I learned quickly on this trek that State Park = Big Climb since they are all down by rivers and the trail trends to the ridge line. Actually, a 'big climb' around here is 400 feet or so, not too bad.
We had some great views mixed with bouts of cold rain all day. The wind blew many small squalls through but we kept on hiking, the forest often providing partial shelter from the worst of it. At one point, I did recommend we wait it out for 10 minutes and we discovered that cedar trees make the best rain protection. We stayed perfectly dry under a beautiful old cedar. I donned my camoflage rain poncho a couple times, but for the most part we dried as we walked.
I should explain what I mean by 'camoflage' since I go no pictures of me in it. I only brought a super-thin, bright yellow, disposable rain poncho instead of heavy raincoat and pants. The poncho covers me and my pack, allows great ventilation, and does a very nice job of keeping the cold rain off. I don't recommend them to most people because they get torn on sticks, brambles, and such very easily - but I've used this one for over 1,00 miles now and it's still fine.
Anyway, by 'camoflage', I joked I looked like a monster birch leaf fluttering down the trail so animals won't notice me and I can sneak up on them. It didn't seem to work that well, but I didn't really get to test it much. :-)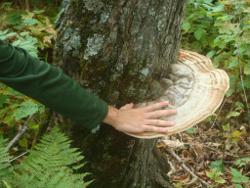 We followed the ridgeline all morning with some spectacular scenery. There were some amazing fungi all along the trail, from small mushrooms, to bright orange blobs, to great growths on the trees.
The trees were now in full color change mode so, even though there was rain, Bryan got to see some good stuff. The Caribou Lake overlook was a terrific view north and we took a short break there.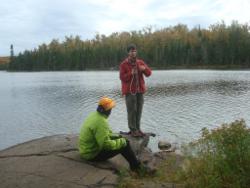 Then, it was across the Caribou Trail road and on to Lake Agnes. Larry had said he planned to stop here and fish with his new tenkara fly rod. True to his word, we found him at would could be the most beautiful campsite on the entire SHT. But, he wasn't fishing - he was huddled in his tent staying warm against the bitter cold wind that was blowing across the lake. :-)
He came out and visited when we arrived, as you can see. Bryan is using the water filter and Larry is chatting. Both Larry and Bryan had the same filters. I got to show how mine worked here since it was the first time I had to use it in many days now - the new dirty water bag worked just fine.
SHTA: Unfortunately, this awesome campsite could be the most beautiful site on the trail, but it is no longer. It sits on a small peninsula jutting into the lake. Like all these campsites, it has tent pads, a fire ring, benches, and a latrine up the hill a short distance. There is a trailhead parking area on Caribou Lake less than a mile away so Lake Agnes is easily accessible to the invading hordes - that includes those that break beer bottles, hack down live trees, and burn everything in sight. It seems to be too much of a walk for these folks to go off into the woods to find down branches and their trash is just too heavy for the looooong mile back to their vehicle.
Instead of the most beautiful, this site is now actually the ugliest site on the trail and I predict that it will be a nude peninsula of dirt and rock in less than 5 years. Even though I didn't take any pictures of it (darn), I'll be using it as a perfect Leave No Trace example in my training sessions.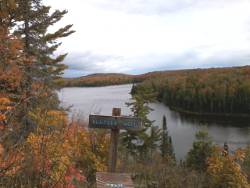 It seemed like Bryan was having a good time, despite the poor weather. I had told him we were in no hurry and would just hike as far and long as he'd like. It was a bit over 30 miles to Temperance River state park from Cascade River. The only parameters we had were to end our hike at a point where the shuttle could pick him up to take him back to his car, or some place where he could hitch a ride.
I said we could stay here at Lake Agnes, but Bryan felt like he could hike another 4 or 5 miles to the next campsites. After a nice visit with Larry, we continued on - this is the view looking back at Lake Agnes and there is a trail register to sign.
Long trails often have registers that folks can sign at both ends and at some points in the middle. I saw about 6 registers along the SHT and some were in what I felt were strange locations. This one at Hunter's Rock, for example, seemed to be in the middle of nowhere. Anyway, I try to sign them all just in case I go missing people can see that I had passed a certain point. I leave my trail name, date, and time I passed by.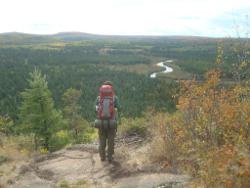 Shortly after leaving Larry, we gained a little elevation, the sun came out, and we found the best view of the entire trek just a mile west of Lake Agnes.
The trail broke out of forest onto a hard rock cliff that dropped away to the Poplar River valley opening before us to the west and north. The river meandered through a pine forest with hills afire with patches of yellow, orange, and red blazing. We took another break just to watch for awhile.
On the trail, we met two gentlemen heading north. They were planning to hike the entire trail. One was Gray Ghost who has done the Ice Age trail, Arizona trail, and other long trails. Didn't talk much, but they seemed like good ol' boys!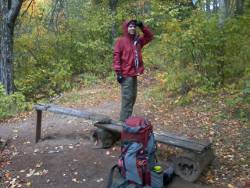 We hiked on for another few miles until we reached the Mystery Mountain campsite and called it a day. We did a total of 17 miles in 40700 steps with quite a bit of ups and downs, most of it the 800 feet out of Cascade River. The weather calmed down and cleared up at camp this evening - hmmm, kind of a pattern that will bring rain tomorrow if it stays true.
It was very nice having a hiking buddy all day. We talked a lot and Bryan did an excellent job hiking. We had a small campfire tonight, just for fun and then hit the hay. This Mystery Mountain site is only a blip west from Lutsen ski area.
If someone could only do one day hike, I think I'd recommend this Caribou Trail to Lutsen section - it's about 6 miles and has some wonderful overlooks.
---
09/21/2012
Day 7 - Decisions, Decisions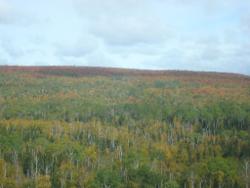 From Mystery Mountain, you drop down 300 feet to Rollins Creek, then right back up 300 feet to Moose Mountain, then down 500 feet to Rollins Creek again, then up 300 feet to Oberg Mountain, then ... - get the idea?
On the top of the UPs, the views are often open and breathtaking. The colors continue to improve each day, but today's hike was through more colorful woods much like those of yesterday. And, like yesterday, we had rain and wind as our constant companions. Even through the night, the rain kept us company.
We covered miles through the morning, but in the afternoon Bryan announced he would cut his hike a day short. Instead of hiking tomorrow, he'd finish tonight. That meant we needed to reach Temperance River state park so he could catch a shuttle or ride to his car. If we continued tomorrow, doing the same distances, we'd reach Caribou wayside, but after two days of rain, looking forward to another wasn't appealing. The forecasts we'd heard from everyone was more rain and 28 degrees tonight and colder on Saturday. So, we now had 6 miles to Temperance and lots of time to think about options. When hiking along, my mind tends to work out possibilities, changes to plans, what if I hike a bit harder or slow up a bit, that sort of thing.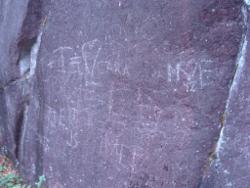 The last high point before plunging down to the Temperance River at 650 feet is Carlton Peak at 1500+ feet. Of course, this means a climb up to enjoy the peak, but it was just 400 feet. As we worked our way up the north face of the peak, I came upon this oxidized, lichen-covered rock face. Yet another way for good ol' 'Mericans to leave their mark on the world. Not a great use for trekking poles, as far as I'm concerned. There was much more than this photo shows, but you get the point.
Other than this blight of grafitti, there has been very little litter, vandalism, or disturbance along the trail. I've picked up a couple pocketfuls of trash, but I expect that was mostly accidentally dropped. For the most part, folks are doing a good job of keeping the SHT clean, I think.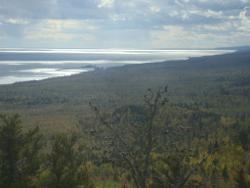 There is a short spur off the main SHT to the summit of Carlton Peak. Whatever you do, DO NOT SKIP this spur. For all the work you do, taking this extra 50 feet or so up is worth the effort. What you can see from the top is amazing. I figured from this photo it is at least 22 miles down the coast to Shovel Point and maybe past that to Palisade Head at 25 miles. You can see way past the Taconite Harbor (5 miles) and Sugar Loaf Cove (10 miles).
Cement and iron foundations for some long-ago dismantled lookout are still at the solid rock summmit. The views in all directions are spectacular since it's the high point in the area. The wind was really whipping when we visited, and the trail up from Temperance is long and rugged, so I would recommend planning an all-day hike to do the 10 mile roundtrip.
I can tell you not to skip the summit because I was told the same thing by another hiker. We were going to skip it, but met JanuszHiker at the spur where there is another trail register to sign. He's a real character, and an inspiration to anyone needing one! Talk about a guy out enjoying life! Anyway, in his tough-to-understand Polish accent, he made sure we knew it would be bad to miss the summit. So, we listened and were richly rewarded.
After our summit break, we caught up with Janusz by the Temperance River, taking a cigarette break, imagine that. We chatted a bit more and then continued on our way to the state park. Janusz is in Wisconsin so I may get to hike with him in the future.
So, back to the options and opportunities I was mulling around in my little brain on the trail today. If Bryan was done, then we could camp here and he could take the shuttle to his car in the morning while I hiked on. We would reach the park by about 5pm.
Or, he could hitch a ride and save the expense.
But, as long as he was done, he didn't really need to spend the night and could hitch a ride this evening and be home in bed tonight. But, he didn't mind camping one more night.
When we reached the ranger station, they had only one camp spot left and there were at least 3 people behind us. The posted forecast was still for more rain and very cold tonight and tomorrow, then clearing and warming on Sunday.
Bryan took the spot to be safe and we went outside to discuss options more. It was drizzling so we were standing under the awning in front of the station when I heard a lady asking about parking two cars in one camp spot. That's not possible, was the reply.
I told Bryan - Hey, maybe they will give you a ride up to your car in exchange for parking their car at our spot since we don't have a car. But, she was gone by this time so I told the lady ranger that they could do that if they came back. She said OK and she'd keep her eye out for them.
As Bryan and I were contemplating things outside, a park employee named Andrew walked by and I said Howdy. He asked how we were doing and I said we weren't sure but were trying to figure out how my buddy could get up to Cascade River to retrieve his car. Well, Andrew lived up that way and got off work at 7pm. He'd be happy to give Bryan a lift there if we didn't mind waiting. How cool is that?!
Now, Bryan would get his vehicle. It was raining. It was getting colder. It wasn't really fun right now. So, I brought up another possibility...
If he were getting his car, then he could give me an 80-mile ride to Duluth and I could spend the night at my sister-in-law's house instead of in the forecast very cold, wet campground. He would save the $20 for a campsite and I would just need to figure out a ride back here.
As I discussed this with Bryan, he said he could give me a ride back since it would not take much time, and he would save money on camping and shuttle.
When I mentioned a zero day halfway through this hike sounded good to me, along with missing another cold night, Bryan agreed to spend Friday and Saturday night in Duluth, bring me back on Sunday, and then head home. Score! Now, we just needed to get rid of our camp spot and wait for quitting time.
Bryan went back inside and the nice ranger lady cancelled his campsite in full - cool!
A bit after 7, Bryan got his ride and returned about an hour later. After a long, knuckle-whitening ride to Duluth on a wet, rainy, night along an unpainted Highway 61, we got to 'home' before 10pm. That included a stop for hot fries at McD's.
So, hiked 17 miles in 42890 steps, rode 80 miles, and get a hot shower and soft bed.
What I learned from the day is to gather all your options, make a decision, but continue to look for improvements and further options. Otherwise, you may make a quick choice and miss out on a better solution that just took a bit more thinking.
And, always take the time to say Howdy to folks and engage in conversation because they may make your life better, or you may be able to help them.
Also, Bryan and I completed SHTA Map #3 today when we passed Oberg Mountain. Yea!
---
09/22/2012
Day 8 - Zero Day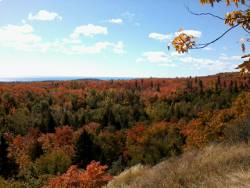 Zero day in Duluth was a great rest. I caught up on site comments and email, washed me and clothes, and rested the legs. I watched TV and made a huge hamburger for dinner.
I'm ready to get back on the trail tomorrow morning.
Bryan will drive me back and then head home. It was great spending a couple days with him and sharing skills, advice, and views on life. The weather wasn't great but he weathered it :-) in good spirits. Hopefully, we'll get to hike again.
Now, I'm looking forward to meeting new folks on the trail over the next week until I arrive right back here next Sunday - if all goes well.
If you aren't tired of reading yet, find out about the second half of my Superior Hiking Trail adventure when I finish the trail alone, covering more miles each day and meeting some very interesting people every day.
Superior Hiking Trail Journal - Part 2
---


Find more Hiking Resources at www.HikingDude.com
Follow Me