Arizona Trail Thru-Hike Journal

I hiked along the 800-mile Arizona Trail from March 17 to April 28, 2012 traveling from the Mexico border near the Coronado National Monument to the Utah border about 40 miles west of Page, AZ. This trek took 33 days of hiking and 10 days of rest due to weather and tired legs.
These pages are a composite journal of my adventure. Starting with my daily blog entries, I've added more pictures, details, and things I learned on the trail.
I hope you enjoy the tale, learn a bit about planning your own hike, and pick up a tip or two. Please holler if you have questions or want more information about something you read here.
---
Day 01 to 11 - Mexico to Molino Basin
Day 12 to 20 - Molino Basin to Roosevelt
Day 21 to 31 - Roosevelt to Mogollon Rim
Day 32 to 43 - Mogollon Rim to Utah
---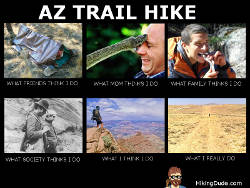 Which one do you think of when you hear someone is hiking 800 miles across Arizona?
(Click the image for a larger view)
This has been my first (of hopefully many) long trail hikes. Besides going on an extended adventure, I also wanted to promote the Boy Scouts'
ScoutStrong Program
for active lifestyles and encourage more scouting families to participate. I also wanted to demonstrate how making some of your own gear can be efficient, inexpensive, safe, and comfortable.
---
Before starting my trek, I did quite a bit of research on equipment. I already have lots of gear from years of backpacking and scouting, but recognizing I'd be carrying everything for 6 weeks or more made me willing to replace heavy items with lighter weight versions as long as it was not exorbitantly expensive. Here are the items I made myself...
Miscellaneous Items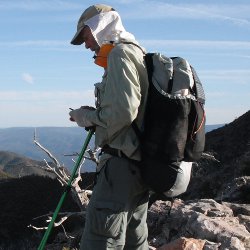 I made a bunch of miscellaneous items of which you can see a few in the picture, including:
Sun Shield - simple white cotton cloth attached with velcro to my BSA hat so I can use it or not. Worked wonderfully for keeping the sun off my face, ears, and neck.
Hand protectors - cut the top off of a pair of polypropylene liner socks so they were just ankle socks and used the tops on my hands. I cut a small thumbhole in each one and slipped them on. They worked great for sun protection across the desert and for warm when it snowed.
Sleeping Hat - very warm, very small insulated cover for cold nights. I didn't use it because I had a hood on my down jacket, but it came in handy for PapaBear when we were trapped in the snowstorm.
Pot Cozy - blue foam shell for rehydrating meals which worked just awesome. I'd boil water, pour it into the Knorr Sides pouch, and place the pouch in the cozy. Fifteen minutes later, the noodles or rice were soft and it was still too hot to eat. Weighed practically nothing and I also used it as a small cushion at breaks during the day.
Stove Windshield - I used metallic heating duct tape instead of aluminum foil for a windshield. It was very sturdy and did a great job of minimizing heat loss from the wind when cooking.
Water Prefilter - I invented a very cool setup to prefilter very dirty water so it would not gum up my filter so much. Unfortunately, it didn't work because the zip-loc got holes before I got to try it out. Fortunately, my Sawyer filter worked so well, it didn't matter! I plan to work on the design and share it once I have something that works well.
---
My Backpack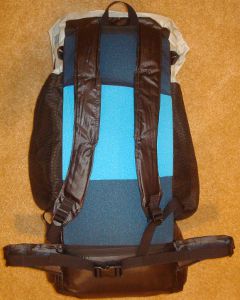 Yes, Mom, I made it myself!
With very little seam ripping and only two permanent alterations (mistakes), I created my lightweight, frameless pack based on the G4 pattern.
I purchased the pattern and all materials as a kit online for $40 and then got to work. I copied the pattern onto brown paper and cut it out - in case I screwed up I would still have the original pattern. The sewing went very well even though it was a very complex project.
The shoulder straps and waistbelt have velcro openings so you can stuff socks in them for padding but I cut strips of 3/8 inch foam to use as padding.
On my next version, I will use thicker and wider padding and sew it in to eliminate the hassle and weight of the velcro openings.
Here's more info:
Weighs 12.2oz. plus 2.4oz of removable foam pad
has about 4000 cubic inches
top-loading main compartment and three large mesh outside pockets, plus 8 tie-on points
has no frame - uses foam pad for support
made of 2.2oz. grey rip-stop silnylon and black oxford
adjustable shoulderstraps and waistbelt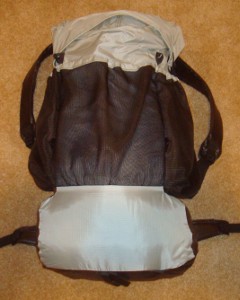 I made mine grey so it matches my quilt, hat, tent, and beard. ;-)
It has plenty of room for all my gear, food, and water. I never had to extend the top collar during my trek. My sleeping quilt gets stuffed in in a compression sack first to fill the bottom and raise the heavy stuff up a bit.
I just have one section of a blue foam pad for the back. Most people use a foam pad for sleeping and fold it up to provide the pack structure here - I had an inflatable pad instead.
There is quite a bit of stress on the pack where the shoulder straps and waistbelt connect to the pack since this is where all the weight hits. I've double bartacked those points and the material held up just fine under load. I've found no rips or weakened spots yet, after 6 weeks of hard use.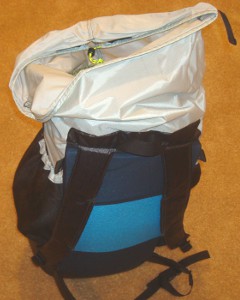 The top has a drawstring and two velcro strips to hold it shut. This top collar can also be extended up if you have a big load. But, be careful about overloading the pack - it's lightweight and should not have more than 25-30 pound load in it. I believe my full pack never weighed more than 28 pounds.
You can see how the pack top loads here. By packing sleeping gear first, you don't need to dig deep until it's time to set up camp. Keeping the daily needs, such as food, water, maps, hat, filter on top or in mesh pockets makes rest breaks easier to manage.
Oh, the two
alterations
I made?
I attached the pack back and sides incorrectly which subtracted about 400 cubic inches of the bottom area.
One seam on the collar faces out rather than in - I blame that one on the instructions, though.
---
My Quilt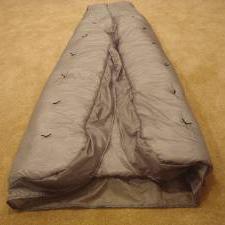 Heavy zippers, squished insulation, no wriggle room - who needs it?
I made my own sleeping quilt to save weght, room, and expense - even my wife was impressed at how nicely it turned out! From my point of view, it was very easy - so easy I made another one that is thinner and lighter.
Sleeping quilts are making steady headway against sleeping bags, especially for long treks where light loads are desired. Actually, a lighter load is always a benefit no matter how long your trek is, but carrying a 4 pound bag for two days doesn't wear you down as badly as lugging it around for two weeks.
A quilt works by laying over the top of the backpacker and being tucked in on the sides as desired. Laying on a pad gives underneath insulation, just like when using a sleeping bag. There is a foot box area which keeps the quilt on and tucked in below.

So, why the quilt? When you think about it, there are many benefits:
More Efficient - the insulation you lay on gets squished and loses its loft. That means it doesn't insulate. It's really just extra weight and expense. Over time, that insulation stays squished because the fibers get destroyed.
Lighter - no zipper, no insulation underneath, lighter fabric.
Flexible - the quilt can be wrapped around snugly or loosened up. It can be completely thrown off or lain on during warm nights. I can move my legs and body around without feeling quite so like a caterpiller.
Customized - any MYOG (make your own gear) item can be made specifically to your size or needs. I made this quilt longer than normal and left off a part I didn't want.
I learned a lot from making this quilt.
I made it wider than I really need which means about 7 square feet of unnecessary fabric and insulation, which equals extra weight. My second one is slimmed down.
It has about 2 inches of loft on top - that's a lot, just measure your own sleeping bag's thickness. My second one has just about 1 inch for my summer trips with warmer nights.
It's very easy to make a quilt, and it doesn't need to be perfect. As long as you make sure the stitches are hitting all the layers of fabric, it turns out just fine.
I easily stay warm below freezing with this quilt. There was frost inside my shelter two nights and I was toasty warm. I believe it reached below 20 degrees those nights.
It weighs 2.5 pounds which I feel is fine for the range of temps I can use it in. The fabric is 1.1oz silnylon and the insulation is continuous filament polyester - goose down would be lighter, but messy working, much more expensive, and susceptible to moisture.
My second quilt should be good to around 35 degrees and weighs just under to 2 pounds.
---
My Shelter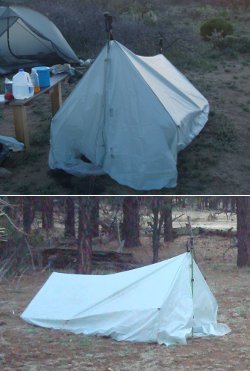 The last big item I made myself is my shelter. With the possibility of night temperatures below 20, I wanted to have a shelter I could pitch low to the ground to reduce the amount of space I needed to heat and trap air from the wind. I also wanted the ability to pitch it high and have breeze blow underneath if there were very hot days on the desert or in the canyon.
My shelter is a simple 60-inch wide sheet of silnylon with side extensions and end flaps sewn on. There are six tie points on the sides for guylines and a tie point at the peak on each end to hook onto my trek poles. The ends can be opened or held together with a few strips of velcro.
There is no floor which helps keep its total weight to just about 1 pound.
Of all the gear I made, my shelter performed the worst. It did its job, but I have a list of what didn't work as I hoped and how I'll fix it in my next shelter:
Bugs - I was more creeped out by the thought of insects, scorpions, snakes, rodents, ... crawling in with me than I thought I would be. In Tucson, I sewed on an 8-inch mosuito net extension all around the bottom. When I pitched the tent, I tucked this under my ground sheet and then placed my gear all around the edges. I didn't have any visitors the entire trek.
Ventilation - I envisioned pitching the tent high and having the sides 6 inches off the ground. There was so much dust and dirt in the desert that this just allowed it to blow onto me and my gear. I plan to include a floor next time.
Weather - I was not too concerned with rain or snow on this trek (but I should have been) so each end is not very secure against blowing precipitation. I'll add a little more velcro and make sure the ends close to the top.
---
Electronics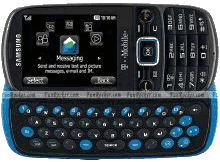 My gear included quite a bit of electronics which most thru-hikers don't bother to carry. Since I wanted to blog daily from the trail, this was required. Here's what I took:
cellphone - took a picture, added some text, sent a message, automatically posted as a blog entry. This worked perfectly, whenever I had coverage - which was most of the time. This was the first time I've ever used a cellphone and it was really fun. Folks at home just loved hearing what happened today.
Spot Messenger - about every 10 minutes, this would send my location to a satellite which forwarded it to a database that updated a map on my website. Worked terrific except in dense forest and in steep canyons. This used 3 AAA lithium batteries which cost about 50 cents per day.
This device also has the ability to contact 911 if I ever get in serious trouble so it's also a bit of insurance.
Solar Charger - makes sense to use the sun when hiking north through Arizona. This charger kept my cellphone charged the entire trip. I would have used it for the Spot also, but Spot says to not use rechargeable batteries.
Camera - small digital SONY without many features. Worked fine for pics to put on this site, but I really need to get a better camera.
Pedometer - to count my steps from Mexico to Utah. Just wore it on my shoe every day and checked the count at the end of the day.
Flashlight - I took a super tiny, super bright Photon Microlight. It clips on my hat for handsfree use and lasts about 12 hours on a set of small 2016 batteries. I was very happy with how well this little light worked out.
---
Daily Journal
From here on, you can read the daily account of my trek from Mexico to Utah.
You can click any picture to view a larger version of it, if you want.
---
03/15/2012
Leaving on a Jet Plane...
Don't know when I'll be back again.
They say every journey begins with a single step, but this one began with a couple long plane rides. I flew from Minneapolis to Tucson via Dallas today. A friend from college picked me up at the airport so I could stay with her family for two nights. Then, it's a 100-mile ride to the Mexico border and trailhead early Saturday (St. Patrick's Day!) morning to take that first step. I found a hiking buddy on the Internet to give me a ride and join me for the first 4 days or so and then we'll probably go our own ways.
Tip
: [You shouldn't expect to complete a thru-hike with someone, unless you're married to that person. Everyone has a different hiking pace, different desires, and different goals of the trail. Set a definite commitment, such as three days or 80 miles, and then re-evaluate at that point.]
So, after about 6 months of planning, purchasing, making, and practicing, it's time to actually start the adventure.
---
03/17/2012
1st Day on AZTrail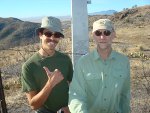 I walked 44184 steps and covered about 22 miles today.
Got picked up in Tucson at 5am and drove the 100 miles to Coronado national monument. The couple miles of dirt road past that were swarming with Border Patrol vehicles. I've heard over and over and over about how I might run into illegals crossing the border and how the trail will be like walking through a garbage dump by the border. I was awestruck by the number of vehicles and armed patrols in the area, and the expense to have all that in place day after day.
We started hiking to the Mexico border which is the start of the AZ Trail and about 2 miles south of the parking area. At the border, there is a small monolith. The border itself is a rundown barb wire fence at this spot. Further to the east, it is a huge solid wall. Just to the west of us about 50 yards, I saw a group of about 20 people sitting in the shade of some shrubs on the Mexico side of the wire. I suspect they were waiting for nightfall to cross the border and try their luck with the patrols.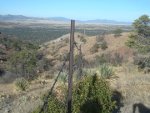 We started north at about 9:30am and made it up the very rugged first 6 miles to the top of Miller Peak. Right off the bat, you hike from 6000 to 9000 feet so the first day is usually fairly short. We wound up hiking over 20 miles, stopping shy of Parker Canyon Lake. This was farther than I had planned to go, but I felt terrific - no real pains, blisters, or soreness. The day was warm, but not hot, due to the continuous, strong wind - so strong it broke off some pines not long before we walked through.
I'm saying 'WE' because I'm hiking with a guy named Colton that I met online. I posted on the AZ Trail forum, looking for a hiking buddy and his dad responded. Colton is in his early 20s and this is his first long trail hike. He set the pace today and really made me work to keep up on the way up the mountain.
Brad the Dad and Case the Dog are supporting us these first few days. Brad made us an awesome dutch oven elk meat loaf and biscuits for dinner at camp! Great way to end the first day of hiking.
Met Bill at the trailhead. He turns 70 next week and will begin his thru-hike on his birthday! Also met Phil from Florida today on the trail. He's a very experienced long distance hiker and has a terrific attitude on life. His pack is huge, he's not moving real fast, but he's having a great time. His trailname is ZigZagger. Most people hiking long trails use a trailname rather than their real name. I think I'll just be Hiking Dude unless something better comes along.
---
03/18/2012
Day 2 - Snow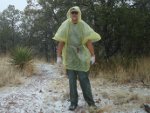 I walked 34654 steps and covered about 16 miles today.
Got started hiking about 7:30am and put in about 3 hours before I heard thunder and then saw some lightning a bit later. I don't really want to be hiking in a lightning storm in the desert! Kept my eye on it and the storm stayed north of us until finally the rain started and the temperature plummeted. After only about 30 minutes or so of light rain, it turned to snow. The wind coming from the west (into our faces) plastered the snow to us and to the west-facing sides of trees, cacti, everything. Having just finished by practice hiking in Minnesota where it was about 15 to 20 degrees, I didn't mind the cold too much as long as I stayed dry. As you can see, I only brought a $1.99 disposable rain poncho since I didn't really expect much bad weather out here. It actually worked very well and kept me dry for the most part. I was lucky that there wasn't much brush on the trail here to rip the poncho.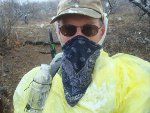 As the snow continued all afternoon, it did get cold - my fingers, nose, and ears mostly. My sunshield, bandana, and hand covers took care of things well. As long as I was moving, I was staying warm, but as the day wore on I could tell I was getting chilled. Brad the Dad and Case the Dog met us at the Canelo Pass trailhead and we drove into Patagonia where I bought us pizza and we all slept in a hotel. Sounded fine to me!
I'd heard that the Velvet Elvis was the place to eat in Patagonia. Well, the pizza was pretty lame and expensive. The Home Plate restaurant was much, much better and that's where I'd go again next time.
---
03/19/2012
Day 3 - Canelo Hills & More Snow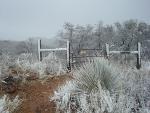 I walked 39987 steps and covered about 16 miles today.
It feels like hiking in MN so far. Another day in snow and wind. Brad the Dad dropped us off back where we stopped hiking and we hiked into Patagonia. We didn't get started hiking until 10:00am and the wind, snow, and rain pounded us all day. Just before we reached town around 5pm, the weather let up. That gave us an hour of hiking to dry out a bit.
Phil from FL made it to town also. He had camped out in the snow but was at the hotel for the night. On the trail, I saw two coyote, four deer, lots of doves, and snow.
So far on this trek, I've camped out once and stayed in a hotel twice - not what I was expecting but a way to ease into the trail.
Patagonia is called an
Arizona Trail Gateway Community
which means it's an interesting little town right on the AZ Trail. There are about 13 of them along the trail and Patagonia is the first you enter from the south. In Patagonia, there is one hotel - the Stage Stop - but there are many bed and breakfasts, rental homes, and other places you could stay. I personally would recommend planning ahead and finding another place to stay. The hotel was very expensive with really nothing to show for it and the woman running the place would really love to be pretty much any place but there. The attitude of the owner makes or breaks a business in a recreational area and this was the one, single, only, unique poor attitude I encountered on the entire trail. Check out
Patagonia Lodging
for other options.
---
03/20/2012
Day 4 - Mt. Wrightson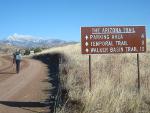 I walked 48492 steps and covered about 22 miles today.
What a gorgeous day of hiking! We roadwalked out of Patagonia, gaining elevation on our way up to Mt. Wrightson which is the mountain in the background. Our trail took us up over the right shoulder of the mountain where there was still plenty of snow.
Got started hiking around 8am which means at least an hour of cool morning hiking lost.
Tip
: [Find out the sunrise and sunset times for your date and location. This helps plan how many hours you have to hike. Get hiking at sunrise when it's cool, calm, and quiet. You'll cover more miles, see more wildlife, and consume less water.]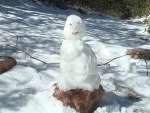 At the high point on the mountain, there was still a couple inches of wet snow and absolutely no footprints ahead of us so we knew we were the first ones out of Patagonia. At a trail junction, we built this little snowman for the next hikers coming up behind us. We also figured they would be following our footsteps, so we backtracked a ways and jumped off the trail. We hiked offtrail a few dozen yards and got back on the trail past the junction. This left the snowman guarding the trail with our footprints stopping right there. It would have been fun to see what the first person to come upon this did when trying to figure out which way to go. :-)
Ran into a lot of cows on the way up the mountain. Cows are pretty dumb animals, I'm finding out.
At the end of the trail, at the Gardner Canyon Road trailhead, we found Brad the Dad and Case the Dog and made a quick camp. Brad fixed elk burgers and bighorn sheep chili - good protein after a longer day of hiking. It was good to get over 20 miles done, but Colton's knee is bothering him now.
A day of sun sure is more fun than a day of snow and rain!
---
03/21/2012
Day 5 - Scarce Water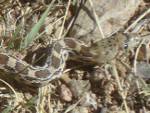 I walked 45794 steps and covered about 21 miles today.
First warm day in the desert with little water. Started out with about 2 liters of water. We reached Kentucky Camp with its toilets and running water - a real treat. A few day hikers said someone was looking for us just up the trail so we hussled up to where the trail joins a road and found Brad the Dad. He had a knee brace for Colton and then left for home.
Saw a few snakes, but nothing really exciting. Would love to see a gila monster and a rattlesnake - from a safe distance.
After Kentucky Camp, water we saw no other water sources until late in the day while crossing Schofield Canyon. There were a few small pools so we drank a lot and filled up for tonight and possibly tomorrow. That may have just been due to the snow and rain, but it was good, clear water.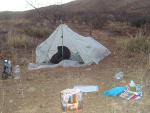 We camped on a ridge of Papago Canyon out in the middle of the desert. Nothing around but cactus, wind, and coyotes - pretty cool! The temperature was great and a flat spot along the trail made for a fine campsite.
This was my first meal cooked on my alcohol stove and it was great. Our support team was really nice to have along for the first few days, but now we're striking across the desert with just what we have.
---
03/22/2012
Day 6 - Real Desert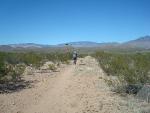 I walked 55244 steps and covered about 27 miles today.
Long, hot day across real desert! My first
Marathon Day
- hiking longer than a marathon. We covered a lot of miles because it was a fairly flat, easy trail. We crossed under I-10 and the tunnel was just like air conditioning! A great place to take a break in the middle of the day, if you really have to be out here in the middle of the day.
My umbrella really made it nice for me, keeping me in the shade and not needing head, neck, or hand protection. It looks kind of silly, but it's definitely worth the 8 ounces of extra weight!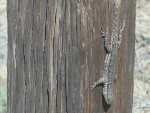 Water was scarce. We got water from 'the Lake' which was just before Twin Tanks. The water looked like pea soup but my filter worked like magic. Other than being warm, the water tasted fine.
Someone responsible for laying out the trail around Twin Tanks has a weird sense of humor. The trail wandered back and forth, around and around, through a hillside of cactus for no apparent reason. It seemed like someone laid out a path through their cactus garden to make sure visitors passed by every cactus so each one could be admired.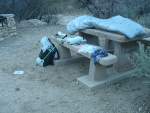 We hiked through La Posta Quemeda ranch by Colossal Cave and camped at La Sevilla picnic area - running water and toilets! Didn't set up my shelter. Colton had the great idea to just sleep on the cement picnic tables and that worked out super. Just ate cold dinner rather than cooking - I was really beat.
Those 50k steps really wore out my feet! The bottoms are very sore, but tomorrow is a short day.
---
03/23/2012
Day 7 - Saguaro
I walked 15745 steps and covered about 6 miles today.
Taking a short day today - just to the Saguaro National Park boundary. Since we do not have a permit to camp in the park, we have to cross it and leave the north side in one day.
We were in no hurry to leave La Sevilla since it was so convenient with water and facilities, so we didn't leave until 2pm. After a grueling hike yesterday, today's 6 miles was nice.
My umbrella is amazing to keep me cool out here.
Tonight marks one week complete and a bit more than 125 miles which is almost 18 miles per day. Today also brought my first 'sad' feeling. Just sort of got depressed and missing home, I guess. My wife and son are on a trip to Chicago and I'm sitting in the desert - hmmmmm. :-)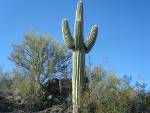 I've reached Saguaro country. The cactus is everywhere, but almost exclusively on south-facing hillsides. They look like an army of aliens waiting for the order to descend and wipe out Tucson.
Water continues to be a concern. I filled up with almost 13 pounds of water (5.5 liters) at La Sevilla because we don't know of sure water sources until Manning Camp up on Mica Mountain tomorrow.
Tip
: [Whenever you find good water, stop and drink a liter and fill your reserves. If you are sure of the location of the next good water source, you can cut back on the amount of water you carry, reducing your pack weight and minimizing your efforts. I always tried to have at least 1/2 liter of extra water, just in case. ]
---
03/24/2012
Day 8 - Up and Over
I walked 49644 steps and covered about 20 miles today.
This was my Saturday sunrise, what was yours like?
Started at 3000ft on the desert floor and climbed over Mica Mountain at 8600 feet. This is a classic example of one of Arizona's
sky islands
- rising from flat, hot desert up to snowy pine forest and back down in a matter of a few miles. The trail going up was amazing - it was made of hundreds of cut rock steps. The amount of work put into the trail is hard to believe. The south facing trail got pretty warm as the day wore on, but the higher elevation helped keep us cool.
The unreliable water at Grass Shack camp was a stream that was flowing very strong, probably due to the recent snow. Too bad we couldn't count on that and carried 6 or 7 pounds less water. :-(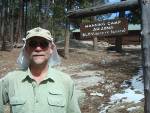 Manning Camp was a great place to take a break. Toilet and stream with flowing water. Climbing into the pine forest with the sun heating the sap was special for me. It reminded me of hiking as a kid in northern Idaho in the summer.
From way up here, I can see all the way south into Mexico. I can see all the miles I've covered so far. It's inspiring to see how far you can go by just putting one foot ahead of the other, step after step, mile after mile, hour after hour, day after day - before you know it, you'll be at the end of the trail!
We made it outside the north park boundary and camped in Tanque Verde canyon, just shy of Italian Trap trailhead. The north side of the park was dismal, overgrown with brush, and blowdowns. I believe most visitors use the south side up to Manning Camp and back out. There was plenty of water flowing in the stream in Tanque Verde so it was a good spot to camp.
---
03/25/2012
Day 9 - Molino Basin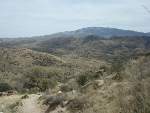 I walked 35462 steps and covered about 15 miles today.
The plan we were going with was to hike together to Summerhaven and then get a ride to Tucson for a zero day. Today changed that plan.
We were both dragging all day in the heat and dust. It wasn't very fun. It seemed all uphill and all in the sun. This is the only picture I took all day - just the dusty trail from the backside of Mica Mountain across hills of mostly nothing to where I'm standing with still another couple hundred feet left to climb.
As I looked over my maps, I noticed that Molino Basin campground was just over the hill and right on the road from Tucson to Summerhaven. If we stopped there, it would be a shorter drive for friends to pick us up, we'd get a rest sooner, and this day would be over.
Colton agreed so we contacted friends, arranged a ride, and were in Tucson before the sun went down. Did I mention how much I appreciate my friend Janet and her family in Tucson? They had me as a guest at the start of my trek and now this rest day as well. They are wonderful folks!
This turns out to be the last day I hike with Colton.
---
03/26/2012
Day 10 - Shelter Upgrade
Kept busy today getting my hike schedule set for the next few weeks. Figuring how to minimize the food drops and stops along the way. Barring any more snow storms or other unforeseen obstacles, I should complete the trail right around May 1.
Here's a big
THANK YOU
to Charlene at the
Tucson Quilter's Market
for her generosity today. She let me use one of their sewing machines to add a one foot wide bug net around the bottom of my tarp tent.
Now, I'll have more headroom to sit up and I won't have to worry about ants, scorpions, snakes and other crawlies visiting me in the night. It will also allow ventilation out on the hot desert.
I sure didn't realize how nice a day off the trail feels. I feel like I could go and pound out 25 miles right now. But, when I step out into the Tucson heat, I get over that feeling real quick. :-) You should have seen the wonderful roast beef my friend cooked for dinner last night. That hiker hunger I've heard about seems to have caught up with me. I had a Big Mac and fries for lunch and could have had another. But, instead I bought a head of lettuce and ate that along with two bananas and two kiwi fruit. Wonder what's for supper?
Here's Phil from FL and Colton from AZ, chatting on the trail while HikingDude from MN snaps the shot on our first day of the trek.
It's pretty cool how folks from all over can meet on the trail in an environment that pretty much equalizes social standings. It doesn't much matter where you're from, what you do, what hip clothes you wear, or how important you are in the 'real' world - out here you just hike and prove to yourself what you are capable of doing.
Phil is out there chugging along. I hope I run into him again after my rest in Tucson. And, I wonder what other characters will show up on the trail.
---
03/27/2012
Day 11 - Enjoying Civilization
I decided to extend my rest day to two days. I'll be back to hiking bright and early tomorrow, keeping my eye open for other hikers to say 'Howdy' to on the trail - maybe you'll cross my path? But, for one more evening, I'm really enjoying time to relax in a cool home, eating real food, and not worrying about how much water I need to carry or where I'll find the next small puddle.

I hit the jackpot at Albertson's grocery store today - Snickers bars were 2/$1.00 AND each one got me a monopoly game piece! I figured I would be practically guaranteed to win a Mustang with the 2 dozen game pieces I got, but no such luck. :-(

Visited the post office to send a food box to Roosevelt Marina and extra gear and food to Pine. I've still got to find some Honey Buns which I've heard lots of thru-hikers talking about eating. I'll let you know when I track some down - probably in a Circle K or AM/PM somewhere out there.
I also decided to buy food along the way more, instead of mailing it all. It looks like the trail goes through towns enough that I can resupply from small grocery stores without much trouble. We'll see if I wind up eating Snickers and PopTarts for a month.

I'm really looking forward to visiting with a couple scouting folks in Pine and Flagstaff - I hope the dates work out.
---
Continue with:
Day 12 to 20 - Molino Basin to Roosevelt
---
All Comments:
Jan 09, 2013 - Eric
Hi, Just wanted to say I really enjoyed reading your blog about the AZ trail as well as the Superior trip blog. I came across your site while looking for AZ trail info. I live in Flag and hope to one day complete the AZ trail.Thanks for your site.
---
Feb 19, 2019 - Tracie
Hi there, Thank you for sharing about your AZ trail trip. What big BP troops have you done since 2012? My questions for you for Mexico to PHX, I'm looking at hiking 214 mi to start with and possibly break up sections through out 2019. what kind of water options were there, please? I';m thinking about the end of March in about 4 week. and then from PHX to Utah water options. Thanks so much. Trac
---
Feb 23, 2019 - Hiking Dude
@Trac - The Arizona Trail Association has great resources for the route, including water reports. Water fluctuates A LOT in AZ as rain falls and then streams dry up. This year has had quite a bit of rain and right now there is snow piling up, but in a month that could all be gone.
On my AZT hike, water was my biggest concern and I carried water to reach the next "sure" source, never expecting to find water at any "seasonal" sources on the AZTA water sources list.

Hike On
---
Apr 09, 2019 - Joe
So you averaged 24.24 miles per day with all the gear and resupplies... Really
---
Apr 09, 2019 - Hiking Dude
@Joe - If you only count the days spent hiking, Yes. But, with zero days, it was more like 19/day. It was a wonderful experience!
---
---
Ask a Question
---


Find more Hiking Resources at www.HikingDude.com
Follow Me