Vacation Over Post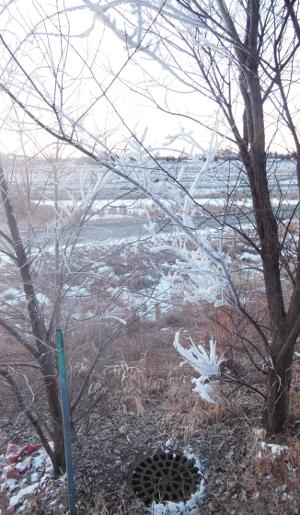 Back home and walking in -15°F yesterday. That's just 80° lower than my last walk down south. ☺
The vacation to
Marco Island
in Florida is over, and was a great time. It ended with a walk through the Edison/Ford Winter Estates in Ft. Myers before catching a plane home. Those two guys were amazing, and left legacies that huge parts of our current way of life are built on. Batteries, music, movies, automobiles, and much more were created, improved, or made available to consumers through their efforts.
If you're looking for an escape from cold winter, the Ft. Myers, Naples area has a lot to explore. The one thing I missed doing was visiting the official southern terminus of the Florida National Scenic Trail. I plan to be hiking it soon - "soon" being arbitrarily relative.
Now that the manatees, alligators, seashells, and birds of all sorts are just things to fondly remember until next time, I'm enjoying the local trails again. Yesterday was the coldest hike of the winter for me. I thought this steam coming out of a sewer cover and freezing onto the branches above was very interesting. The upper branches are about 8 feet above the opening and still covered in frost. You can click the photo for a larger view.
Even though it was quite cold, I was comfortably warm for the 90-minute, 6-mile hike - all except my toes which started complaining after an hour.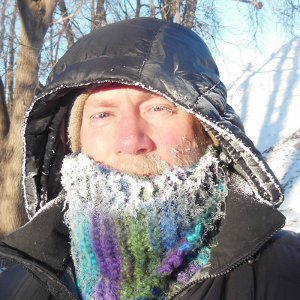 I've developed a clothing scheme that works well for me based on the air temperature and wind. I don't want to be too hot or too cold, so different layers for different temperatures are important. I'll share that in a couple days.
Just like the steam from a sewer, -15°F does a great job of frosting up a lone hiker. I even got frost on my eyelashes and
inside
my coat. With projected warmer temperatures (today it is 30 degrees already), this will probably be that last really cold walk about.
Oh, if you are admiring the scarf, I'm sorry but it's not available in any stores. It's a one-of-a-kind, custom knit creation that I got for Christmas!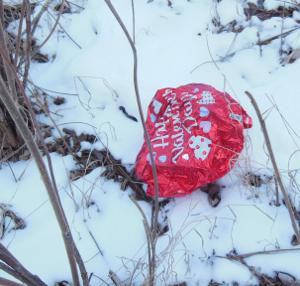 To close, I just had to share this bit of trail trash. Someone was a wonderful valentine, getting a balloon for his sweetie, but it escaped. A week later, I found it in the brush along the trail. I wonder how long of a flight it had? But, now it's in the garbage can outside waiting for pick-up.
So, tether your balloons! And don't be afraid to pick up and properly dispose of trash you notice along your trail.
Hike On
Posted: 13:07 02-24-2015 1151


Find more Hiking Resources at www.HikingDude.com
Follow Me