Wanna Hike? Post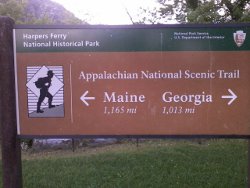 I'm off on my next hike in a week.
The plan is to hike from Harper's Ferry, WV south on the Appalachian Trail to the terminus on Springer Mountain, GA.
After checking out buses, planes, trains, and automobiles, I've decided to go by rail across the country. Bus was $90, plane was $100, and train was $150. So, why did I choose train?
First off, I will only ride a bus if it's the very last possible option. My Greyhound experience last year was enough to last a loooong time.
Even though the plane was less money, it got me to Washington, DC so I would need to take a commuter train to the trail, and it landed at night so I'd need to pay for a place to stay.
The train takes a bit more than a day and costs more than flying, but I step off the train right onto the trail, I can pack all my food and gear at home, it arrives at mid-day, and I stay on the ground. Plus, I've not been on a long train ride in many years so it will be more of an adventure.
I've looked over the AT Guidebook, set up resupply spots, figured out how far I'll hike each day and where I'll spend each night. Of course, as soon as I set foot on the trail, the plan goes out the window but it's a good exercise to get a general idea of what to expect. You can check out my rough
hiking schedule
if you're interested. If it all works out, I'll reach the end by Oct. 15, but I can take as long as I need.
If you know someone along the trail that would like to visit with a hiker, send me an email. I'd always prefer a home over a tent or shelter any night on the trail. And, I'm hoping some Scouts might be able to join me hiking for a couple hours or days.
Posted: 13:33 08-12-2015 1165


Find more Hiking Resources at www.HikingDude.com
Follow Me