Hiking Pole Hack Post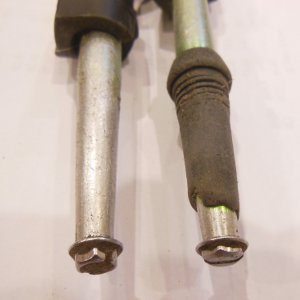 After about 1500 miles, my inexpensive hiking poles are battered and bruised. The carbide tips have worn out, the plastic around the bottom is gone, and the aluminimum poles are now wearing away. It's time to get new poles, but I've really liked these and only the tips are done for, and I'm sure there's still more miles in them. I know, I should have tried to replace the tips when they first wore down, but I was in the middle of an 800-mile hike at the time so it was not an option.
Rather than buying replacement tips, since the pole shafts are now worn and irregular, I came up with a free solution that's working great.
I filed the soft aluminum tip of the pole so it is flat.
Scrounging through my "junk jar", I found two hex head screws that fit into the hollow shafts. (these have the most head material so I figure they'll last longer and be easier to remove later)
I screwed the screws in and they bit into the soft aluminum, nice and tight.
Ta-Dah! Now, I have steel tips that are easy and free to replace when they wear down.
Hike On
Posted: 8:44 08-17-2015 1170
---
All Comments:
Aug 17, 2015 - Zarem
Looks like it will work good. let me know how they do. I love to make something work out what most people throw away.
---
---
Ask a Question
---


Find more Hiking Resources at www.HikingDude.com
Follow Me