Trail-Town Sign Post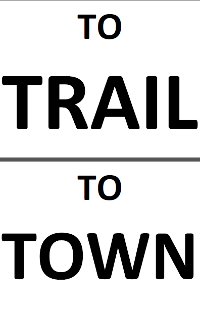 I've been told that hitching a ride into trail towns is a common thing on the Appalachian Trail, but it's new to me. I hitch hiked once about 30 years ago in Normandy, France while trekking through Europe. So far, my long hikes have had trail towns right on the trail or I've walked to them. I've gotten a couple rides, but not by standing by the road asking for one.
Looking at the A.T. maps, and reading what others have done, it sounds like hitching into towns works pretty well and often can save hours of off-trail walking. So, I expect I'll try it and see what happens.
To improve my odds of catching a ride, I printed this sign and slipped it into a plastic sleeve, then taped it shut. I'm pretty sure it's waterproof, and I hope an 8.5x11 sign is big enough to get someone's attention while adding only .75oz to my pack.
I'll hang it on my pack while I'm walking or hold it while standing and practicing my pathetic sad puppy eyes. I suppose some dreary rain or scorching heat might help me as well.
Feel free to click the pic and print out the PDF file for your own sign. Would love to hear if you use it successfully!
Hike On
Posted: 21:12 08-15-2015 1168


Find more Hiking Resources at www.HikingDude.com
Follow Me