Loose Goose Post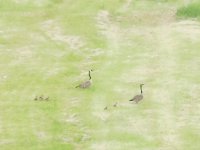 It's the time of year when baby animals are popping up all over the place. Furry, feathered, scaled, or slimey, they are everywhere and we need to be aware of them and give them space.
Yesterday morning, I walked 5 miles with my neighbor and we noticed this family as we crossed an overpass on our way home. Click the picture to see a larger view of where these geese were actually walking.
Right during morning rush hour is probably the worst time they could be taking the little ones from one pond to another on the other side of the highway.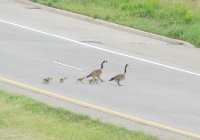 As you can see, they did make it at least to the middle of the roadway. Did they make it across, or did a semi scatter their feathers everywhere? Well, click this picture to see a short, blurry video that shows the ending to their ill-advised hike.
Geese on roadways are a big problem around here this time of year. Some drivers slam on their brakes, swerve, and occasionally cause serious accidents. Be aware of the wildlife in your area and what particular challenges their young may create.
On my walk today, I found a huge snapping turtle making a nest in the sandy edge of the bike trail. I expect it will be fine there as long as no one gets curious and bothers it. Turtles are another road danger as they migrate to nesting areas.
Posted: 15:20 05-26-2016 1276
---
Comments:
May 26, 2016 - bren
Canadian Geese can be dangerous for drivers and pilots! Good to know this set didn't cause harm. Didn't think about turtles being a danger but I can see that as some slam on breaks to "assist." Great update! Thank you!
---
---
Ask a Question
---


Find more Hiking Resources at www.HikingDude.com
Follow Me