National Ultimate Champs Post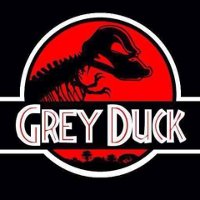 My daily walks preparing for a backpacking week in Wyoming next month took a backseat to a fantastic Memorial Day weekend vacation.
We flew to Raleigh, NC to watch our son participate in the
USA Ultimate
National College D-1 Championship tournament. He plays on the University of Minnesota's team, called the Grey Duck (
@1duck1love
#oneduckonelove
). This is the logo for their black uniforms - our son designed it. :-) It was easily the most popular design at the tournament.
After 4 days of games against the best teams from across the country, in blazing hot sun, torrential rain, and past-midnight games, the Grey Ducks were the last team standing - 2016 National Champions! This was the first time Minnesota has ever made it to the semi-finals, finals, or championship. I've been hoarse since Sunday night and am just now starting to sound less like a duck myself.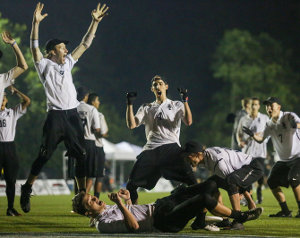 If you're not familiar with Ultimate, or have never seen a game, there are lots of videos on
YouTube
. It's fast-paced, exciting, athletic, and fun. And, on given day, any team can pull off a major upset and win it all!
Now, I'm back to hiking. But, my tracker is still on its way across the country, strapped to my other son's bicycle. He's gone over 1,000 miles now at
BikingDude.com
.
Posted: 14:58 06-02-2016 1277
---
Comments:
Jun 02, 2016 - Rick Evhtetnacht
Congratulations again to Josh and all his teammates on winning the D-1National Championship! It's also really cool that he designed the logo 😊!

Hats off to Kory on his long bike trip! Is he doing it alone? Approximately how many miles will he be riding? Definitely has your adventurous spirit in him 😊. When you speak to him pass on greetings and good luck.

Anxious to hear more on your trip out west, too.

Rick Echternacht
---
---
Ask a Question
---


Find more Hiking Resources at www.HikingDude.com
Follow Me