Bon Jour Post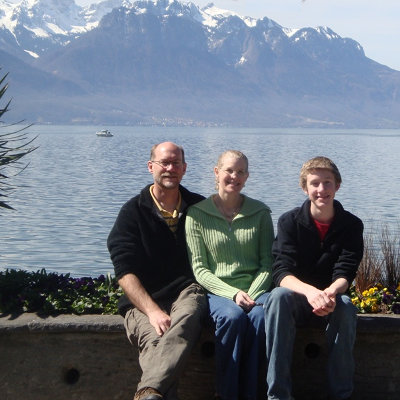 The real fun begins tomorrow! We're off on that old jet airplane for two weeks of visiting, exploring, and hiking in France. Being the free spirits that we (Hiking Dude, Mrs. Dude, and son) are, we have plane tickets, a rental car, and that's it. No idea where we'll stay even our first night. But, our backpacks are packed (sort of) and we've got a credit card, and Mrs. Dude bought a book about France yesterday, so I think we'll be ok.
This is us on our trip to Switzerland and France seven years ago. I hope this adventure is as fun as that one! I'll blog if we see anything worth reporting :-) and if there's internet. But, it's not like France is a wilderness like, say Montana, Idaho, and Washington.
Speaking of MT, ID, and WA, that's the next big thing for Hiking Dude when we return. Around July 1, I'll be heading to Glacier National Park with my son to find the Pacific Northwest Trail eastern terminus at Chief Mountain. Once we find it, we'll be walking west un the PNT until we either find vampires or run out of land to walk on.
The PNT is
NOT
the PCT!!! The Pacific Crest Trail runs north-south through CA, OR, and WA while the Pacific Northwest Trail runs east-west through MT, ID, and WA. Plus, the PCT is 2600 miles but the PNT is
only
1200 miles. The PNT bounces along just south of the Canadian border until it his Pugent Sound, then crosses the Olympic peninsula (passing Forks, WA - the vampire village) and ends at Cape Alava on the coast.
So, my son and I will take a train to Glacier, hike west, and see what happens. I thought I had cured him of his long distance hiking interest last year in Florida, but I guess not. We're in no hurry this summer but will probably finish around the end of August, if all goes well. Most of the trail is very remote with no cell coverage, so posts will be rare, but we'll do our best.
Posted: 6:32 06-12-2017 1320


Find more Hiking Resources at www.HikingDude.com
Follow Me