Magnetic Rock Trail Post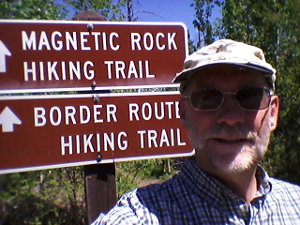 After finishing up presenting my wilderness first aid training yesterday, I had time to complete the short but popular Magnetic Rock Trail way up north on the Gunflint Trail in Minnesota. Perfect weather and a new location made for a most excellent walk through the great north woods.
The Magnetic Rock Trail (MRT) is also the western terminus of the Border Route Trail that follows close to the Canadian-USA border for about 65 miles where it ties into the Superior Hiking Trail. Also, the Kekekabic Trail heads west from this same location for 40 or so miles over to Ely, MN. All of these trails are bits of the very long North Country national scenic trail that goes from North Dakota to Vermont.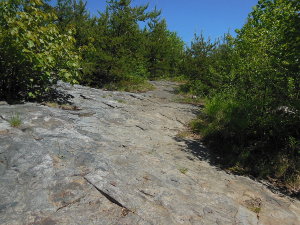 Much of the enjoyment of hiking a trail comes from the weather on the particular day you hike. I was fortunate to have crystal clear, bright blue sky. This didn't stop the temperature from rising over 80F, but very few bugs and little humidity made for an exception hour or so in the woods.
This far north, the wilderness is made up of struggling vegetation clinging to a thin layer of dirt over solid rock. Much of the trail tread has been made by scraping away the dirt so it is firm, obvious, and easy to walk. The trail crosses one creek that had lots of water today, but I brought my own full bottle and needed no more. I am glad I brought water because there is little shade along the trail - fire has cleaned the area out. There are now low, thick brush and young trees growing. In a couple more years there will be plenty of shade.
In the open areas, I could see fields of blueberry bushes that should make the hike even more interesting later in August.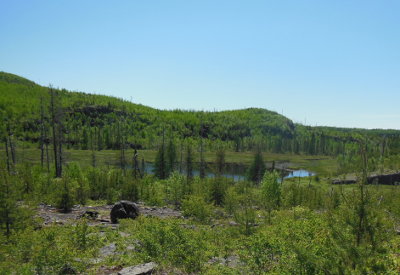 As the trail progresses east, a hiker is presented with nice views like this one at every new ridge. The low ridges are rock so the views are often uninhibited. It seems like ideal moose habitat but I neither saw nor heard anything in the heat of the day, other than many songbirds flitting about. I expect an early morning, or late evening, walk would be more productive. Up here, it is light from around 5am to nearly 10pm as we approach the longest days.
I was surprised to run into 5 other hikers in the middle of the week. One fellow had driven down from Canada just to check off this hike. The other 4 I didn't talk with except to say 'Howdy' as they passed on the trail. They did not have water and looked a bit hot.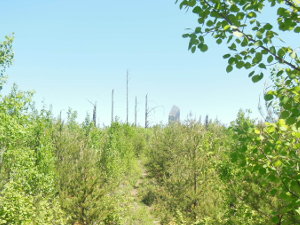 It is only about 1.5 miles from the trailhead to the monolith, but that last 1/4 mile or so always seems to take a long time. I was very curious just how big the rock would be since I've heard of it but never seen it. I was looking ahead at every opportunity and finally caught my first glimpse through the trees. Off in the distance, it reminded me of Devil's Tower in miniature.
It took me another 5 minutes to reach, but it is certainly possible to suddenly notice it right in front of you if you are watching your footing or otherwise distracted. As the forest grows, this will be more the case.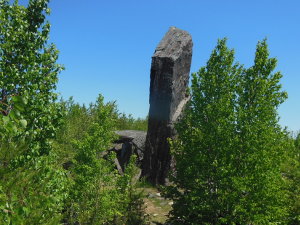 Getting closer, it was hard to see how this one formation could be standing all alone. Glacial eradicts that are deposited can be huge, but all that I've seen are more boulder-shaped from scraping along ice and rivers. This massive standing tower just does not fit the expectation.
Reaching the rock, it was much taller than I expected. There's no hype with this one! I had brought a compass and magnet along just for this moment, but I then remembered it was sitting on the passenger seat in my car. :-(
The rock is layered vertically, rather than horizontally, making it obvious that it has been stood on end. Around the base, there are huge chunks that have flaked off over time, due to freezing and splitting. Eventually, this sight will be only a jumbled pile of rock.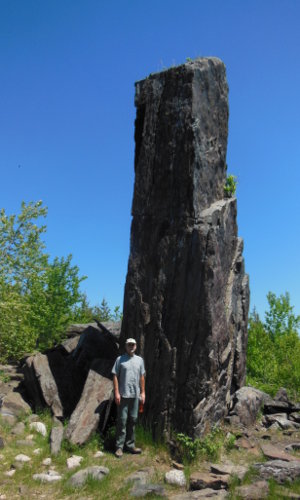 (Click pic for large pic)
At a bit over 6 foot, you can see that Magnetic Rock is at least 4 times my height, making it over 24 feet tall. I was pleased to see no graffitti, and the shade on the north side was a welcome rest before the hike out.
Please remember to scrape off your shoes before and after your hike on the installed device at the trailhead so you do not transport invasive organisms.
The biggest challenge of this easy, interesting, hike is getting here. Grand Marais, MN is 2+ hours northeast of Duluth, MN along highway 61 following the North Shore of Lake Superior. The Magnetic Rock Trail is another hour north of Grand Marais on the Gunflint Trail. But, it is all beautiful driving and just takes time.
Since you came this far for the hike, you might as well drive another 9 miles north to say you made it all the way to the end of the Gunflint Trail - and you're only a couple miles from Canada at that point.
Posted: 14:28 06-08-2017 1319


Find more Hiking Resources at www.HikingDude.com
Follow Me