Day 56: The Coast Post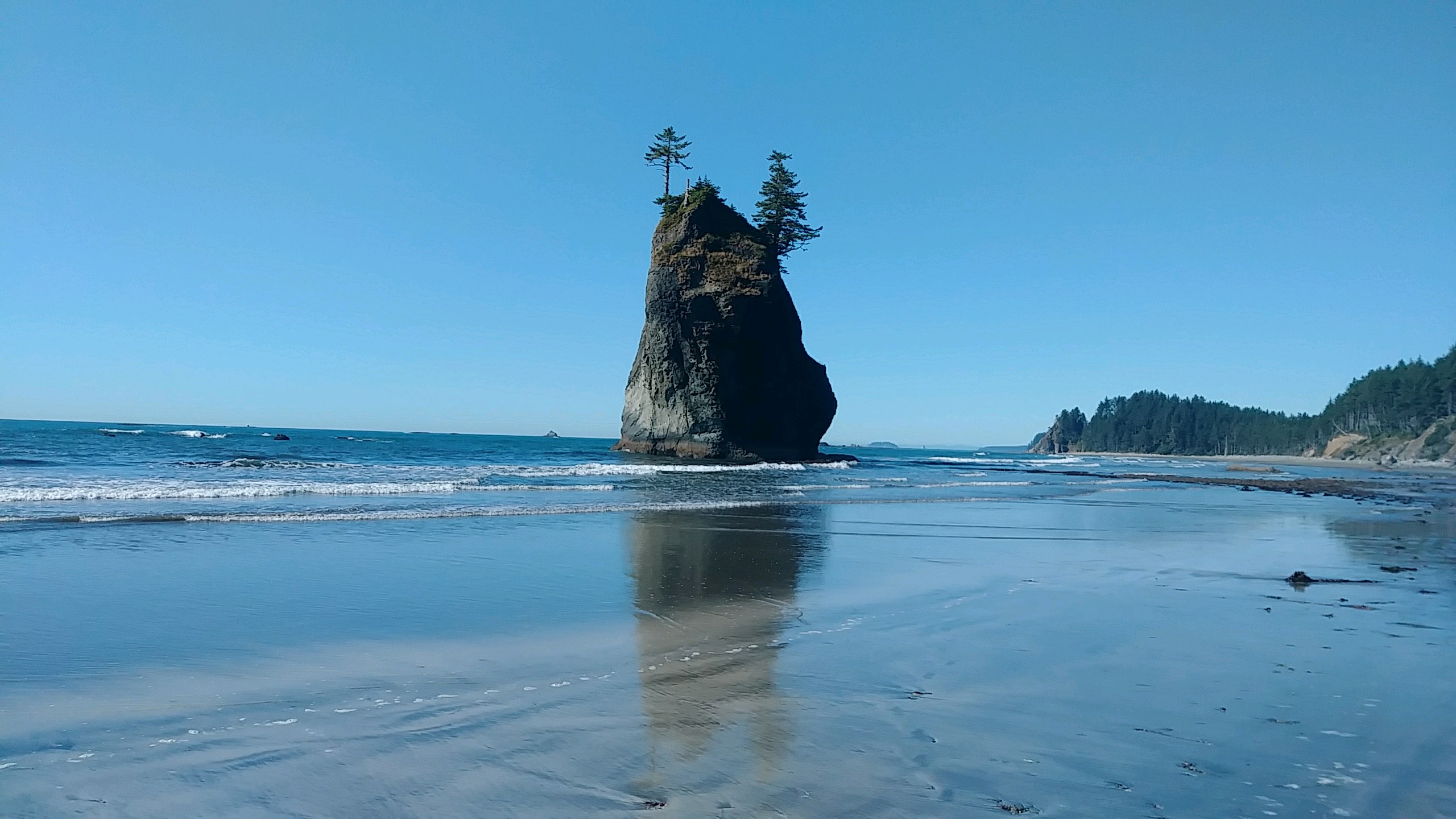 I walked 55555 steps on the trail today.
I traveled about 25 miles today.
9/14/17 We were up before the sun for a 16 mile roadwalk to Rialto beach from Forks.  It was a very cold morning with fog so we just bundled up and walked.  Josh got a coastal camping permit vis his phone at 8am and we continued walking.
Close to the ocean, we saw a seal in the river then 6 otters.  Then, we got our first real look at the ocean.  At Rialto beach, we took a break to dry the tent, fill up all our water containers, and use the restroom.  We couldn't stay long though because along the coast there are many headlands that stick out and are impossible to pass except when the tide is out.  So, we had about 4 hours to get around a handful of these before the tide rose and cut us off.
We hiked down a very nice, very crowded sand beach for a couple miles.  It eventually turned into rocks, then slippery rock, then a variety of surfaces.  Our progress wasn't too fast and the tide was coming in.  On one beach, I saw a sea lion ahead of us and he dashed for the water when he finally noticed us.  He barked at us as we walked past. 
Our final headland had seawater crashing up on it when we reached it so we could not walk around.  Fortunately, this was one that had an overland option.  A rope hanging down a fairly steep path up and over the headland to the beach on the other side.  It worked out great.
When we dropped to the beach, I saw a little white seal laying high on the sand not looking very good.  After some deliberation, we wound up coaxing him towards the water since he would not let us get too close to him.  We left him close to the water with hopes that he makes it, but I don't know.
The rock formations in the ocean, the driftwood, the cliffs and forest, everything about this day on the coast has been amazing.  We are alone at a remote campsite right on the beach with the surf pounding, the sea breeze blowing, and the sun slowly setting.  If there is a green flash at sunset, I wouldn't be surprised.
Posted: 13:54 09-16-2017 1436


Find more Hiking Resources at www.HikingDude.com
Follow Me