Day 57: Cape Alava Post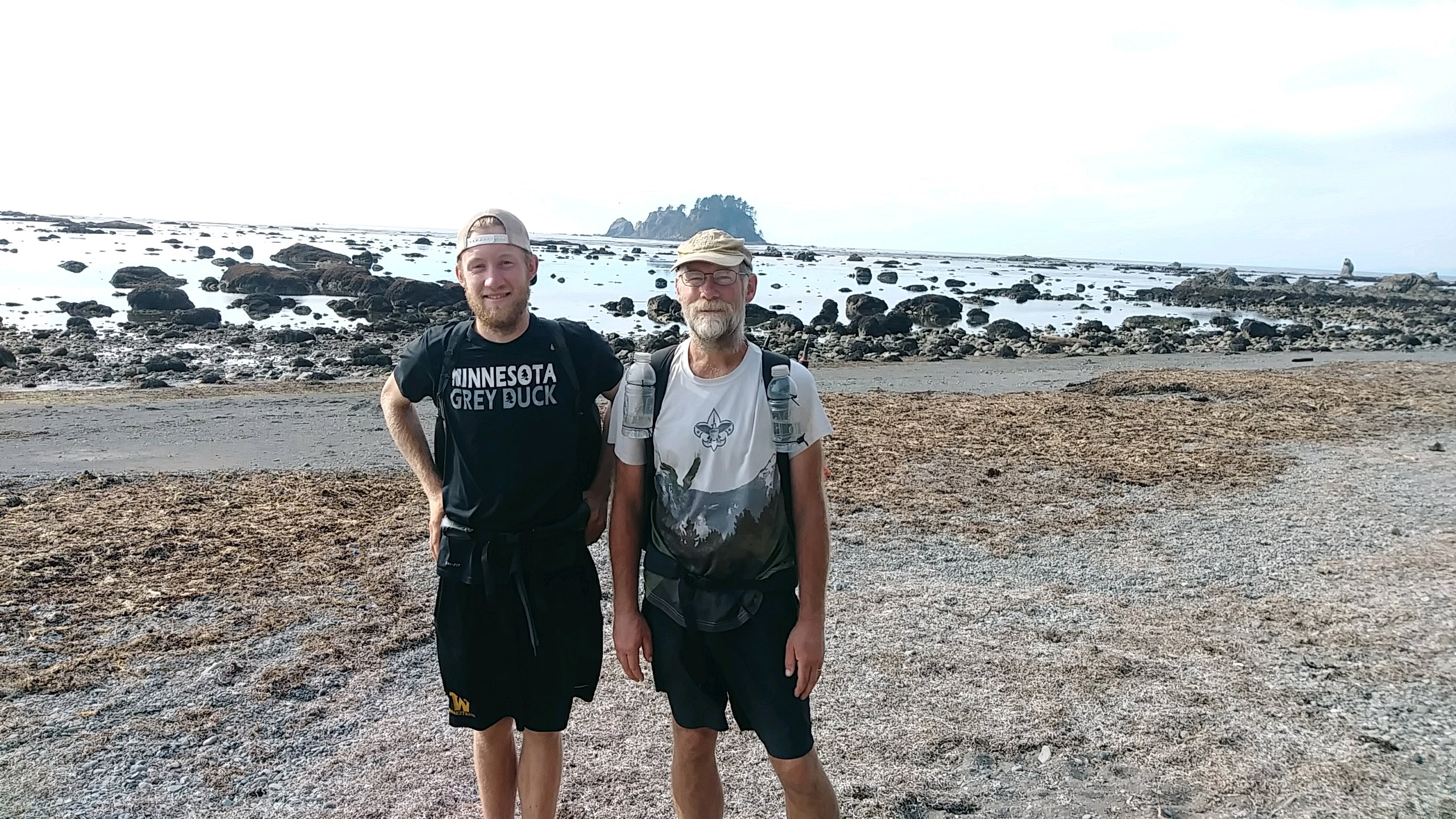 I walked 29626 steps on the trail today.
I traveled about 11 miles today.
9/15/17 We did it!  We're camping at the end of the trail tonight with a huge fog bank rolling in from the ocean.
We've been waking to an alarm every morning so we can hike early in the cooler temps.  Today we slept in for the first time in trail because we have to wait for the tide to go out to cross a headland a couple miles north. We started hiking around 10am with our first task to take an overland trail above the headland right by our campsite.  After that was 3 miles of easy beach before the next headland.  Here, we ran into a couple guys that were camping and drinking so we chatted with them and waited awhile for the tide.  Actually, we mostly listened as they rambled on.
  The second day hiking on the coast was much like the first - some rocky, some sandy, some slippery - all of it wonderful. We got to climb a couple overland trails and even squeeze through some holes through the rock cliffs.  The weather was perfect and we had no problem finding water from small streams falling down the cliffs along the way.
On one remote beach, we found a full grown seal that could barely move - pretty sad but nothing we could do. At another spot, near the end of our hike, there was a black bear on the beach!  So, we saw a bear at the very start of our trek and at the very end.  We were really hoping to get to use our bear spray that we carried all this way but no luck.
The strangest coincidence also happened today.  We were hiking along and someone came hiking down the beach toward us.  As he got closer, we saw it was a NPS ranger so we waved and said hello.  He said "Didn't I see you by Cameron Pass?"  It was the same ranger that checked on us when we were recovering from the storm up in the Olympics a week ago.  Ranger Dave Turner - a great NPS guy!
Tomorrow, we hike 4 miles out to Ozette to get picked up before the rain hits.
Posted: 13:59 09-16-2017 1437


Find more Hiking Resources at www.HikingDude.com
Follow Me