The Cold Won't Kill Ya ... Post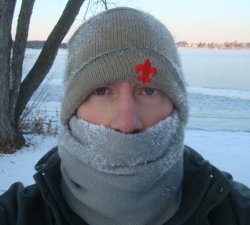 On this hike, it was 5 degrees - see the frost all over my head? :-)
I've decided 5 degrees is about as cold as I enjoy being out hiking miles. Colder and the layers of clothes make walking less enjoyable. But, down to 5 and my trail shoes, longjohns and nylon pants, fleece jacket and rain coat, mittens, hat, and scarf work perfectly without being overly bulky. This week it's popped back up to 40 with mist and fog so I've got at least a few more days to hike.
In wilderness first aid, we discuss what time of year is the most dangerous for hypothermia. When your body loses more heat than it can generate for long enough, your core temperature drops, resulting in hypothermia. Often, the first thought right out of the gate is "January!" but then we chat a bit.
Hypothermia can happen any time of year, but the colder the temperature gets, the faster your body loses heat. So, January makes sense. But, in the dead of winter around here with -20° days, we
expect
cold so we wear parkas, mukluks, mittens, and balaclavas to insulate us. Besides that, and just as important, everything is frozen solid - that means it's
not
wet. You can hike through miles of snow and stay completely dry.
Staying dry is a great defense against hypothermia. Hiking at a steady rate without working up a sweat, dressing in layers, ventilating your clothes, and wearing rain gear are all good ways to minimize moisture on your skin. Water transfers heat 50+ times as much as air.
So, spring and fall tend to have more wet weather. Which is worse?
After warm summer days, a wet Fall day feels cold so we protect ourselves. A 35 or 40 degree day in Spring
feels
tropical and people are tempted to go out with inadequate protection - especially youth. When they get wet, real trouble can happen quickly.
Whether heading out for an afternoon hike or a long trek, staying warm
and dry
should be part of your preparation.
The cold won't kill ya - the
wet
will.
Hike On
Posted: 16:41 12-14-2011 717


Find more Hiking Resources at www.HikingDude.com
Follow Me