Resolve Post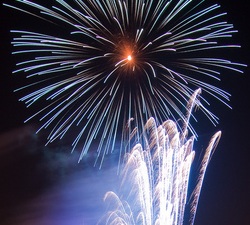 Another year about to begin - endless possibilities and opportunities ahead. Over the holidays, I've been enjoying time with relatives and away from computers. I got in a couple 15-mile hikes in the snow, received a few very cool hiking/camping items, and ate way too much. I'll tell you more about the first two next week. I even made two sets of moccasins for gifts and have one more to do today.
It's always a good thing to take some time to reflect on what you've accomplished and make goals you'd like to attain. January 1 is a perfect date to do this, being sort of a
reboot
of time each year. Being resolute is a characteristic of good leadership and self-discipline - defining success and then pushing ahead until success is reached.
If you've not made any
new year's resolutions
yet, take ten minutes and jot down a few so you can check your progress over the year. Here's a couple of mine:
Walk 3000 miles - that's 800 on the AZ Trail, 1100 on the Ice Age Trail, and 1100 on conditioning hikes.
Blog 300 times - this will be the most difficult
Make 30 new friends - not Facebook friends, real people. I hope to meet them on the trail, at presentations, church, and in business.
Now, I need to set my resolve and make these more than just wishes.
Hike On
(and have a Happy New Year)
Posted: 9:36 12-31-2011 722


Find more Hiking Resources at www.HikingDude.com
Follow Me