GoLite Jam Packs Post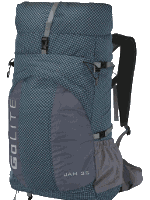 Lightweight gear tends to be pretty expensive and that's why I've made some of my own gear.
But, I keep looking around for less expensive replacements for what I have as my gear gets tattered and worn. GoLite has it's
Jam Packs
available now. The 50L weighs 30oz. and costs $132 - in case you're looking for a lightweight pack.
They've also got their down jackets and raingear on sale. It's still going to cost some $$$, but you might want to take a look at
GoLite.com
. I've purchased one of their down coats and an umbrella for my hikes this year and have gotten lots of use out of them.
Hike On
Posted: 11:35 10-25-2012 923
---
All Comments:
Feb 07, 2013 - Perry
friend, please go look at the Arc'teryx Axios series of backpacks. Once you get one, you will never use anything else. They weigh twice the weight of a G4 but they have support, they wick moisture off your back, they are comfortable, sturdy and very light weight about the lightest they get. A lot of people overlook Arc'teryx because they think they are expensive. The Axios 50 can be gotten right now on various websites for $150 to $160. I bought mine at $210 new and would do it again and again and again. I'm not joking. You need to go wear one and then consider the discounted prices you can find online right now. Spend a few more $ and get the very best that will last you decades instead of years. who knows, maybe that G4 you got only lasted one season. The Axiox 50 is so lightweight it carries a bunch more than that G4 but only weights like twice the weight at 2.5 pounds I think it is. for a FULL size heavy duty pack. Has a hydration bladder pocket inside too.
---
Feb 07, 2013 - Hiking Dude
Perry - I expect Arcteryx is good gear and I'm glad you found a pack you like. It's a very good idea to try out as many packs as you can until you find one you like. There are lots of good choices in gear. My $40 G4 is good to go at least another season, and I could make 4 more before I get up to $160 total. And, I can't think of a reason to carry another 1.5 pounds if I don't need to. I realize most people will purchase a pack rather than make one, and most will want one with a frame structure. But, making my own feels good to me and has been sturdy and comfortable for 1,100 miles and 60 days. Hike On
---
---
Ask a Question
---


Find more Hiking Resources at www.HikingDude.com
Follow Me