Leave No Trace Hiking

The house I live in is built right in the middle of what was a farm field 15 years ago. All the land around here was farm or wild, but it is now housing developments. More people moving in all the time. Traffic's getting worse. It's noisy. Trash is always piling up along the road. Something needs to be done!
Sound familiar? It's the same lament from practically all people across the country. But, the exact same thing can be said about the places these people 'escape to' for the weekend. Whether you go hiking, fishing, climbing, boating, horse riding, or whatever, there are more people doing the same thing and it's getting crowded. Our wild places are getting less wild and shrinking terribly fast. Outdoor sports are drawing more and more people and the traffic, trash, noise, and overall impact of all of us is building up. We all need to make an effort to make it better.
Minimal Impact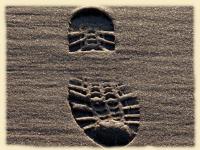 When out on a hike, make an effort to minimize your impact. When you go home, if no one could tell that you passed through an area, that is success!
Even better would be to reduce the impact made by others if you can. There are different guidelines to follow whether you are hiking in
frontcountry
or
backcountry
environments.
Read more about
Leave No Trace
on another site.
Most important is to know and follow all rules and guidelines for the specific area in which you are hiking. There may be more stringent requirements for a certain wilderness area than the guidelines listed here.
Front Country Leave No Trace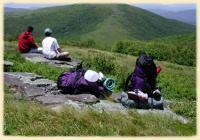 Limit group size to 10, less is better. A large group can't help but make a bigger noise, visual, and physical impact as they travel.
Hike on durable surfaces. Step on snow, rock, sand, or dirt rather than grass and living stuff.
Hike single file rather than two or three abreast. Single file allows more people to use the same durable surfaces.
Stay on the marked, official trail. Even if it is muddy, hike on through. Walking around muddy areas broadens the trail and makes a bigger mudhole. If there are places where others have obviously walked, creating a secondary trail, don't make it worse.
Don't cut switchbacks. This causes erosion and another trail scar.
Carry out absolutely everything you carried in - and any other garbage you find along the way.
Do not feed any animals. Chipmunks, squirrels, ... can become dependent on humans and then starve when they are not ready for harsh weather.
Back Country Leave No Trace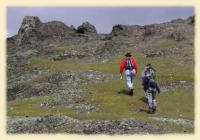 Same as Front Country guidelines with these exceptions or additions:
If hiking cross-country, spread out so an artificial trail is not created from the whole group hiking single file over the same path.
Emphasize hiking on durable surfaces. Stepping from rock to rock is a fun game to cross high altitude fields.
Visit popular areas in off-peak times for a more enjoyable hike and less impact on the area.
Try to keep your group size between 3 and 6 for safety and lower visual impact.
Don't wash your hands in a stream. Gather a cup or bottle of water and go far away from the water source to wash your hands and face. You don't want the sunscreen, bug spray, ... that you have on your body to get into the waterway.
Deposit human waste in a hole, six-to-eight inches deep, at least 200 feet from water and trail. Use toilet paper sparingly.
Don't take, move, or mark any natural objects. This includes building cairns of rock.
Ask Me
about Leave No Trace Hiking!
Or, read more about:

Hiking Safely

Overnight Hiking
---
All Comments:
Jan 14, 2019 - chris howard
Great website. I do wish you'd have mentioned building fires when it comes to "leave no trace". Many people seem to think that camping/backpacking goes hand-in-hand with building fires. Besides what fires to to the quality of air, they also scar the ground for decades and require gathering tinder from the wilderness, which can have a very negative impact on areas that have limited tree cover. Personally, I find backpacking without fire building a better experience (better for my lungs and how my clothes smell), but for those that MUST have a fire, they should only use an existing fire pit to minimize impact and they should keep the size of the fire small so as not to extract too much tinder from the wilderness.
---
Jan 29, 2019 - Hiking Dude
@Chris - yes, fire can have a big impact.  I focus on hiking info here, but there is a lot more info about Leave No Trace ethics at
LeaveNoTraceDude.com
and info about campfires at
CampfireDude.com
.
---
---
Ask a Question
---


Find more Hiking Resources at www.HikingDude.com
Follow Me