Hiking Shelters

Shelters for backpackers continually evolve. Bells and whistles are added and marketed as critical features and later removed and marketed as lightweight. Through all the convolutions, there are three or four basic options for your portable shelter. Choosing which exact model from literally hundreds of possibilities can take longer than your trek!
Remember that there is always the option of making a shelter yourself instead of purchasing one. Plans, instructions, and materials can be purchased at a significant savings.
Shelter Options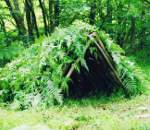 Permanent Shelter - along some trails, such as the Appalachian Trail, there are permanent shelters to use rather than carrying your own shelter. These are often overrun with rodents and may be packed with other hikers, so relying on them is not a good plan.
Tent - an enclosed shelter that has complete privacy and bug protection. Depending on the design, may have excellent wind and rain protection. Usually includes its own support poles. Tents come in a multitude of designs, weights, complexities, and costs, but tend to be heavier than other options. Finding an inexpensive tent that weighs little and has lots of space is not very probable.
Tarp - a simple, spacious, lightweight shelter from rain that requires support from separate poles. Many now include lightweight bug nets which make them a great choice if privacy is not a concern.
Hammock - a low impact shelter that does not require flat ground, but does need two strong trees an adequate distance apart. Proponents say they are more comfortable sleeping and allow camping in more locations, such as hillsides and rocky ground. They also keep the sleeper off the ground, away from crawly critters and flowing rainwater. Extra insulation under the hammock during cold nights may be needed.
Bivy - a water resistant bag into which you put your sleeping bag. Condensation and constrictive space are two main concerns with bivies. They are light, easy, and low impact.
Open Air - a shelter may not be needed if there are no bugs and no foul weather. Just throw down your pad and sleep away.
Shelter Option Ranking
Rated by 1 being worst and 5 being best...
| | | | | | |
| --- | --- | --- | --- | --- | --- |
| | Tent | Tarp | Hammock | Bivy | Open Air |
| Cost | 1-4 | 3-5 | 1-3 | 2-3 | 5 |
| Weight | 1-3 | 4-5 | 2-3 | 4 | 5 |
| Space | 3-5 | 4-5 | 2-4 | 1 | 5 |
| Privacy | 5 | 1-2 | 2-4 | 1-2 | 0 |
| Setup | 3-4 | 3-5 | 2-3 | 4-5 | 5 |
| Wind | 4-5 | 2-4 | 2-3 | 4-5 | 0 |
| Rain | 4-5 | 4-5 | 4-5 | 2-4 | 0 |
| Bugs | 5 | 1-5 | 3-4 | 1-3 | 0 |
| Total | 26-36 | 22-36 | 18-29 | 20-27 | 20 |
What's Important?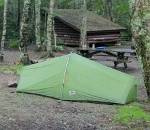 When choosing your hiking shelter, identify what is important to you.
Do you want the lightest possible shelter and you're willing to sacrifice room and privacy? Or, do you want to share a double sleeping bag with your spouse and desire room and privacy?
Besides the various features listed in the table above, also consider:
Durability - the fabrics, stitching, and coating used. Check reviews of the product and compare it to others.
Expected Weather - if you camp only during nice weather, never get snow, or just go home if it rains, then you need less than someone on a long-distance hike that has no where to retreat.
Extra Weights - some weights given for shelters do not include extra needed items, such as guylines, stakes, ground cloth, and poles. Be sure to include them when comparing options.
Or, read more about:

Selecting a Sleep System

Hiking Long Distances
---
All Comments:
Sep 09, 2015 - doghiker
Like your comparison chart--important criteria to consider. There are many, many good tents available in a wide range of styles, sizes, and prices (watch for end of summer sales). I've used quite a few tents over the years (and own a few too many), and based on my own experiences, my most important criteria are: must be waterproof (not just water resistant), must be bug proof (fine netting), must be easy to set up, must not be too heavy or bulky; all else is personal preference. Wish I could sleep well in open air, but rain, bugs, or other critters nearly always disturb me. I've tried a bivy, but they do not have enough space within which to dress/undress or read when it's pouring rain outside (and no room to shelter my house dogs)and weigh about the same as a more spacious high-tech tarp (my current backpacking shelter). Being a side/stomach sleeper, I could not sleep the night through in a hammock, and they aren't usable above treeline in alpine setting.
---
---
Ask a Question
---


Find more Hiking Resources at www.HikingDude.com
Follow Me