Hiking Dude Blog
Archives:
2017 -
Aug
Jul
Jun
May
Apr
Mar
Jan
2016
2015
2014
2013
2012
2011
08/22/2017
Done Hiking Today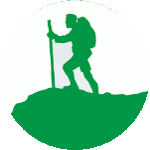 I finished hiking for today. You can check out my
current location
on the map and I'll post about my day when I am in coverage.
---
08/21/2017
Done Hiking Today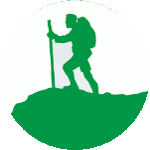 I finished hiking for today. You can check out my
current location
on the map and I'll post about my day when I am in coverage.
---
08/20/2017
Day 31: Oroville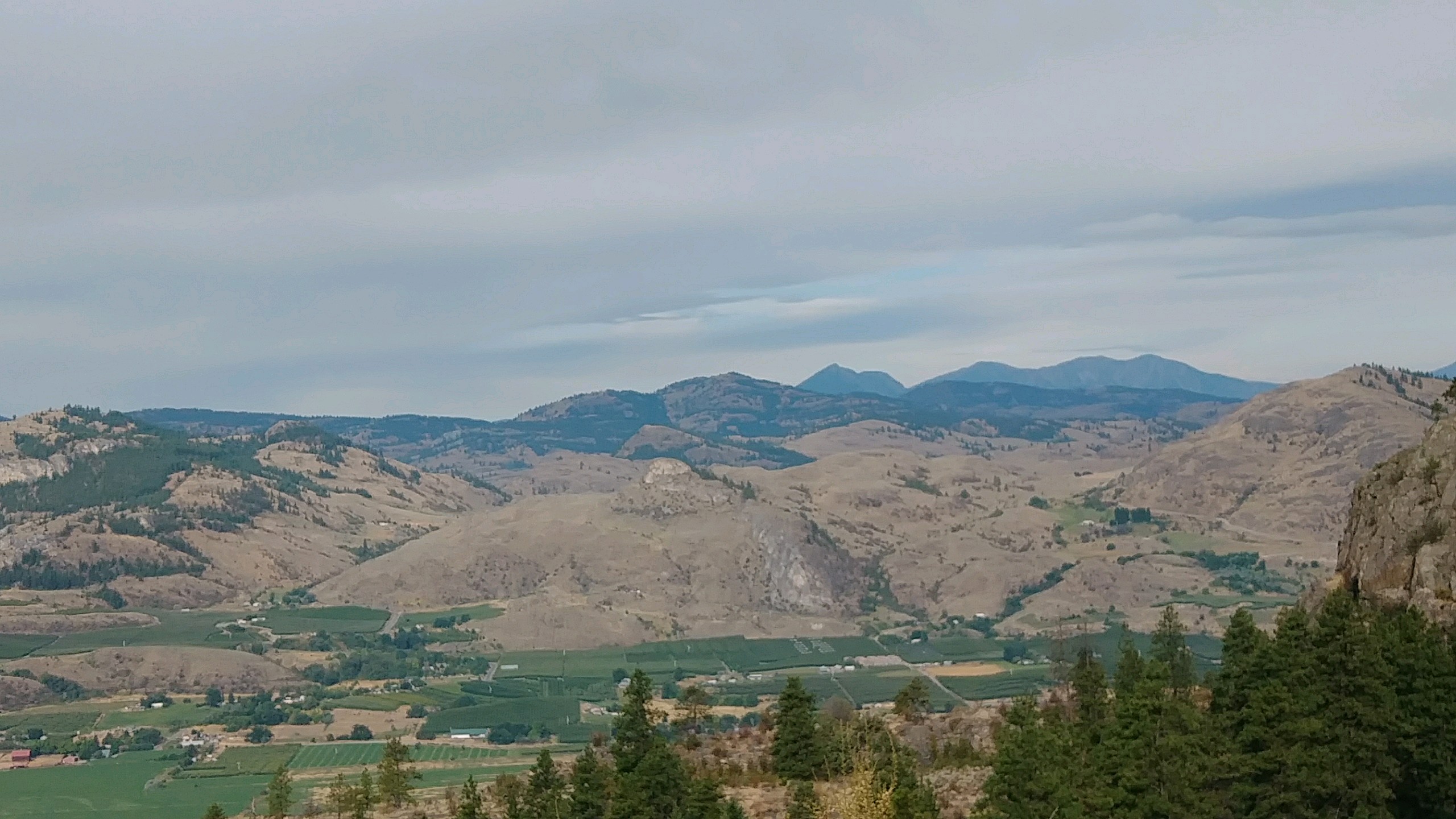 I walked 21480 steps on the trail today.
I traveled about 10 miles today.
8/20/17 Tomorrow, we will walk on towards those high mountains way out there, but our goal for today is a short rest and resupply. We hiked down the mountain side and along a busy paved road with a wide shoulder into Oroville.  Got a room at the Camaray hotel, showers, laundry, lunch, and then food for our week in the wilderness to Ross Lake.  The food is soooo heavy! I got new socks since all mine had worn through, and I pick up my shoes at the post office in the morning to break them in on yet another long road walk. The Camaray is a great hotel with a hiker box, wifi, lobby pc, pool, laundry, trail registry, and nice staff. As we were sitting in the shade before checking in, we saw our trail friend, Thumbalina (Analeise), just leaving to continue her journey.  We'll probably see her again somewhere out on the trail. We heard of another hiker behind us, named Gerry, and hoped he might find us tonight but that didn't happen. Maybe we'll see him I the days to come. Looking in the trail registry, out appears there are a handful of hikers a week or less ahead of us. It's always a hope to run into new people. Since we're going into a 250 mile stretch with probably no coverage, my posts will queue up until we come out the other side. But, the Spot will still track our progress each day that you can see on the map.
---
08/19/2017
Day 30: Halfway Almost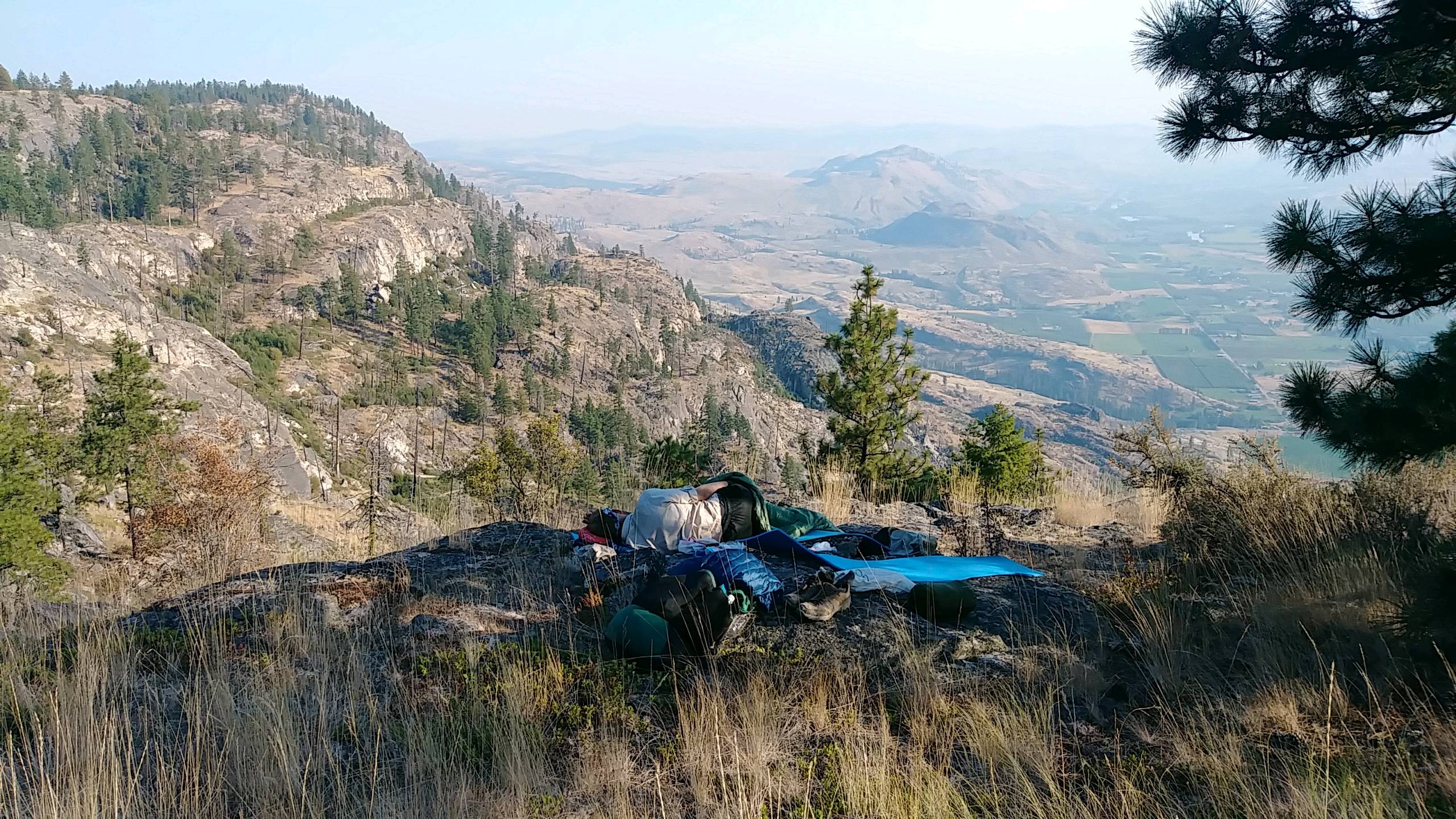 I walked 40560 steps on the trail today.
I traveled about 20 miles today.
8/19/17 They say Oroville is the halfway point of the PNT.  Tonight, actually this afternoon, we stopped just 10 miles shy of the town.  Check out my
current location
on the map.
I have to pick up new shoes at the post office and they are not open on weekends.  So, we'll get there early tomorrow for a rest day and get the shoes asap Monday.
Our original rough plan for this trail was to average 20 miles a day and take 60 days to complete it.  Without trying too hard, we are right on that schedule.
Today was all road of varying usability, from paved to eroded dirt.  A steady breeze and clear blue skies made the walk through the arid pine forests pretty nice.  One missed intersection even provided us with a little off trail navigation practice.
The most excitement for the day was hearing gunshots grow louder as we hiked along.  Fortunately, our trail turned before we found the shooter and the shot sounds faded away.
Now, we are perched precariously on the edge of a cliff with a gorgeous view out over the valley and towns below.  Josh decided this would be a fun place to camp without setting up the tent. No bugs no rain.
---
08/18/2017
Day 29: Views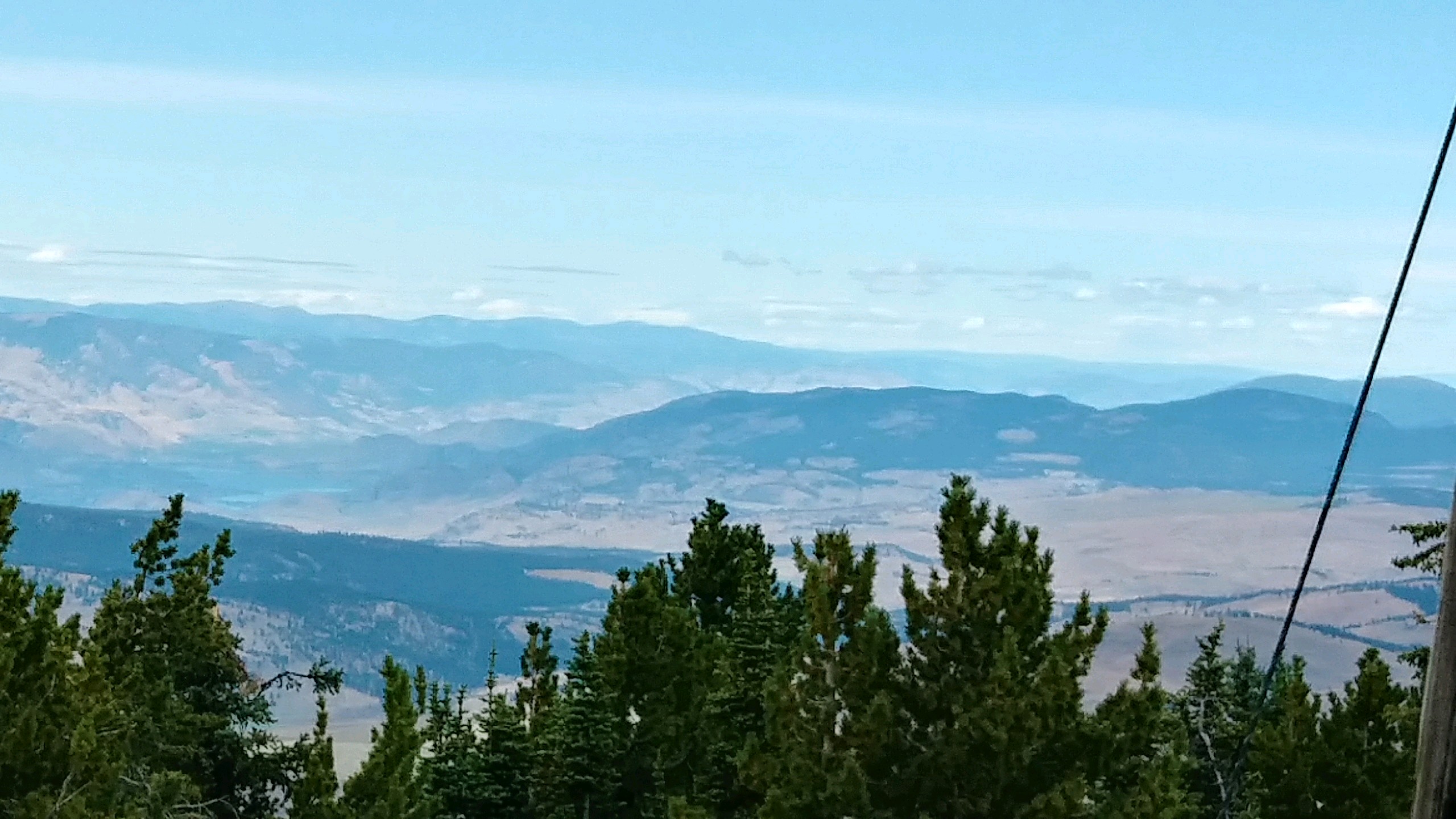 I walked 48043 steps on the trail today.
I traveled about 21 miles today.
8/18/17 A nice 6-mile downhill walk to the Bonaparte Lake campground was a great way to warm up this chilly morning.  Filled with water, we spent the next few hours climbing 3700 feet up Mount Bonaparte through arid forest being warmed by the sun as each hour passed. It was certainly a strenuous hike but without cows or bugs it was very nice. The forest throughout the day changed between thick and cool, grey and dead, and space and dry. On one section of trail I counted 75 down trees across the path. It made for some interesting stepping. The highlight of today's walk was the summit of Mount Bonaparte with its lookout and views in all directions. This was the first day since Montana that showed us mountains far away on the horizons not obscured by smoke. It was beautiful even though the photo doesn't show it. We spent way too long enjoying the summit with sunshine and cooling breeze - pretty much whatthe PNT promises in the advertising. After this, it was 10 downhill miles to the end of our day. This eventually took us through more cattle country but it wasn't much. Our day has ended at a small church in Havillah where we've been welcomed to tent for the night. We heard PNT Hikers might camp here so we walked the extra .3 mile off the trail. No one was around and there is only one other house across the road making up downtown Havillah. So, we sat on the grass in a bit of shade and waited. About 45 minutes later, Casey drove up in his car so I went to chat with him. He's the caretaker of the church and he makes 'Ole Swede' hard cider. He had an event to go to out of town so we helped him pack his car full of cases of cider, and he gave us some to try tonight. He also gave us permission to tent here and use the water. So, yet again, it all works out. After washing off much of the trail dust with a hose and eating from my food bag, it's time to turn in.
---
Day 28: O-COW-nogan Forest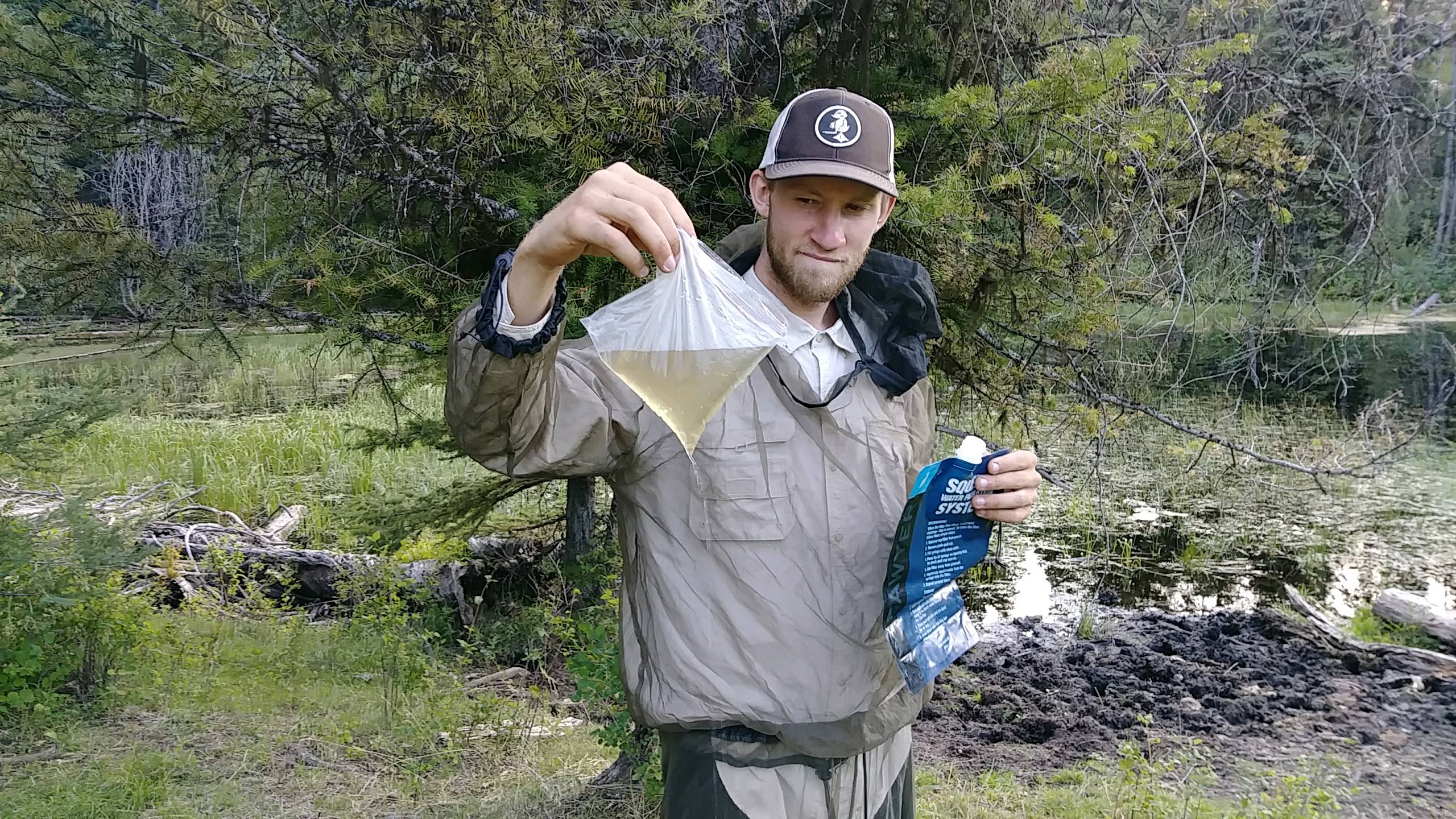 I walked 56760 steps on the trail today.
I traveled about 23 miles today.
8/17/17 We left the Cowville (Colville) forest a couple days ago and entered the O-cow-nogan (Okanogan) forest today.  I had no idea how many cows are free range grazing out there!  We got to herd cows again but this time they also raised a huge cloud of dust along the trail.  At the end of the day, our water source is a small pond that we chased the cows from.  Its still yellow after filtering, but a little crystal light covers any taste.  We did walk .5 miles farther looking for a spring on the map but it was just a muddy area trampled with cow prints. Besides the cows and deep dust, the climb and ridge walk out of Sweat Creek was a good hike.  Once we got up on the hills, we could see for miles today.  Smoke was practically gone and mountains way off on the far horizon were visible. 
---
Older Posts
Newer Posts
Site Disclosure Statement


Find more Hiking Resources at www.HikingDude.com