Appalachian Trail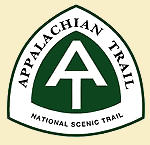 My Appalachian Trail Hike
I hiked on the Appalachian Trail from August 13 to August 17, 2014.
I took 285,706 steps to travel about 125 miles.
Due to an injury and hard deadline, I was unable to take a few days rest and continue, so I had to end this hike early.
Journal Photos Map
---
I did a 2nd section hike on the Appalachian Trail from August 20 to September 7, 2015.
I took 775477 steps to travel about 315 miles.

Journal Photos Map Gear Food Expenses Supporters Stats
My Gear
My pack weighs right around
17 pounds
without food and water. It looks like I may carry up to 7 days of food and will resupply from stores rather than ship food to post offices.
The prices are only for costs of this trip. Almost all gear is still working well from previous treks, so see the
IAT Hike page
for costs.
Item
Oz
$$
Notes
G4 backpack
16
$0
made myself from pattern.
Comfortable, light, and plenty of room for all my gear. I'm using my new green version and it's holding up great.
Sleeping
shelter
28
$0
silnylon shelter I made, including stakes, lines, and groundsheet. I treated it with silicone spray, added a bug screen edge and floor, and it works just fine. I plan to stay in shelters most nights.
sleeping quilt
40
$0
I made this quilt from a pattern for my AZT hike. I will start with my lighter green version and have this warmer one shipped when it starts getting cooler.
Exped Synmat 7 UL Pad
16.2
$0
comfortable, warm, light mattress for restful nights.
Exped Schnozzel Pumpbag
2.0
$0
Fills pad quickly with dry cold air instead of hot moist breath. Serves as food bag at night and storage for clothes in pack during day.
Exped pillow
2.7
$0
xmas present.
Really helps me sleep and is worth the extra bit of weight.
Cooking
I've chosen to not cook on this trek, at least at the start. I'll get warm food in trail towns occasionally. I save gear weight, but food will be a bit heavier. When it cools off, I may have my alcohol stove sent to me.
food
2-11 lbs.
$0
I will carry 7 days of food at the most.
Water
water filter
4.2
$0
Sawyer Squeeze filter continues to work wonderfully.
water bottles
1.2
$0
two .6L throw-out bottles - cheap, easy, light.
water bag
1.8
$0
2 1L Platypus roll-up bags, for some of the high, long, dry ridge walks.
water
2-6lb.
water is plentiful, so no need to carry much. 2.2lb/L
Clothes
BSA hat
3.5
baseball style
BSA stocking hat
3
Maybe mailed later, for end of trek.
BSA wicking t-shirt
11.2
$0
light, synthetic
long sleeve nylon shirt
12
$0
BSA zip-off pants
17.2
light and sturdy
BSA socks
5.7
3pr. hiking socks.
underwear
4.2
3pr.
bug suit
6.0
$0
Super protection from blood suckers. Very light, no bug spray, easy on and off, no slime on my skin.
shoes
32.5
$20
el cheapo from WalMart. Got them for practice hiking and they fit nice, so I'm going with them. Have 2 extra pair to be shipped since they'll wear out quickly.
long underwear
12.4
maybe mailed later, top & bottom
bandanna
1.0
$1
too many uses to list here.
down coat
21
$0
Mailed to me later in the hike, when it gets cold.
Electronics
cellphone
4.4
for daily blogs and pics. I now have a Samsung Galaxy Light. This will be my watch, alarm, phone, camera, gps.
tracker
4.2
pings to satellite with my location. Batteries last about 10-14 days when on for 12 hours/day.
headlamp
.5
$0
Awesome photon light. One set of batteries lasts about 10 days.
batteries
7.0
$15
I bought 3 extra cellphone batteries and a simple charger off eBay. It's a much lighter solution than a solar charger or battery pack. I just recharge a battery in my phone and one in the charger at the same time in a town. 12 AAA lithiums for tracker, and 12 CR2016 coin batteries for headlamp - purchased online for pennies. I'll have more mailed later, if needed.
Other
pedometer
.6
$0
track my steps, just for fun. The great folks at GeoPalz gave me a replacement for the one I lost in the wilds of Wisconsin last year.
rain poncho
3.4
$4
cheap disposable to cover me and pack from rain - taking 2.
guide
5
$16
Awol Miller's "The A.T. Guide". Taking the southern half of the book so it gets lighter as I go.
I will probably purchase a map for the first section from the AT Conservancy headquarters in Harper's Ferry when I start.
1st aid kit
3
basic personal items - bandaids, pain relief, tape, liquid skin, CPR mask, gauze pads, allergy meds, ...
pad repair kit
.4
compass
1.1
knife
1.1
tiny, single blade.
toothbrush
1.3
includes paste
ear plugs
0
I'm taking a bunch to hand out to others in the shelter, in case I snore.
50ft. core
1.5
hanging food to protect from animals
toilet kit
2.8
TP, Purell
misc.
12
2 garbage bags, whistle, clippers, thermometer, and other small items
stickers
5
Taking 100 Hiking Dude stickers to hand out to folks I meet.
Total
~18 lbs
4lbs worn, not in pack
14lb pack weight
4 to 11 lbs food & water
23 to 30 lbs - total weight
My Food
2014: A fellow in Boiling Springs, PA gave me a cantalope! Since I was on the trail such a short time and well after that main mass of northbound hikers, I saw no other trail magic. I did find it easy to get food in two towns along the trail. My menu was:
Breakfast: 2 poptarts - 400 calories. I'm rarely hungry before starting my morning hike.
Lunch: peanut butter and honey mixed, on ritz crackers - 650 calories.
Snacks: Snickers, trail mix, sunflower kernels, peanut M&Ms, raisins, Austin crackers.
Dinner: I did not cook, so dinner was protein powder after hiking and tuna, chicken, or salmon on crackers.
Drink: just water.
Daily vitamin
2015: I had pretty much the same menu.
My Expenses
2014
travel to trailhead from home - $200 - fly to Dulles, train to Harper's Ferry.
travel from trailend to home - $251 - shuttle from Duncannon, PA to Harrisburg, PA. Then, greyhound to Minnesota.
gear - $22 for shoes - the rest is good to go from last year.
guide and maps - $16
food - $28
lodging - $58 - Teahorse Hostel in Harper's Ferry, WV and the Doyle hotel in Duncannon, PA.
Total - $559 - about $4.50/mile! It's expensive to get to the trail and back, especially when you don't hike many miles in between.
2015
$130 - pair of shoes
$ 18 - Guthook's AT App (great investment!)
$ 94 - food
$115 - lodging - Stanimal's hostel in Waynesboro 2 nights, plus a dinner. HoJo's in Daleville.
$150 - train from Minnesota to Harper's Ferry
$530 - plane from Roanoke to Minnesota
Total - $1037 - about $3.30/mile
---
Appalachian Trail Statistics
States
Georgia, North Carolina, Tennessee, Virginia, West Virginia, Maryland, Pennsylvania, New Jersey, New York, Connecticut, Massachusetts, Vermont, New Hampshire, Maine
Distance
2180 miles - trail reroutes happen so this is an estimate of the trail length.

Total Elevation
From hiking up and down over hills, mountains, gullies, and ravines, it is estimated that about 550,000 feet of elevation is covered.
Terminus
South: Springer Mountain, GA
North: Mt. Katahdin, ME
Highest Point
Clingman's Dome, 6643ft
Lowest Point
Hudson River, 124ft
Map


< - - North to South - - >
Click for Large Maps

Terrain
The majority of the trail is densely wooded forest, giving it the nickname of the green tunnel. Sub-alpine and occasional alpine areas are traversed on the northern portion of the trail, the most notable being the Presidential Range.
The trail is well-marked with white blazes and highly trafficked its entire length with an estimate of 4 million people visiting some part of the AT each year. There are over 250 permanent shelters available for hikers.

I found the trail easy to follow, but extremely rough and rocky. It wasn't as claustrophobic with trees as I had expected - Wisconsin is much worse since it is all flat. The shelters I used were wonderful - dry, clean, and easy to use.

History
conceived by Benton MacKaye in 1921. First trail section opened in 1923. Earl Shaffer completed first documented thru-hike in 1948. Designated as a National Scenic Trail in 1968. Permanent route completed in 1971, but minor reroutes continue to occur for many reasons.
Challenges
Lyme disease from ticks is a fairly common problem along the trail. Poison ivy is common along the trail, particularly in the south. Venomous snakes, heat, humidity, and insects can also cause trouble.
The AT is a very social trail and many encounters with other people should be expected. This can be frustrating if you are looking for solitude, and there is the slim chance of meeting a bad character.
The AT has many steep grades, referred to as PUDs (Pointless Ups and Downs), which wear on body and mind.
Time Window
February to October northbound. Mt. Katahdin weather will stop you if you arrive too late. Most thru-hikers go late March through mid September, northbound.
Time to Hike
Typically takes 5 to 7 months. Speed record set in 2011 is 46 days.
Permits
There are no fees or permits required to hike the Appalachian Trail.
Great Smoky Mountains National Park, Shenandoah National Park, Baxter State Park (Maine) require permits to camp.
There are some campsites in the Green Mountain National Forest and White Mountain National Forest which have fees, but you can open camp for free.
Thru-hiker Tally
Over 10,000. The Appalachian Trail Conservancy gives the name 2000 Miler to anyone who completes the entire trail.
---
Trail Links
Land Managers and Partners of the Appalachian Trail
Forest Service
National Park Service
Numerous Trail Clubs - Maine Appalachian Trail Club, Appalachian Mountain Club (AMC), Dartmouth Outing Club, Green Mountain Club, AMC-Berkshire Chapter, AMC-Connecticut Chapter, New York-New Jersey Trail Conference, Wilmington Trail Club, Batona Hiking Club, AMC-Delaware Valley Chapter, Philadelphia Trail Club, Allentown Hiking Club, Blue Mountain Eagle Climbing Club, Susquehanna Appalachian Trail Club, York Hiking Club, Cumberland Valley Appalachian Trail Club, Mountain Club of Maryland, Potomac Appalachian Trail Club, Old Dominion Appalachian Trail Club, Tidewater Appalachian Trail Club, Natural Bridge Appalachian Trail Club, Roanoke Appalachian Trail Club, Outdoor Club of Virginia Tech, Piedmont Appalachian Trail Hikers, Mt. Rogers Appalachian Trail Club, Tennessee Eastman Hiking and Canoeing Club, Carolina Mountain Club, Smoky Mountains Hiking Club, Nantahala Hiking Club, Georgia Appalachian Trail Club
---
All Comments:
Jun 28, 2014 - Dave Eveland
thanks for the info - is the poison ivy in New Hampshire and Maine uncommon in your opinion or is it like the mid atlantic? I hiked from Damascus to New York and found such all over the place. thanks for what ever info you can provide
---
Jul 29, 2014 - Hiking Dude
@Dave - I'll let you know in October. :-) I've never hiked in the northeast USA yet.
---
Aug 17, 2014 - Caitlyn Stryker
You are going to have a blast, I guarantee it - my family and I hiked Mount Washington YESTERDAY, and it was absolutely gorgeous! The views are amazing, though I can completely agree that there are many PUDs up here in the Presidential Mountain Range. I wish you the best of luck, and maybe one day I will meet you, seeing as how my love of hiking will carry on with me for the rest of my life. I definitely plan on hiking all over the US, and I know that the Northeast has been a great start. Best of luck! - Cait
---
Oct 12, 2014 - Dan Gavin
The record: 47 miles a day for 46 days straight seem unbelievable....
---
Oct 12, 2014 - Hiking Dude
@Dan - Yeah, that's fast and it was a 'supported' hike so someone else transported her gear and provided food. The fastest 'unsupported' hike is 58 days - that person carried all his own gear and provisions. I'm not minimizing the record, just letting you know there are different kinds of speed hikers.
---
Nov 29, 2014 - Mike Sunderland
Hey man i'm Mike you ran into me and my older brother Thomas by those showers. You had just started at Harpers Ferry you said you went about 22 miles that day. I just remembered your website name so I decided to check it out, and saw i could comment so here I am. That stinks that you couldn't finish the hike. Since we've met. Tom and me have hiked Mount Major in New Hampshire. We took the easy way up cause we were with our family. We got to the top no problem we had a little dilemma because we had children with us. Then just today we hiked Old Rag Mountain in Virginia. We hiked with Team RWB(Red White Blue)we had 13 people with us so it took us a while it was about 11 miles going up it there were some switchbacks it wasn't that bad of a mountain. Its was a pretty good hike. Well I hope you have a good night, and good hikes to you. - Mike
---
Aug 21, 2015 - Kim
Wow, this is an awesome website. You are so lucky to be able to do this. Good luck and I will follow your updates.
---
Aug 31, 2015 - Trent (Narrow Way)
Just ran across all this info tonight at work. It has been a good find! Good luck on your journey!
---
---
Ask a Question
---


Find more Hiking Resources at www.HikingDude.com
Follow Me