Foraging Post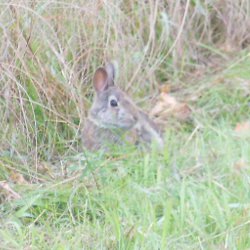 My walk yesterday offered up the first frost of the fall! But, since I was out for a jog, I didn't have my camera to prove it. Today, it was quite a bit warmer and animals were all over the place nibbling and gathering food. I guess that cold night woke them up and let them know it's time to prepare for some long months ahead.
This little fellow held perfectly still as I walked past him on the trail this morning, not twitching a whisker. He was sure I couldn't see him, so I walked on past and stopped about 30 feet later to take his picture.
Squirrels, jays, chickadees, chipmunks, mice, and many other little critters were everywhere! There has even been a virtual flock of tiny birds in my backyard, probably eating up all the grass seed I threw down a few days ago. :-) I've also noticed holes dug in the yard where squirrels have buried nuts that they'll most likely never find again.
I think it's amazing how these minuscule bodies can survive the bitter cold we have here over the winter.
Hey, if you want to follow someone doing a long hike, since I'm off the trail this fall, check out
Someday
- she has about 350 miles left of the Ice Age Trail and she'll be getting snow any time now.
Posted: 15:45 10-07-2014 1119


Find more Hiking Resources at www.HikingDude.com
Follow Me