Gators! Post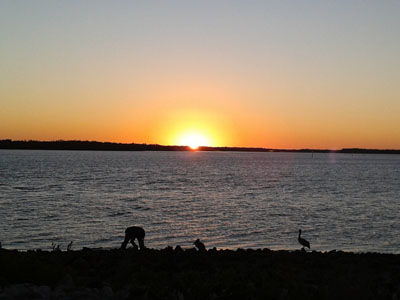 I walked 6 miles around the island early this morning, and got to this nice spot just as the sun rose at 7:00am. A couple of hopeful pelicans were keeping an eye on someone hunting in the rocks below the tideline - I assume for something edible. There were also a few fishermen nearby casting into the bay.
Without a cloud in the sky, the sun was beautiful, but a strong wind from the north dropped the temperature down below 50. Other people out walking were bundled up, but I felt just fine in my t-shirt.
I even saw one lady wearing gloves, earmuffs, and a down coat!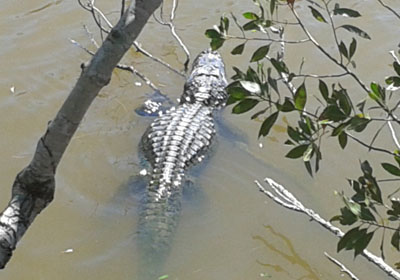 Exploring the area later in the afternoon, I ran into this little fella in the swamp along the trail. Actually, he's about as long as I am tall. He was getting all the sun he could soak up since it was such a cold day. I also saw a few manatees, but photos of a snout surfacing isn't that exciting. :-)
Yesterday, I went on a canoe tour led by a couple park rangers through some backwater mangrove forests. It was very interesting to learn a bit more about the area. Today, our hope for doing a kayak tour on our own was squashed because of a small craft advisory and big waves, so we stuck to relatively dry land.
I have a couple more days here. It's not Louisiana, so where do you think I might be?
Posted: 20:26 02-19-2015 1149


Find more Hiking Resources at www.HikingDude.com
Follow Me