Where's the Red? Post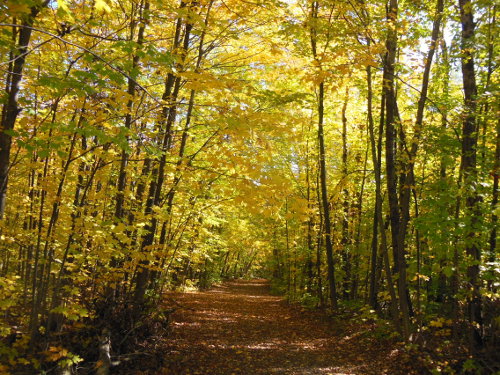 OK, to follow up on yesterday's post about improved photos, I need to let you know what brought that about.
I spent two days hiking around Duluth, MN doing research and taking photos for a hiking guide I've been asked to write. During that time, the fall colors weren't very spectacular so I spent another day about 10 days later to get better pictures. The colors of the trees still seemed kind of flat to me - mostly pale yellow, even maples. Oak and cottonwood leaves usually just turn tan in the fall and drop off. Poplar and birch turn yellow, but I was hoping for some engaging reds and oranges from the maples trees that I know are there. To my disappointment, even the maples were just pale, mostly yellow with a bit of orange on some trees.
The maple tree in my front yard presents a spectacular display of orange and red every year and is a joy to watch change. This year, I've noticed it is showing pale orange and nothing like I've enjoyed in the past. It was such a drastic difference, I was concerned and checked to see what might cause it. I noticed that there are thousands! of seeds on the tree this year - I thought maybe it is putting its energy into seed production rather than color. Some research on the good 'ol Net informed me that is not the problem.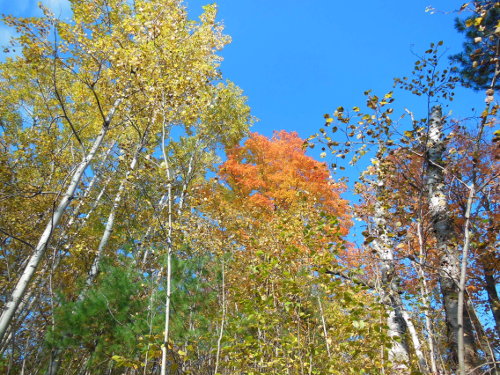 Fall colors in desiduous trees are pretty interesting. During the summer months, the tree's chlorophyll creates green pigment and we see green leaves. Underneath that green color there is also yellow color (carotenoids), but we can't see it. When the amount of sunlight decreases day by day as fall approachs, the tree generates less chlorophyll. Eventually, the lack of hours of sunlight prevent the tree from creating chlorophyll, the green color fades away, and we see the yellow that was there the whole time. So, in fall, we're pretty much guaranteed to have yellowish fall colors.
The orange and red colors are different. They are the head-turners, but they may or may not show up in any year since the stuff that makes red color (anthocyanins) is only created in the fall, and some years are better than others. More red colors will appear when the tree receives more bright light and cold air. So, crisp autumn days with little cloud cover create the best environment for brilliant fall colors. If it's a dreary autumn weatherwise, the tree colors will tend to be mostly yellow (and dreary) too.
Other weather can affect fall colors, too. A sustained drought can delay the process of color turning by a couple weeks. An early, heavy frost can kill the leaves before they can turn color and they fade directly to brown and drop.
So, the perfect recipe for great Fall Colors is a warm, rainy spring followed by a pleasant summer with clear skies in early fall. This creates robust growth, sustained health, and strong preparation for winter.
Much of my maple tree's leaves are still green, so I've got my fingers crossed that this week of nice weather will help it brighten up before halloween. And, don't get me started on those box elder bugs! :-)
Hike On
Posted: 13:11 10-18-2016 1305


Find more Hiking Resources at www.HikingDude.com
Follow Me