Hiking Dude Blog
Archives:
2023
2022
2021
2020
2019
2018
2017
2016 -
Dec
Nov
Oct
Aug
Jul
Jun
May
Apr
Mar
Feb
Jan
2015
2014
2013
2012
2011
06/27/2016
Northern MN Hike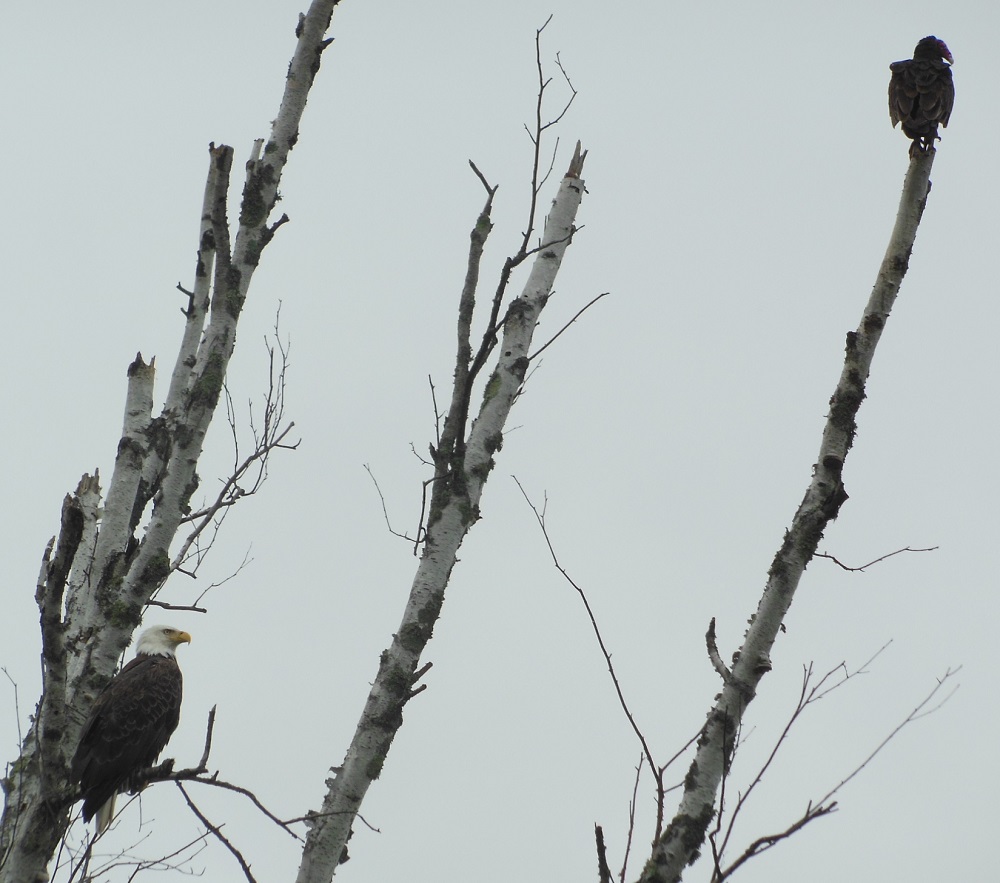 I returned from a week in Texas on Saturday night and headed back on the road on Sunday morning for northern Minnesota. First week was volunteering at a "Camp Noah" project, but this week is just vacation.
Today, I got to hike a new trail at Echo Lake in the Superior National Forest. I explored the trail with two brothers-in-law (any way two guys that each married a different sister of my wife - I think that makes them my brothers-in-law), and we were out for about 90 minutes doing a 5 mile loop route.
This eagle was in a tree along with about a dozen vultures, so I'm not sure if he thought he was a vulture also or what. Other than this, we saw only rabbits on the road and a bit of Moose sign on the trail.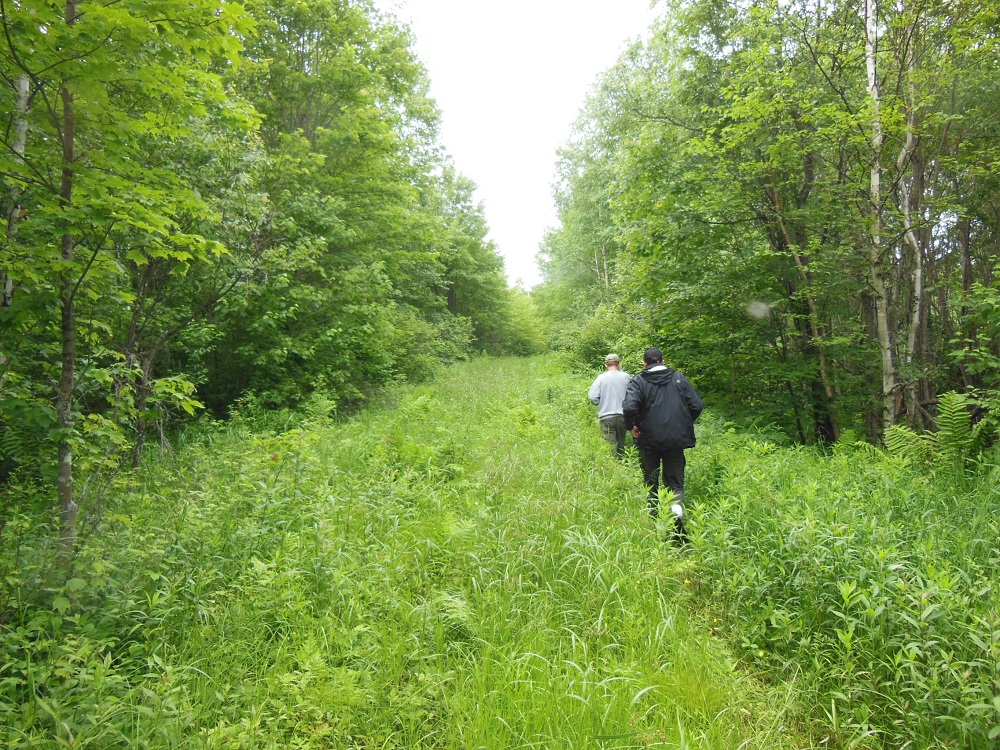 The trail follows an old logging road for the first 2 miles with cut-offs for shorter loops along the way. Each cut-off was heavily overgrown and blocked with down trees, so we kept on. When we reached the outermost loop, it was thick, soupy marsh and very overgrown so we backtracked to the next loop path.
We plowed ahead through prime TICK country all the while being accompanied by small clouds of mosquitoes. The Deep Woods Off repellent worked just fine and I got no bites.
There were thousands of wild flowers, lush grass, and many birch, pines, and poplar trees. We ran into lots of small blueberry bushes and wild strawberry plants but it's too early for fruit yet.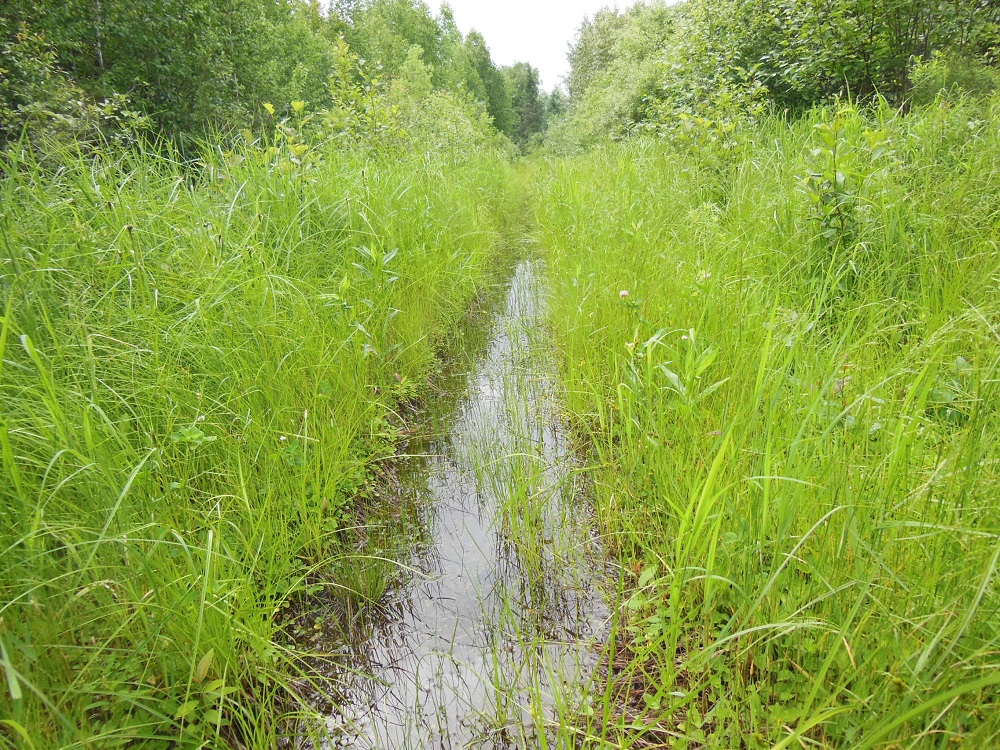 Most of the trail was dry, but we eventually encountered impassable water and were forced to slosh through, everyone getting their feet wet.
Back at the trailhead, we checked for ticks. We each found about a half dozen. All mine were on my socks, into which I had tucked my pant legs. Absolutely no ticks on my pants or shirt - both have been treated with permethrin!
So, a fun, short, wild hike on a seldom used trail.
---
06/03/2016
My Little Friends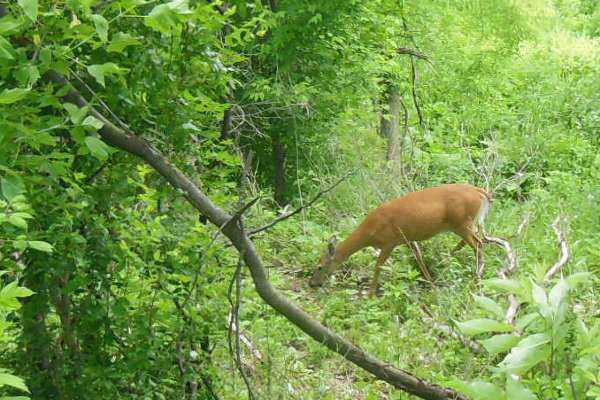 The animals along the local trails are so nonchalant about humans, it's scary. This deer couldn't care less that I walked by no more than 15 feet from it. I almost stepped on a rabbit before it decided to saunter, not hop, rocket, dodge, bolt, scurry, or run, but just saunter off the trail. Yesterday, two squirrels chased right across the trail, no more than 3 feet in front of me, just playing games and oblivious to my ominous presence.
People don't feed these animals, but the trail corridor is a nice green space for them and they are just used to humans walking by. Bicyclists also use the trail and I expect to start seeing some 'trailkill' soon as the little critters ignore the danger. Now, if a deer doesn't get out of the way, that will be something interesting!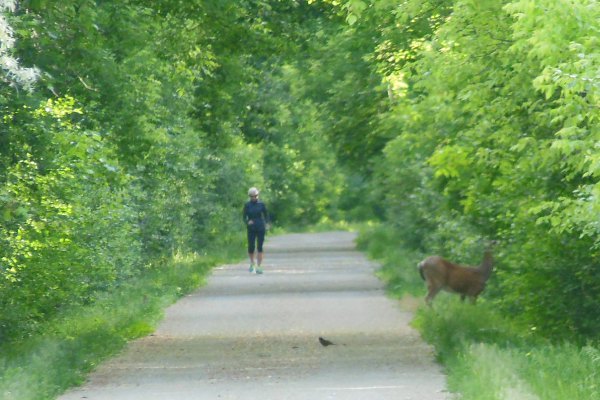 This is a great time of year for seeing how many different kinds of animals you can find. I routinely count 10 different kinds every morning.
So, who has the right-of-way when a human, bird, and deer all want the same space? :-)
Keep your eyes and ears open for animals when walking, riding, or driving. The young'uns are growing quickly and exploring away from protective parents, so you might get to see some closer than usual - and maybe too close if you're not careful.
---
06/02/2016
National Ultimate Champs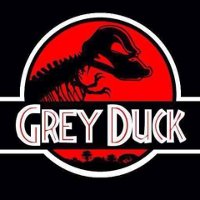 My daily walks preparing for a backpacking week in Wyoming next month took a backseat to a fantastic Memorial Day weekend vacation.
We flew to Raleigh, NC to watch our son participate in the
USA Ultimate
National College D-1 Championship tournament. He plays on the University of Minnesota's team, called the Grey Duck (
@1duck1love
#oneduckonelove
). This is the logo for their black uniforms - our son designed it. :-) It was easily the most popular design at the tournament.
After 4 days of games against the best teams from across the country, in blazing hot sun, torrential rain, and past-midnight games, the Grey Ducks were the last team standing - 2016 National Champions! This was the first time Minnesota has ever made it to the semi-finals, finals, or championship. I've been hoarse since Sunday night and am just now starting to sound less like a duck myself.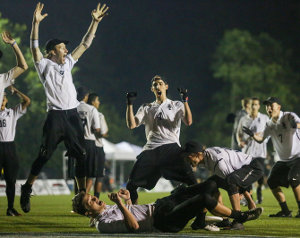 If you're not familiar with Ultimate, or have never seen a game, there are lots of videos on
YouTube
. It's fast-paced, exciting, athletic, and fun. And, on given day, any team can pull off a major upset and win it all!
Now, I'm back to hiking. But, my tracker is still on its way across the country, strapped to my other son's bicycle. He's gone over 1,000 miles now at
BikingDude.com
.
---
05/26/2016
Loose Goose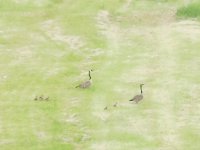 It's the time of year when baby animals are popping up all over the place. Furry, feathered, scaled, or slimey, they are everywhere and we need to be aware of them and give them space.
Yesterday morning, I walked 5 miles with my neighbor and we noticed this family as we crossed an overpass on our way home. Click the picture to see a larger view of where these geese were actually walking.
Right during morning rush hour is probably the worst time they could be taking the little ones from one pond to another on the other side of the highway.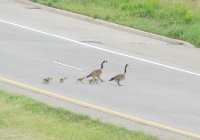 As you can see, they did make it at least to the middle of the roadway. Did they make it across, or did a semi scatter their feathers everywhere? Well, click this picture to see a short, blurry video that shows the ending to their ill-advised hike.
Geese on roadways are a big problem around here this time of year. Some drivers slam on their brakes, swerve, and occasionally cause serious accidents. Be aware of the wildlife in your area and what particular challenges their young may create.
On my walk today, I found a huge snapping turtle making a nest in the sandy edge of the bike trail. I expect it will be fine there as long as no one gets curious and bothers it. Turtles are another road danger as they migrate to nesting areas.
---
05/13/2016
Biking Not Hiking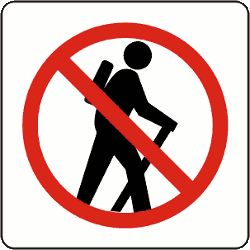 I believe that just because you take a photo doesn't mean you need to post it. Same goes with blogging. I've just been doing 5-mile morning walks with nothing interesting to report, so I've been quiet.
But, if you're interested in following a different sort of long trek, my son just started his cross-country bicycle trip from Boston to Seattle. He's using my tracking device so you can follow his progress at his
BikingDude.com
site (look familiar? :-) ). I know he'll appreciate comments as he encounters long, lonely days out there. I hope to join him for a few days when he makes it to the midwest - we'll see.
He won't start in earnest until Monday, but then the blips should really start stretching West.
In the meantime, I'm hoping to start a hiking guide writing project for a local publisher - waiting "patiently" to get the contract. :-)
I'm also preparing for a week-long backpacking trip in the Cloud Peak Wilderness in Wyoming the end of July. I'll be leading one of three groups of youth from our church heading out for adventure. After that, I'm hoping someone will want to thru-hike the Superior Hiking Trail with me the end of August. Holler if you're interested.
---
04/01/2016
He-Man All-In-One Pack Tool

New for the 2016 hiking season, the He-Man is a multi-purpose device all long distance hikers can't afford to be without. This helium-filled self-inflating bubble provides dozens of benefits at a tiny price. ("He-Man" stands for "Helium-Managed")
Here's just a few:
Lighten Your Load - the tiny helium canisters provide a 35 pound lift. This means that any 35-pound pack will be weightless and those heavier than 35 pounds will feel extremely light. You can cover many more miles each day than you ever thought possible. *
Hunter Protection - bright colors keep you safe from hunter accidents. You don't need to carry additional hats or vests when hiking during hunting season.
River Crossing - the natural flotation of the He-Man provides exceptional water buoyancy to make crossing any waterway a breeze. If you don't mind expending a small amount of helium, you can even be propelled across the water by opening the relief valve a tiny amount which creates a powerful jet force.
Animal Protection - The He-Man makes hikers appear to be approximately 47% larger than life. This is a great deterrent to grizzlies, mountain lions, and other carnivores that prey on humans.
Campfire Entertainment - A quick puff from the helium exhaust port is just like taking a hit from a helium balloon. Your stories will be funnier and you will be the life of any trail party.
Better Sleep - No need to carry that heavy pillow so you can sleep at night. The He-Man is the most comfortable head rest you'll ever find.
Pack Cover - The He-Man keeps pack contents dry from the worst rain and snow Mother Nature can throw at you.
Rescue - Highly visible colors and reflective tape highlights make the He-Man a perfect target for search and rescue teams to find.
The He-Man comes in two versions - the "Overhead" shown above which is brighter and adds perceived height for use in bear country, and the "BiSide" shown here.

The "BiSide" can be separated and only one of the inflatable pods used for packs under 17 pounds. It is more flexible, and can even be shared between two hikers.
One question that comes up occasionally is the strength of the He-Man, especially against sharp sticks. We've tested it extensively and the pods are puncture resistant to sticks, cactus, nails, sharp rocks, and deer antlers. Grizzly claws will rip the fabric, so our warranty does not cover bear attacks.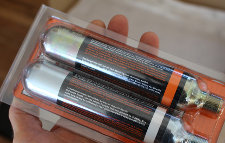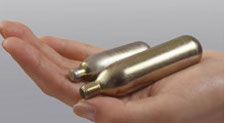 The helium canisters are refillable or replaceable - whichever your prefer, much like printer ink cartridges. We now have 3 cartridge sizes to choose from. They contain enough helium to inflate the He-Man 10 times, 5 times, and 3 times. One inflation should last for one week unless you manually deflate the He-Man. There's really no reason to do this unless you have to fit through a tight spot, such as into a shuttle ride, airplane, cave, or door.
Thanks for taking a look at the new
He-Man All-In-One
. Please contact us for ordering details.
* If you carry a pack that weighs less than 35 pounds, you should order the optional He-Man Anchors. These are 99% pure Pb ingots, sold in .5 pound increments. Your order will include a waist belt into which you can insert as many ingots as needed.
---
Older Posts
Newer Posts
Site Disclosure Statement
---
All Comments:
Feb 13, 2020 - Jason Berklund
Hey hiking dude I have several questions planning my first north to south trip from 270 all the way down. I kind a know what to wear what to eat all that important jive. I am in relatively good shape definitely Not concerned about where in tear. 45 years old going with a 21-year-old nephew. My question is I have friends in Duluth that I don't want to burden with driving me what's the best way to get up to otter Lake Road that's not gonna cost a crap ton. We were thinking 15 miles a day. We were also thinking hammocks. Let me know what you think please. I have read so much and look at so much and heard so many opinions but You seem to be very realistic on your comments. Thank you
---
Feb 13, 2020 - Hiking Dude
@Jason - Hammocks work fine - most campsites have lots of trees. 15MPD is realistic, and you'll probably do more than that many days.
Getting to the northern terminus is expensive (in my mind). If you can schedule correctly,
Arrowhead Transit
is cheapest to Grand Marais, but then
Harriet Quarles
is the only shuttle I know of. You might find a good ol' boy in Grand Marais willing to drive you the 35 miles to the end for a few $$$.
It's a 3 hour drive from Duluth - that's 6 hours and 300 miles round-trip. Maybe your friend would like to drive up the north shore for a day.
---
---
Ask a Question
---


Find more Hiking Resources at www.HikingDude.com
Follow Me