Hiking Dude Blog
Archives:
2023
2022
2021 -
Oct
Sep
Aug
Jul
Jun
Mar
Jan
2020
2019
2018
2017
2016
2015
2014
2013
2012
2011
07/25/2021
Giddyup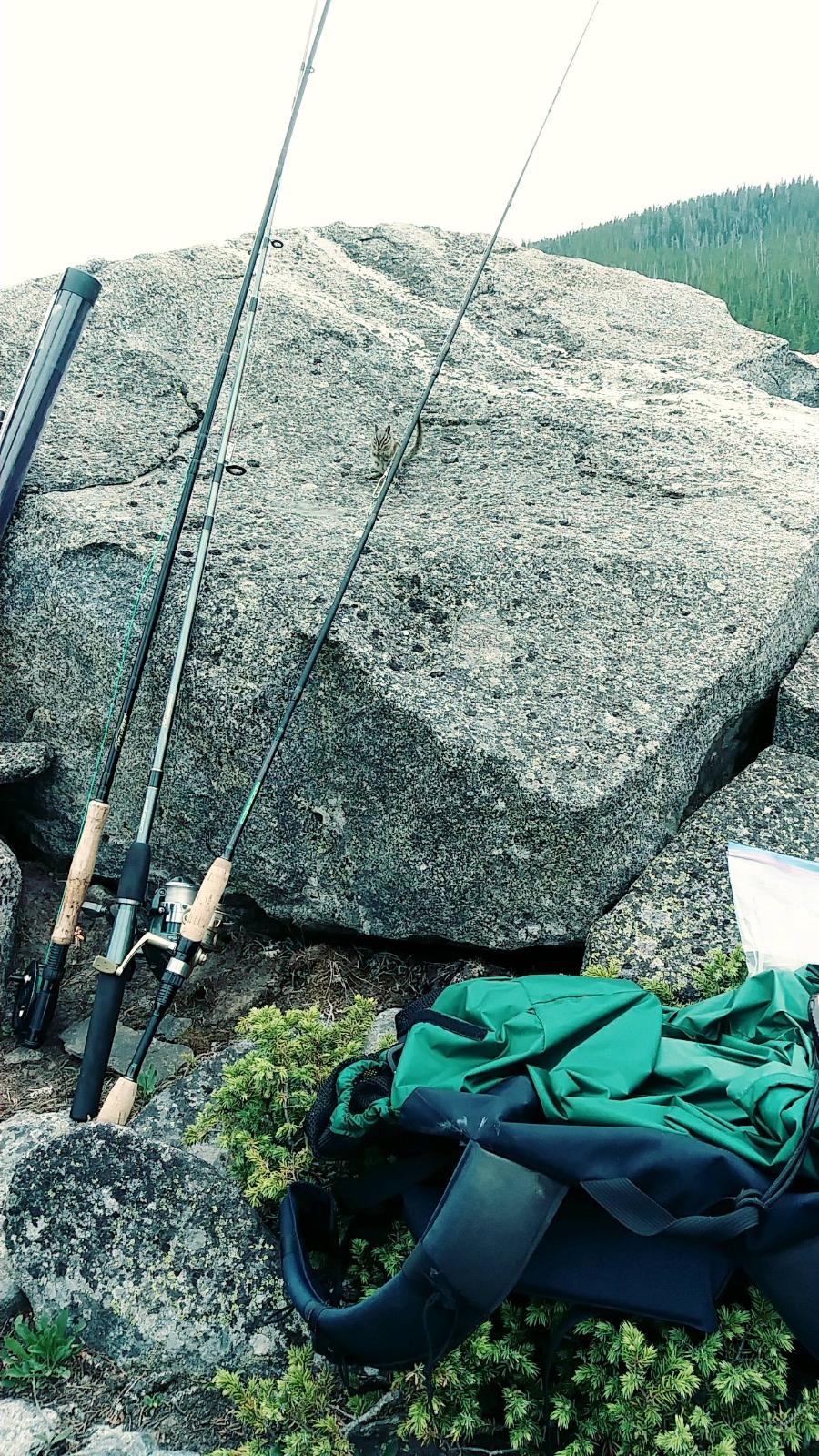 Yeehaa ! ! On the way to the horse trailhead this morning. We met our trail guides last night and dropped off all our gear for the mules to carry up the mountain for us. Now, 9 of us get to play 'city slickers' today and ride nose to butt up the trail for 5 hours to some top secret lakes packed with huge trout. Last time I was on a horse was 2008 at Philmont scout ranch so this should be fun! Plenty of hiking between lakes for the next few days.
---
07/24/2021
Hiking Out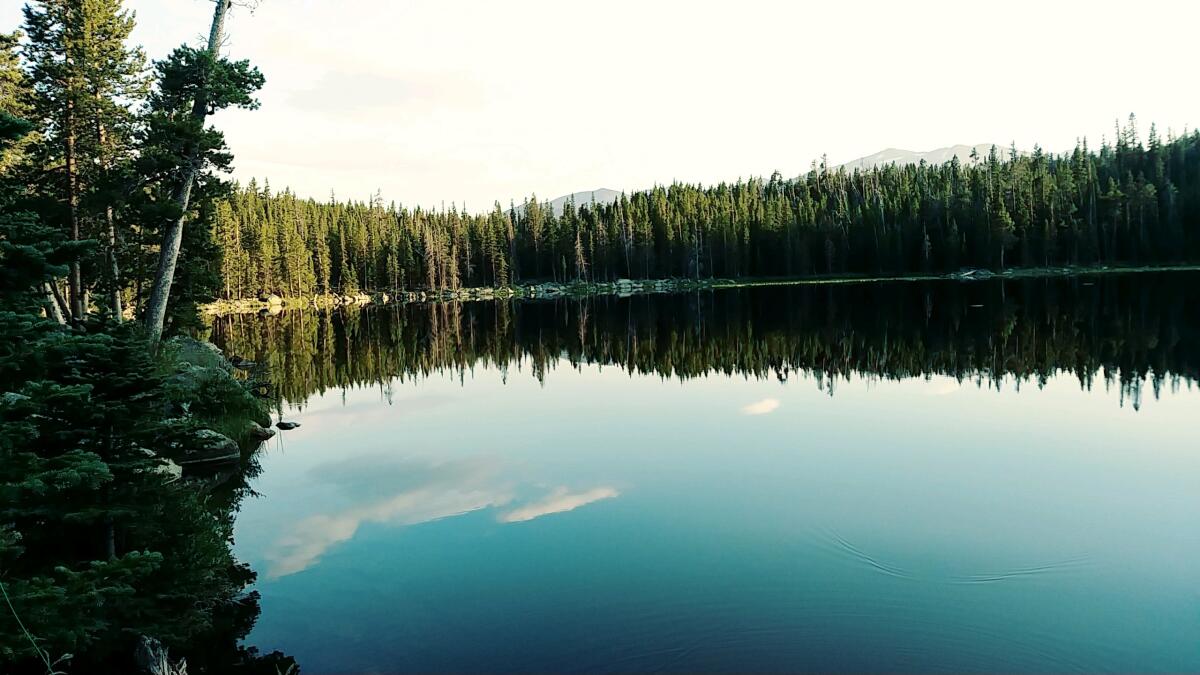 Cobbling a bunch of activities together without a specific long trail to hike makes for a very fluid plan.
Today we decided to hike out instead of fishing one more lake which we figured would be pretty much the same as yesterday. So, it's a lot easier hiking downhill for 2 miles and we started driving west once again around 10am.
On the hike out, we crossed paths with a group of day hikers coming in - they were a group from my church so it was a surprise to run into them.
Arriving in Pinedale, we found a hotel and spent the afternoon showering, resting, shopping, and exploring downtown Pinedale. It's a busy small Wyoming townand seems to be doing pretty well, especially compared to all the other struggling towns we've passed through.
Many of the other 'Horse Gang' showed up and we had dinner together. These guys are old friends and acquaintances that get together for some form of fishing vacation every year. This year, it's a horseback ride into the mountains for a few days of camping and fishing.
So, resting up between little adventures. Checking the weather, I expect my plans will change again tomorrow.
---
07/23/2021
Mountain Fishing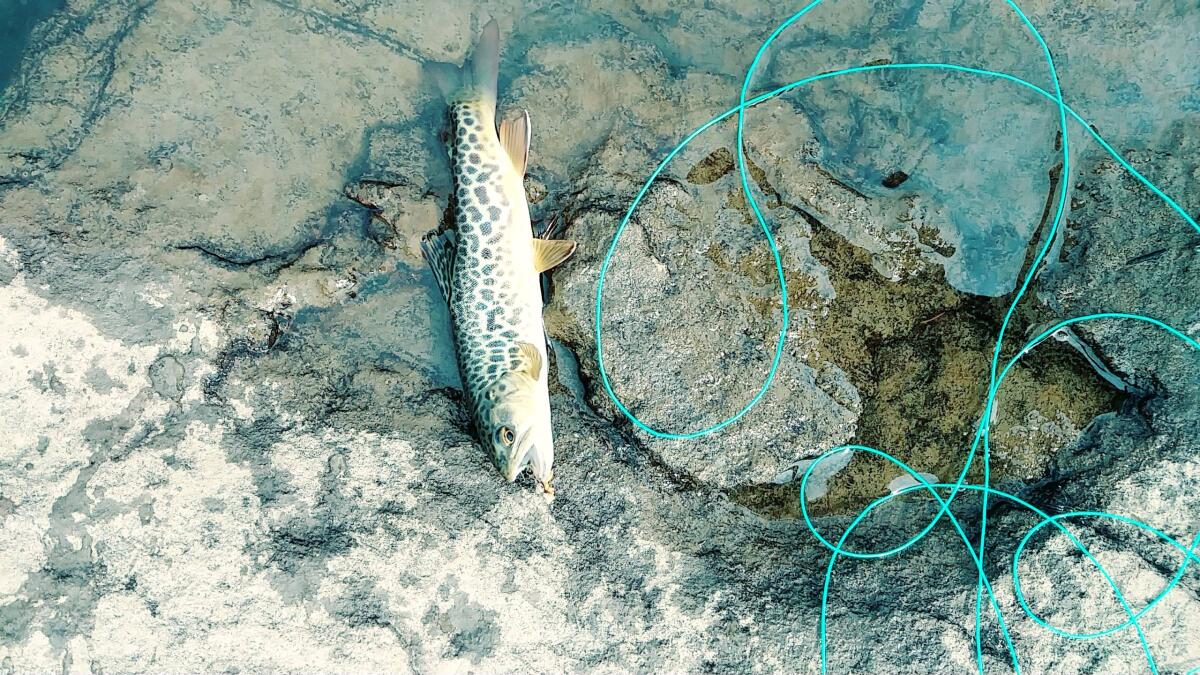 Red Squirrels and Canada Jays let us know it was time to start the day. I had about the worst night of sleep I can remember, but gave in to their insistence around 6am.
I'm sharing this rambling adventure with my brother who was having better luck sleeping. So, while he rested, I hiked the 100 yards to Sherd Lake worth my spin pole.
An hour of casting proved fruitless so I went back to camp. We gathered or day packs and hiked up higher to Ringbone Lake. The trails are very heavily used which means rocky and dusty here. But they are ready to follow.
The fish were very active and I caught a couple dozen on dry flies before we climbed over a rocky ledge to Long Lake. It looked very promising but nothing was biting. (I may have the lake names reversed since its hard to tell on my map)
A brief rain, hail, thunder storm passed through for a little excitement. The rain and hail made a cool music on the lake surface. Then, we hiked back down to camp.
With still a few hours of daylight left, I fished up Oliver Creek near our campsite with good success.
I caught brook and cutthroat trout, plus something that had fin coloring of a brookie but large black mottles on the body and a more golden color. Can you identify this fish?
To bed at dark with tomorrow's plans up for grabs. We might fish here or move on.
---
Circle Park Hike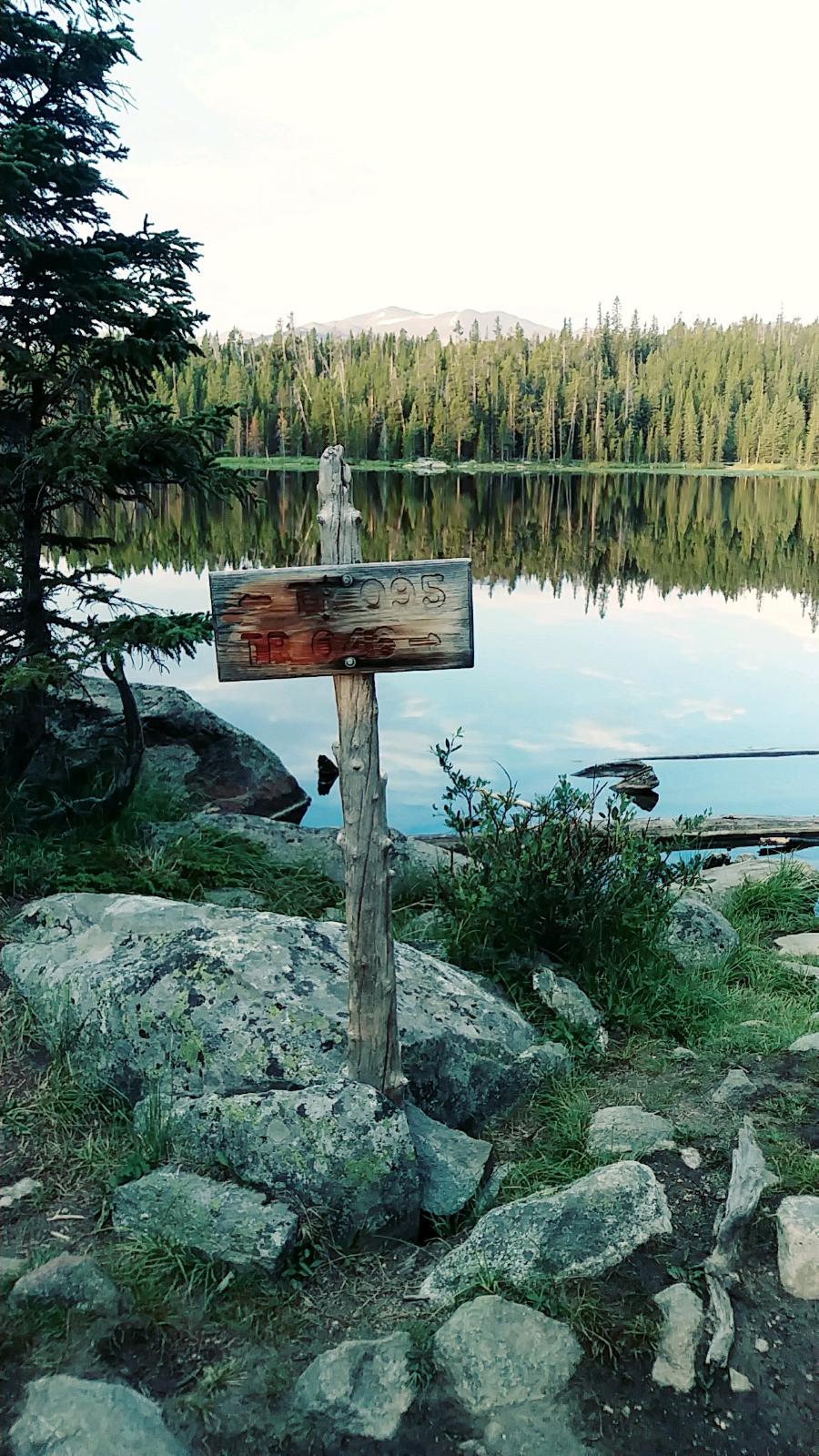 We made it into the wilderness! 
After about 12 hours in the truck, we strapped on our packs and headed uphill at the Circle Park trailhead.  With only a handful of vehicles in the parking lot, I think we should have plenty of room to fish.  We ran into 3 separate people hiking out so that's even better.
Trail #046 is much like all the other Cloud Peak Wilderness trails - well used and rocky.  I've wanted to explore this little corner of the wilderness for years, so I'm excited to see what it offers.
We took our time and came over the last little climb to Sherd Lake just about sun set.  A group of guys from New York were fly fishing and one guy was panning for gold - seriously!   
I scouted around and found some wonderful camp spots to the north.  They are away from water sources, very flat, and off the trail.
With our tents set up as it's getting dark, there's not much else to do but rest for tomorrow's adventure.  The weather is perfect, mosquitos are few, and mountains are waiting.
I traveled about 1.8 miles today.
Check out my
current location
on the map.
---
07/20/2021
Time to Hike and Fish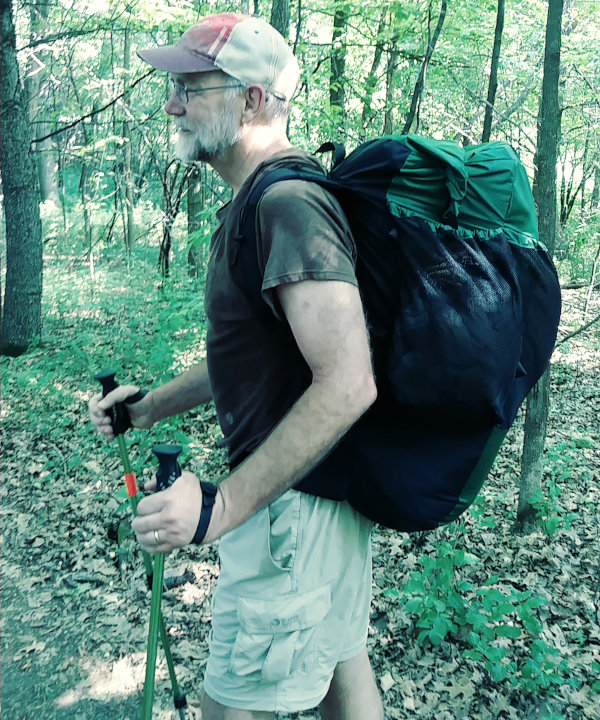 (Click for larger image)
I finished my new pack just in time for my first hiking adventure of the year which starts tomorrow! I'll be wandering around the mountains of Wyoming for a couple weeks, doing some hiking and fishing. It certainly isn't like my usual thru-hike or loop with an easy to describe plan, but I'll try...
I'll first drive to the Bighorn Mountains just west of Buffalo, WY with my brother. It should take about 11 hours, but we gain one to timezone change, so we might have time to hike in in the evening. Otherwise, we'll camp with the rifraf and hike in to Sherd Lake bright and early.
The plan is to fish this handful of lakes around 9,000 feet on Thursday and Friday, then hike out on Saturday. We'll only hike a few miles each day and get used to the elevation.
Here's the area map. We'll be on trail #046, and maybe #091.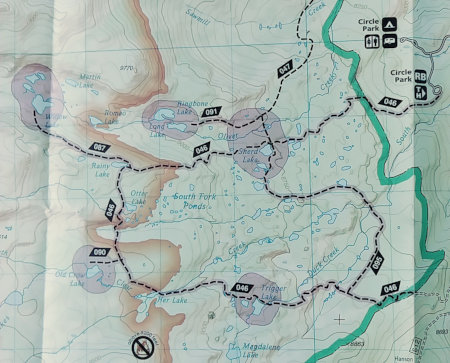 (Click for larger image)
Saturday requires a long drive to Pinedale, WY west of the Wind River Range. After a night in a hotel, we'll ride into the mountains on horses with a half dozen other guys to the Cook Lakes area. It's around 13 miles on horse, so I'm hoping that isn't worse than hiking in. After fishing the area on Monday, Tuesday, and Wednesday, the outfitter will return and take everyone back out on horses - except me.
In stead of riding out, I'll head south on the Continental Divide Trail for 40 miles then cut east another 10 miles to Dickinson trailhead. I'm counting on three friends to be waiting for me there on Saturday with my food for the next week. On Sunday, we'll hike back into the mountains I just came out of for 5 days of exploring, with some long days and high passes to get over. We'll exit out the Big Sandy trailhead on Friday to a waiting shuttle for a ride around the south end of the mountain range to Lander. Then, back up to Dickinson to pick up the vehicle left there.
All in all, I should get in about 120 miles of hiking, plus 13 miles of horseback, all of it above 9,000 feet and up to 12,000 feet on a couple passes. My fingers are crossed that all the connections work out, the weather remains calm, and no fires start - all of those could mess it up.
Here's my wandering route through the Wind River Range -
Click Here
Hike On!
---
06/17/2021
Hiker Survey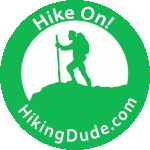 I've been offering a survey for local hikers to complete after doing multi-day hikes in Minnesota. Some folks asked about making it available for other long trails, so . . . .
The
Hiker Survey
is available! I'll gather stats for each trail toward the end of the year to share with you.
Hike On!
---
Older Posts
Newer Posts
Site Disclosure Statement
---
All Comments:
Feb 13, 2020 - Jason Berklund
Hey hiking dude I have several questions planning my first north to south trip from 270 all the way down. I kind a know what to wear what to eat all that important jive. I am in relatively good shape definitely Not concerned about where in tear. 45 years old going with a 21-year-old nephew. My question is I have friends in Duluth that I don't want to burden with driving me what's the best way to get up to otter Lake Road that's not gonna cost a crap ton. We were thinking 15 miles a day. We were also thinking hammocks. Let me know what you think please. I have read so much and look at so much and heard so many opinions but You seem to be very realistic on your comments. Thank you
---
Feb 13, 2020 - Hiking Dude
@Jason - Hammocks work fine - most campsites have lots of trees. 15MPD is realistic, and you'll probably do more than that many days.
Getting to the northern terminus is expensive (in my mind). If you can schedule correctly,
Arrowhead Transit
is cheapest to Grand Marais, but then
Harriet Quarles
is the only shuttle I know of. You might find a good ol' boy in Grand Marais willing to drive you the 35 miles to the end for a few $$$.
It's a 3 hour drive from Duluth - that's 6 hours and 300 miles round-trip. Maybe your friend would like to drive up the north shore for a day.
---
---
Ask a Question
---


Find more Hiking Resources at www.HikingDude.com
Follow Me