Pests on Hikes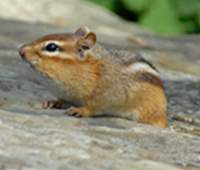 Chances that you will have a close encounter with a bear or other large animal are fairly slim. Most likely, you will have problems while hiking with mini bears and other pests. It won't be life threatening, but can still ruin a hike because of just a few minutes of laziness on your part. These encounters can, and should, be avoided with a bit of effort.
Animals are always looking for food and the less energy they need to expend in order to acquire the food, the better it is for them. When an easy source of food is found, animals will revisit that spot over and over, looking for more food.
If you toss bread crusts, poptart crumbs, or any food on the ground, it will attract and reward critters. Those critters will be back to bother campers long after you've left.
Mice, Chipmunks, and other Mini-bears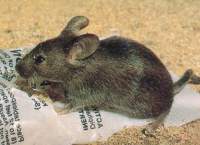 Mini-bears love seeds, nuts, and fruit. Sounds a lot like peanut butter, sunflower seeds, raisins, and granola to me! The same food that hikers love is loved by rodents.
These cute little guys will chew through canvas, nylon, and plastic to reach your food. It may be the smell that attracts them at first, but once they associate backpacks with
free food
there's no stopping them.
Mice are especially a problem in and around the Appalachian Trail shelters. They've been trained that
People = Food
and they continually get rewards from the hundreds of people dropping bits of food for months on end.
Besides ruining food and equipment, the poop and pee from mini-bears makes for a very unhealthy sleeping area. The dried dust of feces causes
hantavirus
which can be deadly. This is a reason to sleep away from shelters and always lay down a ground cloth before your pad and bag.
I have a backpack with holes eaten in two mesh pockets from chipmunks searching for trail mix.
Raccoons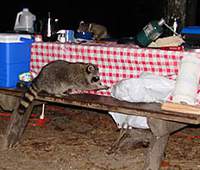 Raccoons carry rabies and other diseases. They have sharp teeth and can weigh 40 pounds or more. They are smart and they'll eat practically anything.
Their tiny, strong forefeet allow them to climb and open many latches and closures. Keeping food safe from raccoons is challenging, but important because they are opportunistic and capable of damage and injury. They can bite and claw humans if cornered, and sometimes just to protect food they've stolen.
I was sitting at a picnic table with my back to the table, watching skits at a campfire. There were graham crackers sitting on the table for s'mores. A raccoon climbed onto the table and started eating, no more than three feet from my back. I noticed him and shooed him away - he just snarled and kept eating until I pushed him away with a stick.
Birds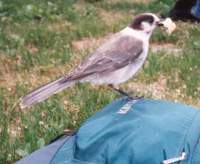 Gray jays, ravens, magpies and other birds will take every opportunity to
grab-n-go
with your food. They are the least dangerous of all the pests, since they normally just take pieces of food.
Leaving any food or food bags out is inviting problems. Birds will see the item and fly right in amongst humans to take bits that they can lift.
I've had a jay swoop down and swipe a cracker off the table as we were standing right there preparing lunch.
Prevention is Key
All these nuisances can be avoided with simple steps. Unfortunately, there are many habituated animals - ones that have learned through repeated careless camping practices that humans mean free food. Anything you can do to help educate other hikers will make your hikes more enjoyable and help keep wildlife wild.
Protect your food. Keep it packed away until needed.
Don't leave your pack unattended, not even to go use the bathroom.
Bag your food in plastic, then in a rodent-proof bag, such as Grubpack, Ratsack, Outsack, or Foodsack. These use wiremesh or dense fabric to keep critters out of your food. There are many sizes and weigh from 3oz. to 1lb.
Keep your pack open and store your food someplace else. This lets critters look without chewing through your gear.
Hang your food away from camp - this may not be legal in some bear country so know the regulations where you hike.
Garbage is food, too. So are is toothpaste, gum, lip balm, and anything else that is a smellable item. Protect it all along with your food.
Open, prepare, and eat food over a large plastic bag or a bandana to catch all crumbs and drips. When done, dump the crumbs into your garbage bag, not on the ground! Crumbs that you don't even see can attract critters.
Camp away from established, infested sites when legal and safe. This goes against standard outdoor ethics practice which recommends staying in established campsites whenever they are available. But, if hiking a long trail, such as hiking the AT that has thousands of habituated rodents around the established shelters, making camp a mile or more down the trail, and taking extreme care of your food and garbage, could be better. It keeps you and your gear safe and lets uneducated folks stay in the already impacted shelters.
Plan for the place you hike. A low-traffic, wilderness hike will have few or no habituated animals. High-traffic trails, such as the AT or PCT can be like running a gauntlet of thieves.
Ask Me
about Nuisance Animals!
Or, read more about:

Bugged by Bugs

Bothered by Blisters


Find more Hiking Resources at www.HikingDude.com
Follow Me