Giardia and Friends

Giardia is a parasite that lives in the bowels of infected animals and humans. Millions of giardia are released in feces from the infected host. The giardia can survive in soil, water, food, or surfaces of items contaminated with the feces. You can become infected with giardia by:
Drinking contaminated water - including accidentally swallowing a bit of water while swimming or wading.
Putting your hand or other object in your mouth that has contacted a contaminated surface
Eating uncooked contaminated food
Giardia is present in many frontcountry and backcountry waterways. You should assume that all water you find is contaminated and needs to be treated. Pictures of sipping water from a cold mountain stream look nice, but are very risky.
Visit Water Dude for lots more information about giardia and other water-borne contaminates and water treatment procedures.
Giardia Symptoms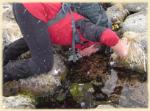 Symptoms normally begin from 1 to 2 weeks after infection. The symptoms continue for 2 to 6 weeks in otherwise healthy victims.
Diarrhea
Excessive flatulence (gas)
Greasy stools
Stomach cramps
Nausea
Preventing Giardia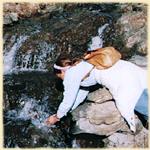 Use uncontaminated water.
Wash hands thoroughly with soap and water.
Wash or peel all raw fruit and vegetables before eating.
Ensure that water is free of giardia parasites by using one of these methods:

Use a water filter with a maximum absolute pore size of 1 micron or less.
Boil the water for at least 1 minute at a full, rolling boil.
Chemically treat the water with chlorine or iodine.
Giardia Treatment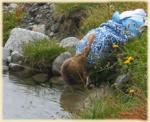 There are several prescription drugs available to treat giardia.
See your doctor if you think you may have contracted the parasite. He will probably have you submit stool samples for diagnosis.
Drink plenty of uncontaminated water to replenish that being lost through diarrhea.
Or, read more about:

Avoiding Lightning

Avoiding Sun Problems
---
All Comments:
Jun 26, 2016 - Thais McKee
How much iodine will treat mountain water against giardia?
---
Jun 26, 2016 - Hiking Dude
@Thais - iodine is not very effective against cysts like giardia. Manual filtration is better, or boiling. To chemically treat water, just follow the product instructions - using more won't necessarily work better or faster.
---
Feb 14, 2017 - Toe Breaker
I learned about Giardia the hard way. It was a pain in the rear
(yea, like that) and not fun to deal with. If there was a silver lining, it's probably that I lost 10 pounds.
---
---
Ask a Question
---


Find more Hiking Resources at www.HikingDude.com
Follow Me