Done Hiking Today Post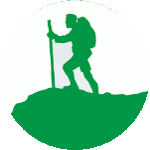 I finished hiking for today. You can check out my
current location
on the map and I'll post about my day when I am in coverage.
Posted: 20:32 08-06-2017 1365
---
Comments:
Aug 07, 2017 - Nola Barz
Paul & Josh: Just confirmed with my sister that you are more than welcome to drop by their house and fill with water, even if they aren't home. She advises definitely taking the alternate Mt. Hull route instead of the Eden Valley/Wilcox mountain route as that way is all road. She said not good water once you leave Swanson Mill road until Oroville, so stop on by. All faucets connected to house are potable. Just head up the Fire Spring road (gravel pit on map) to get to their house. She says she's help quite a few PNT hikers. Also, Diamond Creek fire in Pasayten Wilderness not currently affecting trail. Blessings.
---
---
Ask a Question
Bike
---


Find more Hiking Resources at www.HikingDude.com
Follow Me