RightOnTrek Food Review Post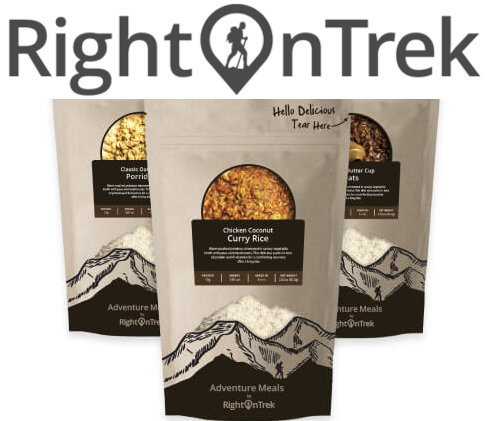 Following my blog for awhile will have made you aware that I have evolved to no-cook food on my long hikes. This eliminates the weight of stove, fuel, and cooking utensils. It's a fine way to go unless you absolutely must have your coffee in the morning or a hot meal at the end of the day. When I'm on a trek with my wife, I slow down and we take a stove since she still looks forward to hot food.
When the fine folks at RightOnTrek.com asked me to give their backpacking meals a try, my Wyoming adventure this summer turned out to be a good opportunity to do so since we weren't doing big miles and someone else was planning to bring a stove anyway. All I had to do was carry an extra fuel canister.
RightOnTrek has a dozen dinner meals and a half dozen breakfasts to choose from. I tried six of their meals and every one of them was a hit for ease, taste, and calories.
If you'd like to easily get all the food for your trek, the RightOnTrek has developed a Menu Planner where you can create a meal plan for up to two weeks that includes all meals as well as snacks. Their tool puts together food that provides the amount of calories you define and then charges you 1 cent per calorie. An example 5-day trek with 3000 calories per day took me less than 1 minute to create and had a price tag of $150. This is a great tool for someone wanting to spend less time planning food and more time hiking.
Alternatively, you can just purchase the specific meals you want and gather your own snacks and extras - this is what I did.
All the meals I tried tasted great, filled me up, and were easy to make. Here's my meal-by-meal scorecard: (click a pic for large view)
General Thoughts About the Meals
They have from 21g to 29g of protein and 515 to 577 calories per each regular size meal.
Most meals had a few little sauce packs that had to be opened and added. Things like soy sauce, peanut butter, oil, hot sauce, ... Besides the oil, I think most of those could be dried spices packed right in the meal to save the futziness, trash, and mess.
Every meal tasted great and there was plenty of food every time.
Calories and weight are similar to other well-known brands. Price seems to beat others by about 15% or so. If you have 4 people, buy their 'Serves 4' package size and one person eats for free, or about a 25% additional savings - so that puts their price in a very competitive spot. The larger size also saves on weight and trash.
Tips and Advice
A big reason for using these bagged meals is to make 'cooking' easy - just add hot water and wait. These meals have multi-step instructions that have you put the contents in a pot, boil awhile, add packet ingredients, and then wait. I'm sure the detailed instructions work great, but Forget That! I just dumped the packets into the bag, poured in hot water, set it in my cozy for 15 minutes, then ate it. Absolutely every meal rehydrated wonderfully and tasted very good.
You can see my blue cozy in some of the photos. A cozy makes life much easier and meals hotter. The insulation keeps the water hotter longer and lets you set the bag anyplace to rehydrate. It can also be used as a small cushion/dry/clean spot to sit. I have Cozy Instructions for my old cozy, but the one I use now is just blue foam folded over and taped - works just as well.
Besides the ease of cooking, rehydrating in the bag also makes clean up fast and simple. No pots to clean! Just pour a little more hot water in the bag, seal it, and shake it. Then drink the water and roll up the bag into clean trash. Presto! That's called Sumping and wastes no food and leaves no crumbs in the woods.
One concern about rehydrating directly in the bag that the food came in is the possibility of punctures and then leakage. When I made my Shepherd's Pie, it had a tiny pinhole after being tossed around in my pack for 5 days. It did not leak when rehydrating, but did a bit when I sumped the bag. So, just squeeze the bag before opening to check for air leaking out.
If you like spicier food, it's always a good idea to carry a small 'spice kit' with what you like most so you can jazz up whatever meal you make.
Oh, and really invest in a long-handled spoon. These bags, like others, are deep and get your hand messy. I'd love to see a shorter, wider bag - like with the zipper opening on the side instead of top. Spoons range from free red plastic in a DQ blizzard, to $5 bamboo, to $30 titanium. They're all about 8 inches long and do the job.
RightOnTrek.com Extras
As our society evolves, people are tending to acquire less stuff and we're moving more toward a Sharing System where a person can select a belt sander or pruning shears or whatever off a website, have it delivered, use it, then have it picked up when finished. That one belt sander can be used by 30 people in a month instead of 30 hammers sitting idle in garages for 29 days.
Besides the meal planner on RightOnTrek.com they are also rolling out a gear rental system which puts them right into this new model of business. You can plan your trek, select what gear you need, when and where you need it, and it will be waiting for you at an outfitter near your hike location - along with all the food for your hike. When you're done, you just return the gear and head home with no clean up and storage to worry about. I believe this sort of system will become the norm soon, so it's exciting to see a company embrace and advance it.
It's not too early to think about Christmas gifts for the hiker you know - a selection of meals would stuff a stocking nicely!
(RightOnTrek provided me with these meals to sample in exchange for this post.)
Posted: 10:46 08-30-2021 1579


Find more Hiking Resources at www.HikingDude.com
Follow Me