Long Distance Hikes

There's no hard-n-fast definition of long distance hiking, so here's my personal one:
covering over 200 miles and taking over 2 weeks

The National Park Service definition of a National Scenic Trail is: 100 miles or longer, continuous, primarily non-motorized routes of outstanding recreation opportunity.

Some hikers would consider 100 miles just a weekend jaunt
- the Pacific Crest Trail is over 2650 miles.
Some hikers would consider 15 days just a warm-up outing
- the Appalachian Trail takes 100 to 200 days.
A 200+ mile, 2+ week trek means you won't carry all your food from the start and you will wear your body down, not just surviving on stored-up energy.
So, when you decide to go the distance, how does that change from day hikes? Where do you go? What gear changes? What else is needed? Good questions!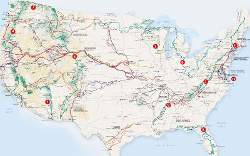 Where Can I Hike Long Distances?
Congress passed the
National Trails System Act
in 1968, establishing a framework for a nationwide system of scenic, recreational, and historic trails.
You may be surprised at just how many thousands of miles of trails there are across the country, and not too far from your home.
Here are the (as of 2011) 30 National Scenic Trails and National Historic Trails:
Trail Name
Year Est'd
Authorized
Length (miles)
Adm. Agency
Appalachian NST
1968
2,158
NPS
Pacific Crest NST
1968
2,638
USDA-FS
Continental Divide NST
1978
3,100
USDA-FS
Oregon NHT
1978
2,170
NPS
Mormon Pioneer NHT
1978
1,300
NPS
Lewis and Clark NHT
1978
3,700
NPS
Iditarod NHT
1978
2,350
BLM
North Country NST
1980
3,200
NPS
Overmountain Victory NHT
1980
275
NPS
Ice Age NST
1980
1,000
NPS
Florida NST
1983
1,300
USDA-FS
Potomac Heritage NST
1983
700
NPS
Natchez Trace NST
1983
95
NPS
Nez Perce (Nee-me-poo) NHT
1986
1,170
USDA-FS
Santa Fe NHT
1987
1,203
NPS
Trail of Tears NHT
1987
5,045 (1)
NPS
Juan Bautista de Anza NHT
1990
1,200
NPS
California NHT
1992
5,665
NPS
Pony Express NHT
1992
1,966
NPS
Selma to Montgomery NHT
1996
54
NPS
El Camino Real de Tierra Adentro NHT
2000
404
NPS & BLM
Ala Kahakai NHT
2000
175
NPS
Old Spanish NHT
2002
2,700
NPS & BLM
El Camino Real de los Tejas NHT
2004
2,580
NPS
Captain John Smith Chesapeake NHT
2006
3,000
NPS
Star-Spangled Banner NHT
2008
NPS
Arizona NST
2009
761
USDA-FS
New England NST
2009
190
NPS
Washington-Rochambeau Revolutionary Route NHT
2009
2,020
NPS
Pacific Northwest NST
2009
1,200
USDA-FS

(1) Includes both overland and water routes between Tennessee and Oklahoma.
You don't have to do long distance hiking on these designated trails, though.
Make your own trek route. Get maps of a wild area you'd like to explore and map out your trip on the trails that exist.
Or, figure out how to hike from Albuquerque to Zuni in New Mexico or from Ada to Zumbrota in Minnesota. Google maps is a good tool to help with working on walking routes but it mostly follows roadways.
What Do I Need?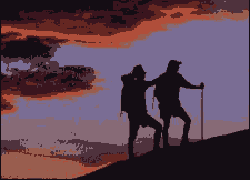 The equipment needed for a long distance hike is not much different than a week-long trek. You'll just go through more consumable items - food, fuel, maps, sunscreen, bug spray, ..., and all that. Since you won't want to carry lots of it, that means you'll need to arrange resupply points along your hike. See more about
supplying food
.
Long distance hiking also requires minimizing weight of equipment as much as possible since you'll carry it every step of the way. A 4pound tent for the weekend might be ok to carry for 10 miles, but a 1.5pound tarptent being carried every day for 6 months is a lot more comfortable.
Your equipment will wear out too. A pair of trail shoes might last 1000 or 2000 miles before the sole wears completely away or the seams fray out, but at some point every item will break. Duct tape, needle and thread, and improvization can get you by for awhile, but having a back-up plan for replacement items from the trail is important.
How Much Will It Cost?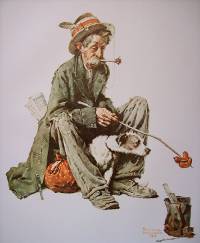 Long distance hiking is expensive - at least in my world where I'm a real spendthrift.
If a $100 pair of trail shoes lasts 1000 miles, that's 10 cents/mile.
If you spend $500 on other gear that wears out over a 2000 mile trek, that's 25 cents/mile.
You might be able to get 1000 calories of food for $2.50, but it will probably be higher than that. Hiking 10 miles/day and consuming 3500 calories will cost at least 87 cents/mile.
Then, there's transportation to get TO and FROM the trailhead, meals in trail towns, maybe an occasional hotel stay or shower, and all the little items that add up.
So, long distance hiking costs at least $1.50/mile - a more realistic figure would be $2.50 per mile.
I spent $2350 for my 2012 800-mile Arizona Trail trip. This was almost $3.00/mile because the plane fare and celebrating in towns. A longer trail spreads the plane expense over more miles so the $$/mile drops compared to shorter trails. More experienced long-distance hikers stay out of towns as much as possible since they suck up all your $$$.
I spent under $2000 for the 1,100-mile Ice Age Trail in 2013 - I had no plane ride and already had most gear I needed. I stayed in no hotels.
Why Will I Fail?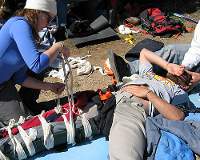 Like all legends, long distance success rates are not precise so we don't know exactly how many people attempt and fail to thru-hike a long trail each year.
There are some general estimated annual success rates on the more popular trails:
Appalachian Trail - about 750 of 3000 finish (~25%) - see stats
Pacific Crest Trail - about 180 of 300 finish (~60%) - see stats
Continental Divide Trail - about 15 of 30 finish (~50%) - see stats
Most folks tackle the AT hike as their first long distance attempt. Many have no idea what they're getting into and drop out within a week.
The PCT and CDT thru-hikers know the game and still half of them don't make it.
What causes most people to leave a thru-hike incomplete?
Unrealistic Expectations - a thru-hike is a romantic notion, being at one with the wild for the summer. In reality, it is hard, dirty work day after day.
People get homesick and realize that humans really are social creatures.
Some hikers get bored with the monotony of sleep, hike, eat, hike over and over.
Injury - one mistep and your trek is over. It is crucial to take good care of feet and legs with sturdy shoes, socks, and support as needed. Simple cuts can get infected. Eating bad food or not treating water can make you sick enough to leave the trail.
Weather - many long trails have a short start and end window based on the spring thaw and winter snow. After a winter of extreme snow, a trail might not be passable. At any time along the hike, severe storms can ruin equipment, cause hypothermia, or make you so miserable that it's not worth trudging through yet another day of mud.
No More $$$ - many hikers start a thru-hike because they are at a point in life with flexibility and few commitments. This often also means not enough funding to cover the expenses. If you can't buy food, you can't hike.
Ask Me
about Long Distance Hiking!
Or, read more about:

Choosing a Campsite

Confronting Hiking Dangers
---
All Comments:
Sep 01, 2014 - Gregory Adamson
One thing i would like to see more of is people like me doing long distance hiking. I'm married with 3 children (one just started college and the other two are 11 and 14 yrs). I have a limited amount of money to spend on trips and equip. I have scrounged and saved money for 4+ yrs now to assemble mostly lightweight equip. Most of what i see in blogs are single guys and a few girls with no kids. Many times they are young people living in an appartment with spare cash to spend. Although it takes planning and negotiating with your spouce, a married person with kids can participate in long distance hiking, even on a budget, although trips may be spread by 4 to 6 months.
---
Sep 04, 2014 - Hiking Dude
@Gregory - On my long hikes, the majority of people I meet on trail fall into two groups. One group is the older, retired folks taking as long as they need to enjoy the trail and complete the journey, sometimes just short sections at a time. The other group is the 20-somethings out on an adventure, unemployed, looking for identity, or doing one big fun thing before joining corporate America. There are many, many others also, but they show up in spatterings - lost a job, finished a tour of duty, homeless lifestyle, or whatever drove them to the wilds. It's not practical for most people with family/job/community responsibilities to be gone for a month or longer. That's why there are very few 30-60 year olds on long trails. But, I agree with you - it can be done if it's important to you. I advocate inexpensive, lightweight, well-planned hikes, and I greatly appreciate my understanding spouse! Hike On!
---
Nov 13, 2014 - Theresa
Thank you for the effort you have put into this excellent website! I am an out-of-shape 66 year old woman, and I've decided to walk some part of the Camino de Santiago in Spain next August/September -- 3 to 4 weeks. I'm starting to plan, and train now, as if I were going to hike the PCT, so (hopefully) nothing on that much easier walk will phase me. Your clear thinking and great organization are a marvelous gift that will help me to make good decisions for my trip. If my experience is as good as I anticipate it will be, I might just keep right on hiking after it's over! So far, my 2-5 mile hikes each day are making me feel wonderful!
---
Mar 18, 2015 - Pacer
Did I miss seeing Vermont's Long Trail on your list? America's first long distance trail, established in 1910. Precursor to and inspiration for the AT? End to end 2013. Thanks, Pacer
---
Mar 23, 2015 - Hiking Dude
@Pacer - You didn't miss it. It's just not on my bucket list.
---
Mar 25, 2015 - Princess Toes
Fantastic website -- I found info here I looked for to no avail elsewhere. Thank you, Hiking Dude! Other readers might be interested in the Allegheny Trail Alliance, which is a network of trails. I am working on hiking the 150 mile GAP Trail from Pittsburgh, PA to Cumberland, MD; another trail continues to Washington, DC for a total over 300 miles. These are nearly flat trails, since they are former railroads. The scenery is gorgeous. For the GAP it is inn-to-inn hiking with a few camping options. I expect to average 14 miles a day, taking about two weeks. I think of it as long distance hiking with training wheels, since I do not need to carry nearly so much gear and get a soft bed, decent food, and hot shower every day. The timing also fits within what most US employees get for vacation days. Even still, I will be adventuring on my own. I hope it will be a great first longer hike, and perhaps others might be interested in a more gentle introduction too. Thanks again, great website!
---
Nov 05, 2015 - Michael
This is a well laid out website with good information. I am training to hike from southern California over to upstate New York. I am averaging 15 to 18 miles a day. I have recently backed off on the mileage as it was becoming expensive consuming the amount of food one has to, to sustain their energy on such long hikes. The items I have found that are most important to me are a good pack and Really good foot wear. I have a diversified selection of shoes and boots for my journey. Have tried and tested many and narrowed the selection to 2 types of shoes and one boot/shoe. I have found that sore feet lead to a demoralized hiker and that can be dangerous. Do not spare the expense of buying good shoes as well try on many different packs and find one that is plenty adjustable and very comfortable. Thank you for the great website.
---
Jan 27, 2016 - Mike
---
Oct 18, 2016 - DutchNick
I'm a 23yo male, -not that sporty at all, 3 years ago I started with some solo hikes near the Netherlands, but last Summer I Have been on a 73 miles solo hike, 40% was on a worn And overgrown trail, trough the southern part of the mountains in Norway. Never before have I felt so alive, so pure, as during this hike. I'm hooked.
I'm certain I will go for longer hikes in the near future And would recomend at least spending a couple of days in Nature to anyone, alone or - not!
(Sorry for any bad grammar)
---
---
Ask a Question
---


Find more Hiking Resources at www.HikingDude.com
Follow Me