Sleep Systems

Without adequate rest, no outdoor adventure will be much fun. Ensuring warmth, comfort, and dryness are the goals of a sleeping system.
A thrifty hiker can save a lot of money and weight by thoroughly planning his configuration. A flexible system also allows a hiker to exchange indiviudal items as the temperature and weather change without requiring purchase of completely duplicate gear.
Sleep System Considerations
When outdoors, we lose heat mostly through convection, conduction, perspiration, and respiration. There's not much to be done about heat lose from breathing (respiration) because it can't be regulated. Perspiration is only a problem if you are too hot while sleeping and that can be minimized by simply laying on top of everything. A successful sleep system needs to minimize the heat lose from convection and conduction.
The hairs on a mammal trap a layer of air close to the skin which gets heated by the body. As long as that air stays in place, it acts as a good insulator. Air currents can blow that layer of air away and a new, colder layer needs to be heated. This is convection. A simple wind barrier can stop most convection heat lose.
When your hand touchs ice, heat from your hand transfers to the ice. This is conduction and is the main way heat lose occurs when sleeping outside. The ground is an enormous, dense heat sink that will suck the heat from your body and, since it is dense, does not make a good insulator. Cold air will also pull heat from your body, but not as quickly as the ground. Insulation is the required barrier to prevent conductive heat loss.
Sleep System Basic Components
A sleep system needs to have components which insulate you from the environment and keep you comfortable enough to sleep.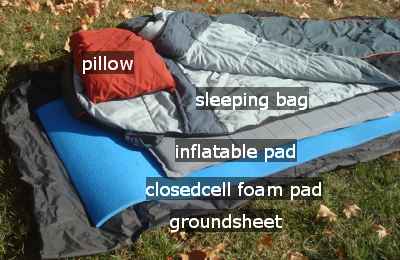 Ground Sheet - a sheet protects the rest of your system from dirt and moisture. Rainwater flowing across the ground will not reach your other components through a waterproof barrier. It should be very lightweight, flexible, and durable.
A piece of painter's plastic, or Tyvek, or commercial footprints all work well. I've always used simple plastic and replace it when worn.
Sleeping Pad - insulation between you and the ground.
This is a critical item that is often overlooked by inexperienced hikers. It serves two main purposes: keeps you warm and keeps you comfortable. There are two basic kinds of sleeping pads, but a multitude of variations of each:

Closed Cell Foam - a durable, highly insulative, waterproof pad. These provide a good insulative barrier but tend to let you feel more bumps and dips in the ground.
They are great for assisting as a water barrier and are puncture-proof.
They do not compress at all when packing.
There's no set-up time other than unrolling them.
They can cost as little as $6 for a simple blue foam pad (which I've used on dozens of treks).
Inflatable - a wide range of costs and features. These provide insulation and a more comfortable sleep since you are resting on 1 to 3 inches of air.
They are much more expensive than cell foam but pack better, taking less space when deflated.
Punctures from sticks and rocks are the downfall of inflatables so a small repair kit should be on hand.
Some inflatables have internal insulation for use in winter temperatures, making them heavier and more expensive.

Sleeping Bag or Quilt - insulation between you and the air.
Loft is the depth of trapped air space in the insulation of a bag. When you lay on this insulation it compresses, losing all its loft and its insulating ability.
Recognizing that this loss of insulation means extra weight is being carried for no reason, sleeping quilts and top bags have become popular. These have insulation on the top and sides, but not underneath which saves on weight and materials.

Goose down has been the insulation material of choice for centuries and a lighter, better material hasn't been found, but synthetic polyester insulation is nearly there.
Synthetic insulation costs less, is easier to maintain, dries quickly, is water resistant, and has more options than down.
Down compresses better, weighs less, and should last longer.
Bag Liner - when the possibility of a bit colder night exists, including a silk or polyester liner can add some warmth. A liner also helps keep your bag clean. On hot nights, you can use the liner on top of the bag.
Clothes - lightweight backpackers include their insulating clothes in their sleep system to help minimize their pack weight. This works fine as long as your clothes are clean and dry. Wearing wet, dirty, sweaty clothes to bed isn't acceptable to many campers.
Pillow - stuffing some soft clothes in a small bag makes a good pillow, unless you're wearing all your clothes. Otherwise, there are many lightweight inflatable pillows available that can make for a much more comfortable night's rest.
Sleep System Basic Recommendations
Everyone sleeps differently and there are thousands of options, all of which are acceptable. So, I can't really recommend one certain way to ensure a good sleep system. I can tell you what I've used...
Ground Sheet
- painter's plastic
Pad
- blue cell foam on long summer trips
inflatable insulated pad in spring and fall
both in winter
Bag
- synthetic-filled quilt made from kit
Liner
- fleece liner for deep winter on short trips
Clothes
- separate sleeping clothes
Pillow
- small foam compressible pillow
Or, read more about:

Hiking Long Distances

Choosing a Campsite


Find more Hiking Resources at www.HikingDude.com
Follow Me