PNT Thru-hike Recap Post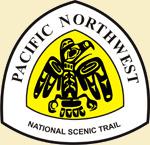 Having reached the end of the Pacific Northwest Trail on Friday afternoon, we had a leisurely 4-mile walk east to the Ozette Ranger Station on Saturday. Our friend wouldn't be picking us up until 3pm, so we lounged around camp on the coast enjoying the calm, misty view of the tide working its way in and eating our extra food.

We finally packed up and headed inland. The trail was easy, well maintained, and very crowded with folks hiking to the coast for the day or weekend. Long sections of the trail are a cedar boardwalk, so that was fun but a bit slick in spots.
We got bored at the ranger station and decided to walk another 1/2 mile or so down the road to the Lost Resort. As we discovered, they have a well-stocked convenience store and eatery at resort prices. Plus, they have WiFi which we were allowed to use. Eating ice cream and drinking my first soda in a long time, we passed the time.
Our ride arrived around 3:45 and we were off. A quick stop in Forks to return the bear can we had rented from Forks Outfitters. Another 3+ hours to Hoaquim where we stopped for a Subway dinner. Finally arriving in Puyallup around 9pm. Bethany was a real trail angel, driving a long round trip to help get us home.
In Puyallup, we met Josh's friends and went to a hotdog bar - a restaurant that sells high-priced, fancy-named hotdogs. It was fun to meet them and visit awhile. As it was getting late, we made it to Karin's place where we'd spend the night. We got to sleep in a clean, dry shed in her backyard after taking showers.
Sunday was spent in airports and on planes. My wife picked us up at 6:30pm in Minneapolis and we had pizza at home for dinner. That was the end of the trip!
I lost about 17 pounds on our trek. Josh lost a lot, but less than that.

Our gear took a beating, but most of it had already seen many days and miles on trail. Both backpacks have rips and tears so they'll be replaced. My inflatable sleeping pad and pillow from ExPed both had internal baffles separate so they are unusable. My two pair of Darn Tough socks wore holes through them so I've returned them for free replacements - we'll see how that works out. Two of our four hiking poles broke, one snapping and one losing the tip. And, I threw my two t-shirts away - they weren't worn out, I was just tired of wearing them after 5 years. :-)
If you'd like more info about our trek and the Pacific Northwest Trail, I've updated my PNT Page with our trail journal, map track, gear, expenses, and other info.

Please feel free to ask about our trek, especially if you are planning a PNT thru-hike and have questions.
Hike On!
Posted: 11:02 09-25-2017 1438


Find more Hiking Resources at www.HikingDude.com
Follow Me