Day 5: Baranco Wall and Karanga Valley Post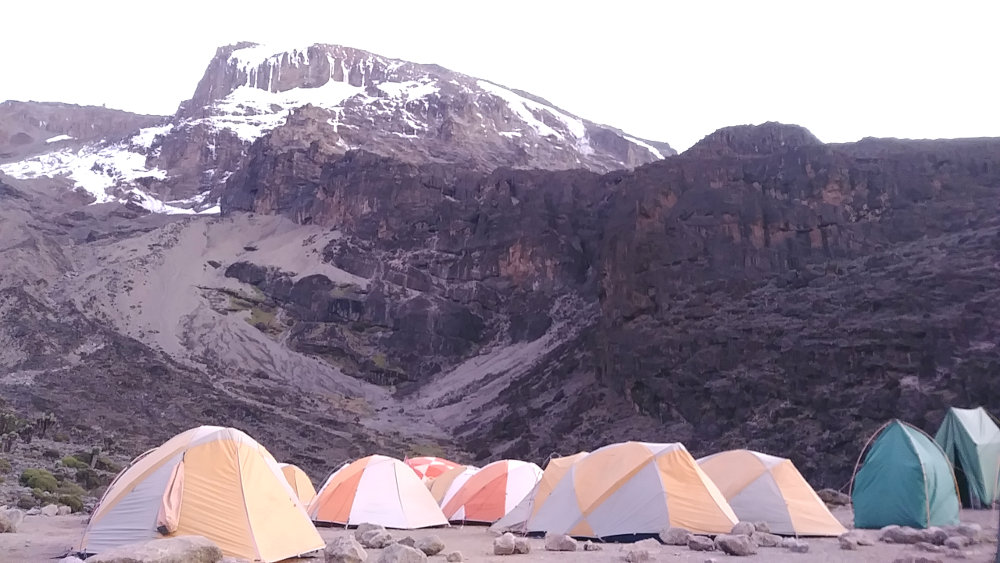 Shira I Camp was at ~11,500 feet, Shira II at ~12,800 feet, Baranco at ~13,100 feet, and today's destination is also ~13,100 feet. In the past three days, we've only gained 1600 feet on the mountain, and we have 6200 feet to the summit. Looking at the numbers, it may seem like a waste of a few days. But, spending these days hiking over 13,000 feet is giving us plenty of time to acclimate to the lighter air. I haven't really felt any physical challenges, altitude symptoms, or even sweating. We've been going very slowly (Pole Pole) and enjoying the time out here in the fresh air and crisp weather. The statistics show that this longer, slower Lemosho route has a higher success rate than shorter, steeper routes that cut out days and demand more of your body. We'll see.
Our view of the summit from Baranco camp this morning was gorgeous. We could certainly just scoot right up there today if we wanted, but we still have one more camp before our summit attempt. And, to get to that camp, we have to scale the notorious Baranco Wall!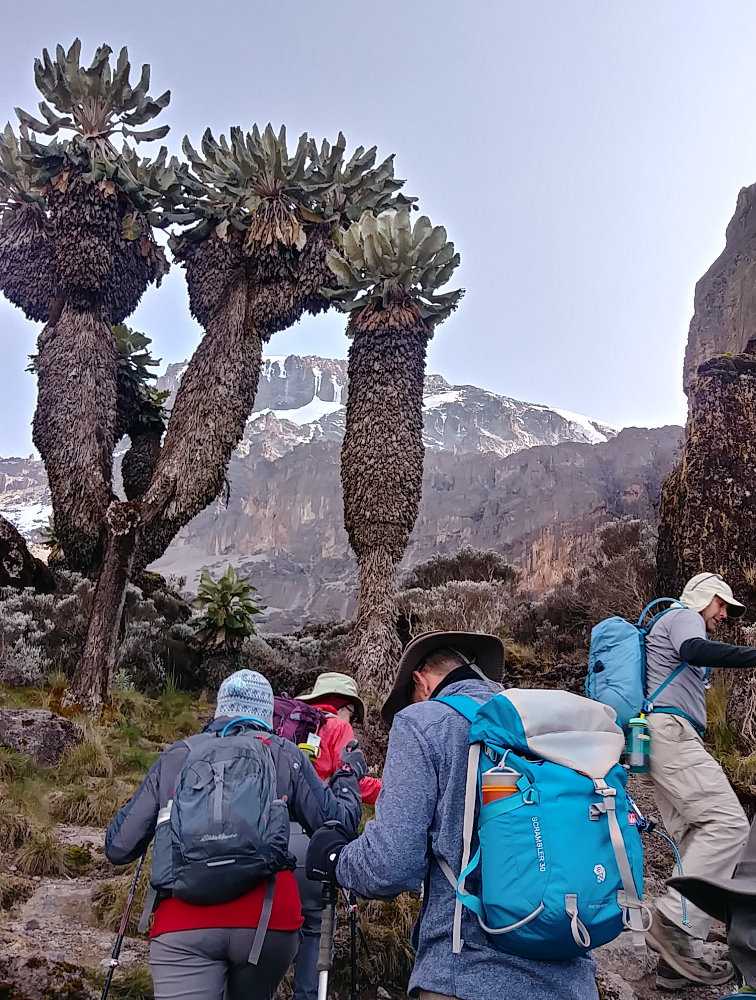 OK, on pretty much any long trail or popular adventure there is at least one part that gets hyped up as being a real challenge. On Kilimanjaro, from what I've read, it's the summit attempt and the Baranco Wall. I've read how it is practically vertical, very narrow trail, hundred foot falls to certain death, palm-sweating terror, clinging to rock faces, and so on. I guess it's all relative. I thought it was one of the most fun parts of the entire trek. We got to scramble up rocks, there wasn't much room, and if you jumped off the trail you would probably die. But, it was safe, took about two hours, and had exactly one spot where you needed to hug the rock wall. That is evidently called the Kissing Rock but you'll have to google images of it because I didn't stop to take a photo.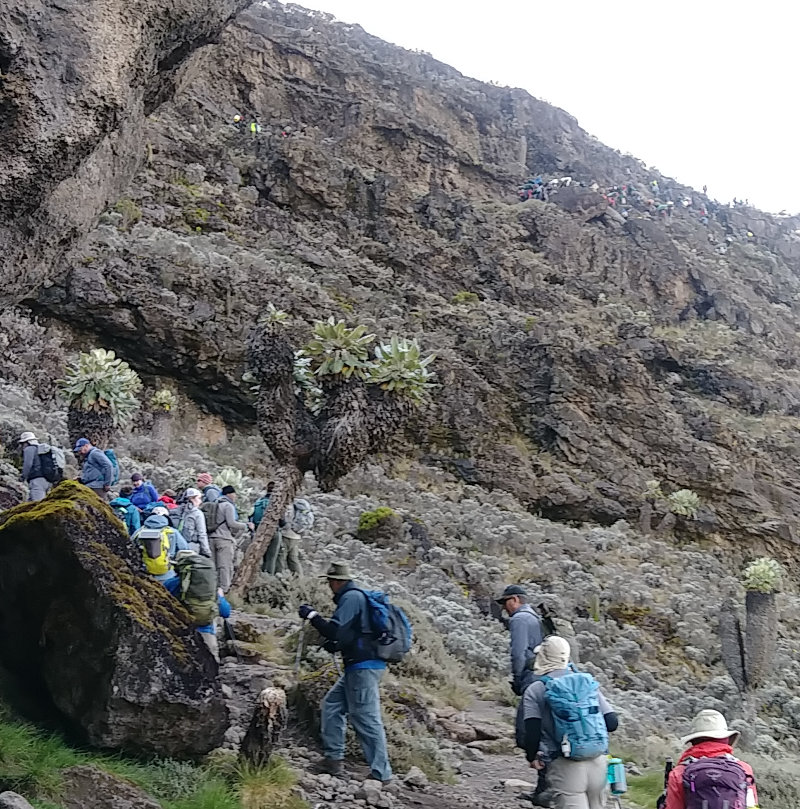 The Baranco Wall was a fun way to start the morning. Right out of camp, we crossed a small stream and then spent the next couple hours climbing up and making way for porters. Since there was not much room, we gave way to porters often and they hopped on up like mountain goats. You can see there are people far up the cliff ahead of us, but the trail is easy to follow.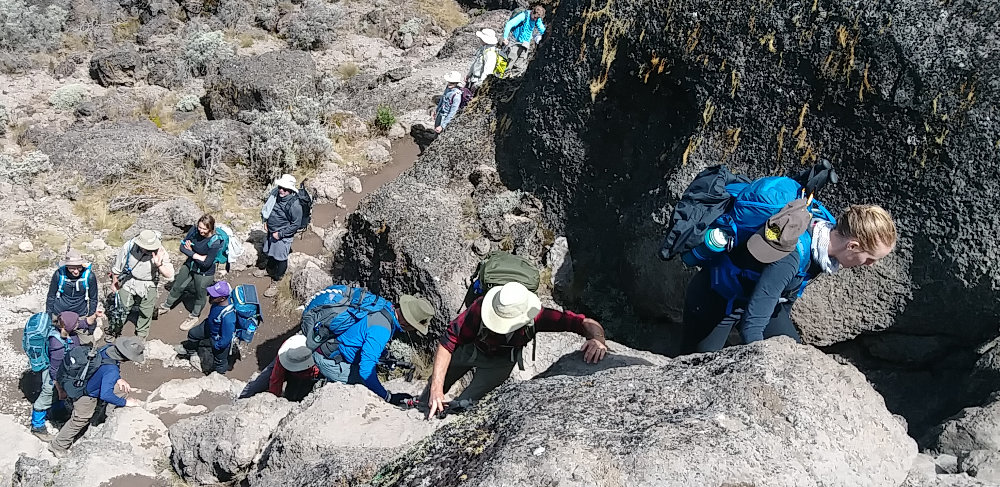 In a few spots, we did need to put away the trekking poles and use hands and feet. It was a nice change, but could be challenging for some. Speaking of trekking poles, they are something to consider. Almost all of us had them, mostly renting from the outfitter rather than transporting across the ocean. But, they were not really needed for the vast majority of the trek. I used mine most days, but only really appreciated them on the summit day and descent. One person in our group just kept them in their pack the entire trip.
At the top of the Baranco Wall, we had a nice rest break on smooth, solid rock with the sun shining brightly. It was a great respite, but our guide didn't let us lounge around for long. We still had a few miles ahead of us and we were getting pretty good at Pole Pole, maybe a bit slower than the guides wanted.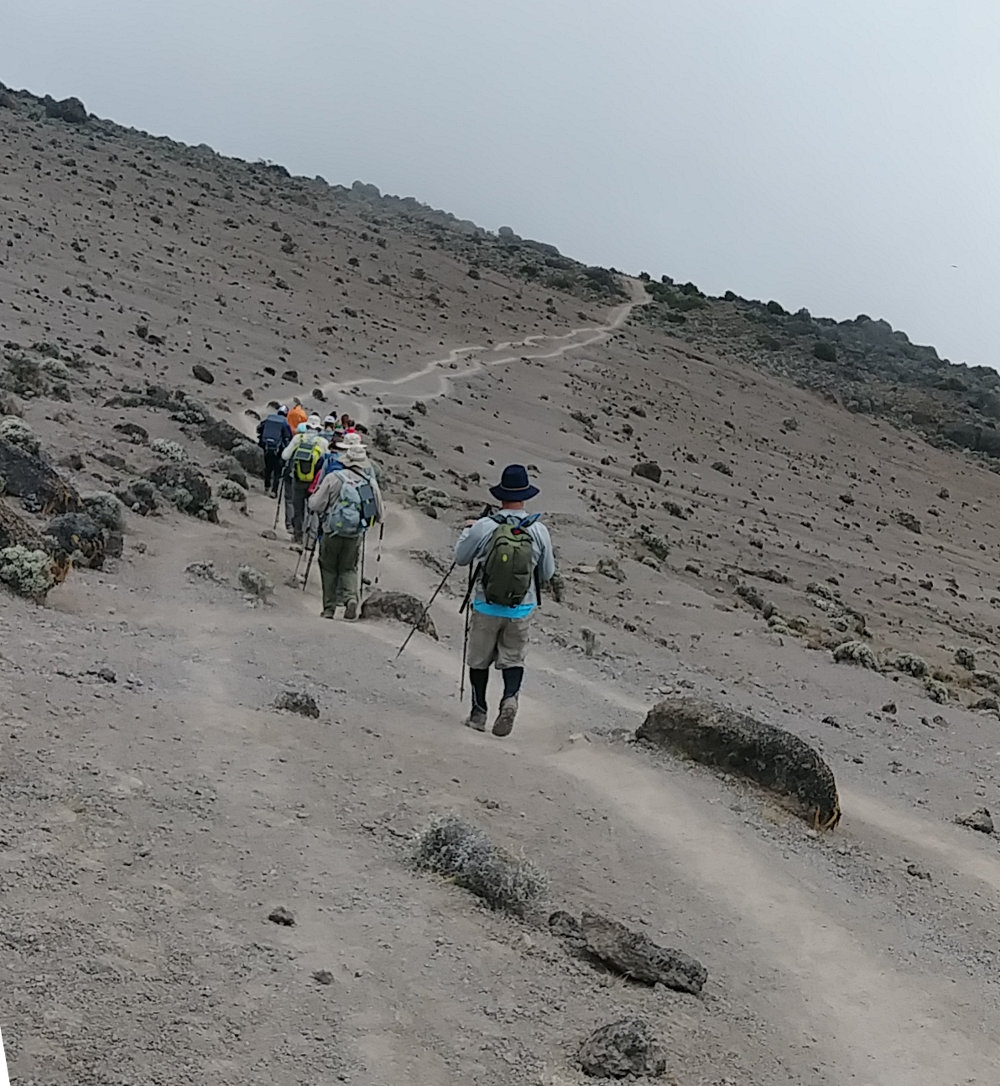 After the wall, we were above almost all vegetation. It was much like a moonscape with dust and rocks all around. The trail was obvious and porters could fly past after being crowded on the narrow wall trail.
Cool weather, skittering clouds, and easy trail made the rest of the day's hike fairly uneventful. The last half mile had us drop steeply into the Karanga Valley and then just as steeply climb up the other side to our campsite at Karanga Camp. The Karanga Valley is a deep ravine that drops hikers a few hundred feet in elevation and provides moisture and protection for more plant life. Senecio trees, mosses, and and brush filled the hillsides for our last bit of 'forest' until after the summit.
Up the valley towards the mountain, I noticed a second trail where porters were busy bringing water from the creek up to the camp - almost a half mile each way. It made me appreciate the water at camp a bit more this night.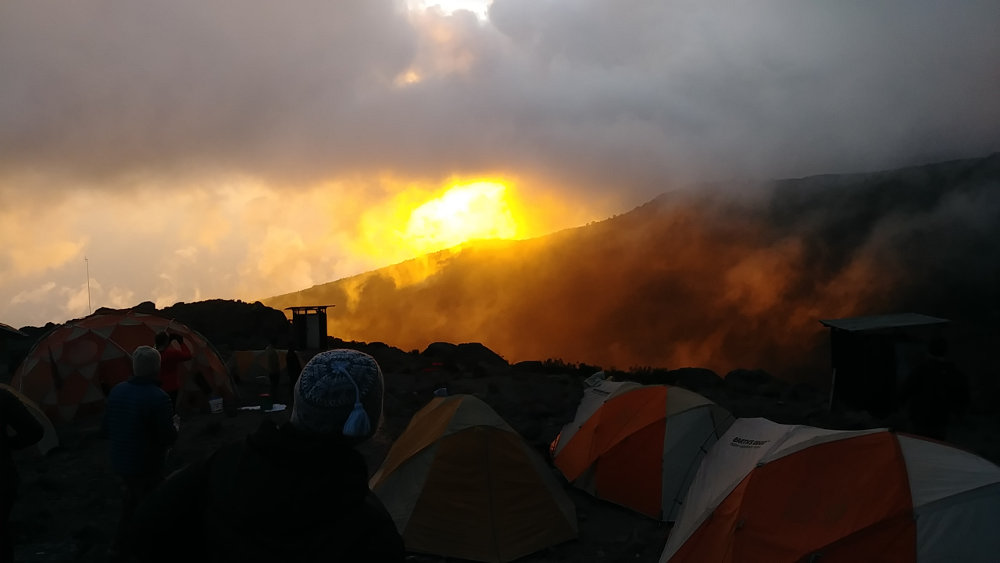 We're still right at the preferred elevation of the clouds. They played tag with us all afternoon and provided for a colorful sunset. They also kept the air moist and chill so warm layers were put on as soon as we stopped hiking for the day to relax in camp. It was a short day of hiking, but the alternative would be to hike all the way to the next camp and then do the summit attempt tonight - some crews had that itinerary but it just sounds like no fun to me.
We hiked from 13,100 feet to 13,100 feet, with a few deep valley and high ridge crossings, over a distance of about 3.5 miles. We have now come from the western slopes all the way around to the east and have just a couple miles to our last camp where we finally start going vertical.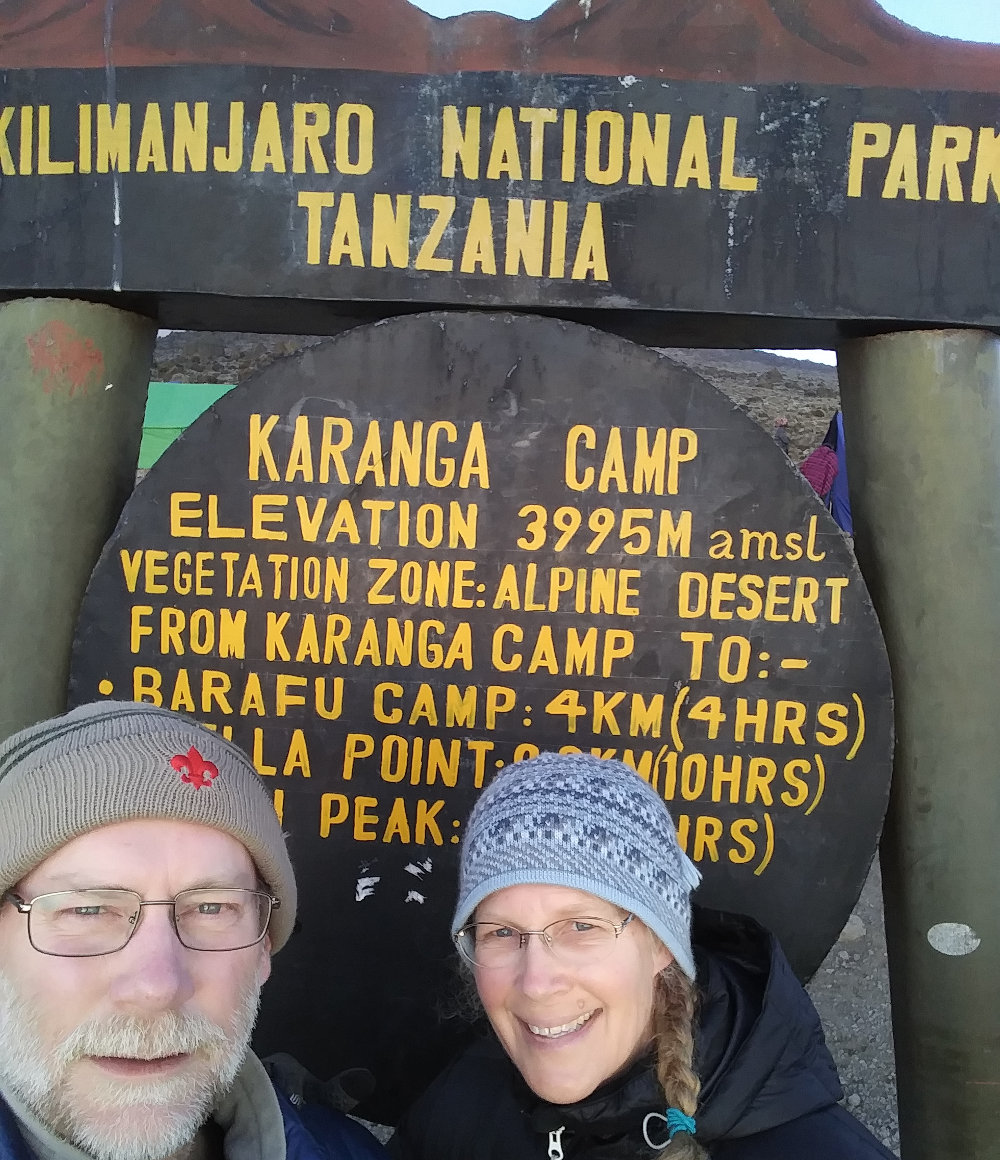 Posted: 8:28 03-02-2019 1471


Find more Hiking Resources at www.HikingDude.com
Follow Me