Day 6: Barafu Camp Post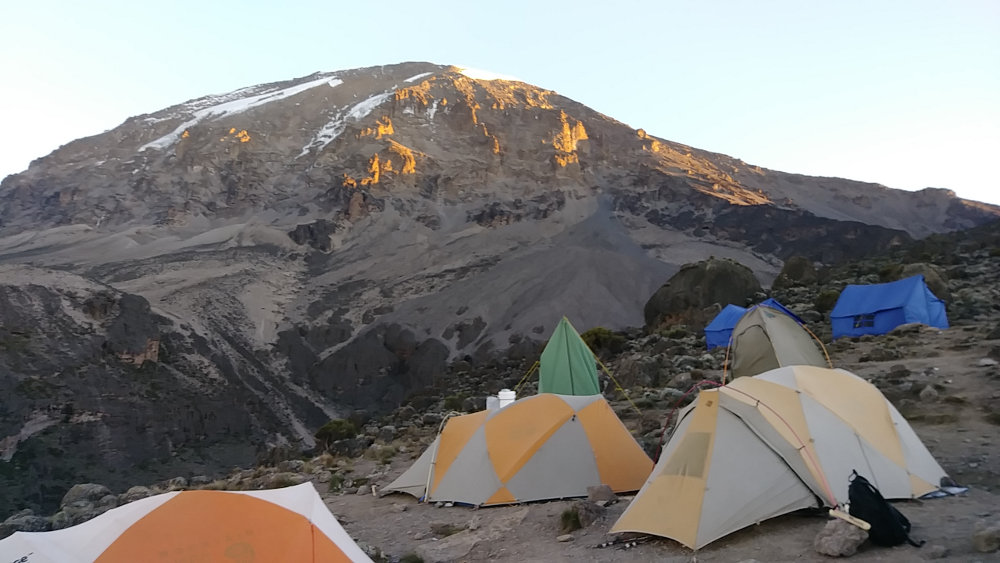 We are SOOOO Close! Looking up at the summit this morning felt like we really should be on our way up today! But, just one more short hike to get in position to push to the summit.
We've now been over 13,000 feet for 2.5 days and I've noticed no altitude issues at all. If I walk a short distance up the hillside at a normal pace, then I get winded, but no headache, sleeplessness, nausea, dizziness, or fatigue. I've checked my heart rate a couple times each day and it's normal. So, the Diamox we are taking is helping and/or we are treating our bodies well by slowly gaining altitude and taking it easy.
As usual, the clouds are all gone this morning and we have another beautiful, blue sky day ahead of us. I'll bet money that the clouds will build by 11am though.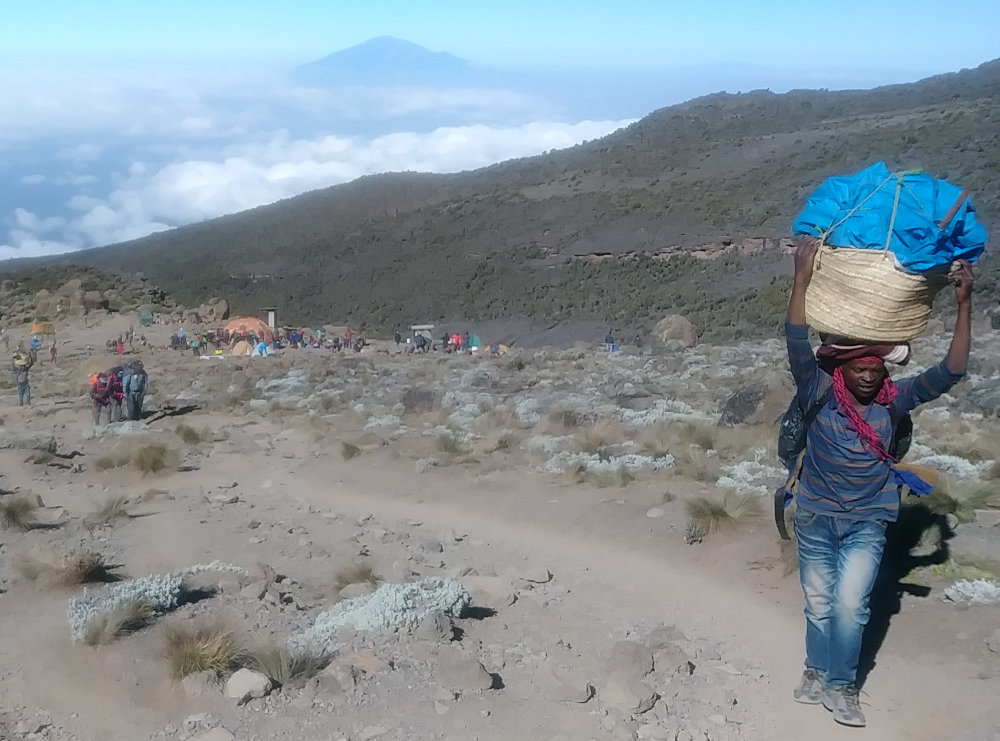 This will be the last day that our porters need to carry gear up the mountain. This young man is leaving Karanga Camp carrying his own 10 pounds of gear, plus 30 pounds of our stuff. The porters do amazing work on Kilimanjaro and watching them is the hardest part of the trek for me. Our outfitter seems to treat all the workers appropriately, holding to the rules in place and not abusing the porters. It's very hard work, but I've heard from many sources that it is the best work available in the region. Some of the key rules are:
Porters get paid at least $8.50/day
Porters carry no more than 15kg of gear plus 5kg of personal gear
Porters get paid, plus tips, immediately at the end of the trek
There is an interesting site at
KiliPorters.org
where you can learn more about porter life on Kili.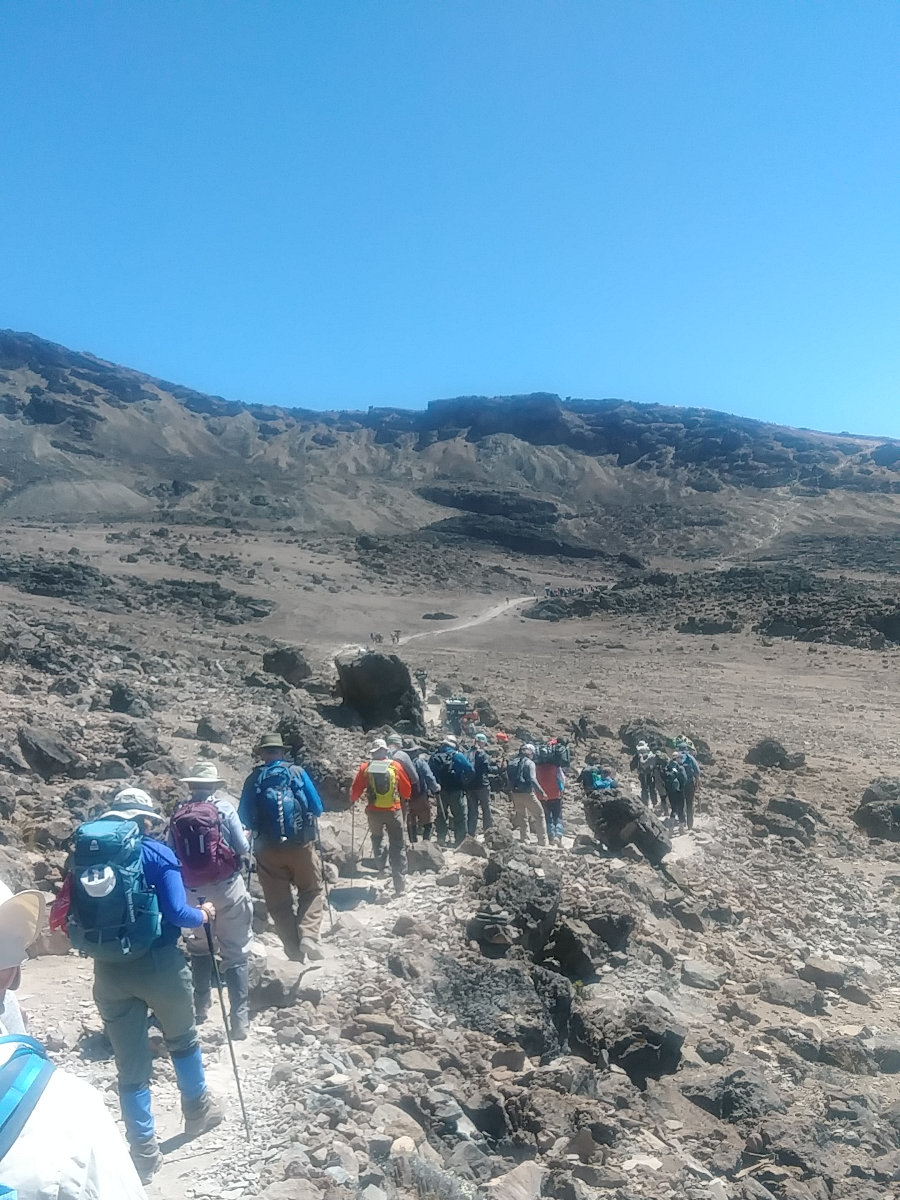 A couple hundred feet up the hillside from Karanga Camp, there was absolutely no vegetation left. From here on, rocks, gravel, sand, and dust are our friends! The sun is bright, the sky clear above us, and the trail a gradual climb along a well-worn path as we gain 2,200 feet - about 1000 feet per mile. This is a fairly steep grade, but we Pole Pole up and up, taking plenty of short rest breaks to enjoy the barren landscape and gaze over the accumulating clouds far below us. As long as they stay down there, we'll be just fine.
We have the mountain peak high above our left and the cloud covered plains far below our right all morning as we kick up dust. This photo shows our long, final ascent to Barafu Camp at 15,300 feet. We'll be camping up on that ridgeline where the trail seems to disappear.
From Karanga Camp to Barafu Camp, we crossed no streams or water source of any kind. That means all the water we use up at 15,300 foot high Barafu Camp, and on our summit hike, is carried all the way from the stream in the Karanga Valley which is about 3 miles and 2,500 feet in elevation away! A 5 gallon bucket of water weighs about 20kg. At this camp, we don't get bowls of hot water for washing - instead, we use a couple of wet wipes on our face and hands. All the water for drinking, cooking, and toilets is carried up.
Trying to make a tiny bit less work for others, I filled all my water bottles at Karanga and carried the water up myself so I would have it ready for the summit attempt in the morning. At least someone else didn't have to carry that small amount so far.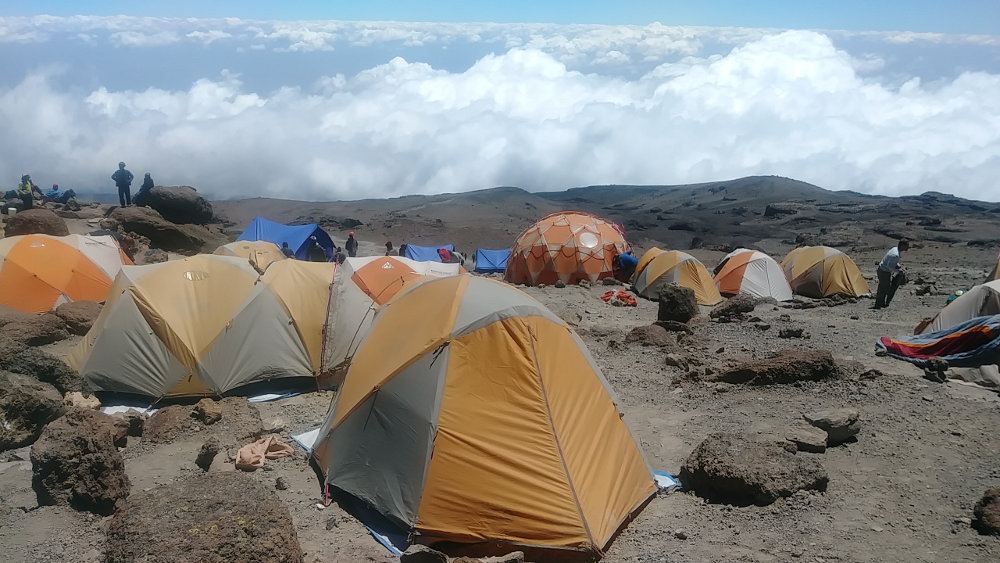 We reached our temporary home very early in the afternoon. The idea is that we'll clean up, eat, and then get what rest we can before we start our climb around 2am. It is pretty impressive how our crew can find flat tent spots on a rocky mountainside for all of us - well, for our tent at least. We've had wonderful spots at every camp. Here, you can see our tents packed between rocks with the cloud cover boiling below us. It's a beautiful, dry, breezy afternoon to rest and wait. Of course, over the other shoulder is the imposing summit silently waiting for our attempt to join the hundreds of thousands of others that have scampered to the top.
We hiked from 13,100ft up to 15,300ft over a distance of about 2.25 miles.
Posted: 12:46 03-03-2019 1472


Find more Hiking Resources at www.HikingDude.com
Follow Me