Day 7: Summit and Descent Post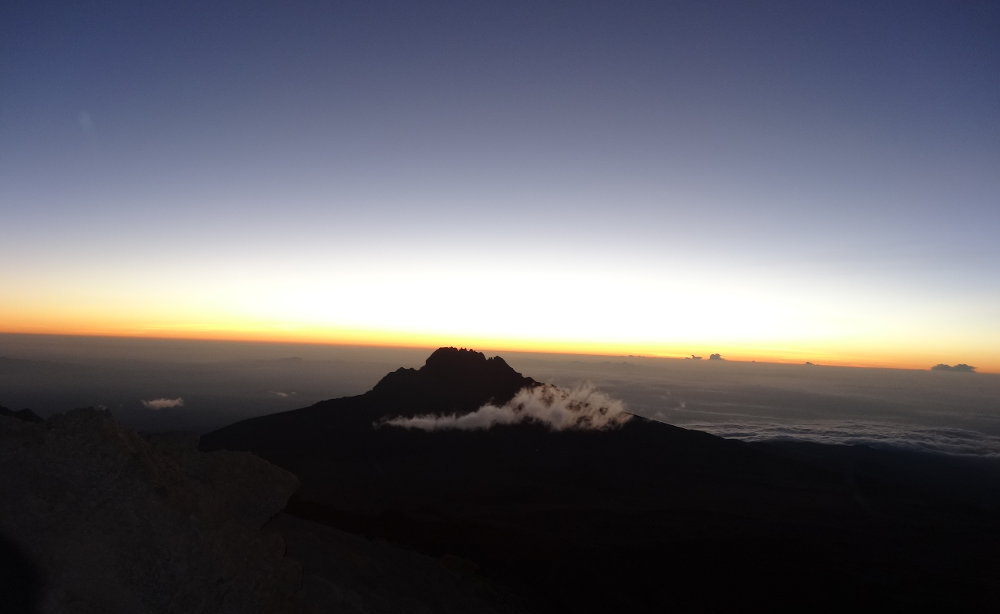 The excitement of 'Summit Day' came early for us. As we rested in the late afternoon at Barafu Camp, our cooks were hard at work. We enjoyed an early dinner in the Thunder Dome dining tent and then had the tough job of resting until our 2am planned departure for the summit.
The breeze that typically died off in the evening every day so far decided to take a different tact this day. As the sun sank lower, the wind picked up. And picked up. And picked up. The stakes holding the vestibule on our tent tore out of the ground, so I got out and piled rocks on them. They tore out again, so I got bigger rocks. Other tents were being buffeted as well. Inside the tent, all was fine and we could tune out the noise and fall asleep.
I'm not sure of the time, but I woke and it was dark night. Our tent was rattling and the vestibule was flapping yet again. I went out to fix it, and heard a commotion above the roar of the wind. Where our dining tent had been, there was just empty dirt. The entire tent had torn loose and blown somewhere out into the wild down the mountain! The kitchen tent was partially flattened and other tents were being rocked around, but held in place. Porters scrambled around to check stakes on some tents and pile more rocks on them. I had taken care of ours, so I headed back to bed.
Around 1am, I woke up and we got ready to go. I put on some layers and went out to see how I felt. I quickly went back in the tent and put on every layer I had - long undershirt, shirt, fleece, down jacket, and rain coat - long underwear, pants, rain pants - mittens, face mask, and stocking hat. I figured we would be doing a lot of standing around on the climb and that wind was doing a good job of pulling heat away. Eight hours after it started up, the windstorm was still building and it was difficult to even hear someone right next to you. Even with all this, the staff had hot drinks for us before we headed up the mountain - amazing!
There's not much to say or show about slowly hiking up a mountain in the dark. For the next 4 hours, we just trudged along following the person ahead of us. The sky was clear so we could see a trail of twinkling lights up the mountain as all the other climbers started earlier than we did. And, the stars were bright above. Eventually, the eastern sky lightened, we turned off our headlamps, and the sun finally rose. That didn't stop the wind, raise the temperature, or make the mountain less steep, but just being able to see around made the climb nicer.
About sunrise, I noticed that the vision in my right eye was blurring. The strong wind was blowing from the north, our right side, and I figured that must be causing problems. Dust and sand were flying and pinging off my face, but I didn't feel any irritation in my eye, just blurred vision. That's a bit scary when you don't know what's causing it. As it turns out, at least 7 people in our group experienced the same blurred vision - only in their right eye. A little research later indicated that blurred vision at high altitudes is a thing, somewhat common (After we descended later in the day, the vision problems went away).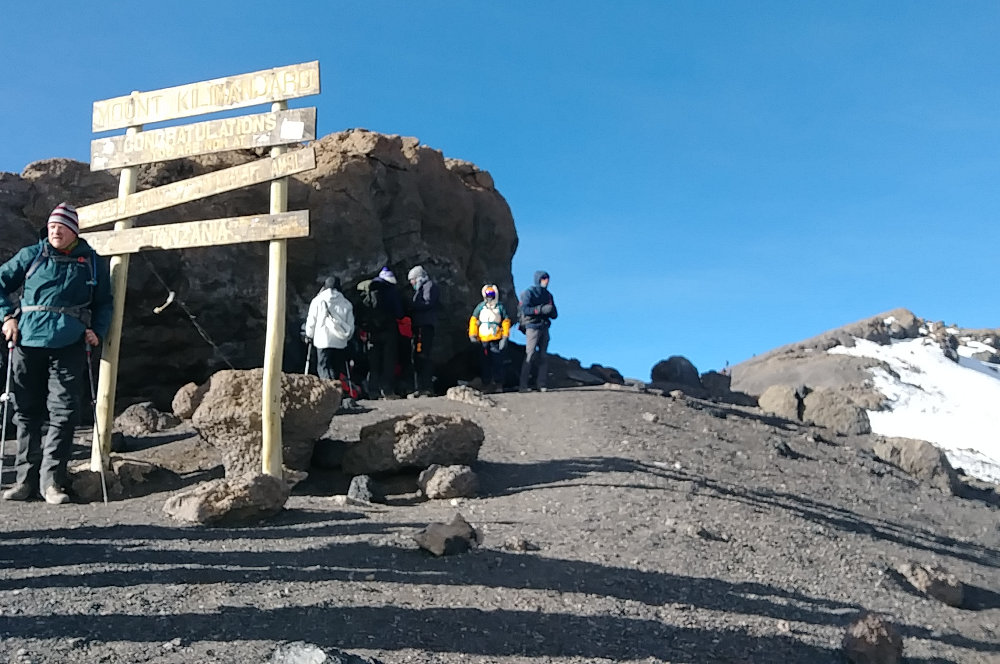 The vision excitement was the only big deal I had happen on the climb. It was just a steady walk all the way up with little talking, a few short breaks, and plenty of dust. The temperature didn't seem all that cold, but it was enough to have frost on my faceshield, and ice slush in my water bottles. Quite a few people had their camelback hoses freeze up. Some people ran out of water (I shared mine).
Once it got light enough to see, I did notice there were some climbers coming down already - much too early to have made it to the summit. They were just 1s and 2s, and escorted by guides. I counted 11 separate groups, but I expect there were more I missed. They may have turned back due to the wind, exhaustion, or altitude illness, but they did not make the summit. None of them were from our group.
Around 8am, we finally finished the steep part of the climb and arrived at Stella Point. This is on the mountain rim, but not the absolute highest point. By this time, our large group had split into a few smaller groups going different speeds. We were in the first group and just kept on hiking after a short stop at the sign. The weather was pretty much the same except that clouds were now skittering across the landscape, hiding most of the summit view.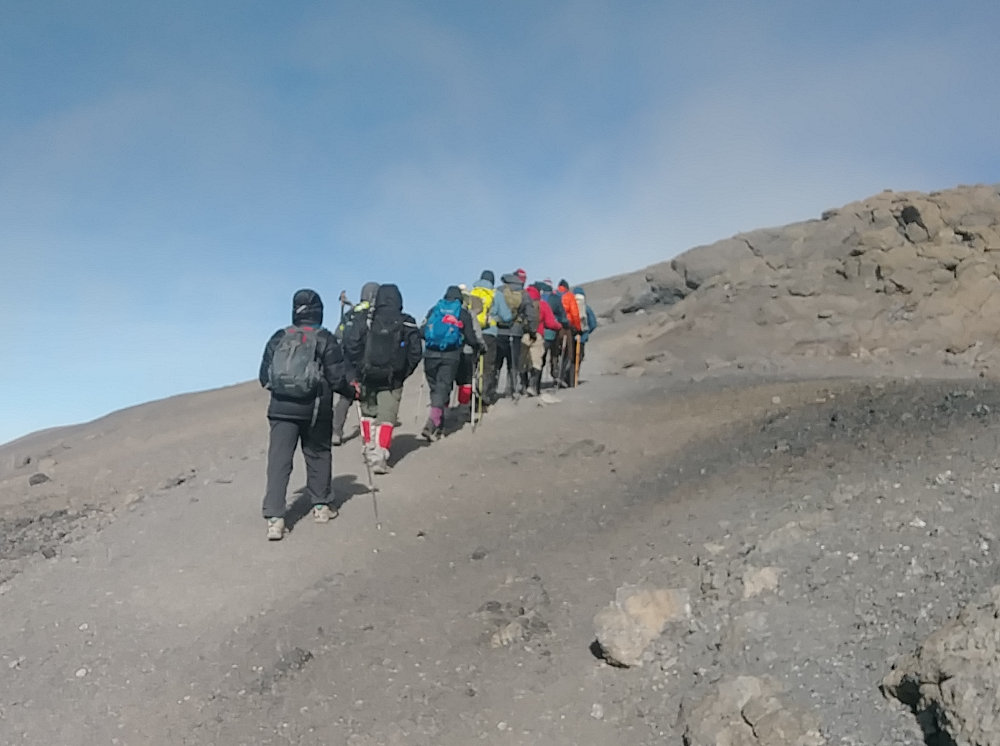 From here, the trail across the relatively flat mountain rim was soft and comfortable. The air was cold and thin, but everything was going just fine. Another 40 minutes or so of very easy hiking and we arrived at Uhuru Peak, the official summit. We made it! The clouds soared past, sometimes blanketing us in a whiteout and sometimes evaporating to show off the summit views.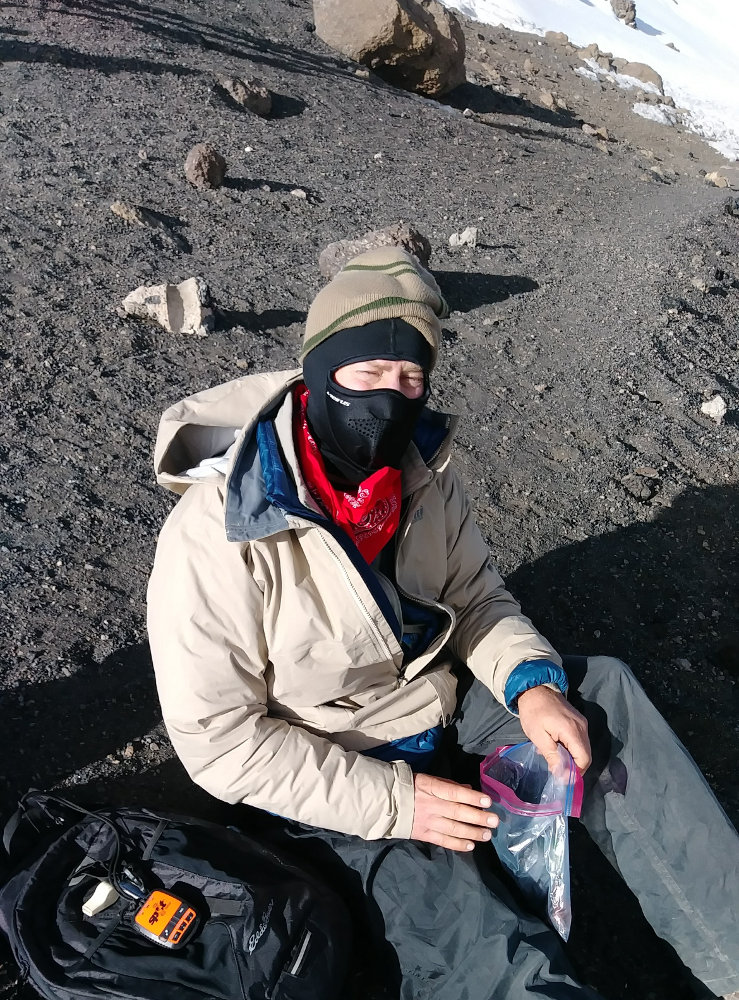 Here's me taking a snack break at the top just to show what I wore. The faceshield really worked great, warming the air a bit before breathing it in. I was never cold, nor sweating. By unzipping all the layers, I stayed just right the entire hike. The raincoat was a great windbreak and the down jacket insulated well. I carried my Spot Tracker on my day pack.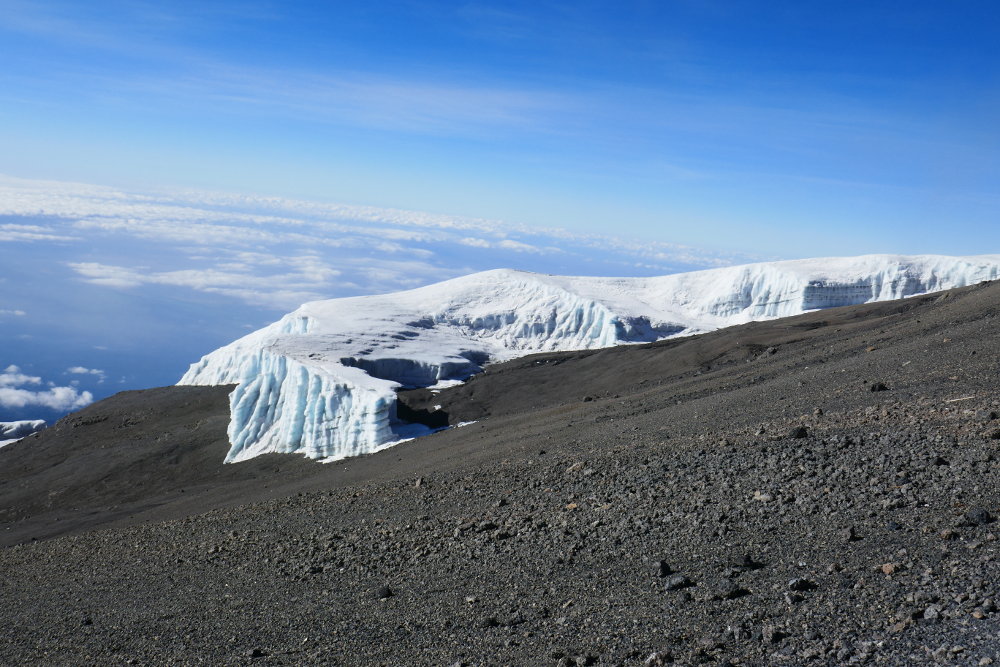 The Kilimanjaro glaciers are one of those brilliant natural wonders that are disappearing. Some say they will be gone in a few years, others say a few decades. There is only 18% of the ice that was there 100 years ago, so book your trip soon if you want to see them!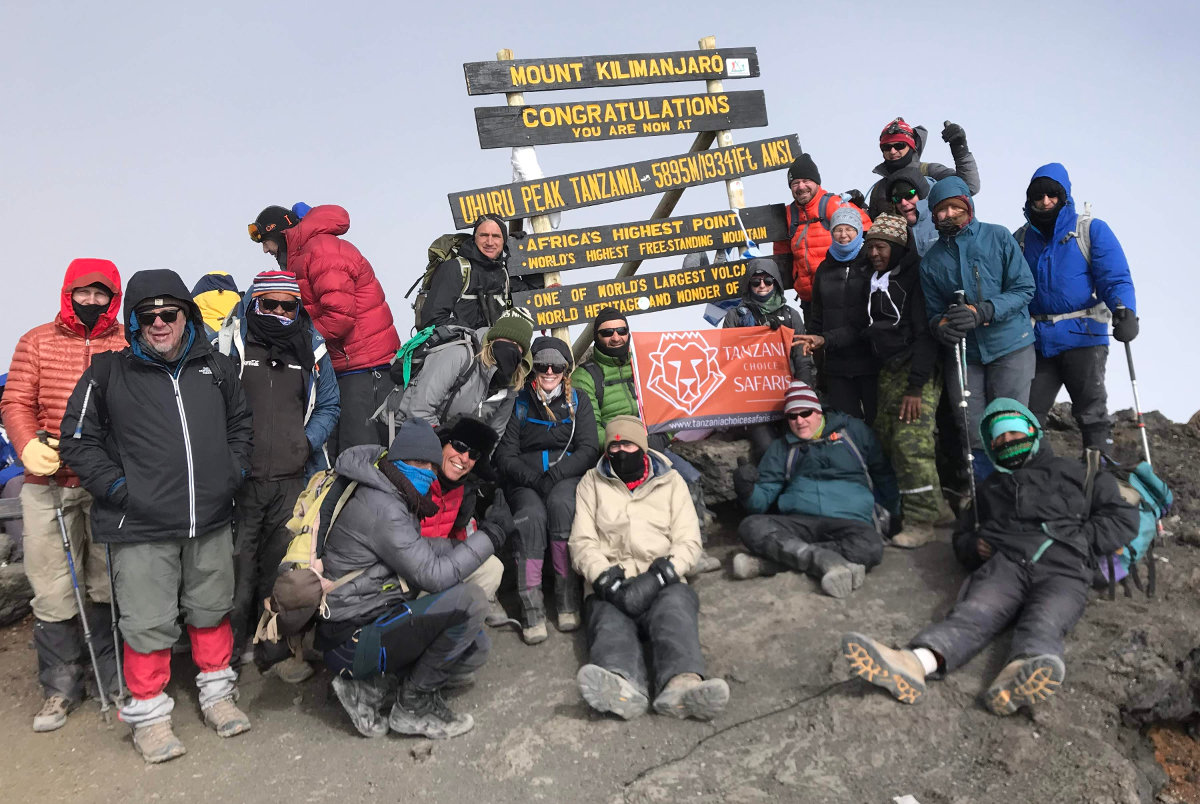 The majority of our group (16 I think) were at the sign at the same time. Another 5 were climbing slower and we were told to head down before they made it up. One person stopped at Stella Point. So, our entire group of 22 made it to the top of the mountain. I believe that is mostly because we took a long, slow route up the hill with a great support team that made sure we were doing well the entire trek.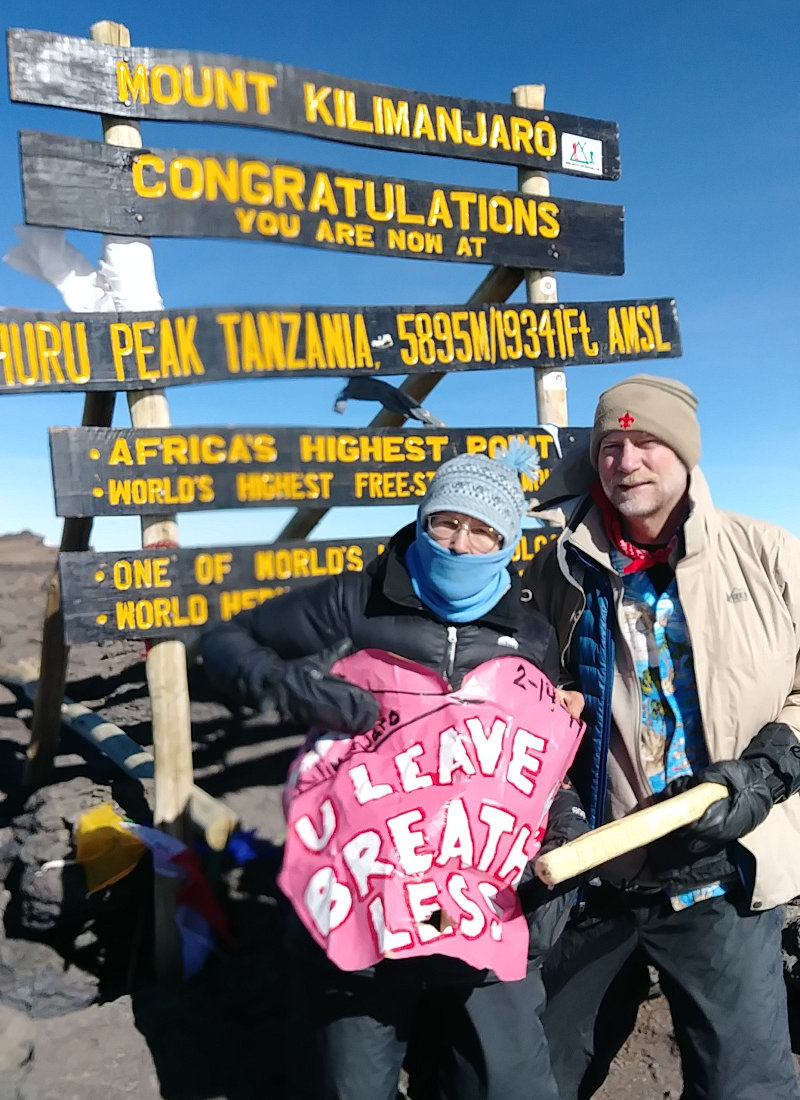 We summited on Valentine's Day, so my wife had a surprise card along that said 'You Leave Me Breathless'. The wind was STILL blowing so hard, it was a challenge to show it off.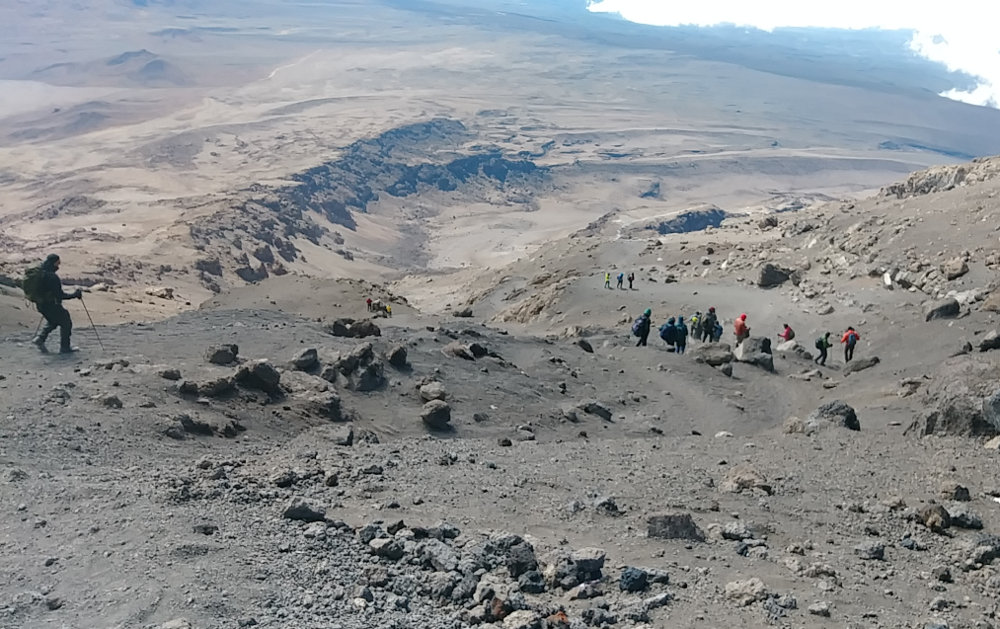 After only a very short time at the summit, we had to head back down. This was my one disappointment looking back on the trip - I would have liked to enjoy the summit longer.
The descent had caused me the most worry when planning for this hike. I was concerned how my knees would do pounding down a steep hillside for 6 or 7 miles. As it turned out, the soft scree and sand acted like a cushion for each step and my legs did just fine. It was a relatively fast hike down since gravity was helping so much and the trail was fine. We reached our camp at about noon, but could only stop for a short rest and to pack up our gear. This was because camp was moving down the mountain to make room here for the next wave of climbers coming up.
While we were gone for the past 10 hours, the wind had been blowing dust everywhere and there was a layer over everything inside our tent - because the vestibule had come loose yet again. Being the worst of our problems, that was really nothing. We packed up, gathered about 10 or 12 of us, and headed down, down, down being led by George our guide to Millennium Camp at 12,500 feet. It was an uneventful hike, but I really enjoyed dropping through all the environments as we got lower. Grasses, then bushes and brush, small trees, and finally forest covered the land as the elevation dropped.
Hopefully, this video will give you an idea of what the wind was like on the mountain. This is not our camp - it is one a bit higher up that we walked past on our way down. We found out later that some groups that were to summit the day after us had to abort their attempt because their tents and equipment got destroyed by the wind.
We hiked from 15,300ft up to 19,341ft and down to 12,500ft over a distance of about 9.25 miles.
Posted: 13:10 03-04-2019 1473


Find more Hiking Resources at www.HikingDude.com
Follow Me