Kilimanjaro Epilogue Post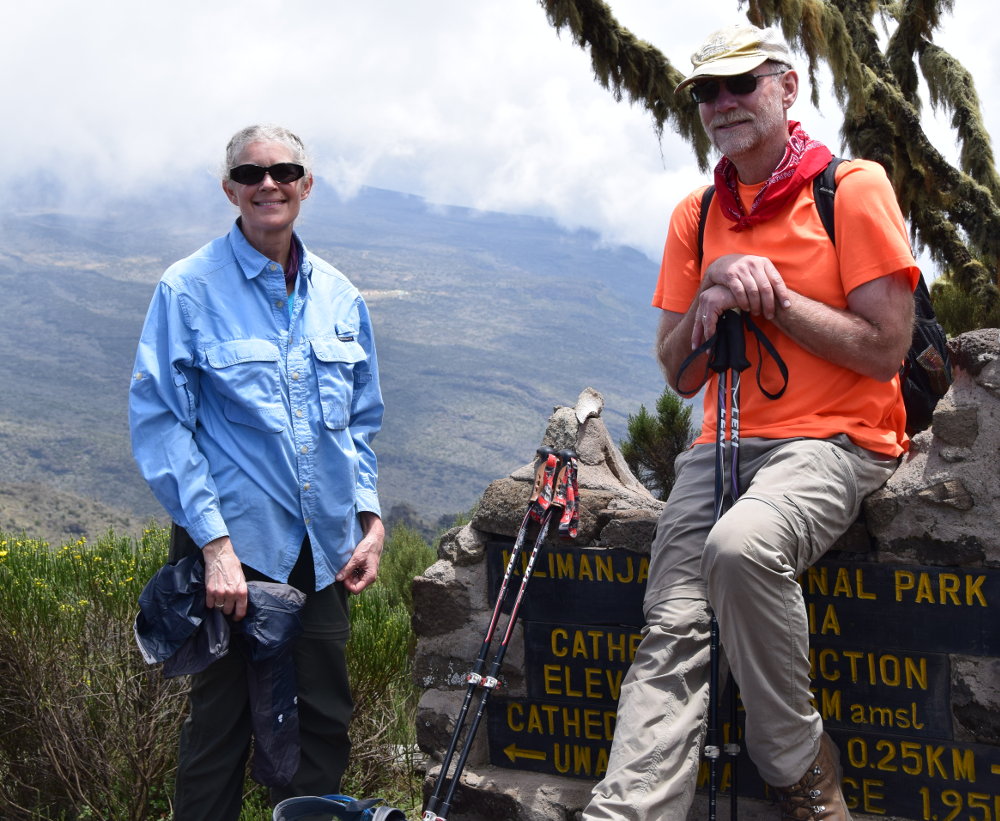 Now that our Kilimanjaro Trek is finished, I have some thoughts, suggestions, advice, or tips that might help someone else when planning to climb the mountain.
Things We Did Right
Practice Hikes - we hiked 5 to 7 miles nearly every morning, in the cold snow and ice, for about two months before our trek. We hiked up the steepest hill in our area a few times each week for the month before our trek. I think the hills were the most valuable exercise!
Clothing - we packed just enough for length of time and potential temperatures. We used pretty much all our clothes, but didn't fear the summit night hike.
Daily Hydration - I made a point to drink a lot of water in camp each morning, and then some during the hiking. I drank very little in the evening so I didn't have to go during the night very often.
The arid, dusty, and windy air on the mountain sucks quite a bit of moisture out of you, even with no sweating and mild exertion.
Visit with Others - my wife and I made efforts to hike in different spots in our group so we could chat with different people. It kept the hikes fresh by learning a bit about 20 other people.
Don't Worry - Americans tend to worry a lot about everything. Every evening, our lead guide gave us a brief idea of what the next day would bring, and then opened it up for questions. Our group tended to ask about everything from weather to trail conditions to food; sometimes things that either had obvious answers or no answers or didn't really matter. We had everything we needed in our day packs, so I just waited to see what each day brought.
Things We Did Wrong
Didn't take enough pictures. Never enough pictures. A better camera would be nice, too, but they're such a burden to carry.
Should have put more effort into learning some Swahili before the trek. Being ignorant and unable to communicate feels terrible.
Should have spent more time on the summit. I'll never be there again and another 15 minutes would have made a more lasting impression.
Other Things
The Food - I've put a bunch of pics of our food below. It was hot, healthy, tasty, and plentiful! We ate a lot and I was never hungry, but I still lost a few pounds. There was a plethora of fruits and vegetables, with meat and starch every day. No freeze-dried backpacking food, either - all very fresh and just wonderful.
Medicines - We got an armful of shots before the trek - hepatitis, flu, and tetanus; plus pills for typhoid. On the trek, we took altitude pills, and malaria pills after summitting to prepare for our lower elevation safari adventures. Just in case, we had ultra-strength and regular strength diarrhea pills, acetaminophen, and ibuprofen - I didn't use any of them. I did take a daily multivitamin each day.
Physical Concerns - The trek went great with no leg pains or injuries. I, along with 6 others, had blurry eye problems on the summit day, but it went away. Breathing in dust every day made for a some dirty nostrils, and the dry air gave me a nosebleed once.
Human Waste - In all my research and reading, the problem of human waste and toilets on Kili came up over and over. I was expecting to tip toe around poop piles all the way up the mountain. What we encountered was much different. Oh, there were human waste problems along the trail, with toilet paper flowers dotting the landscape, but it was much less than I imagined.
Every camp had outhouses with no seats - our group called them Squatty Potties. Some were in better shape than others, but they all smelled pretty bad inside. Our large group paid extra to have 3 portable toilets lugged along with the rest of our camp gear so we could sit in clean, private comfort.
These toilets were wonderful but did make more work for some porters. All our waste 'flushed' into a small holding tank which a porter would disengage, slosh around, and carry to a permanent squatty potty to dump, bring it back, and set up.
In a small effort to be less of a burden, I used the squatty potties to pee always, and used our toilets only when necessary. I'm used to squatting in the woods on my long hikes, anyway.
Trash - A bigger, and more easily solved, problem was trash along the trail. I'll never understand how a person can carry a 4 ounce candy bar for miles but can't keep carrying the .2 ounce wrapper after eating the bar. With our lethargic pace, I had plenty of time to pick up bits and build a collection in a pack pocket. At each camp, I dumped the trash in a common bag outside the Thunder Dome. It's an easy way to help a little.
Finally, here are a few miscellaneous suggestions to consider that might make your trek more enjoyable:
Wake before the sun at least a couple times to see the amazing stars and watch the day unfold.
Take something special for your summit photo. I took an Ultimate Disc to play catch with, but the intense wind ruined that idea. Instead, I had a stick that I had spent the week whittling in our camps (pic below).
When hiking, put room between you and the person ahead of you if you aren't conversing, so you aren't walking nose to butt. It lets you look around more, and feel free to stop to gaze and take pictures.
Talk to your guides, cooks, and porters to learn about their lives, hopes, and dreams. Some of our guides were studying computers, engineering, and medicine - their guiding income was helping to pay for that.
Learn Swahili words, and practice them. Jambo, Pole Pole, Wazungu, ... there are some fun sounding words.
If you're going to use gaiters, get some Dirty Girl gaiters instead of knee-high snow gaiters - they are very light and keep the debris out of your shoes.
Bring a cribbage board, or at least cards, for afternoon entertainment.
Take photos of any glaciers you see since they'll not be there much longer.
Lots of hours of hiking means lots of opportunity for jokes, riddles, and stories. Having a couple ready each day might make the hike more interesting for others in your group. I told this one and at least got a courtesy chuckle.
When you start planning your trip to Kilimanjaro or Tanzania, contact Tanzania Choice Safaris and see what they offer. They did a super job for our large group.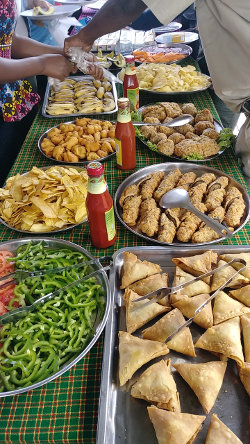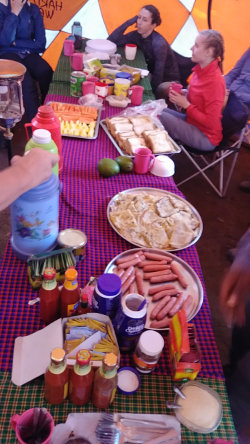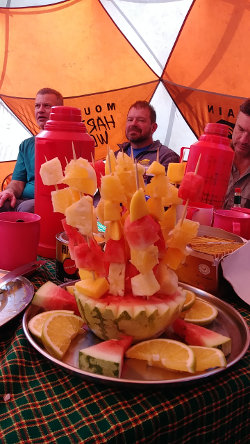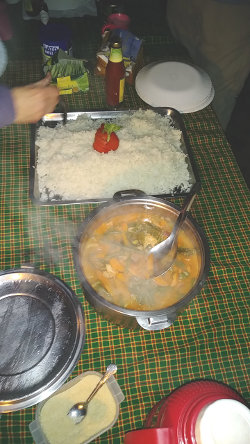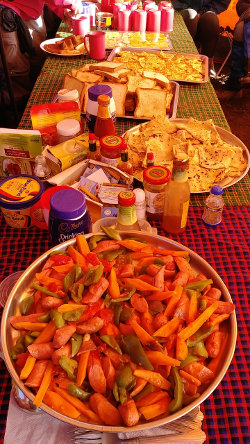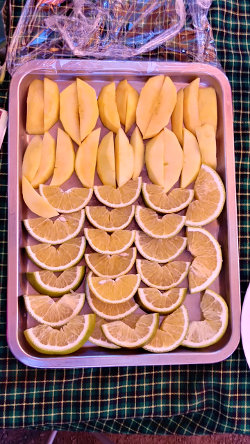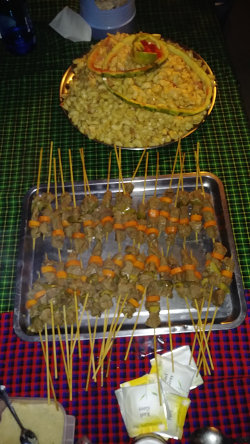 Posted: 14:34 03-06-2019 1475
---
All Comments:
Mar 07, 2019 - Doug Johnson
Just letting you know I enjoyed reliving my own hike of Kilimanjaro in 2010. You did a bit different Lemosho route and I was in a much smaller group, but most things resonated. Glad you made it and I hope you keep blogging your adventures. Doug
---
Mar 07, 2019 - Hiking Dude
@Doug - Thanks. Small adventures coming up this summer, but still looking for the next 'big one'.
---
Mar 22, 2019 - Gary Hammer
I enjoyed reading your blog, Paul. It was a definite reminder of my Kili Trek in 2013. You gave good advice!
---
---
Ask a Question
---


Find more Hiking Resources at www.HikingDude.com
Follow Me