Energy Balls Trail Snack Post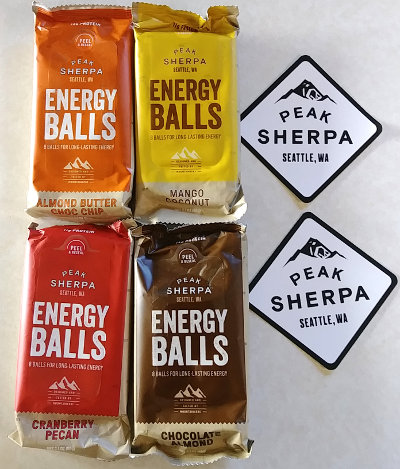 Looking for some organic, high calorie, tasty trail snacks? I have something for you to check out!
Energy Balls are bite size trail snacks packaged in resealable bags. They aren't your typical granola bar, or power bar, or whatever bar. They contain a nice mix of protein, fats, and carbs with some electrolytes thrown in. These are great for keeping a little energy in the tank throughout the day!
Specs
: There are four flavors - Chocolate Almond, Almond Butter Chocolate Chip, Mango Coconut, and Cranberry Pecan. Each package contains 8 balls with about 260 calories total, and weighing 60 grams. The main ingredients are brown rice syrup, tapioca syrup, egg whites, and tsampa (Tsampa is a barley flour). The package is resealable. Costs about $3.
Review
Peak Sherpa
sent me a sample pack of their four flavors to try out. I took them out on my morning hikes this past week, walking 26 miles over 3 days. I woke up, drank some water, and then took water and Energy Balls with me on my hike. I wanted to see how well the snacks would keep me going.
All four flavors tasted pretty darn good, but the Chocolate Almond seems a bit bland and just chocolatey. My favorite is the Mango Coconut because of taste and texture. The fruit and coconut tastes combined well with the almond butter base. Running a close second is Cranberry Pecan which had a maple taste to me even though there's no maple in it - I guess the pecans caused that. Anyway, the snacks tasted very good.
Having individual bite-sized balls makes it easy to just take a piece or share with a friend. A single bar with stamped creases might take up a bit less space and still be easy to divide.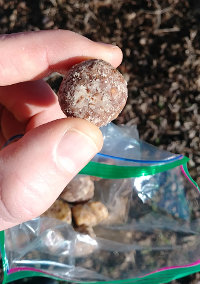 The packaging is fine, but the resealable feature just means a bit more plastic is used to make it more convenient. After my first day of hiking, I just dumped all the Energy Balls into a resealable zip-loc bag to reduce weight and stop the crinkly package noise, and still have the snacks sealed. Over three days, the balls didn't glump together and it was fun reaching in without looking to get a random flavor.
I ate a 35 calorie ball followed by a drink of water about every mile or so the first day. This was about 1/4 of the calories I was expending to hike, but it kept something in my stomach. I didn't feel any hunger for the 2.5 hours I hiked 10 miles.
On the next two days, I just popped a snack whenever I wanted. I wound up eating fewer but still didn't have any hunger.
Value
:
On a pure calorie per dollar basis, at $3 for 260 calories, they are over $1.00/100cal (peanut butter is about $.08/100cal). But, at 120cal/ounce, they are pretty good for energy versus weight. The mix of nutrients makes them a great supplemental snack to add variety on a multi-day trek.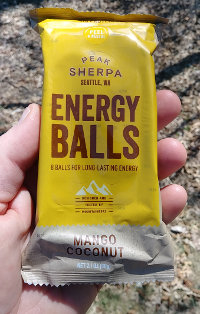 Wrap-Up
:
I can recommend Peak Sherpa Energy Balls as a supplemental hiking snack, providing great taste and energy to keep you strong while hiking. They give you small boosts throughout the day to keep your motor powered and your body moving down the trail.
By integrating more protein and less sugar, using organic ingredients, and mixing interesting tastes, Peak Sherpa has created a very good trail snack. Besides that,
Peak Sherpa
donates 2% of their annual revenue to nonprofits like The Juniper Fund and The American Himalayan Foundation.
Hike On
Posted: 15:44 04-29-2019 1476


Find more Hiking Resources at www.HikingDude.com
Follow Me