Border Route Trail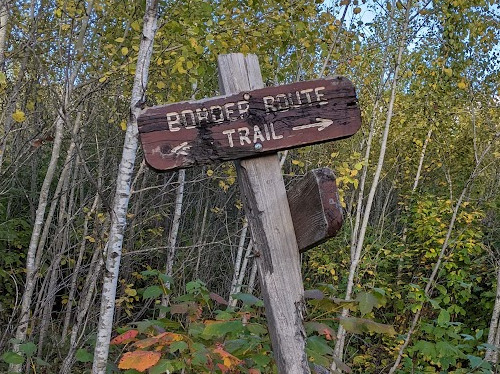 Border Route Trail 2022 Hike
To round out this year's hikes, we
finally
got to complete the Border Route Trail, plus an extra 50+ miles on the Superior Hiking Trail to fill our 10 days in September. Earlier this summer, we enjoyed hiking the
West Coast Trail
and I spent a week backpacking in the Wyoming mountains, so wrapping up with a local Minnesota trek was nice.
We hiked from the West terminus of the BRT by Magnetic Rock on the Gunflint Trail road, east to the East terminus at Otter Lake road, and then followed the Superior Hiking Trail southwest to Grand Marais, MN. This took us 10 days from September 21 to 30, 2022.
Journal
Map
Gear
Food
Expenses
Stats
My Gear
My pack came in a bit heavy on this trek. I carried 10 days of food which was the biggest culprit, making it weigh a bit over
30 pounds
. No new gear for this hike which kept the costs down some.
Item
Oz
$$
Notes
G4 backpack
16
$0
made myself from pattern.
On my 3rd one now, green rather than this grey color.
Sleeping
shelter
30
$0
Bear Paw Wilderness Designs La Garita shelter with 2-person bug net includes stakes. Still doing great, but the zipper is getting fussy.
sleeping quilt
30
$0
My wife used this thick quilt and I carried my green one that is half as thick.
blue CCF pad
10
$0
cheap, indestructible, and comfortable enough.
Cooking
Snow Peak
1.1
$0
Just boiling water
fuel
14
$11
2 MSR 100g cannisters
cook kit
11
$0
Snow Peak, pot w/lid, windscreen, and 2 lighters.
food cozy
.8
insulates food package while the hot water is heating it up. Cheap, saves fuel and works super.
food
11.5 lbs.
$0
10 days of food, most I've ever carried.
Water
water filter
8
$0
Sawyer Squeeze filter that I've been using since 2012, plus a 2nd new one to compare.
water bottles
1.2
$0
two .6L throw-out bottles - cheap, easy, light.
water
20
water is plentiful most of the time, 2.2lb/L
Clothes
baseball hat
3.5
$1
with home-made sun cape to protect ears and neck.
wicking t-shirt
11.2
$0
light, synthetic, bright orange for grouse hunting season.
long sleeve nylon shirt
12
$0
for sun protection.
BSA zip-off pants
17.2
light and sturdy
Darntough socks
2.9
Second pair - they replace them when they wear out!
underwear
3
2 pr.
shoes
26
$20
Ozark Trail shoes from Walmart
bandanna
2.0
$1
2 of them, too many uses to list here.
down jacket
16
$70
REI sale, evening warmth and sleeping.
Electronics
cellphone
6.3
Pixel 5 in shock case. This is my watch, alarm, phone, camera, navigation.
tracker
4.2
pings to satellite with my location.
headlamp
.5
$0
Awesome photon light. One set of batteries lasts about 10 days.
Hiiker App
0.0
$0
These electronic maps are great tools and they weigh nothing.
Other
trek poles
14
$0
Still using Walmart pair that refuse to die
rain poncho
3.4
$4
cheap disposable to cover me and pack from rain - taking 2.
rain skirt
2.0
$1
Just a garbage bag cut open and cinched around waist.
map
2
$10
Border Route Trail maps
food bag
8.8
$0
Ursack Major XL
1st aid kit
3
basic personal items - bandaids, pain relief, tape, liquid skin, CPR mask, gauze pads, allergy meds, ...
compass
1.1
knife
1.1
tiny, single blade.
toothbrush
1.3
includes paste
ear plugs
0
I'm taking a bunch, just in case.
toilet kit
2.8
TP, Purell
misc.
12
2 garbage bags, whistle, clippers, thermometer, and other small items
duct tape
1.5
Duct tape has many uses, but I'm taking bright orange for high visibility.
stickers
3
As usual, taking some Hiking Dude stickers to hand out to folks I meet.
Total
~33 lbs - total weight
My Food
Making our own meals from freeze-dried and dehydrated ingredients from
Mother Earth Products
continues to work just great. The little vacuum sealer and special reusable bags are doing well.
We just boil about 3 cups of water, pour it into bags, set them in insulated cozies, and wait. Very easy, tasty, and fast.
Mother Earth Products was the best place I could find for ingredients, especially
Textured Vegetable Protein
since they had a wide selection of flavors. I was impressed with their products, prices, and service so I joined their affiliate program. If you use my
hike99
code, you can save 10% ordering from them.
Breakfast: 1 protein bar - 300 calories
Lunch: 1 Austin cracker pack - 200 calories
Snacks: Trail mix, Sour Patch Kids, peanut butter & honey on tortillas, sausage and crackers - 400-500 calories
Dinner: freeze-dried meal - about 700 calories
Drink: just water
Daily vitamin
We hiked an average of 12 miles per day, so we were definitely at a calorie deficit. But, we both know that we eat little for the first couple days and that held true this trip. We started with about 23 pounds of food between the two of us and came off trail with about 3 pounds left.
My Expenses
All are in US dollars for two of us:
travel to trailhead and back - $270 - $70 drive to Grand Marais and back, $200 1 night lodging and shuttle to trailhead
gear - $0 - nothing new for this trip
permits - $38 - overnight hiking fee for Boundary Waters
food - $250 - $130 trail food, plus $50 Grand Marais lunch, and $70 Duluth dinner
lodging - $300 Duluth hotel (ouch!)
Total - $858 (for 2 people)
---
Border Route Trail Statistics
Location
Northeast border of Minnesota with Ontario, Canada
Distance
65 miles, most say it seems longer.
Total Elevation
The total cumulative elevation climbed is estimated to be about 7,500 feet.
Terminus
West: Magnetic Rock on Gunflint Trail road
East: Otter Lake road
Highest Point
around 2050 feet, somewhere between Clearwater Lake and Watap Lake
Lowest Point
about 1350 feet at the east terminus.
Map
Interactive NCT Map
Terrain
Both the west and east ends of the trail, which are outside the wilderness boundaries, benefit from motorized maintenance and are typically more clear than the center wilderness 30+ miles.
The land here is a sawtooth grid of stacked hills beside lakes with the south hillsides grdaually rising to steep northern cliffs. The trail follows the land with many ups and downs through a day of hiking, but none of them over a couple hundred feet high. There are plenty of fairly flat sections of trail between the ups and downs.
There are a few wooden bridges over the larger water crossings. Most of these are in good shape, but each winter can cause damage. There are no constructed trail structures such as ladders, steps, or boardwalks.
There will be some boggy areas of trail and hikers should expect beaver activity to flood parts of the trail each year.
Since this trail gets very little traffic, the tread still allows plants to grow and engroaching brush, grass, and ferns are found throughout the trail.
There is very little in the way of navigation aids, such as cairns, blazes, and signage, especially in the wilderness area. Sometimes a tiny bit of blue plastic ribbon hanging on a twig or in the path is all the reassurance a hiker will have that this is the trail.
Most of the forest is thick enough that getting off trail is difficult, but when the trail spills out onto an open bedrock area, it can be challenging to determine where the trail leads.
History
The wilderness area was set aside in 1926 and became a federally recognized wilderness area in 1964. The Minnesota Rovers outdoor club created the Border Route Trail in conjunction with the MN DNR and USFS. It is the first MN wilderness hiking trail made and maintained by a volunteer group. The Border Route Trail Association has been around since 2004 to promote the trail and host maintenance crews.
Access to the BWCAW is by permit year-round to limit the impact of visitors. Permits are purchased online at recreation.gov and the entry points are #81 (west), #82 (center) and #83 (east).
Challenges
Springtime means lingering snow and potential for extremely muddy trail conditions. During summer months, insects, humidity, and rain storms are the most concerning. September and October are prime time to explore the north woods with cooler temperature, fewer visitors, no insects or humidity, and changing tree colors.
Navigating is the chief challenge for the Border Route Trail. Hikers used to following blazes on trees such as are found on the Appalachian Trail will need to hone their skills on the BRT. A free navigation phone app supported with paper map and compass will be used often.
Wildlife interactions are always possible, so proper storage of food and other smellables is a priority concern. As this area has become more popular with hikers, reports of bears taking food have increased.

Time Window
Year-round access is possible, but June through October are when most hikers use the trail.
Time to Hike
It typically takes 5 or 6 days to hike the trail. With the established BWCAW campsites to use, daily mileage is somewhat constrained to fit the distances between sites. Hikers can camp outside these sites if they follow regulations, but finding a suitable site 150 feet out in the forest is not often practical.
In general, it is a good idea to estimate about 75% of the daily mileage you cover on a more heavily used trail. For example, I typically do 20+ miles a day, but 15 is a full day for me on the BRT.
Permits
Overnight use of the trail in the Boundary Waters is managed through an online reservation system at recreation.gov
In 2022, a $16/person fee, plus a $6 party reservation fee are required between May 1 and Sept 30. October 1 through April 30, there is no quota and no fee but permits are still required. They can be self-issued at BWCAW entry points or USFS offices.
Thru-hiker Tally
No list is kept at this time.
---
Trail Links
Native Nations of the Border Route Trail area


Find more Hiking Resources at www.HikingDude.com
Follow Me